Kahtoola RENAgaiter Mid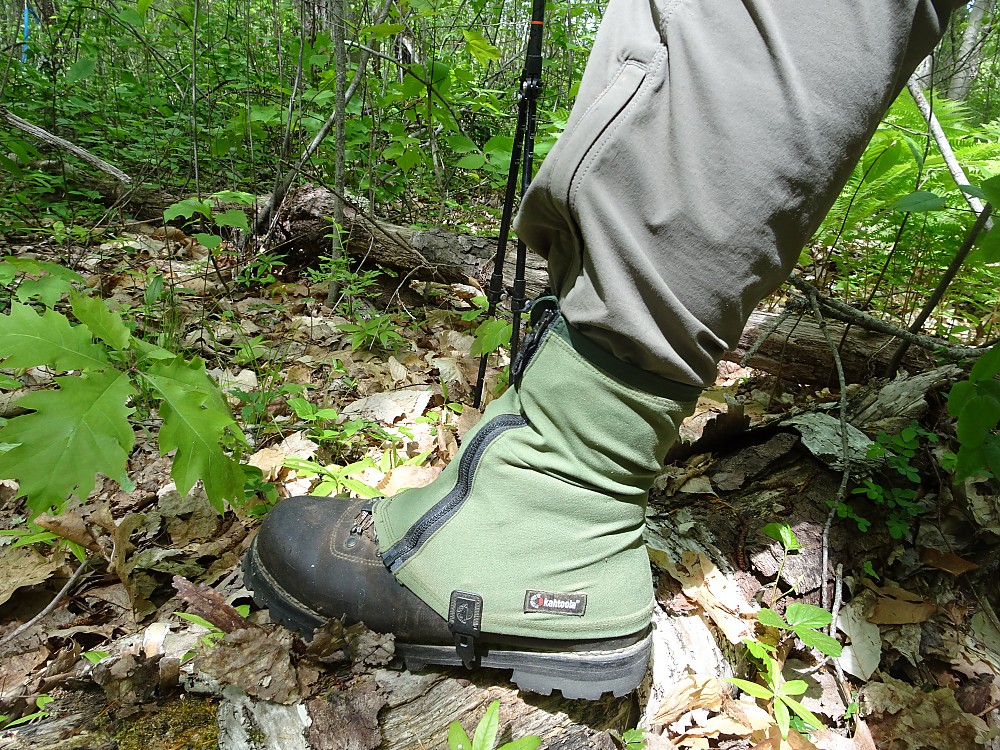 Kahtoola, long known for traction devices and a line of gaiters, came out with the RENAgaiter Mid and Low models for folks looking for lower weight and more comfort, but designed to be rugged and water resistant without getting in the way. Good for three-season use, especially drier climates and open trails.
Pros
Light
Comfortable
Material flexes to avoid resistance
Easy to get off
Nice look
Cons
Durability
Water resistance
Dry slowly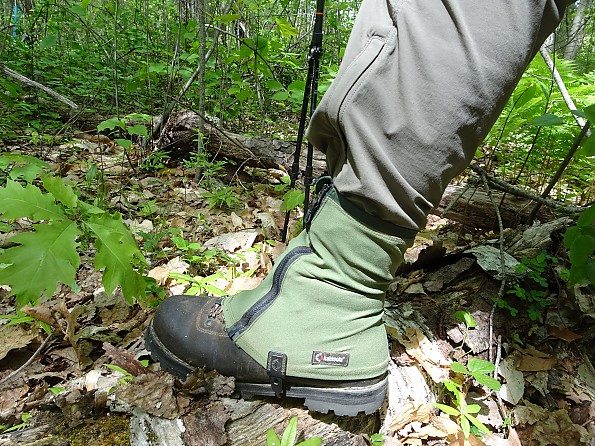 Hiking in New England I've always preferred to wear gaiters, often using heavy, stiff, knee-high, winter-style gaiters even in the summer. Given the chance to try out Kahtoola's RENAgaiter Mid I won't be going back to that again. Kahtoola also has a RENAgaiter Low which comes just above the ankle and an INSTAgaiter UL model for folks who need less protection and want to reduce weight even further. They have a full line of gaiters including GTX models and others meant for four-season use. I have some questions about the material used, but these are well designed and hopefully Kahtoola continues to improve them. Let's get into the gritty details.
Fit & Comfort: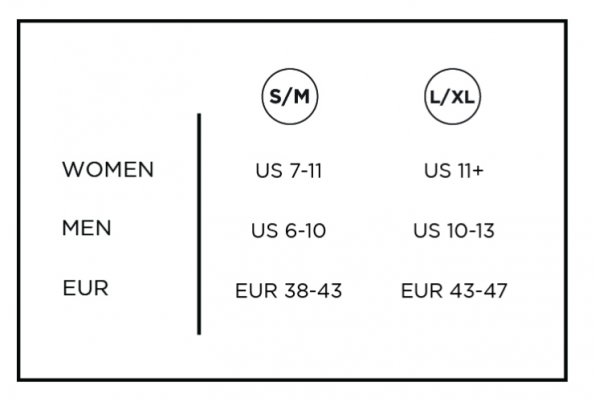 The RENAgaiter Mids come in two unisex sizes with the strap adjustment sizing to fit a variety of footwear. I tested the L/XL based on my size 11.5 US feet falling right in the middle of the suggested range based on Kahtoola's sizing chart. With the adjustable instep strap fully expanded I was able to use the RENAgaiter Mids with my preferred boot, the Limmer Lightweight, which is pretty big. Most folks should be fine following the sizing chart and setting the strap as desired whether they wear boots or shoes.
The low weight (3.7oz S/M, 4.1oz L/XL) and flexible material (stretch woven nylon/poly blend) made for amazing comfort. There was almost no restriction of the ankles, allowing feet to do all the crazy things they need to when trying to cover ground on trail. There was little buildup of heat and moisture due to the breathable nature of the material. The RENAgaiter Mids scored very high in the comfort category.
Adjustability:
The primary adjustment, allowing use with a wide variety of shoe and boot types, comes from the instep strap. Kahtoola has come up with a unique system that  is designed to both keep the strap where you set it and protect the strap on trail. The Duralink system uses a thermoplastic polyurethane instep strap that locks into place. The Aegis Rock Guard it is meant to keep the connection points from being destroyed by sharp rocks on trail. We'll be talking about that more later, but the strap is easy to move into one of the available slots and won't budge once in place.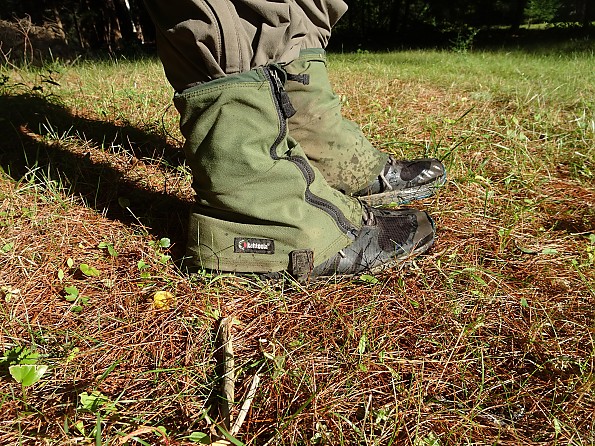 The other adjustable feature is tightening cord at the top of the ankle. This was easy to use and stayed where it was set. I set this tight enough to help keep rain from running down and to make sure my pants stayed tucked in.
Water Resistance: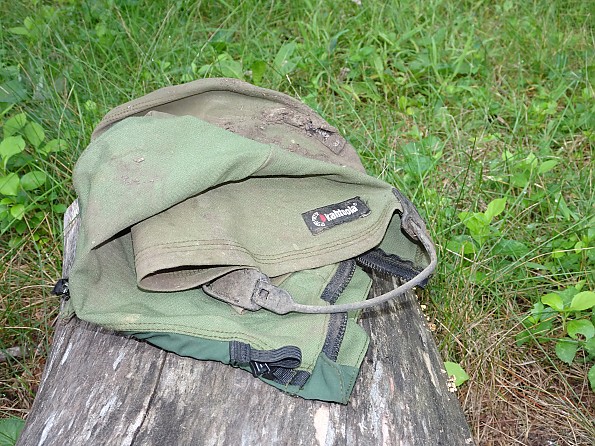 Kahtoola says the RENAgaiters will keep out "everything but the heaviest downpour", but only claims water resistance, not being waterproof. The stretch woven nylon has a DWR coating that seemed to slow water down, but didn't put up much of a fight versus hours of prolonged exposure to rain or wet grass. Sock tops were commonly soaked by moisture coming through in those situations. Stepping into water resulted in almost instant transfer through the material, so no quick steps trying to rock hop water crossings. This is one of the areas I had to score poorly.
Breathability & Moisture: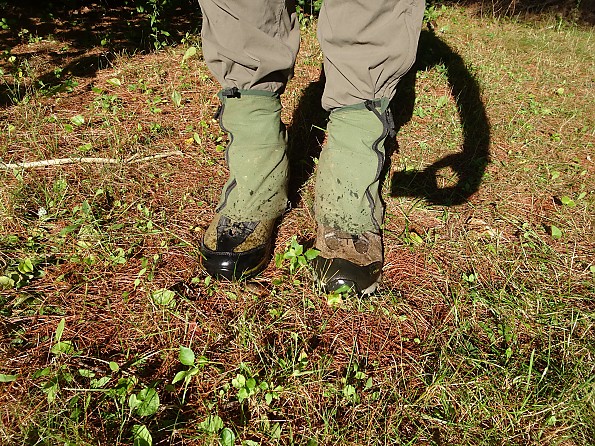 This is an area where the stretch woven nylon/poly material used really did a good job. It was nice on really hot days to not be cooking my feet as much as full sized gaiters would. When taking off heavy gaiters in summer the ankles are often damp, but I noticed how much better things felt wearing the RENAgaiters. Despite being well sealed around the boot, there was certainly a lot of ventilating going on.
Function & Features:
For me, the primary function of a gaiter is to keep crap out of my boots. These gaiters did an excellent job in that regard. On the Long Trail (Vermont) I accidentally tossed the RENAgaiter Mids into the Bag of Shame with soggy socks and underwear the morning after hiking in a deluge. It was the first time in years I hiked without wearing gaiters. When I made camp that night I found a large amount of debris inside my boots. That was all I needed to see to know how well these gaiters do their primary job. The shaped material seals around the boot or shoe with the cinched ankle cuff preventing anything from getting in from the top.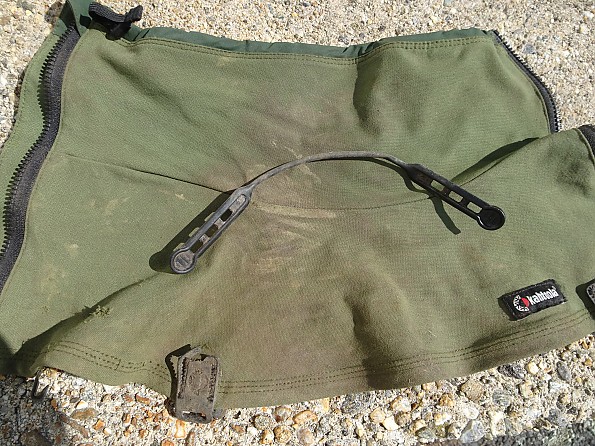 Kahtoola has used an interesting instep strap they call Duralink. It is guaranteed for 1000 miles and easily replaceable if worn out. It snaps into place on both sides so can't come loose on trail. They also have a system called the Aegis Rock Guard designed to protect the connection points from sharp rocks. We'll see how that is holding up in just a bit when we discuss durability.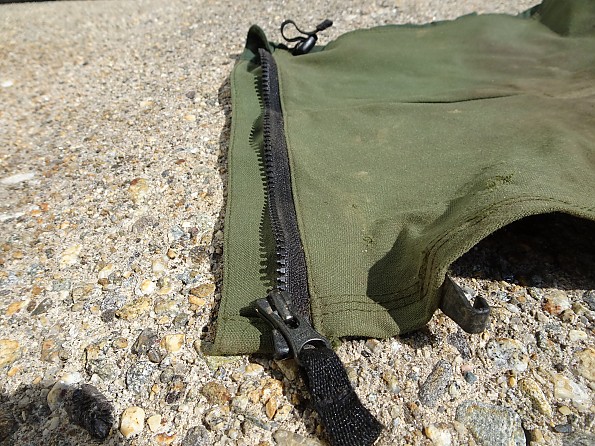 The side zipper design made it easy to get the RENAgaiters on and off in a hurry. Even caked in mud it moved easily. There was a nice pull tab to grab on to which helped.
Construction & Durability:
The stretch woven nylon that makes up most of the RENAgaiter is a 10% polyurethane blend that moves easily. Kahtoola's design took advantage of that quality to shape the gaiters to wrap tightly around shoes and boots. They call it 3D Performance Fit because of how the gaiter wraps around whatever you have on your feet, making for a tight seal without restricting motion. The stitching was neat and even when new and the material was slightly articulated at the ankle.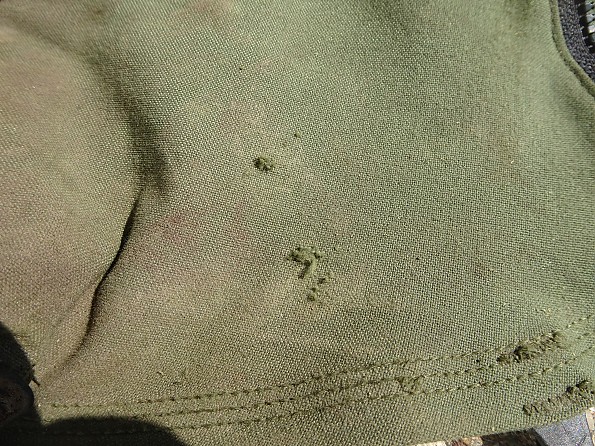 This nylon poly blend material seemed rugged enough to the touch. It was flexible, but with a thickness and coarseness that implied it would be tough. Over the month I spent hiking the 270-mile Long Trail in them I certainly put them through the ringer, but I was surprised to find several holes formed. These were likely from rocks as there were more than a few of those along the way.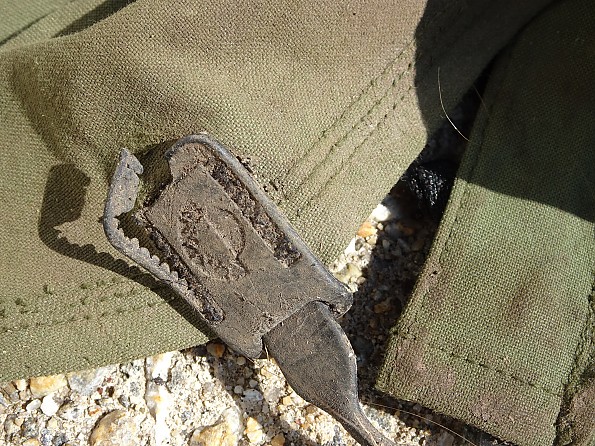 The Aegis Rock Guard did its job and kept the Duralink connection safe, but it also shows a lot of wear. No loss of function from what I can tell.
Testing Conditions: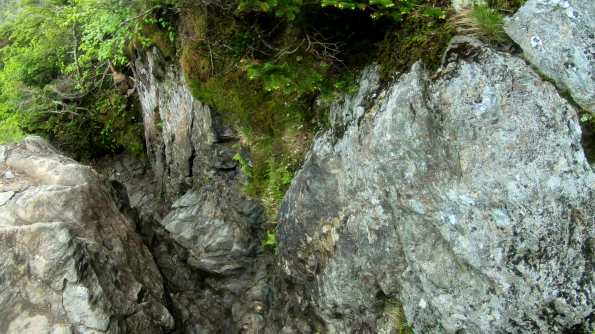 I used the Kahtoola RENAgaiters extensively for more than three months on trails throughout New England including the Long Trail, two week-long trips into the Baxter State Park (Maine) interior, multiple trail work trips on the Cohos Trail (New Hampshire), and more than a few day hikes with the family. Total miles are around 400 with 270 on the Long Trail and the rest in northern New Hampshire and Maine. Trails ranged from gentle footpaths to rocky scrambles of a more vertical nature.
Conclusions:
In general I am inclined to like these gaiters, but I had to take points off based on a few issues. I really liked how the RENAgaiters felt on my feet, which is to say I barely noticed they were there. Hiking in them I just forgot they were on my feet because they didn't get in the way at all. The day I forgot to put them on I didn't notice the difference until I saw my boots with my eyes a few miles down trail because I didn't feel them not there. This really speaks to  just how comfortable and unrestricting they are.
That day I didn't wear them also really demonstrated how good the Kahtoola RENAgaiters are at doing their primary job of keeping debris out of your shoes or boots. I poured out a pile of pine needles and sand when I took my boots off that night.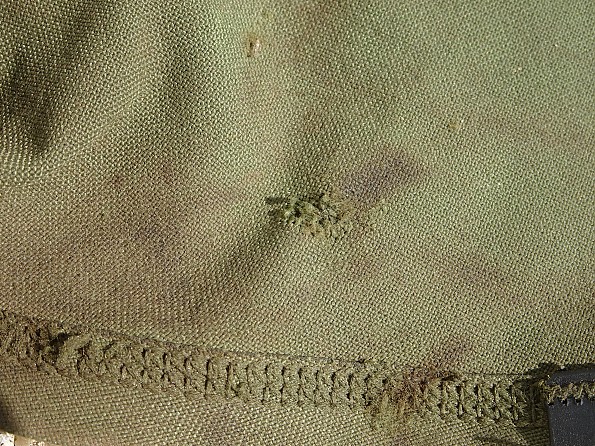 I was a bit surprised to see the damage that appeared as I hiked the Long Trail. The material seemed rugged to the touch, but clearly the pointy rocks on the vertical pitches of northern Vermont were more than it could handle. This is some of the gnarliest trail I have ever seen and I've been hiking New England for a decade now, but it demonstrated the limits of the nylon polyurethane material that Kahtoola used. It held up well enough to abrasion and most of the rock stabs. Some of those stabs left a hole though and once poked those become a wear and water entry point.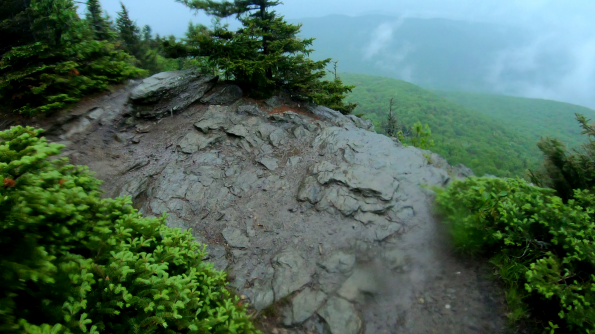 The limited water resistance also surprised me. The protection seemed limited to low amounts of water. Light rain wasn't a problem, but moderate rain soaked through pretty fast. A little wet grass wasn't a problem, but hours of hiking in wet vegetation soaked through.
I know that the current material is an improvement on a previous version so I really hope Kahtoola is already continuing to look at finding a better material to deal with these issues because I really liked using the RENAgaiter Mids. In less demanding conditions they performed really well. In dry conditions on an open trail they excelled, so for most people the current version may be just fine. Folks who really get out there in it are going to need gaiters to take on those pointy rocks and everyone would benefit from a little more water resistance.
So I guess I am saying that these things aren't bad, but could be better. I really loved how comfortable the RENAgaiters were on trail. I also liked how easy they were to get on and off, even when used with my full leather boots, and how they stayed on the boot on trail. The ventilation kept feet noticeably cooler and drier, even on the hot days. If Kahtoola can find a way to add more protection without losing these good qualities I will be in line with my wallet open.
Experience
Extensive testing of the RENAgaiter Mids took place over the last four months including about 400 miles of backpacking plus day trips in Vermont, New Hampshire, and Maine. I have been a four-season gaiter user for many years and own a variety of them.
Source: received for testing via the Trailspace Review Corps (Sample for testing and review provided by Kahtoola)

Your Review
Where to Buy
Help support this site by making your next gear purchase through one of the links above. Click a link, buy what you need, and the seller will contribute a portion of the purchase price to support Trailspace's independent gear reviews.
You May Like
Specs
Price
MSRP: $59.95
Current Retail: $59.95
Historic Range: $59.95

Material
90% Stretch-Woven Nylon / 10% polyurethane blend with a water-resistant DWR coating