Limmer Boots The Lightweight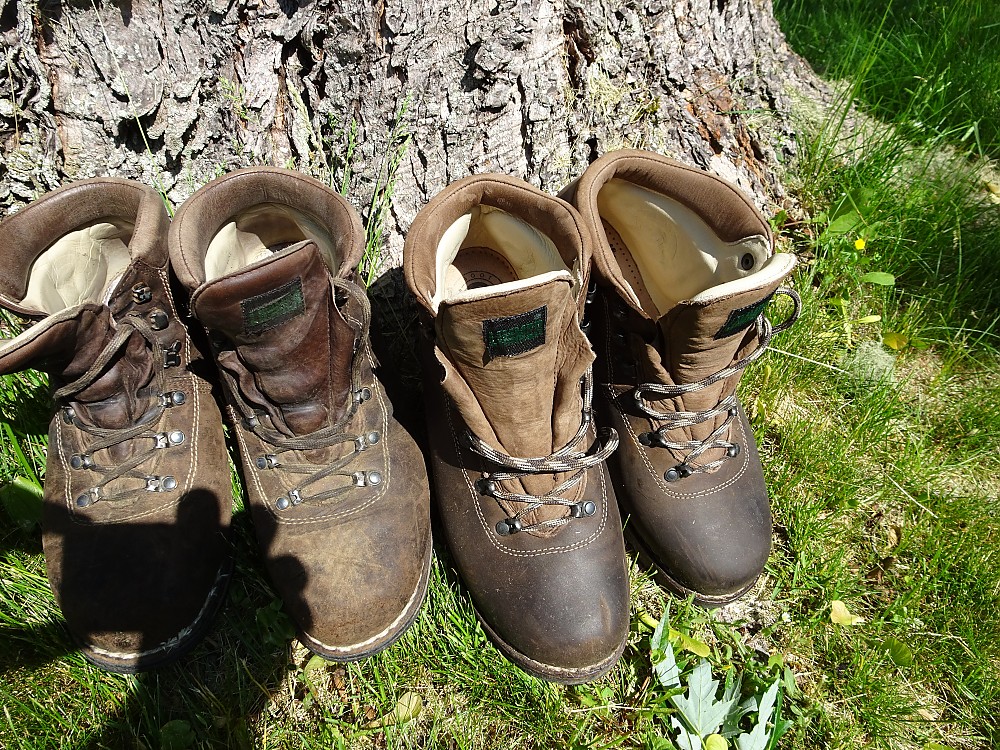 Limmer Light-Weights are a solid, full leather boot built to handle rugged terrain. German made from the original Limmer lasts. Heavy duty construction along with amazing comfort. Designed to handle rough trail they do pretty well off-trail too.
Pros
Comfort
Stability on rugged terrain
One piece leather upper molds to feet
Norwegian welt
Vibram soles
Much easier break-in compared to Standards
Cons
Weight
Investment
Waxed nubuck takes more rock damage
A Little History:
The Limmers have been making boots for generations, starting in Germany. Peter Limmer Sr learned the skill there and then moved to the Boston area. Later he moved to New Hampshire and his sons learned the trade as well. Leather ski boots went out of fashion so they focused on hiking boots. Today they still make custom boots to order in their N.H. shop, but the off-the-shelf boots are made in Germany now from the original Limmer welts.
When I visited the shop in Intervale, N.H., to have my Limmer Standards resoled I asked if they had any Light-Weights in stock and Peter Limmer Jr. told me they weren't carrying much on the shelf at that point so unless I was interested in the 11.5 Wides he happened to have I was out of luck. As luck would have it, that is my size heh.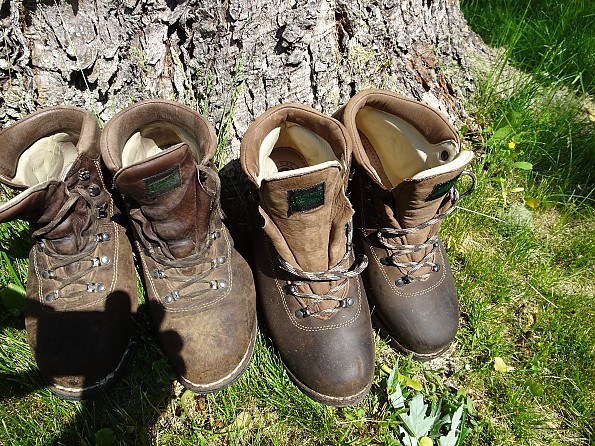 Old pair on the left, new pair on the right.
After almost three years of heavy use I found that on one of my first trips this spring the Light-Weights were ready for resoling as the welt started to pop stitches in the same spot my Standards had. The thought of having to wear the heavier Standards for a month or two while I waited for the cobblers to do their magic scared me enough that I ordered another pair online.
Comfort & Fit: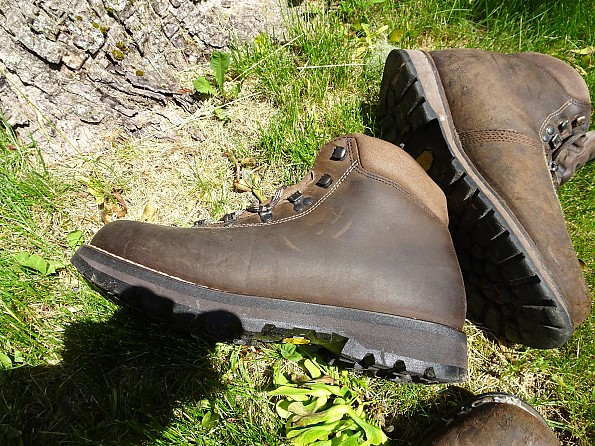 New boot on the left, old boot on the right.

Unlike my previous experience with the Standards, these boots were not especially painful to wear out of the box. Having recently broken in another pair I am of the belief that the first pair I bought in the store had been partially broken in by someone else. That first pair seemed to have almost no break in period, while the second pair definitely needed some work.
I used a much faster version of my previously successful methods. First I wore them around the house for a day or two. Unlike the Standards, they didn't hurt while sitting down heh and I was able to climb stairs in them on day one. Then I wore them for a few days of gentle walking locally on roads and sidewalks before taking them out on short trail walks later in the week. Their first big test was a family hike up Puzzle Mountain in Western Maine with a spare pair of boots in my pack to put on when the pain became too much. Needless weight as I wore the Light-Weights all the way up and down.
Once  broken in these boots are exactly what I am looking for in terms of comfort. The shaped leather holds the feet solidly in place on the footbed that also has molded to my feet. Long days on rocky trails are where the comfort is really appreciated, but dirt paths and road walks all benefit from the feeling of a good boot on the foot. Just like the Standards, I love the feeling of putting these boots on in the morning when I am out on trail.
Support: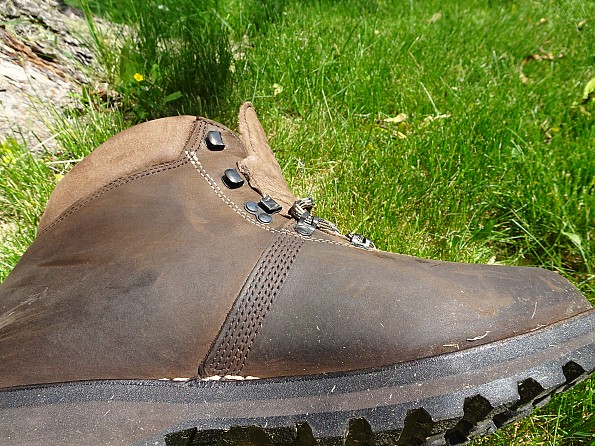 While around a pound lighter than the Standards, the Light-Weights provide all the support you'd expect from a full leather boot. Coming above the ball of my ankle there is leather wrapped well around the joint, but then the very top of the collar leaves a bit of room. This gives full support in all directions without restricting motion or pinching the leg.
Under the feet, the solid feeling when stepping on a jagged rock is a joy. While discussing Limmers with a ranger in the Whites a few years back we both agreed that that stable footbed, no matter the terrain, was what made them perfect for New England mountains. This support is a big part of what keeps the feet happy on long days as it means they don't have to work as hard.
Water Resistance & Moisture Management:
One big advantage of full leather boots is that they can be waterproofed pretty well. The single piece upper, with a single seam on the instep leaves the welt as the weak spot as far as keeping water out. At time of purchase Peter advised that it would take some time, but repeated applications of grease to the stitching would eventually result in a waterproof seal. My experience with both models was that it sealed well enough, but was never fully water tight. I could walk through a stream for a few steps without issue. Extended exposure to water would result in a small amount of wetness along the inside of the seam. Other folks have reported sealing that held up to extended exposure to deep water, but I haven't had such luck.
All that water resistance means wetness inside has a hard time getting out too. A good sock strategy was helpful in managing sweat. I used a thin liner sock to keep my feet dry as it wicked moisture to a thicker, "hiking" weight sock. When the boots became soaked after extended water exposure swapping out dry socks helped pull moisture from the leather. Managing sweat moisture was definitely possible, but even when days of rain soaked the boots thoroughly, the leather remained solid enough to provide support.
Traction: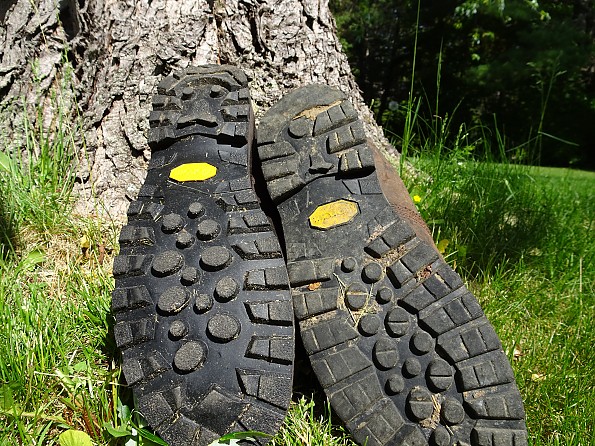 The Light-Weights come with a 6mm, Yellow Label Vibram sole which sticks to pretty much anything, wet or dry. Traction is exceptional and really shines in rocky terrain where the full boot never touches the ground all at once. Slippery bog boards also were easily navigated, though shiny ice was too much and the time to break out spikes. The sole sheds mud and snow pretty well and I don't ever recall needing to scrape them clean.
Construction & Durability: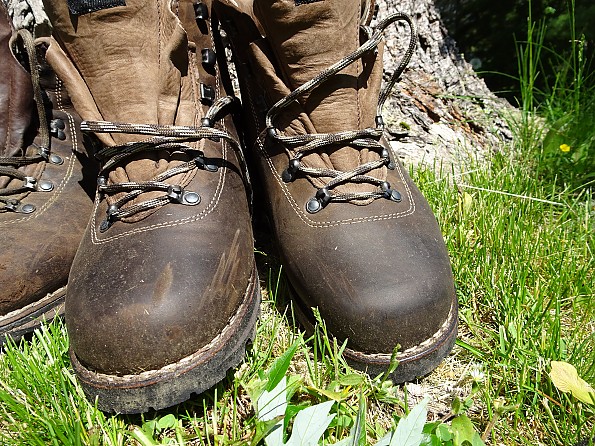 The upper is a single piece of 2.8mm waxed nubuck, with a fully gusseted, sewn in tongue. There are three sets of eyelets at the base of the lacing and then a set of lace locking hooks followed by two speed hooks at the top.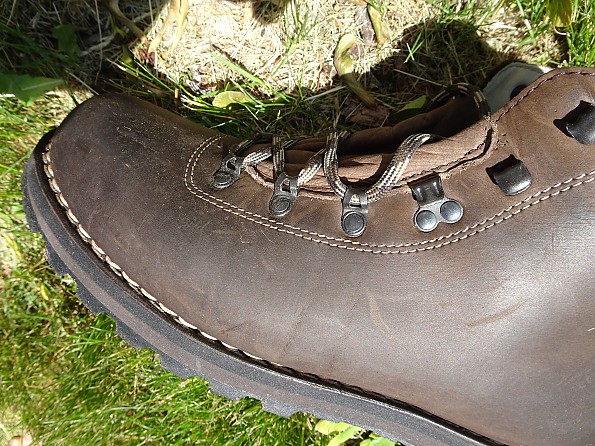 The upper is joined to the midsole with a Norwegian welt (which oddly enough originates from Italy). This double stitch technique is used to help keep water from seeping through, but also adds a distinctive look to the Limmer boots.
The midsole is a 2.5mm layer of partially expanded rubber called Aviaflex. This foam layer provides a small amount of cushion, but feels solid to the touch. The 6mm Vibram sole is attached to the midsole with nails.
When I purchased my first pair of Limmer boots Peter mentioned that to his mind they wouldn't be fully broken in until about the time I brought them in to be resoled. These boots are designed to last long, long after you wear off the tread. After almost three years of stomping up and down mountains with more than a few muddy swamps in between, I noticed that the welt was starting to come apart—just a few stitches on the right boot at the flex point. This was the same point where my Standards started to fail and the cobblers tell me it is the common indicator that they are due to be resoled.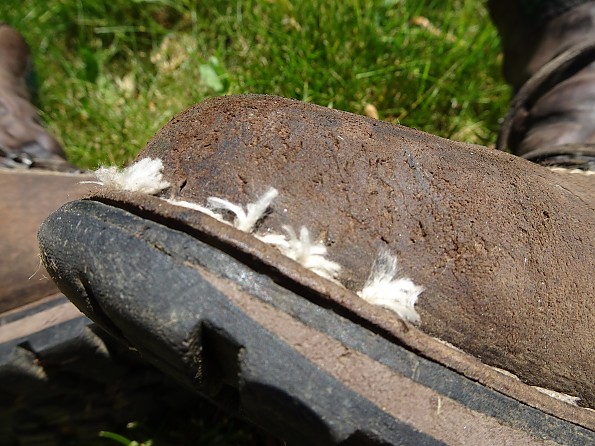 Given that I wore the boots all the time during those years it is very hard to estimate the number of miles I had on them. Besides wearing them on trail I also wore them on my motorcycle to and from trips.
One of the biggest values in buying any pair of Limmer boots is that they can be resoled again and again so long as you take care of the leather upper. While any skilled cobbler could handle the job, I like taking them in to the custom boot shop to have the actual Limmers do the work. They know these boots better than anyone and I trust them to do the job well.
Features: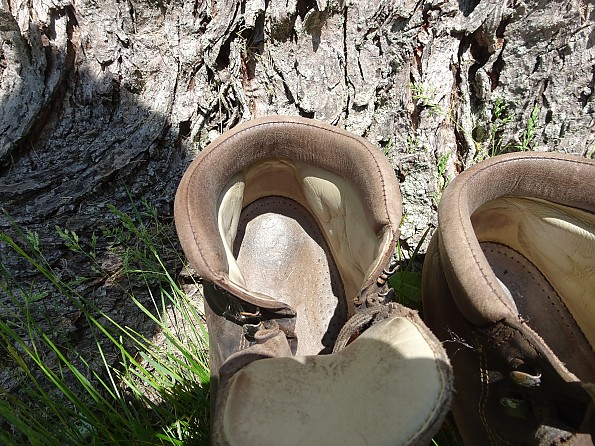 The cushioned ankle collars on the Light-Weights wrapped closely around the bottom of the leg, but had enough give to allow the ankles to move enough to allow easy mobility.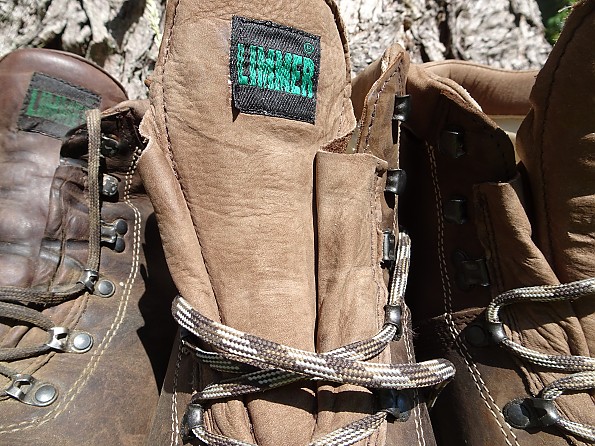 The fully gusseted tongue is attached to the inside of the boot in a way that doesn't create pressure points on the top of the foot. It also does an excellent job of keeping debris and water from entering. Surprise mud remained an emotional rather than physical experience for the most part.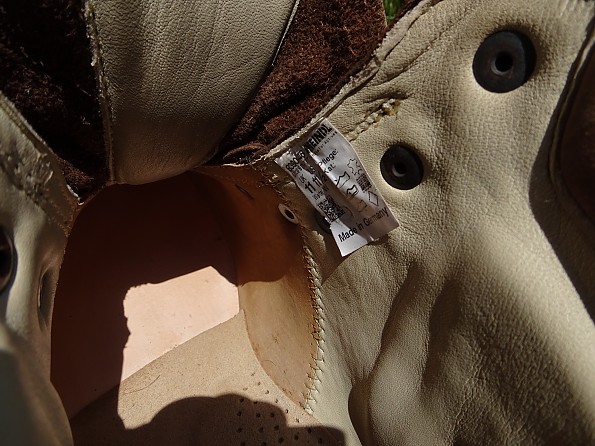 The all leather lining and footbed breath and help handle moisture. Lightly treated with Limmer Boot Grease they also retain a wonderful smell even when stuffed with wet socks.
Testing Conditions: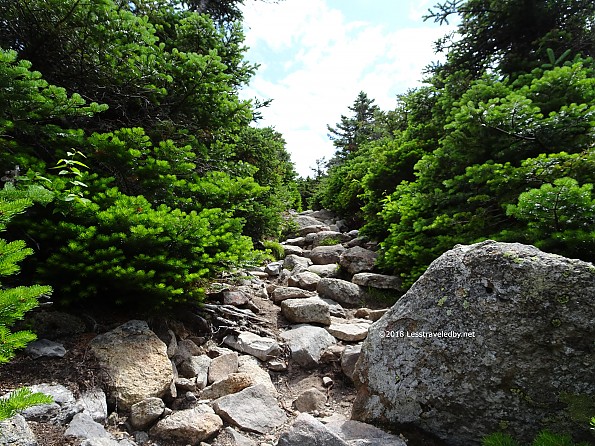 These boots were too comfortable so I ended up wearing them all the time. For almost three years I wore them most every day at home or on trail. Trail of course is where they received most of their wear and I have been known to visit some spots that put a boot to the test. Backpacking in Maine, New Hampshire, and Vermont is beautiful, but subjects hikers and their boots to rocks, mud and a lot of moose poop.
Conclusions:
I thought I was perfectly happy with my Limmer Standards until I put these boots on. The Light-Weights brought most all of the benefits of their heavier brethren while shaving off around a half a pound per boot. This was a noticeable joy on trail to have that same feeling of security and sureness of step, but not having to lift those big black bombers up all those mountains.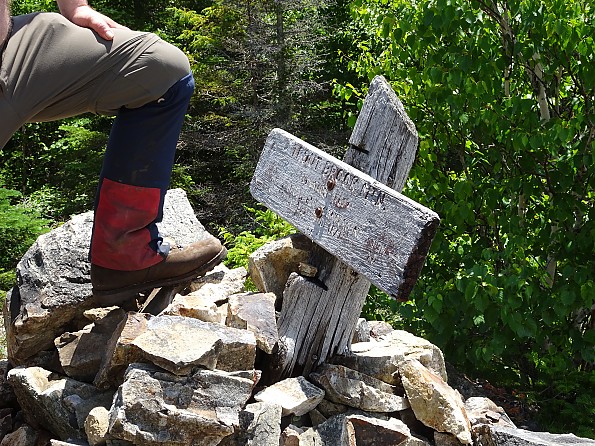 Obviously, being full leather boots that weigh 3.5lbs, the Light-Weights are not for everyone. Folks who aren't into leather boots will hate these for the same reason they hate all the others. Folks who appreciate the joys of a good pair of solid boots are likely to develop some love for these though.
The break in period on this second pair of LWs, while certainly more challenging than the first pair which I think were "pre-owned", was so much easier than the Standards that I didn't even really have time to complain. Some pain is part of the process of making a pair of leather boots into a long term home for your feet, but it was nice not to have to suffer so much before the joy started.
The hundreds of miles I've put on these boots over the last three years were some of the most fun and most rugged of my hiking career. Heading out into the mountains or bogs is always better when my feet are happy and these boots made them happy.
Hiking on the Cohos Trail in N.H. I've had to do some really long road walks. One day's hike involves over 20 miles, almost entirely on roads and ATV trails. Days like that will really show you how a good boot can protect your feet. I've done it twice now and both times was amazed at the lack of damage to toes and feet.
Where the Limmer boots really shine is in the mountains. On sharp, pointy rocks where the entire foot is balanced on just a tiny part of the sole, that solid shank does the work so foot muscles don't have to. Up or down the Vibram soles grab on to rocks, roots and even mud with amazing grip. Combined with skillful hiking pole use I have navigated some surprisingly vertical surfaces without sliding off.
Over all I have very little bad to say about these boots. Price is not cheap, but given the ability to resole over and over, I think the Light-Weights are worth the investment. I feel the same about the weight; the tradeoff in terms of support, protection, and durability is worth that cost too. I was a bit sad to see the pretty boots get so scuffed up. The leather of the Standards is much tougher for the rocks to gouge, but despite the look the boots I used for three years are still solid throughout. I expect to get a lot of miles out of them once they return from the cobbler. With two pairs I am set should I ever decide to do a long enough trail that might wear one pair out heh.
Background
I've been wearing leather boots for most of the last 40 years. This was my second and third pair of Limmers.
Source: bought it new
Price Paid: $293 + shipping for cosmetic second

This all-leather hiking boot is comfortable, stable, durable, yet not super-heavy. I love it as an all-around hiking boot. It is well-suited for any kind of walking but particularly at home on bumpy trails and toting a backpack. Highly recommended.
Pros
Extremely well made and durable
All-leather boot waterproofs well and very supportive
Not too heavy
I first reviewed these boots within six months of purchasing them in 2007. This follows up with a great deal more information and experience. I still believe today, as I did back then, that this is one of the best hiking boots available, provided you like all-leather boots.  
BASIC INFORMATION ABOUT THE BOOTS
Weighed after seven years of regular use, the pair weighs 3 pounds, 9 ounces on a hand scale. This is a full grain leather boot that is fully lined with leather. The outer leather is 2.8 mm, which is robust but more forgiving than the heaviest leather boots out there. In thickness, the leather is comparable to the Asolo TPS 520/535, or some of the heavier Scarpa all-leather boots, and slightly lighter than Merrell's Wilderness, but not as stiff or supportive as Limmer's Standard, most Galibier all-leather hiking boots.  
The leather upper/body of the boot is stitched to the midsole, Norwegian welt (leather upper is stitched down to the midsole with the stitching visible). It laces up in the center and has a padded, gusseted tongue (a gusset is a piece of leather attached to the tongue to keep debris and moisture out). Vibram sole that is somewhat less aggressive than the old standard montagna block.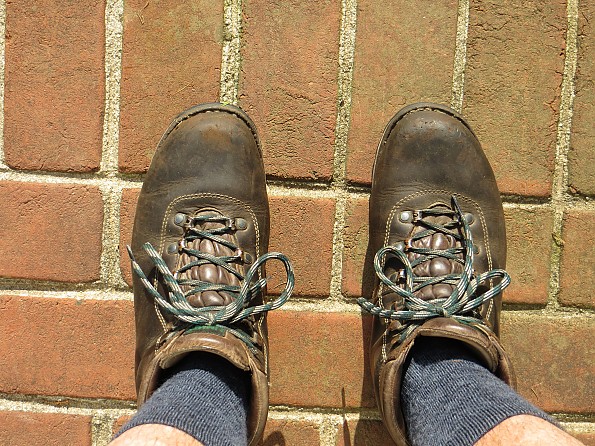 The photo below shows how the tongue is attached to the boot with pieces of leather to keep stuff out. Also, note the hook and eye lacing — the bottom three are round metal loops, the hook above that is a locking hook that prevents the laces from loosening up, and the top 2 hooks are more the normal variety.  
Another interesting part of this boot is the very minimal outer stitching. The leather body of the boot is one piece, with one seam, the one you see below that's on the instep. That helps with waterproofing and durability. You can also see the padded collar around your ankle, pretty typical for most leather boots.
Finally, you can see that between the sole and the boot, there is some very firm foam. As opposed to a full rubber midsole, this makes the boots a little less stiff. The boots have a shank, a stiff piece of nylon along the midsole. Again, not as stiff and inflexible as a steel shank.  
Better view of how the boot laces up.  
The sole is not as aggressive and deep as some. This has quite a bit of wear. Doesn't need to be resoled yet.  
The photo below shows what a Norwegian welt looks like up close. A couple rows of stitching that attach the leather upper directly to a black rubber midsole. As you can see, the firm but slightly cushioned brown rubber runs nearly the length of the boot.  
The way the boot is made contributes to how comfortable they are. Because the heel doesn't have a rigid back, it feels more rounded inside and tends to keep your heel seated. The toe area is rounded — not sleek by any definition, but plenty of room for your toes to wiggle, even when the laces are hauled tight.
Good view of the boot from the back. No seam along the heel.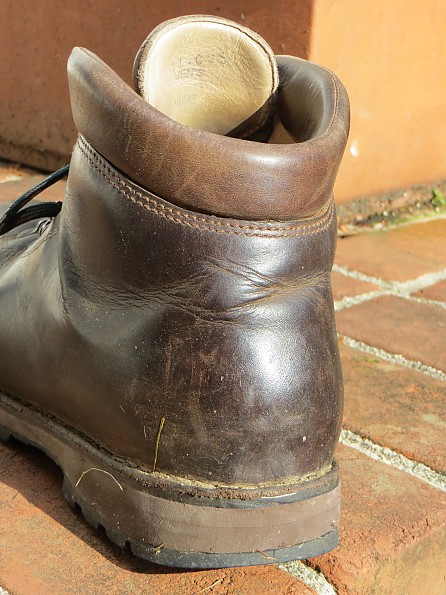 HOW THEY FIT
Limmer sells stock boots that are made in Germany and makes custom boots in the U.S. These are the regular ones. Because the only place you can buy these is the Limmer store in New Hampshire or online, the company provides detailed instructions about how to measure your feet before they recommend a size.
You put on the socks you normally use, trace the outline of your foot on a piece of paper, then use a tape measure to provide the circumference of your foot at several different places. I have bought two pairs of boots from them using this method, and it worked well both times. They could see from the measurements that I needed a wide as opposed to a regular, for example.  
BREAKING THEM IN
Though it says "lightweight," the boot is comparable to some fairly sturdy leather boots. And like any firm leather boot, you need to spend some time breaking them in. Again, follow Limmer Boot's instructions, use their boot grease, and take your time. This is not a boot you should buy a week before a big trip, because it's stiffer than most.
As a means of comparison, however, the Limmer Standard is significantly stiffer, fits higher on your ankle, and requires more break-in. I have had success wearing them to work at first, then graduating to short hikes, then taking them for longer hikes. With steady wear, they will break in after a month or two without blistering your feet.
Once the boots are broken in, they form to your feet, provide outstanding support, have a great sole, and are a pleasure to wear. They are, with the heavier Limmers, the most comfortable shoes I own, hiking or not. Easily stable enough for long treks with 50+ pounds on your back.
FIELD EXPERIENCE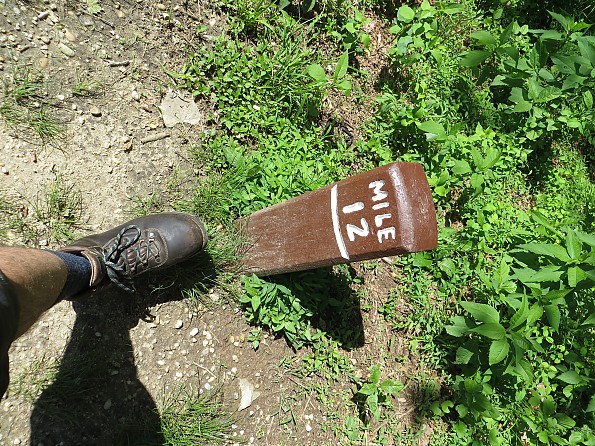 I have used these for walking and hiking for seven years — in the rain, in the snow, four season, on countless day hikes and many backpacking trips. Worn with good merino wool socks, I haven't blistered in them for years. Occasionally, if I don't grease them for a while, they will let some moisture in if i'm on a really wet trail or hiking in the rain.
Considering how much I have used them (I do rotate them with other boots, and the Limmer Standards are what I reach for on the really rugged hikes and trips), they are in great shape. At this point, they have formed to my fit and fit, if not like a glove, close to it.
Highly recommended.  
Materials: leather
Use: day hikes through heavy pack
Break-in Period: depends on use, but take the time to do it right.
Weight: 3-4 pounds per pair
Source: bought it new
Price Paid: $265

If you are considering these boots, buy them. The reviews that I have seen do not do these boots justice. They are not manufactured; they are crafted and that is obvious in the aesthetics and in the way it feels to walk in them. It is critical to maintain what few artisanal commodities are left in what has become an industrial recreation industry.

I believe that if these boots were available when Henry David Thoreau was alive, they would have received a shoutout in his "Economy" chapter of "Walden."
Pros
Durable
Substantial ankle support while maintaining light weight
Welted sole, can be replaced with wear
Beautiful leather
Cons
Only downside is the expense, and considering the number of factory boots that you would replace over the lifetime of these, the investment is worth it.
I bought these boots after searching for something that would approach what I had more than thirty years ago that lasted through summers of Outward Bound and NOLS trips when the only backpacking boots available were heavy welted numbers that required more than 50 miles to break in, but then never seemed to give up.
I found these after watching a YouTube advertisement and bought them thinking that they might be too good to be true. Some of the other reviews I had read were mixed.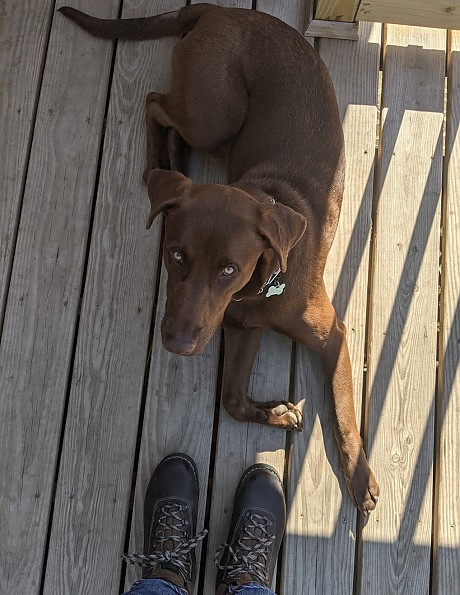 The first fun thing about these boots is that one of the owners of the company, Chris, actually does call you to find out what you are going to be using the boots for. After a fun conversation in which he tells you all about them, he insists that you send a picture from which he can size you properly. In retrospect, this is a very important part of the process and saved me having to ship the boots back that I had attempted to order.
The sizing is definitely not standard numbers, and Chris recommended, based on my picture, a size that was 1.5 below what I usually buy in boots with a standard US sizing scheme. When the boots arrived, as promised I had 1 cm of room in the toe, and they felt like "a firm handshake" right out of the box.
I have worn these boots nearly every day for the past several weeks, have probably put 20 miles on them already, not one hotspot. I have been able to wear them for nearly the whole day on the weekends, and never feel like they are hurting me or that my feet need a break from them.
I have actually given some serious consideration to buying another pair just in case the business end of this doesn't work out (Chris is a relatively new owner, no offense to him, but, well, people like shopping from alphabet outdoor gear stores or online behemoths named after rivers they can't find on a map and will never visit). 
Background
I have worn backpacking boots on trips hauling weight in all the places in North America that can make you altitude sick.
Source: bought it new

Out of the box these are beautiful boots. Their quality construction is immediately evident. But they are not for people with wide feet
Pros
Excellent construction
Very high quality
Cons
Not for wide feet
Limited sole life
Taking these out of the box you'll be amazed at the quality of the materials and construction. They look like they should be on display in a boot museum. It was love at first sight for me. This disillusionment came later.
I bought these for dayhiking, mostly on rough trails, and for backpacking. I've generally had trouble finding boots that fit. I have a wide forefoot, maybe E width but not EE, and a narrow heel. I've learned that all-leather boots in a medium width will eventually (a few weeks) break in to fit my forefoot comfortably, and are narrow enough to keep my heel secure.
I described my fitting concerns to Limmer, and they sent boots a half size longer than my normal size. They were tight in the forefoot, but I assumed they would eventually conform.
Making a long story shorter, it's now eighteen months later and the boots have approximately 350 miles on them. They're wearable, but still not comfortable. I'm still limiting my time with them to no more than four hours at a stretch.  To make matters worse, the soles are getting very thin near the toes and they should probably be resoled soon.  
Otherwise, my initial impressions of quality have been borne out. The stitching is solid, as are the lacing hooks.  I like the fact that there's no so-called waterproof-breathable membrane, and assume the boots are cooler for that reason. I don't get much chance here in Arizona to test the waterproofness. The leather is holding up well, except on the tops of the toes, which are quite scuffed; I speculate that this is due to the extra length — I must be dragging the toes across rocks occasionally. The soles are appropriately grippy.
In summary, these are fine boots, but they're not for people with wide feet. You should also be concerned if your hiking involves rough trails, or be ready for frequent resoling.
Finally, a bit about me:  6', 155 lb., 74 years old.
Source: bought it new
Price Paid: $325

I cannot say enough good things about Limmers. My first pair were Standards, purchased new at the NOLS outfitting store in preparation for my Instructors course in 1993. I could not find a rental boot that fit, so I was forced to begin my course by wearing a new pair of boots into the field. I generally wear a size 9.5 hiking boot but the folks in outfitting sized me in a 10 and required the boot to fit over two pair of VERY thick socks. The boots worked great on the course and I suffered no blisters. They were the first hiking boot I have experienced that offered the support to carry a 85 lb. pack but were not rigid and stiff to wear. They feature a deep notch at the back of the ankle that relieves all pressure at that point, and offer the best heel fit I have ever experienced. I bought the boots after the course but with the sock combination that I normally wear, I found them too big. I also wanted a little lighter weight boot because I refuse to ever carry a NOLS type load again! I decided to purchase the "Lightweight" model.

The name Lightweight is not accurate in terms of the boot's durability. They are light compared to Limmer Standards, but are heavier duty than most backpacking boots on the market and are better made than any other brand of boot. I like the "rocker" sole that is used on the Lightweights better than the sole on the Standard and I like the lighter weight. I again ignored the Limmer instructions and wore the new Lightweights on a backpacking trip straight out of the box. They were superb and I suffered no blisters or discomfort of any kind. I don't believe that you could do that with any other brand of heavy-duty boot.

As far as choosing a particular model, I believe that you should:

Choose the Standards if you are of average build but carry a very heavy load (65 lbs and up), or are large and carry a medium to heavy load, and hike in really rugged terrain or often go off-trail.

Choose the Midweights if you are of average to large build, carry a medium to heavy load (45 to 75 lbs), and hike in really rugged terrain but generally stay on trails.

Choose the Lightweights if you are female, or a small-to-average built male, carry a average load (40 to 65 lbs.), and hike in rugged terrain but generally stay on trails.

I have been so impressed by Limmers that I purchased the Limmer "Walker" (a tyrolean walking shoe) and wear them all during the fall, winter and spring as my every day shoes.

You simply cannot purchase a better boot.
Materials: Full Grain Leather
Use: general backpacking w/moderately heavy pack
Break-in Period: One NOLS Instructors course
Weight: 3 lbs. 5 oz. per pair
Price Paid: $245

JUNK—don't do it. First pair leaked like a colander, paid to have them ship me another pair—100 miles later (break in) still getting new blisters in new places. Mr. Ken at Limmer is a great dude but sells highly expensive yet useless hikers—true JUNK. I may just fill em with concrete and us them as boat anchors. I am not joking. Don't drink all the "Limmer" cool aid—they are junk.
Pros
All leather
Breathable
Non-Goretex
Cons
JUNK—expensive, useless harsh on feet even after 100 miles of 'break in"
The first pair fit very tight but Mr. Ken at Limmer told me to keep wearing them. I kept going and after about 30 miles of break-in (over a period of two months) I stepped in a mud puddle, A MUD puddle. The boots filled with water in about 30 seconds—a SHALLOW mud puddle. Mr. Ken even told me the pair was not sized correctly—JEEZ please read on.
Paid 40$ to have them sent back. Mr. Ken said the boots were not "soled" properly, so he sent me another pair.
After 100 miles of trying to break in the second pair, I have blisters in new places each day after about four miles of flat trail/dirt road walking. The sole is even showing wear, but the boots are truly painful. Yes, I am wearing good socks (Darn Tough, which are good socks by the way).
Talked to a buddy who was also stupid and bought a pair of Limmers (a.k.a. Lemons). He gave up on his boots too. Ohh, and they are NOT made in the USA but in Germany, by Meindl, who per the Limmer rep, has knowingly had quality issues in the last few years. Yet Limmer still contracts with them. Why? So they can lie to you and sell you their subpar product.
Background
15 years as an outdoorsman—1000+ trail miles
Source: bought it new

These boots are sturdy and have a great fit. The break-in period is much reduced compared to Limmer Standards.
I bought these boots three weeks ago to replace a pair of regular hiking boots. At the time of purchase I was sick of paying quite a bit of money for boots that needed replacing every 1 1/2 years. While on vacation in N.H. I stopped by the Limmer barn and had Ken talk me through the various models, size my feet and recommend a Limmer lightweight to me.
The entire purchase took about an hour during which I walked around in the new boots, was asked specific questions about fit etc. I also got a long lecture on how to break them in and grease 'em up. According to Ken's advice I wore them inside the house for a few days, then all-day at work, and finally on a two-mile hike around the block.
On that hike I developed a hot spot on my heel, but I kept wearing them again for an hour the next day and for half (I carried my old bots as a back up) of a five-mile hike on the AT the following day. The next day my heels and the boots had made their peace and I wore them all day for over five miles.
The following week I took them on a hike across the Presidential Range and these boots are probably the most comfortable boots I ever owned. So, after a week they fit like a glove. They are very sturdy, a pleasure to wear on sharp boulders, and kept my ankle from rolling at least twice.
Two notes on fit:
I bought the stock option rather than the custom-made boot, but they were properly sized in the store and felt "just right" from the start. The numerical size seemed small. I ended up with size 10 1/2 - usually I have an 11 1/2. I recommend visiting them in their store.

They seem a bit softer than Standard Limmers, so the break-in period was probably much shorter.
Source: bought it new

These are not the custom masterpieces that have made Limmer boots the best in the world. They are very well made, but are imported from Germany. If they fit, then you're going to love them. If they don't fit, then you're SOL.
Pros
Exquisitely made
Highly water resistant
Breathable
Very protective
Cons
Not custom made
Great only if they fit
Far from cheap
I hike almost daily in a pair of Limmer boots that I had custom made for me 35 years ago, and they're still going strong. The off-the-shelf Limmer boots being reviewed here are not made by Limmer, they are imported from Germany under his close supervision. I know this from speaking with Peter Limmer (the son) two years ago when I purchased two pair of these imports: one pair for myself and one for my son.
They are lightweight and exquisitely constructed but, since they're not custom made, the fit has something to be desired. I could not break my pair in — even after 100 plus miles — and eventually returned them for a prorated credit. On the other hand, my son's boots initially fit and broke in very well and are still comfortable after a few years of use.
If you want genuine Limmer boots that are custom made for your feet, then you just have to bite the bullet and spend. You also have to be willing to go to Intervale, N.H., and have them measure you in person. Additionally, you must be willing to wait for these masterpieces to be built for you.
The last time I had my boots resoled I opted for the lighter weight and softer sole (more grip but wears more quickly). It reduced the weight of each boot considerably, yet was still acceptable for day-hiking with a light pack.


Source: bought it new
Price Paid: $350

The name of these boots is a definite oxymoron. In fact, they are a great mid to heavy backpacking boot. If you haven't experienced how Limmer makes these puppies, I can give a brief description.
Cut from a single piece of leather, the outside is assembled using one 2-3 inch seam on the inside of the instep area. This is done using six strips if stitching. The heel has a pocket that will not allow blisters to form due to the lack of stitching and/or seams. Sort of like 4-wheel drive leather gloves for your feet. Inside, the softest cowhide cradles the foot. It creates a "custom fit" by curving and shaping around all bone bumps. No footbed is needed because of the natural leather one already in the boot. Although, I was a bit leery about not using my usual superfeet ortho, Limmer has successfully created the perfect footbed that is now forming a comfy shelter surrounding my feet.
After 3 days of constant wear around the office (maybe 10 miles of actual walking), I was ready for a break-in trip. I chose a 14-mile loop in the Sespe Wilderness to test these bombers. Having had blisters in my 30 years of hiking, I was prepared for the worst. To my amazement, not even a red spot appeared on either foot. This after slogging through a dozen stream crossings and mud lined creek beds. The waterproof integrity was never compromised. The little foot moisture produced by my 175 lb. body and my 45 lb. pack was quickly dried after airing them out during an afternoon rest.
In the February 2000 issue of BACKPACKER magazine appeared a review of these boots. Having searched for a store to purchase, I found a location in Vermont that sold them. Max was great to deal with and provided lots of info. Tell him I said, "Hello."
Max Carleton
OASIS SPORTS
P.O. Box 59
N. Clarendon, VT 05759
(802) 775-1273
If you read my review of a couple of other boots, PIVETTAS & VASQUE ALPINES, you'll see my experience with hiking footwear goes deep. These new Limmer Lightweights should be on the trail for some wonderful years of adventuring.
Materials: all leather
Use: rough trail/heavy pack
Break-in Period: a few days/miles
Weight: 3-4 lbs
Price Paid: $225

I recently purchased a pair of limmer lightweights and find them to be the most comfortable, best constructed boot i have yet owned. The design and craftsmanship are unequaled in my limited experience (vasque sundowner, tecnica shasta tcy, asolo, dunham). The fit is incredible as the heal pocket is designed to snug around your achilles tendon and lock down the heal itself, and as Karl Limmer told me himself, "it's amazing what 50 cents worth of foam rubber can do, I'm always surprised that my competitors don't copy it." These boots are thick nubuck leather outers with a glove lined leather interior, waterproof without the GD Gortex. These are very substantial boots, however, the name lightweight is relative to the Limmer standard boot. At my boot size, 13W, these boots weight 2 lbs. 1 oz per boot. I also tried a pair of the mid-weights for a comparison, they weighed 2 lbs. 7 oz. per boot, a little heavier, but a more substantial boot all around, beautiful full grain leather with a heavier outsole, truly a work of art. I opted for the lightweights only because of the weight, my intended use is dayhiking/weekend backpacking, but if i spent more time on the trail i would have bought the midweights.
I'll admit that limmers product is expensive but i hope that just when these boots are broken in i won't have to dispose of them because the sole is worn out, like all of the others i've owned. will post an update in the future. btw i bought the limmer boots because i originally bought the limmer oxford shoe several months ago...they are the most comfortable shoe i own (including several pairs of allen-edmonds), with a very wide toe box and impeccable construction...they are the reason i bought the boots! also, I spent over 3 hours (3 calls) on the phone with Karl Limmer himself talking boots, fit, care...you won't find that at vasque or any where else...these guys are really good!

Materials: nubuck leather with glove leather lining
Use: weekend hikes
Break-in Period: 20 miles
Weight: 2 lbs. 1 oz. per boot
Price Paid: $250

Very comfortable. Feels light while still being supportive. Great customer service. Good for backpacking for lighter people with moderate loads (~40-60 pounds).
Pros
Full leather construction
Durability
Ability to be resoled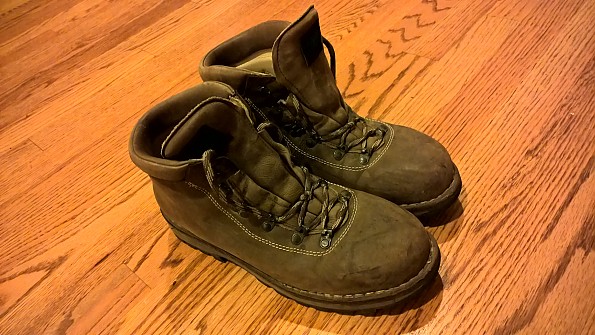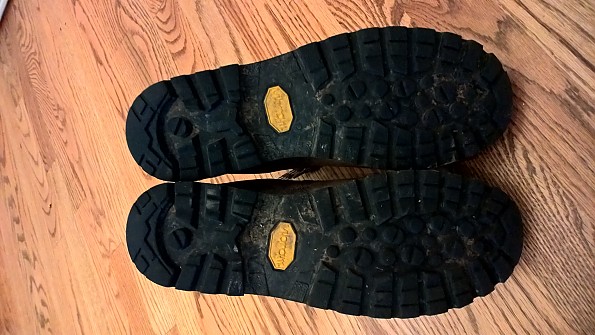 Once broken in, the Limmer Lightweights have been the most comfortable boots that I've worn for backpacking. They do take a while to break in (~50-100 miles) and Limmer recommends wearing them around for daily walking to help the break in process.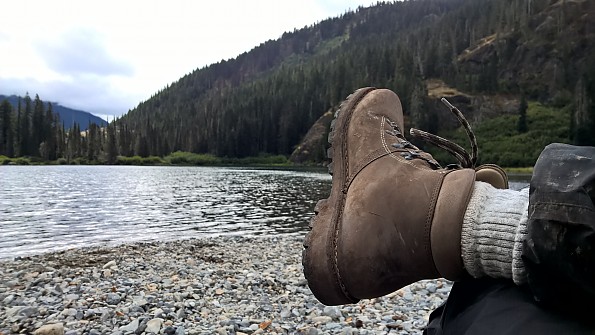 Even though they are called lightweights, they are just as supportive as other backpacking boots that I've worn. With the rocker soles, they feel much lighter when moving along on a trail.
Source: bought it new
Price Paid: $315

I just received my new Limmer Light Weights. Honestly, I did a lot of research before purchasing.  I don't consider myself an avid backpacker but that will change soon.  
I tried on many boots from REI, Campmor including Danner. I just wasn't sold on the whole made in China experience.  I wanted a boot that would be tough, durable and could be re soled by a cobbler.
I wasn't trying to make a fashion statement (I see where J Crew is now trying to sell the Danners).  I just wanted something that would last for a very long time and that would mold to my foot.  I wanted a boot that years from now I could look at them and say "man, we've been on some adventures together!"  
I emailed Limmer, received an order form, sizing sheet.  I took all my measurements, tried to follow the directions as best I could with the drawing the outlines of my feet. Mailed it back to them. What did I do!?  
Well, they arrived and I have to say they are the nicest boots I've ever had. They're tough, durable and just down right awesome. I'm following the directions that was sent in the package.  Wearing them indoors first and I can't wait to bust them out on the trails.  I foresee me having these boots for a very long time.  
I'm not trying to knock Danner, I just felt the fit was a little sloppy. When I saw them being sold in a local J Crew store that was a turnoff for me.  Thanks, Limmer.
Price Paid: $300

I purchased these at Kittery Trading Post at the beginning of last year. I've used them on every hike since then, probably putting 200 miles on them. There is nothing wrong with them yet, just the usual scuff marks. I coat them with the Limmer mink oil before each hike to keep them in good condition and waterproof. I chose to break these in with a hike instead of wearing them around for a while before. I soaked my feet in a river before I started hiking, because I heard that this makes them mold to your feet. I don't know if that had anything to do with it, but I didn't get one blister that hike or any of the rest I've done with these. They fit perfectly and keep my feet protected well. I couldn't be happier with these boots and expect to get great mileage out of them. Thanks, Limmer!
Materials: Leather
Use: Dayhikes to extended weekend excursions
Break-in Period: None, right out of the box to the mountain.
Weight: I think 2.5
Price Paid: $260

Purchased these boots last fall and they are without a doubt, the last pair of leather boots I will ever buy. (OK - maybe the last pair for the next 15 years). The heel lockup is perfect, the stiffness of the boot just right, and the overall comfort is excellent. You can't go wrong with these boots. If you can make the trip to Intervale to make your purchase, it is well worth the time. Ken and Peter really deliver on customer service and making sure you leave with the right boots and fit.
HINT: Although these are sold as "off the shelf" boots, the leather treatment process completed in Germany is still completed by hand. This results in slightly different fits within the same size. Make sure you try on at least 2-3 different pairs. (once you find your size)
Materials: Leather
Break-in Period: 3 weeks
Weight: 3lbs 9 oz (size 9)
Price Paid: $235

This is only the third pair of boots I have ever purchased. I through-hiked the AT in 1979, and just got done with a 6-week trip with my 10-year-old twins, ending at Katahdin. Although my base weight is around 12 lbs, we left Monson with a 47-pound load on my back, base, water, and food for three for eight days.
I knew before I finished this trip that my boots needed replacing, and I'd already decided that when the time came I'd put those 13-year-old six-pounders aside for winter, and get myself a pair of Limmer Light-Weight's for three-season use.
Walked into Ragged Mtn (Intervale, N.H., right down the road from Limmer), tried on the Light-Weight, walked 10 feet and exclaimed "Sold!"
Holy Cow. I thought my feet were happy before. Now I know what the "Limmer Lovefest" is all about.
Materials: 2.6mm Nubuck leather, glove leather lined, Norweigian welt.
Use: Rough trail w/heavy pack
Weight: 3.5 pounds at size 9, my size 12s would be more.
Price Paid: $250

Pros
Nice-looking
Leather is durable
Cons
Still stiff as boards after 9 years. Bottom layer of original and replacement soles separated at the front of the boot.
Wearing these boots is like walking around with 2x4s tied to your feet; you will get blisters after short distances. The boots are uncomfortable, even with the addition of aftermarket insoles. The sole has no flex whatsoever, which is probably why I have rolled my ankle so many times wearing them.
It's unfortunate because I like the way they look, and the leather is super durable. I had the boots resoled and the Meindl replacement soles separated at the front just like the originals.  
Background
A great deal.
Source: bought it new
Price Paid: Over $300. I don't recall precisely.

Best hiking boot.
Pros
One piece upper
Leather lining
Norwegian welt
These boots are far superior to any of the high tech crap (aka low manufacturing cost boots).
One of the only remaining leather lined boots.  All those high tech synthetic wicking linings are BS.  Your feet will overheat and the boot will stink.
With the Limmers your feet stay comfortable and the boots never stink.
Construction is best.
Source: bought it new
Price Paid: $265

Despite a bad experience with the previous owners, the company is under new management and they have reached out to make things right.
Despite a bad experience with the previous owners, the company is under new management and they have reached out to make things right.
Source: bought it new
Price Paid: $326

The longer I've had them the more I love them. Nothing compares.
Pros
Sturdy
Supportive
Comfortable
I've been at least a thousand miles in my Limmer Lightweights. They're scarred up pretty good, and been re-soled. But I wouldn't trust any other boot now.
Source: bought it new
Price Paid: $275

hard to find as not many dealers. best boots ive ever worn in 25 years of tramping. well worth the effort to find. i bought mine at the factory in intervale, nh. though called "lightweight" these are really a heavier duty boot suitable to rough trails with a load (at least for me at 145 lbs). just a fantastic boot. worth every penny. sewn welt which means that they are resolable.
Materials: leather
Use: rough trail
Break-in Period: minimal
Weight: 3lbs 5oz
Price Paid: $235

Your Review
Where to Buy
Help support this site by making your next gear purchase through one of the links above. Click a link, buy what you need, and the seller will contribute a portion of the purchase price to support Trailspace's independent gear reviews.
You May Like
Specs
Men's
Price
MSRP: $445.00
Historic Range: $175.75
Reviewers Paid: $225.00-$350.00

Leather Upper
2.8 mm Single Piece Chrome Tan Leather

Welt
Norwegian Welt

Upper Lining
Breathable All Leather

Inner Sole
3.5 mm Leather + Leather Heel Pad

Midsole
2 Layers - 3mm Vibram Comp and 3mm EVA Rocker

Outsole
6 mm Vibram Multigrip Alpin 3 Yellow Label

Shank
Full Length Nylon, High Torsional Rigidity

Average Weight
3.5 lbs

Reinforcements
Side and Ankle Open Cell Foam

Heel Counter
2.5 mm Leather Fiberboard

Height from Floor
6.0 in

Height from Welt
4.5 in

Resole/Repair
Yes

Manufacturing
Made in Germany

Women's
Price
MSRP: $445.00

Leather Upper
2.8 mm Single Piece Chrome Tan Leather

Welt
Norwegian Welt

Upper Lining
Breathable All Leather

Inner Sole
3.5 mm Leather + Leather Heel Pad

Midsole
2 Layers - 3mm Vibram Comp and 3mm EVA Rocker

Outsole
6 mm Vibram Multigrip Alpin 3 Yellow Label

Shank
Full Length Nylon, High Torsional Rigidity

Average Weight
3.2 lbs

Reinforcements
Side and Ankle Open Cell Foam

Heel Counter
2.5 mm Leather Fiberboard

Height from Floor
6.0 in

Height from Welt
4.5 in

Resole/Repair
Yes

Manufacturing
Made in Germany

Recently on Trailspace