Katabatic Gear Palisade

Top 25 in unisex Top Quilts and Blankets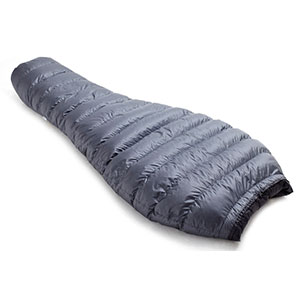 Specs
| | |
| --- | --- |
| Price | Reviewers Paid: $445.00-$450.00 |
Reviews
4

reviews

5-star:

3

4-star:

0

3-star:

1

2-star:

0

1-star:

0
Well made, high quality product
Pros
High quality construction
Good connection points to sleeping pad
Lightweight!
Warm!
Cons
Regular size is a little snug when winched down on pad
I read all the reviews there were for quilts in general, this brand and the Palisade specifically. I settled on a quilt to lighten up my gear for three-season use. So far I've used the quilt four times in temps ranging from 30 to 50 degrees.
As a baseline, I slept in long underwear (SmartWool merino wool lightweight top and bottoms) and a hat.  The lowest temp I've been in with this was around 28 degrees and was warm. 
I debated getting the wide version to have extra room when the bag was cinched to the pad, but went with regular to save weight. Im 5'10" and 165 for reference
All this said, I would buy it again. It's about 18 ounces with the cords and straps and is very light and checks the box for general three-season use. I live in the Northeast and if I were heading to the Adirondacks in fall or spring, I'd take a warmer bag (currently looking at the Sawatch). I have an arsenal of Western bags which are great and have 20 years of heavy backpacking experience to base this on.
Again, I would buy it again and will bring it on most of my trips because its high quality and light weight.
P.S. I'd like to see Katabatic figure a way to open the foot box for nights when it's warm. While most of the quilt can be lightly draped over the body in warmer weather, you still have to stick your feet in the foot box or have them outside. No middle ground.
Source: bought it new
Price Paid: $450 or there about. I forgot

Fantastic!
Pros
Light
Extremely well made
No hood in the face
Cons
Just make sure your mattress is warm, if winter camping. :)
I used an unzipped regular Marmot Spire down bag for years, and by necessity, it was a bit overkill on warmth. The hood was often in my face, even though I bought it to match the side I tend to sleep on. 
This quilt is a way better concept. No hood in the face, down on top, instead of compressed below (or in my case, wasted in unnecessary width, when spread out).
I've been using the quilt for three years, many nights per year.
It's super well made.
Very cozy at its rated temp, when cinched to the mattress properly. 
Plenty of room in the foot box, and shoulders. I side sleep and curl my legs up and and am a very tall guy, no problem fitting under it still.
Moisture resistant down (my first) seems to work well. Bag seems much drier than any before after a sweaty night.
Packs super small.
Great loft after unpacking.
My last bag ever. :)


Experience
Three years heavy use. I am camping one to three months solid per year, bike touring. Used a lot at home too. :)
First quilt, long time sleeping bag user.
Used in a tent or under the stars, spring to late fall. All weather conditions.
Source: bought it used
Price Paid: About new US price; I bought it in europe, so no complaint.

Warm, lightweight, versatile, and durable. Highly recommend.
Great quilt/bag! I've slept in it down to 30°F in this bag with a Therm-a-Rest NeoAir XTherm sleeping pad underneath with my long underwear and jacket underneath. I got this bag to cut down on weight and size for backpacking, but have mostly used this bag when car camping.
The bag is built very well especially for a lightweight bag. I generally sleep very cold, and I have tried many other bags and have never been able to sleep in them near their "rated" temperatures before. The Palisade is definitely warmer than other 30°F degree bags. I have even layered this bag with another 30 degree bag and slept in it down to -20°F.
After three years of use, maybe 10-20 nights a year, the bag is just as warm and lofts up to the same level it originally did.
There are benefits to having the quilt like design. I use this as a blanket and wrap it around myself and a few friends when we're around a fire. The one caveat to this bag, you need to make sure there is a decent seal between the bag and the sleeping pad otherwise a draft of cold air can wake you up in the night. Just treat it like a blanket and tuck yourself in at night and you'll be fine.
Source: bought it new

Holy moly, this quilt is incredible! So light, and very well crafted.
Cons
Expensive
Only available directly from Katabatic Gear
This is the greatest warm season quilt I've ever used. It is lightweight, high quality, and a great option in warm season use. It has a great system to attach to the sleeping pad, if needed — no drafts or cold spots.
The footbox has extra space and down, for increased comfort. Getting in and out, with no zipper, is a cinch.
As it is down, you have to be conscious of moisture. Also, as it is a quilt, you have to consider the mattress pad for back warmth. I pair it with a Therma Rest Neo Air (X Light for summer trips, X Therm for winter trips).
This quilt has given me the lightest, most comfortable bag I've ever used. It has treated me very well over the past year, with dozen of days use.  I highly recommend this product, if you can afford the price, potential wait time, and lack of availability in a store for viewing prior to purchasing.
Source: bought it new
Price Paid: $445

You May Like
Recently on Trailspace