Katadyn Carbon Cartridge

The Carbon Cartridge has been discontinued. The Katadyn Carbon Cartridge was renamed and is now called the Katadyn Bottle Adapter with Activated Carbon.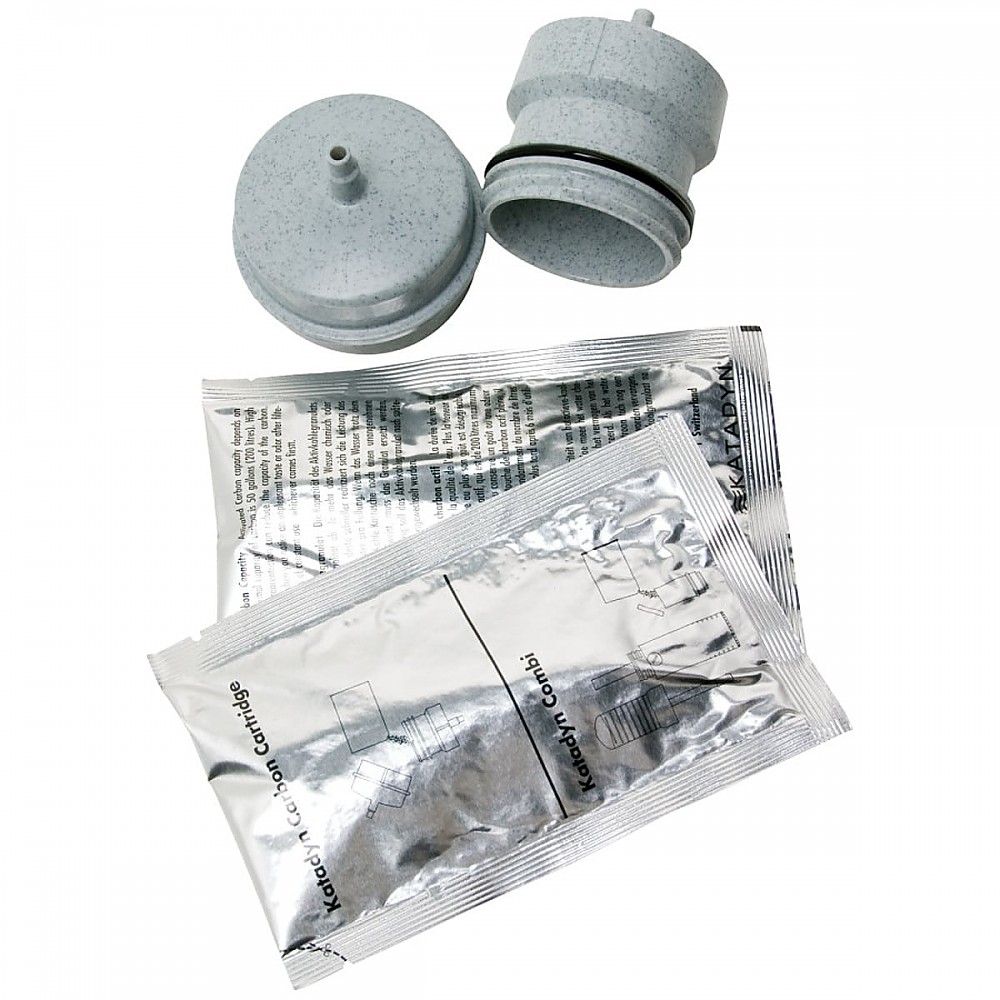 This is a fairly inexpensive, simple, upgrade/add-on for filters such as the Hiker, Hiker PRO, and even the older PUR models. I recommend this product for anyone using those models, especially if you are getting water from a source that is used by recreational watercraft, or the source water has a bad taste or odor.
Pros
Simple "add-on" or upgrade
Easy to use–no moving parts
Reduces chemicals, tastes, and odors from water
Fairly inexpensive (at first)
Cons
Adds a bit of weight and bulk
Filling/re-filling carbon granules is tedious
Replacement granules cost almost as much as product
Trailspace has two (2) group headings for this product, under different names. This product is currently called the "Katadyn Bottle Adapter with Activated Carbon" on Katadyn's website. They are one and the same.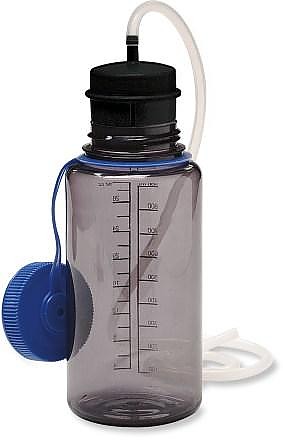 I placed this review under the "Katadyn Carbon Cartridge" heading because when I purchased them back in 2010, that is exactly what they were called. I have no idea when Katadyn changed the name.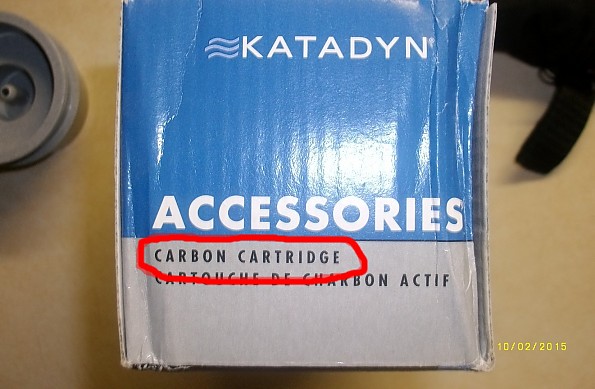 And, depending on where you purchase from , and how old their stock is, the packaging may very well still say "Carbon Cartridge".
Also it should be noted that REI and Moosejaw are still calling this the "Carbon Cartridge". So... go ahead and call it whatever you want! I'm just gonna call it "this product" from now on for simplicity. And laziness. LOL ;-)
This is a very simple product to use, and there is not much to review here. This is just a replacement for the standard bottle adapter that is included with Katadyn Hiker and Hiker PRO (and some old PUR) pump water filters.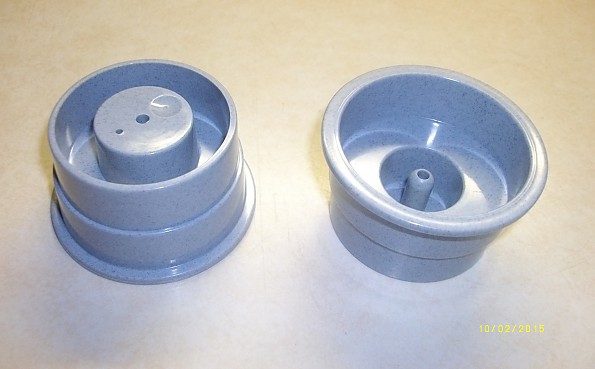 This is the standard bottle adapter that comes with your filter.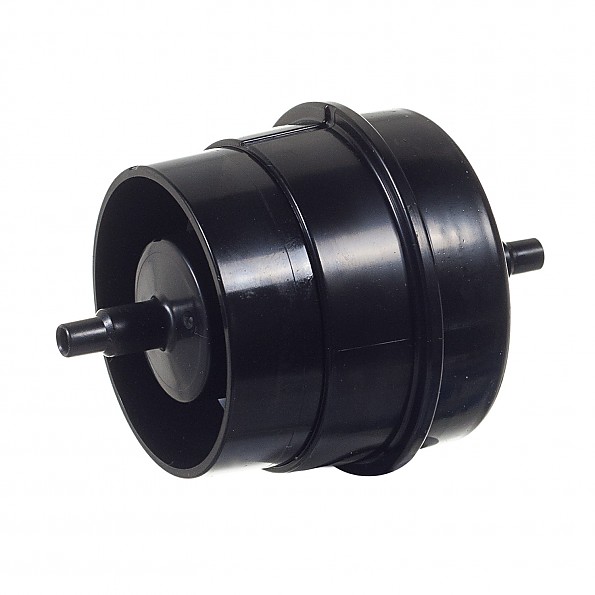 And this is what you will replace it with. (remember- "this product", LOL)
Or, a combination...
Oddly enough, they seem to come in three (3) different color schemes- black/black, grey/grey, and black/grey.
I have one (1) black/black, and one (1) black/grey.
Don't ask me why. That's just what I received. I wasn't given a choice. ;-p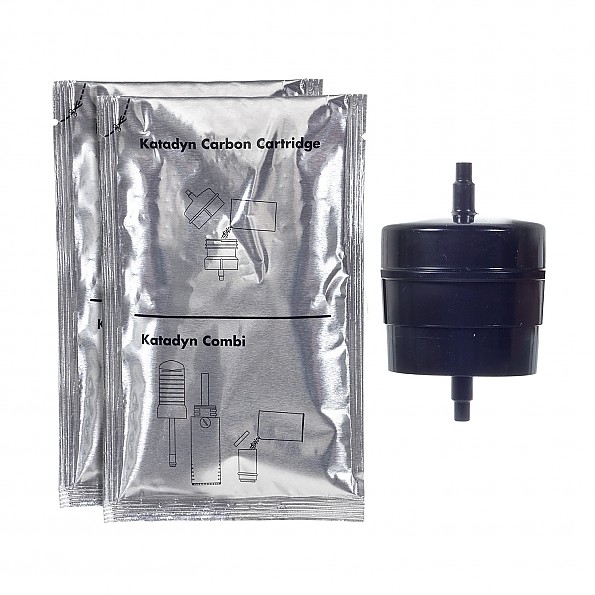 When purchased, the package includes "this product", and two packets of activated carbon granules (inside a pretty box). Each packet treats up to 50 gals of water. (This is according to Katadyn's official, downloadable, "fact sheet".)
You just swap out your original with "this product".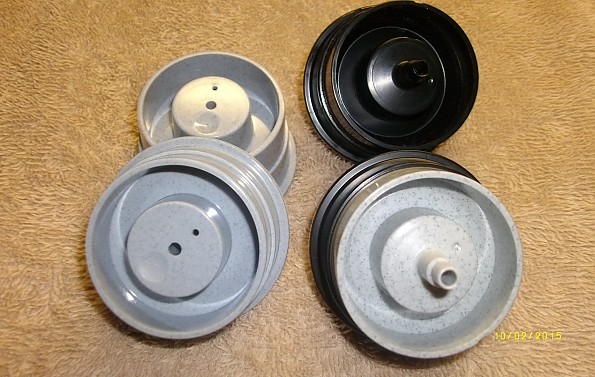 Old on the left, new on the right.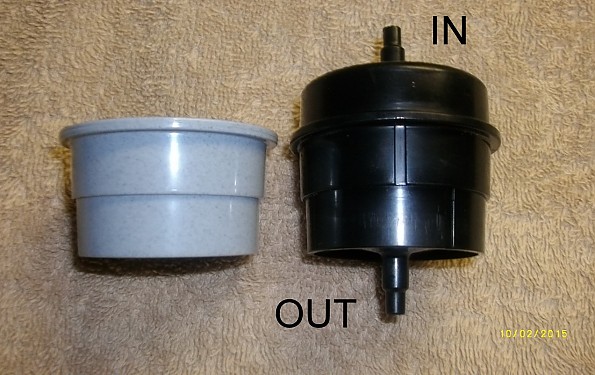 Again, old on the left, new on the right. As you can see, "this product" is slightly bigger than the standard bottle adapter, and therefore also weighs a bit more. Katadyn's stated specs are:
Weight: 2.08 oz
Dimensions: 1.9" x 2.3"
Also note the inlet and outlet barbs on "this product".
The addition of an outlet barb now allows direct filling of most hydration bladders.
Theoretically.
And so says Katadyn.
I don't use hydration bladders, so I have no idea if this works. I don't see why it wouldn't. You just stick the outlet barb in a hose and have at it, right?
Besides the obvious things that stand out, I have only noticed ONE (1) difference in "this product" compared to the standard bottle adapter. It is minor, but may be worth noting, so I will point it out in the next photo;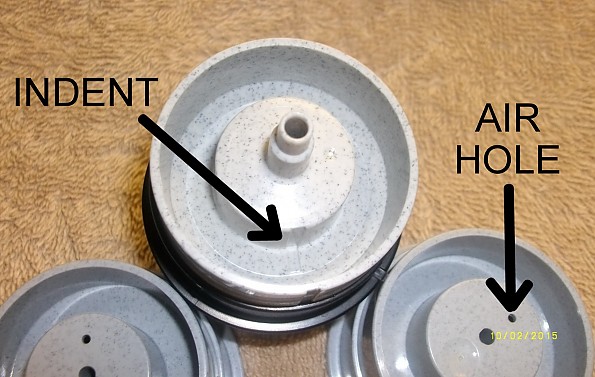 The original/standard bottle adapter has a hole through it to allow air to escape as you fill a container. By design, "this product" can not have a hole through the middle of it. So instead, it has an indent (or notch) on the outside edge (lip) of the small AND large diameter fit areas.
I've found that this makes a very minor difference to performance.
And it may, actually, make NO difference.
There is a slight increase in the amount of pressure required to pump using "this product", but without some type of testing, I can not know for sure if it is a result of less airflow from the container as it fills, or simply because you are now pumping water through 2 screens and a bunch of carbon granules.
Or a combination of both.
Who knows? And I don't really care- the difference is barely noticeable.
As for fit, "this product" has the same basic form and function as the standard bottle adapter (plus an outlet barb, which only matters if you are using a hydration bladder), and therefore will fit all the same bottles.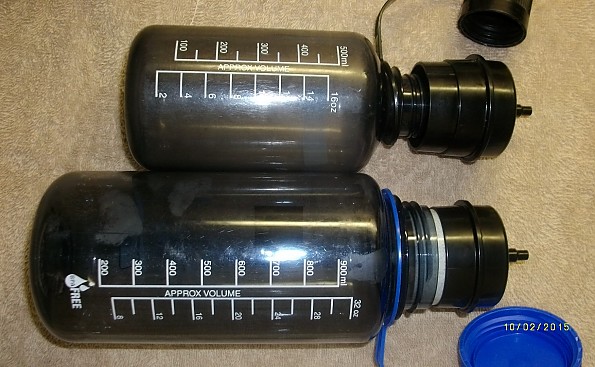 As you can see, it fits perfectly on either mouth size of Nalgene bottles.
And I happen to know from experience that "this product" also fits many other bottles, even bottles with "non-standard" sized openings (it fits every bottle that I have. How many you say? TOO many!).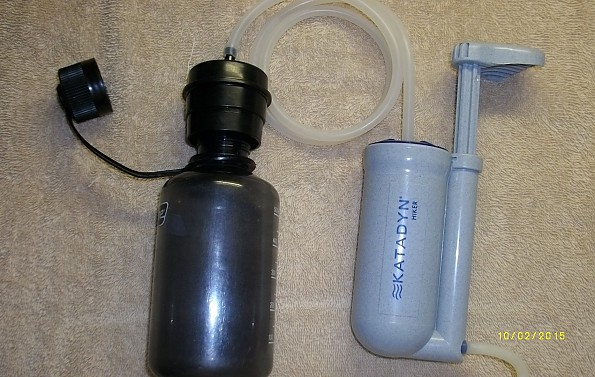 Here you see the whole shebang set up and ready to go. Once you get to this point, there really is nothing different from the old set up, except that your filtered water will now have less chemicals, odors, and tastes. Yay!
But... that's not the end.
I skipped an important part. Purposely.
I saved it for last. And you'll soon see why.
Before you get to the point of being able to use "this product", here comes the not-so-fun part...
When I purchased my two (2) of "this product", they were not filled with carbon granules.
And neither will YOURS be.
That's right- EMPTY.
Wait for it...
You have to fill it yourself! (they DO include the carbon granules!)
Hey, no big deal, right?
Well...
It's a little messy.
Okay, depending on how careful you are, or how much of a klutz you are, it could be more than a little messy.
And it's a little tricky.
And time consuming, if you want to do it correctly.
So here's the deal- "this product" consists of two (2) halves, a top and a bottom, that screw together with threads (and an o-ring/gasket) to form a seal.
There are also a couple of round, ceramic-type, disc screens inside to keep the carbon granules in, while allowing water to flow through.
The truth of the matter is that I just recently re-filled both of mine, and there was no way in... Hades!! ... that I was going to disassemble one of them to give a play-by-play of how to fill/re-fill "this product".

And to make matters worse, I couldn't even find a video, let alone any decent pictures, to show you how it's done!
I know... I'm a bad reviewer. And a bad person :-(
I'm sorry!
Here's all I can show you for now;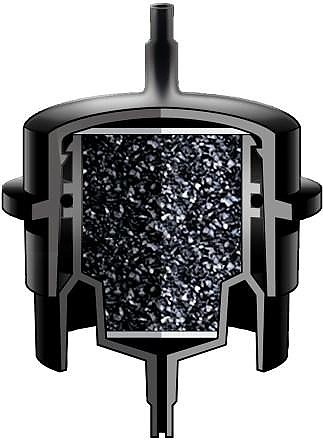 This is a pretty good cut-away showing the top and bottom halves, and the intended direction of water flow. (IF you get it put back together cleanly and correctly)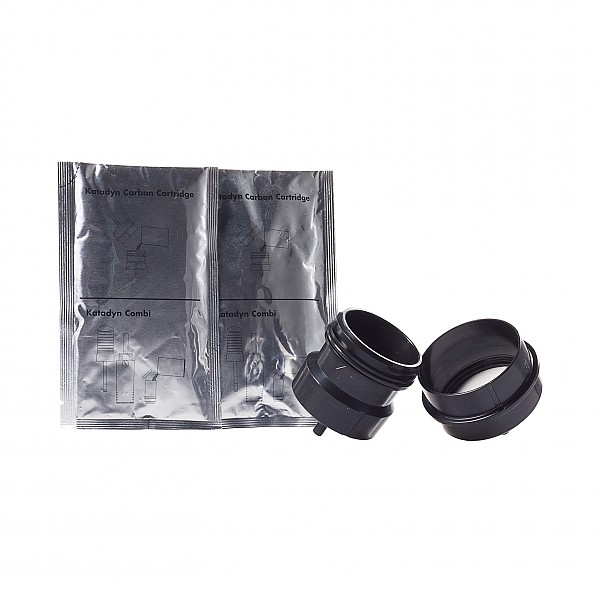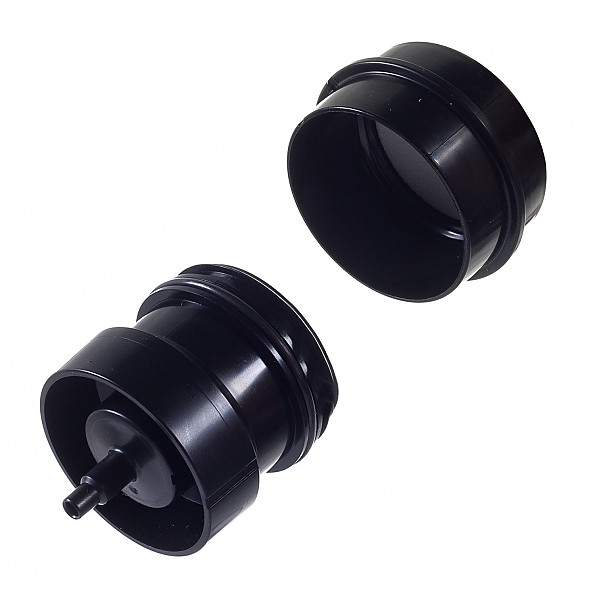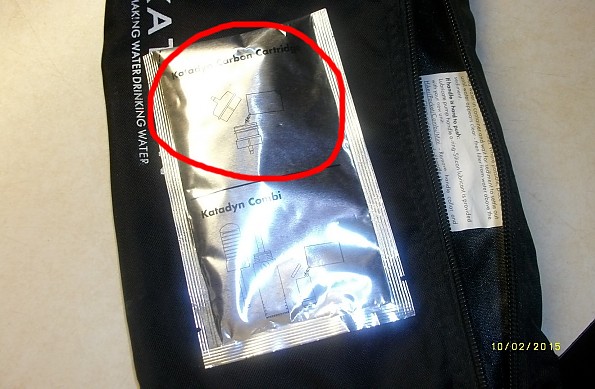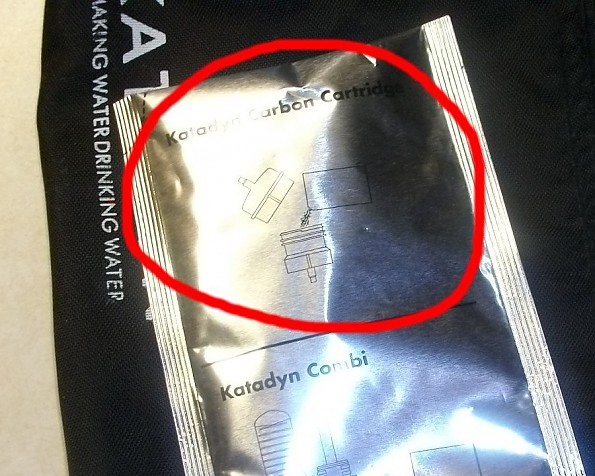 Basically, you just unscrew the two halves, pour the carbon granules in, make sure the white screens are in their proper places...
and then clean up the mess you just made!. Yes, there will be at least SOME mess.
You have to make sure that the threads and all mating surfaces are free of any stray granules. And then CAREFULLY put the two (2) halves back together.
This sounds much easier than it is.
Especially if you end up with "this product" in the black/black color scheme.
Tiny little black carbon granules on black plastic... Get the picture?
Okay, now that you have spilled carbon granules all over the place, and have given up trying to clean the threads, and just went ahead and screwed the two (2) halves back together (good luck getting it apart now after you use it!), you have to take the manufacturer's advice and do the following...
" When filling [or re-filling -DLK] the activated carbon, fine dust is formed. Flush this out with the first liter of water. "
NOW you are ready to use "this product"!
The filling/re-filling process is slow and tedious, and is the reason I did not give "this product" 5 stars. Every other category is deserving of a 5-star rating, but because of the fill/refill hassle, I just could not go all the way with 5 stars overall.
But don't let that be a deal breaker for you, because keep in mind that this is not a process that you will have to go through often. For the most part, once you have "this product" installed, you go about normal water filtering activities as usual. You don't even notice "this product" is there. 
History
I have a Hiker and a Hiker PRO, and I have upgraded both with "this product". I use my Katadyn filters exclusively, and have been using them with "this product" for just shy of 5 years. In that time I have had NO issues or problems (other than filling/re-filling).
Construction/Durability
"This product" is constructed of a lightweight, hard plastic similar to what the filter housing is made of.
As for durability, I will say that I am not hard on my gear, and try to take care of it as best I can. Some even accuse me of "babying" my gear. Well... SO WHAT IF I DO?!? LOL
But there WAS this one time... [sigh]
To give you the short version: a very large tree branch (more like tree TRUNK) was thrown down a 50 or so foot cliff side embankment and landed on my water filter.
Don't ask. It's a long story.
The point is... nothing was damaged.
So how's that for durability? It'll have to do, cause it's all I got! ;-)
Miscellaneous
The "Katadyn Bottle Adapter with Activated Carbon", or "Katadyn Carbon Cartridge" (or "this product") is available direct from Katadyn's website, from REI, and from Moosejaw.
As of early AM on 10/03/15, it was $19.95 from either of those sources.
The replacement carbon granule packets come two (2) packets per purchase, and are currently $14.95 from Katadyn or Moosejaw.
Enjoy!
Source: bought it new
Price Paid: $14.95 on 11/04/10

Your Review
Where to Buy
Help support this site by making your next gear purchase through one of the links above. Click a link, buy what you need, and the seller will contribute a portion of the purchase price to support Trailspace's independent gear reviews.
You May Like
Specs
Price
Current Retail: $26.95
Historic Range: $9.93-$26.95
Reviewers Paid: $14.95