Katadyn Mini

The Mini has been discontinued. If you're looking for something new, check out the best pump and gravity water filters for 2023.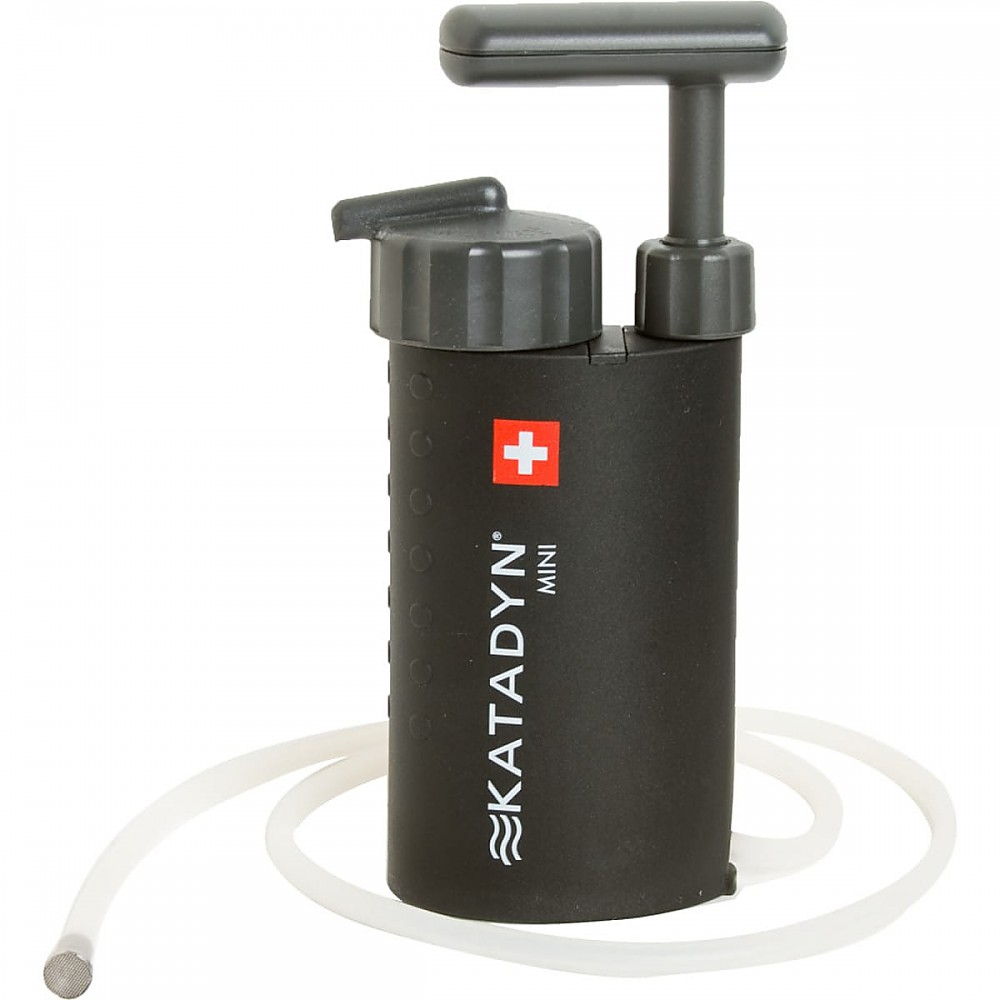 You can get clean water with this. But it takes a lot of work for what you get. You will need a drink by the time you are done. LOL!
Pros
Small
Lightweight
Effective water filtration
Cons
Very hard to use
Clogs fast
Low water flow
If you are looking for something to filter water, this will do the job, but you have to work for it. I bought a couple of these for a backcountry trip up in Colorado.  I knew the water would be crystal clear, so I thought these would handle it okay.  
Well, the first time I used it, I knew we were in trouble. It took almost 10 minutes of hard pumping to fill a one quart water bottle. I was so thirsty from all the pumping I could have drank the whole quart. Things only got worse from there. Each time I used it, it got harder to pump and produced less water.  
I knew this would happen, but I did not expect it to start happening on the first use when I was pumping crystal clear mountain spring water. It became a daily chore to get enough water to keep from dehydrating on our one-week trip. If it would have been very hot, I don't know what would have happened.
Source: bought it new
Price Paid: $80

This filter is an overpriced dog.
Cons
Slow flow
Cumbersome to use
As it is small I give it the 2.5 stars, but the 2.5 minus is based on practical use and volume of water per pumping labor time.
It is slow and ridiculously slow...
Thumb size replacement filter cartridges are expensive!!
For the amount of work you have to do I would just filter the water through a coffee filter and drop some tabs in it.
I took this on a motorcycle trip in the backcountry cycle trails and used it to fill my drinking system from creeks and lakes to save time. It wound up a waste of time.
Want something that will pump like the Titanic bilge pump? Buy the General Ecology First Need filter system. Yes, it's big and bulky, but it filters out everything that will cause issues. I have owned the First Need for over 30 years, never failed and fills a bottle of water with less than six pumps.
Source: bought it new
Price Paid: $100

Compact and robust 0.2micron pump filter.
Pros
Small
0.2 micron filter—filters out ALL bugs except viruses
This type of filter is a must when safe potable water is unavailable
I always travel with this or its big brother the Katadyn Pocket.
Both use a 0.2micron silver impregnated ceramic filter that filters out bacteria, protozoa, cysts, sediment etc.
I used a Katadyn Pocket for a year to provide all water for oral and face needs—ie drinking water, washing face, brushing teeth, etc—in a remote part of a tropical country where there was no potable water.
The Katadyn Mini filter was literally a lifesaver at a conference in a tropical developing country where contaminated local well water caused serious health issues for a number of people. Downside was all the pumping needed to provide that water!
Experience
Over 50 years of using water filter products
Source: bought it new
Price Paid: aprox. US $100

Bought the filter, not really needing it, a few years ago. Water here in Norway is drinkable almost everywhere, and after 40 years I've never been sick from it once. I stay away from small pools of standing water though, and I also pass on water that smell too badly of sheep droppings. Water from marshes do taste a bit funny, but is drinkable... If the taste is too bad, add some ice tea. It even camouflages the colour.
So, I brought the filter along on a hike, only out of curiosity, and have decided to never use it again. Tried it in one of those pools of stagnant water, but after filling my 0.5 liter bottle I just packet the filter away and walked off to a small stream a few kilometers away. Pretty sure it took at least 3 minutes to filter a bottle of water, and if you add the time it took to get the filter out of my bag etc. five-six minutes had passed.
I really have no filter to compare the Mini to, but I feel pretty confident there has to be better filters out there.
-
Filters are pretty hard to come by over here, and only in the last couple of years a few sporting goods stores have started selling them. The selection is poor, so I ended up with the Mini. I don't think the surface water has gotten any worse, but we do tend to get influenced by tv-shows like Ultimate Survival that tells us to always boil/filter water before drinking it, otherwise we'll probably end up dead.
So, I guess that in a few years everyone will be using filters here as well, even though we don't really need them. Hopefully something better than the Katadyn Mini will come our way by then. As for me, I'll stick with drinking water the way I have since my first trip into the forrest when I was 3.
Price Paid: way too much

Pass on this one! Slow, extremely high pumping effort and clogs easily. Water that does come dribbling out, after all that effort and time does taste good though. Pass on this one, even though the lack of bulk and weight seems tempting! I paid $165 for this in 1994.

By the time it would take to get 1 cup of filtered water out of this thing, my Kat Guide would have filtered and filled a minimum of 5 Litres of water, with way less effort.
Price Paid: $165

Very light/compact and easy to carry. Pumping is VERY tiresome due to poor ergonomics. Plastic bottom lid eventually broke on mine. Nothing a piece of duct tape didn't fix, but annoying nonetheless. The easiest way to use this filter is to fill a pan/bottle out of the stream and pump out of that.
Price Paid: $80

Your Review
You May Like
Specs
Price
Historic Range: $60.47-$109.95
Reviewers Paid: $80.00-$165.00

Dimensions
3 x 7 in

Output
1 quart/min

Technology
Ceramic depth filter 0,2 micron

Weight
7 oz

Recently on Trailspace