Katadyn Pocket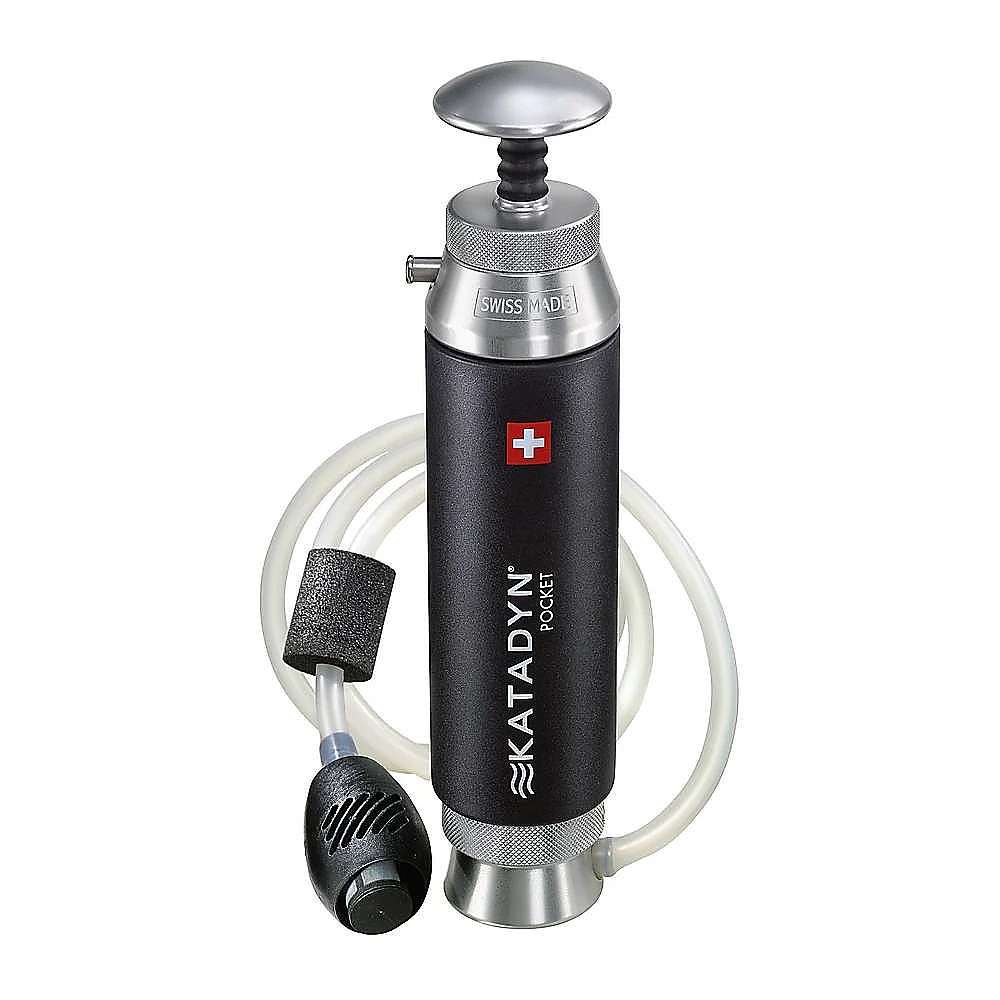 With more thought than I ever imagined, I cast my Katadyn Pocket's intake hose into the most vile, disgusting, putrescent, foulness I could possibly imagine…
Pros
Filters microorganisms larger than 0.2µ
Silver impregnated ceramic element is effective against bacteria and protozoa
Filter reportedly filters up to 50,000L; 13,000gal
20 year warranty period
Cost… Priceless!
Cons
Filter and "trail-necessary" equipment weighs 590g; 21oz
Carrying Case, if carried and I do, weighs 73g
Fairly large with dimensions of (cm): 24 x 6; (in): 10 x 2.4
Price… but well worth every penny!
Water: a transparent, tasteless, odorless liquid!? Hmmm, think again. I, once, with little choice, filtered water from an abandoned cow trough full of the most nauseating putrescence I've ever encountered, the only possible water source available!
With more thought than I ever imagined, I cast my Katadyn Pocket intake hose into the most vile, disgusting, putrescent, foulness I could possibly imagine. A horrid faction of life defying blight (in retrospect, it may not have been that bad, but at that time…). There was no way I'd find anything more, here, than imagination. Imagination, however, is what I found! Water! Clean, refreshing, unsurmountable life-giving water!
That was, in all due respect, not the most unfavorable scenario, involving water or lack thereof, I've ever been in. Fortunately, for me, that time, my Katadyn Pocket performed flawlessly. The worst scenario, by far, has been the few occasions I've not been able to find water, at all.
The Katadyn Pocket, at this point, becomes an outrageous burden considering its lofty packed weight of 590g, which includes my 40g personal hydration accessory kit (pictured below) that always accompanies my filter. There have also been many instances I have decided to abandon my Katadyn Pocket at home, regarding the terrain and the lack of known springs, thinking I'd never find water. Most times, I was correct. There were a couple times it could have been an unwavering benefit.
Now, considering the numerous filtering, detoxifying, disinfecting and purifying systems on the market, a water filter may be the most likely, yet cumbersome of them all. First of all, not all filters are created equal. All of them filter using various standards of capability. The Katadyn Pocket claims to be among the best, filtering all microorganisms larger than 0.2 microns (µ) and, for a warranty period of 20 years. The Pocket is Katadyn's most "rugged" filter and the only one in their line-up embracing a 20 year warranty.
Prior to purchasing this filter, I read a multitude of reviews of as many filter brands as I needed to read; the Pocket received raved reviews! Thus, the Pocket's reputation has remarkably preceded it. This purchase was indeed, all things considered, an investment!
February 2010; beginning a backpacking trek in southern AZ, my pack contents included the Pocket, a 6L water bladder and a 1L water bottle. I began, heading up the trail towards a seasonal creek, 6 miles from the trailhead that I knew would contain water. Here, I expected to use my Pocket to filter 6L of water for the balance of the hiking day, until I arrived at camp, an additional 6 miles ahead, which would have been an overall elevation gain of approximately 6500' and 12 miles for the day. The creek had indeed contained water. I remember thinking, "thank goodness", due to the fact that I hiked the first 6 miles carrying only ~1L of water, there was the chance the creek would be dry. Since I knew there would be a very good chance of finding water in this creek, following a rainfall, I decided to keep my overall pack weight as light as possible, only sipping water throughout these first 6 miles. Once I arrived at the creek, I swallowed my last drop of water, knowing the balance of my trip would now be well hydrated. I had arrived, however, very thirsty. ~1L proved to be too little water for these first 6 miles. No big deal. I figured I would filter ~7L of water, plus whatever it was I would consume at that moment, rest a half-hour and continue on to camp. I still had most of this glorious day ahead of me; beginning my trek before daybreak.
Anticipating, and looking forward to an amazing day, I cast my intake line into the creek, pumped and nothing… my Pocket would not work. For the better part of an hour I sat there disassembling, cleaning, assembling and repeating this process numerous times and, nothing. I was then, mentally exhausted and physically beyond thirsty. With no water I knew what I had to do… head back down the mountain and unfortunately cut my trek short. I, very unfortunately, carried no other water purification method to fall back on. 
Katadyn's warranty proved its worth… Upon returning home and speaking with the retailer, they asked me to send the entire unit in and they'll take care of it. Quickly, I had another arrive in the mail. I have had no issues, whatsoever, with this new filter. I have originally owned and operated my Pocket filter since October 2008. Another warranty success story!
In lieu of above story, I would like to share my impressions of what I, retrospectively, could have done, and in recognition of this disaster, what I currently do to prevent this unfortunate incident from ever happening again. In order to minimize as much risk as possible, I conscientiously and proportionately clean the filter and pre-filter while on the trail, depending on the quality of the water (I've filtered from both clear and slovenly water). I also test, clean and dry the filter prior to and following each trek.
In addition, I now carry a few packages of Katadyn's Micropur purification tablets if the filter should fail to perform anytime in the future. I'm also considering a UV source of purifying, however, I have not secured a positive thought on one, at this time. [I would love to hear your thoughts and experiences, if you own and have extensive experience with one].
My immediate impression, upon pondering the scope of my respondent actions, are efficacious enough, I feel, to feature…
Proportionately clean your filter following each use... If the water is conspicuously filthy, your filter may need a thorough cleaning immediately following use, whereas, if the water seemed rather unadulterated your filter may only need a light cleaning.
Test, clean and dry your filter prior to and following each trek.
Bring a backup… I carry Katadyn's Micropur water purifier tablets. Whatever brand you choose to carry, these tablets could be a life-saver. Be aware of their expiration date!  Mine reads, 05/2014 visibly (without opening package) on the instruction sheet and 0514 on the foil packages. I'll need to replace mine soon.
You may choose a number of ways to supplement your filter or personal method of filtering water. Whatever your primary method may be, strategize a back-up plan. I have read many reviews and discussions in regard to the efficacy of all sorts of equipment, whether it be, micro-filters, tablets, UV, boiling, filtering, etc.; your plan is your plan. Before you head out… Have a plan, make sure it performs well for you, test it immediately before heading out, carry extra supplies and/or batteries if need be, check expiration dates, then, once all is well, relax and go have a wonderful time!
Carry and store your equipment with the utmost of care. Take care of your equipment and it will take care of you!
Most imperatively, know your equipment and its capability. If you've tested your equipment, you've probably read the manual and you're probably aware of how it performs under controlled circumstances. The wilderness is not a controlled environment! Be prepared for the worst! Consider your next outing and perform every precautionary step to alleviate any problem you may conceivably have. The more you know what you're getting in to, or heading in to, the safer and more prepared you will be. 

Earlier, I mentioned a pre-filter. The Pocket's pre-filter construction builds upon a small, screened pre-filter, enveloped, embellished by an ornate hollowed, porous ball (strainer), guised as a weight, each development performing together to prevent larger material from entering the pre-filter; preventing larger material from entering the filter. The pre-filter is designed to filter microorganisms no larger than 130µ. I generally take precautionary measures to go a step further to prevent larger material from clogging the pre-filter by one of two methods. Katadyn, along with most manufacturers and end-users suggest a paper coffee filter held on by a rubber or hair band (hair bands last longer!).
I've tried using a coffee filter many times with reasonable success. I prefer to use a small piece of reusable panty-hose (tights), even cheese cloth to pre filter. For that matter, I've even experimented with tights to pre-filter water before pre-filtering. In other words, I've collected water and drained it through the tights before placing the pre-filter into the water. The water initially contained quite a bit of plant growth and I did not want this material clogging up the pre-filter. Regardless of the method or device I use to prevent the pre-filter from clogging, I always need to constantly clean, replace and/or reposition this pre-filtering (coffee filter, tights) precautionary measure.
Now that were on the subject of pre-filtering, I'd also like to share an experience with you that I tried years ago. I read that a non-lubricated condom works well for carrying water and it indeed does. I didn't need to carry water but thought I'd give it a try to see how well this system would work, if needed. Surprisingly, a condom will accommodate quite a bit of water, a couple liters. Thus, I always carry a "non-lubricated" condom in the event that I've exhausted, or in the event of loss, all other methods of carrying or pre-filtering water.
I honestly don't believe I'll ever use it but I keep it as part of my hydration kit as a back-up. I imagine using it in conjunction with the tights, scooping up water and running it through the tights into a bottle to prepare, as close to possible, sediment-free pre-filtering. Incidentally, once the contents of the bottle is filtered a tablet or UV form of purification would come in handy. Both the condom and tights, together, weigh only a few grams, grams I feel are essential and a must-have, in any event, in my personal hydration kit.
The Katadyn Pocket arrives as a kit. The kit contains the filter, pre-filter, intake and output hoses, quick-fill hydration adapter, manual, cleaning supplies, tube of silicone to grease, additional o-rings, and bottle clips (that I do not use and, thus, have no idea where they are).
Katadyn Pocket with exterior shroud, filter (inside), intake hose (output hose not installed), strainer/pre-filter apparatus and adjustable float; photo courtesy, Katadyn!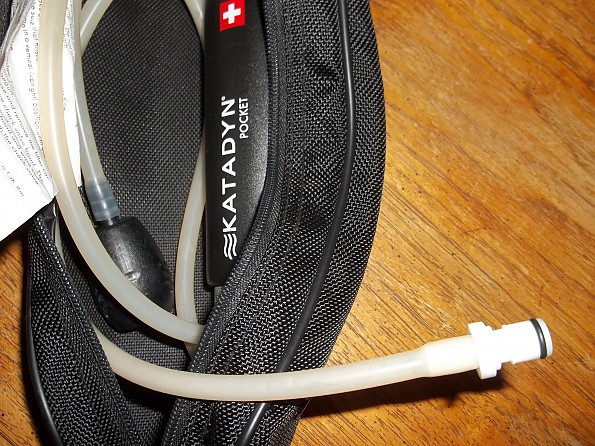 One-half (male end) of the Quick-Fill hydration adapter attaches to the output hose on the filter, or the portion of my drink tube containing the bite valve.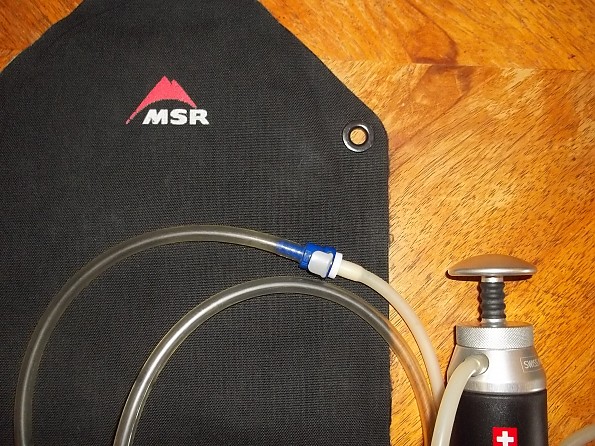 The female (blue component) end of the Quick-Fill hydration adapter kit, attached to my water bladder drink tube, accepts the male end of the adapter, which is attached to the water filter.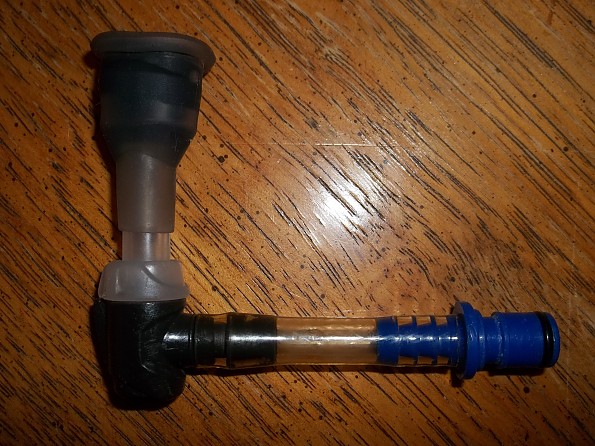 My Bite Valve/Quick-Fill (male end) hydration adapter kit attached to a very small portion of silicone tubing.

I use Katadyn's Quick-Fill hydration adapter on a regular basis! Each time I filter water, I'll filter directly into my water bladder, still contained inside my pack via the Quick-Fill hydration adapter, and/or directly into my water bottle. Despite the fact that I always use a convenient hydration bladder system for water containment and consumption, I always carry one water bottle. I find a water bottle extremely beneficial, and if you've seen an earlier review I've posted, review is here… https://www.trailspace.com/gear/vargo/titanium-water-bottle/#review30549, you know how much I appreciate having a water bottle with me.
Katadyn's Quick-Fill Hydration Adapter Kit...
http://shop.katadyn.com/product/153549/8014399/_/Quick_Fill_Hydration_Adaptor_Kit 
Before we go any further, this may be a good time to post additional personal photos of my Pocket, features and accessories…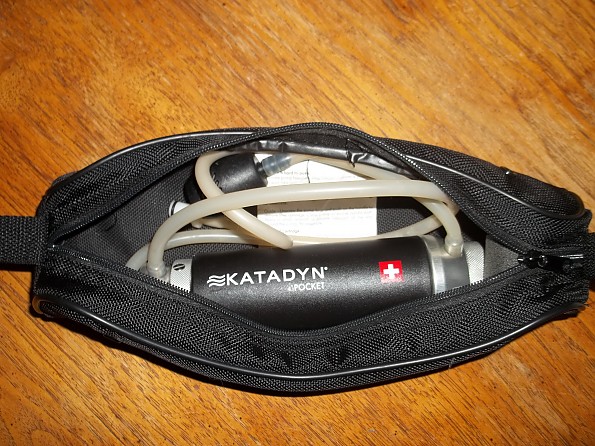 Katadyn Pocket Filters, hoses and carry case.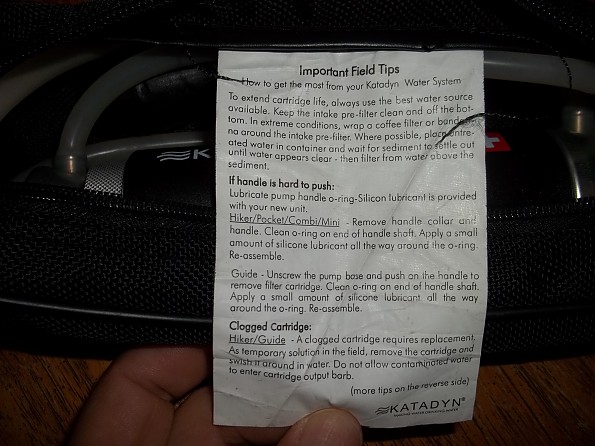 "Important Field Tips" nylon label, sewn in carry case makes this case quite valuable on the trail… incidentally it weighs 73g (2.5oz).
I'm considering cutting the label from this case and employing a lighter case for storage and transport, possibly using a cuben fiber case?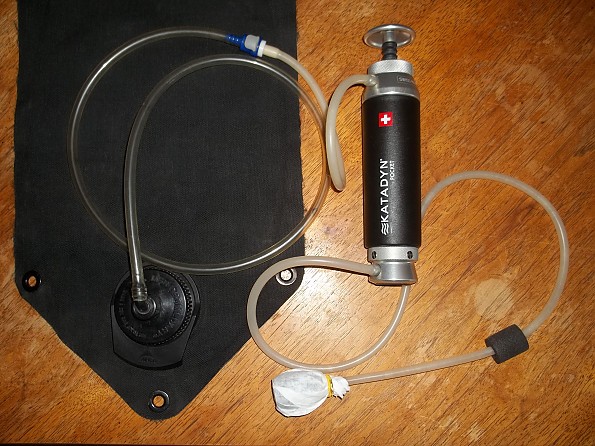 Via the Quick-Fill adapter kit, I'm ready to filter water directly into my hydration bladder containment system without having to remove the bladder from my pack.
Note: Be sure to loosen pack tensioning straps and/or leave enough room in your pack for expansion inside bladder/pack.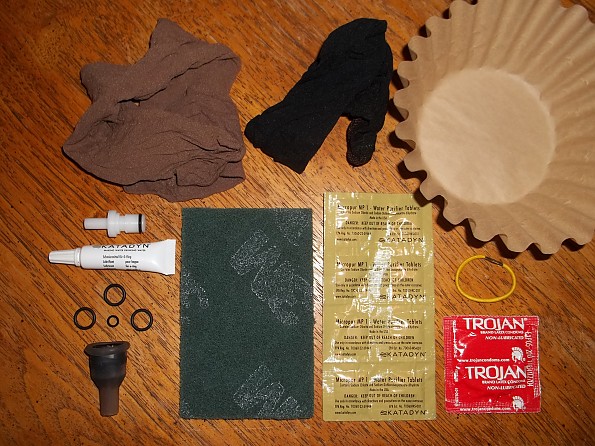 My Hydration Accessory kit, including precautionary, emergency and necessary tools.
(Note: The pico-sized o-ring found it's way in but I have no idea where, why and what it came from. So, there it remains, in case I figure it out.)
Pictured above, clockwise beginning top left…
Two pairs of tights, one khaki the second black, used to pre-filter water. As stated above, I wrap, tighter the better, these around the pre-filter as an alternative to using a coffee filter. I carry two in the event that one becomes too dirty or damaged. I find the use of coffee filters and tights both very difficult to draw water through, but when you're facing especially mucky water these are your better options than taking a chance of thoroughly clogging your filters.

The two tights have additional uses! They may be used as an emergency liner hat, socks or gloves in the event unexpected freezing temperatures set in, which is also why I carry two. They may also be used as a tourniquet in such an emergency or as a compress to prevent the flow of blood.

Coffee Filters. The larger coffee filters, 12-cup size, will work best! I carry two filters for every day I expect to be on the trail… i.e., 3 days/6 filters.
Hair Tie. These work more efficiently and have a longer life-span than a regular rubber band.
Non-lubricated Condom. Be sure it's the non-lubricated type.
Katadyn's Micropur water purifier tablets. These compliment my Pocket as my back-up plan.
Abrasive Pad. Used to clean the ceramic filter. The pad pictured is new; I cut these in half, or quarter, for on-trail use.
Bite Valve. I've lost bite valves while on the trail. I, now, carry at least one extra.
O-Rings. I do not remember how many rings initially came with the filter, however, I carry these three with me at all times, and replenish from the local hardware store.
3g Silicone lubricant for lubricating O-rings and filter maintenance.
Male-end of Quick-Fill hydration adapter. Yet another piece of gear I carry as a precautionary measure (female-end, mate, is already attached to gear).
Katadyn (Endurance Series) Pocket…
http://www.katadyn.com/deen/katadyn-products/products/katadynshopconnect/katadyn-wasserfilter-endurance-series-produkte/katadyn-pocket/
http://shop.katadyn.com/product/153548/8013618/_/Katadyn_Pocket
Katadyn Pocket Fact Sheet...
http://katadynch.vs31.snowflakehosting.ch/fileadmin/user_upload/katadyn_products/Downloads/Factsheet_Pocket_EN.pdf
Katadyn Pocket Manual...
http://katadynch.vs31.snowflakehosting.ch/fileadmin/user_upload/katadyn_products/Downloads/Manual_Katadyn_PocketUSA.pdf
Katadyn Pocket Specifications…
Capacity: 50,000L ; 13,000gal
Dimensions (cm): 24 x 6; (in): 10 x 2.4
Output (L): ~1L/min; (gal): ~ 1 quart/min (I have found this to be accurate)
Technology: Pre-filter: 130µ; Filter: 0.2µ ceramic depth filter (cleanable)
Weight: 550g; 20oz.
The Katadyn Pocket micro-filter meets industry standards for reduction of bacteria (99.9999% Klebsiella terrigena) and protozoan cysts (99.9% Giardia and Cryptosporidium).
Katadyn Ceramic filters have a micro porous structure with impregnated silver which delays the growth of bacteria. The pore size of Katadyn ceramic filters is 0.2 micron (0.0002 mm). Bacteria range in size from 0.2  to 5 micron and like protozoa (1 – 15 micron), are efficiently filtered out. Ceramic filters can be mechanically regenerated and the filter capacity is measurable.
Quality of Water, Ceramic Capacity and Pocket Replacement Cartridge…
Ceramic capacity depends on water quality. The dirtier the water the more often you will have to clean the element. This reduces the capacity of approx. 50,000L (13,000gal). The quality of your filtered water makes a difference… Katadyn initially filters micro organisms larger than 130µ, ultimately filtering all organisms larger than 0.2µ. This means that the quality of the water you've filtered will be competently potable and delicious.
The Katadyn Pocket arrives with a Measuring Gauge…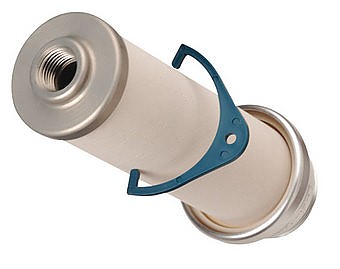 Measuring Gauge (blue), photo courtesy, Katadyn!

Simple, If the gap of the measuring gauge fits over the ceramic it is time to replace the filter element! A replacement element, however, is not this simple, regarding price (continue reading), although the performance and 20-year warranty may better ease your mind.
Note: Use your better judgement when measuring. I have not had an issue with mine, but considering the gauge is made of plastic and may deform, be careful how you measure. Also, if you have used your filter extensively then you know when it needs to be replaced. 
Inspecting the ceramic for cracks while cleaning is an important preliminary step prior to each use, for example, dropped filters or exposure to freezing temperatures may, according to the manufacturer, damage the ceramic filter. If the filter element contains cracks it will no longer protect you from microorganisms and must be replaced! A new filter is a pricey $200.00.
My Pocket filter has indeed been exposed to freezing temperatures and, thankfully, I have not dropped it. Thus, I can account for the filter to function well in freezing temperatures, however, I have no experience with damage from careless misuse. 
Katadyn Pocket Replacement Element… and if you're at all inclined to carry a back-up filter, she alone weighs ~288g (my filter, weighed following several years of use)...
http://shop.katadyn.com/product/153549/8013619/_/Katadyn_Pocket_Replacement_Element_Ceramic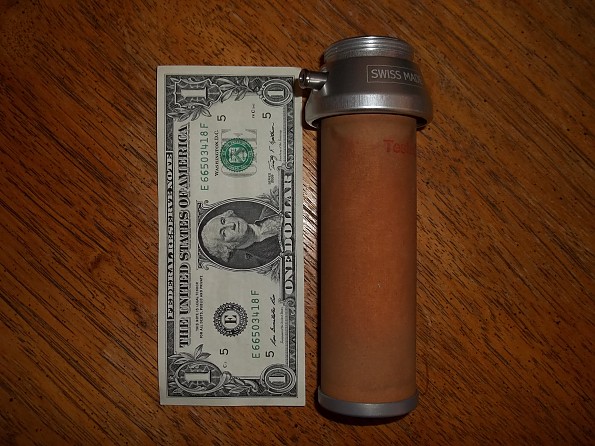 Katadyn Pocket Replacement Ceramic Element Filter. 
Katadyn Pocket, Limited Warranty Information...
The Pocket is Katadyn's most rugged filter and comes with a lifetime warranty from the date of purchase against defects in materials and workmanship… manufacturers statement… "Should your Katadyn Pocket prove defective within that period from the date of purchase, return it to the Katadyn retailer from whom it was purchased. Katadyn, at its discretion, will replace or repair the damaged item. Please retain your purchase receipt as proof of date purchased."
According to Katadyn, Professionals trust the Pocket's longevity and the filter is ideal for 1-4 persons while trekking, on journeys and on expeditions. This would equate to 12,500L of filtered water for 4 persons… that's a lot of life-giving water! On average, an adult living in a temperate environment, according to experts, should consume approximately 3L of water/day. If 3L of water were consumed per day, over the course of 20 years… 3L water/day x 365 days/year x 20 years =  21,900L water consumed. That's roughly 57% of the 20 year warranty period, meaning, you can essentially use Katadyn's Pocket filter, comfortably, everyday, for well over 10 years! Not too bad!

For Pocket Maintenance and Replacement Parts, visit Katadyn for their Small Parts Kit...
http://shop.katadyn.com/product/153549/20648/_/Pocket_Filter_Small_Parts_Kit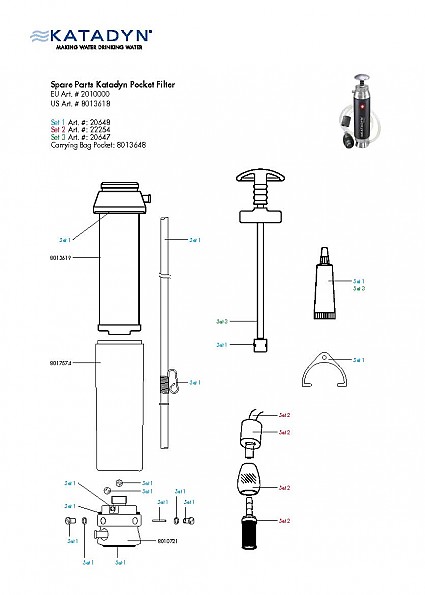 Katadyn Pocket Small Parts kit; photo courtesy, Katadyn!

Here's a neat Feature and an available option… Bottle Adapter with Activated Carbon… I do not use this but believe it's a nice option...
http://shop.katadyn.com/product/153549/8013450/_/Bottle_Adapter_with_Activated_Carbon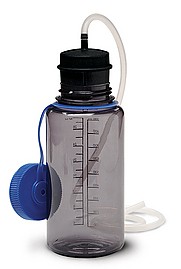 Bottle Adapter with Activated Carbon; photo courtesy, Katadyn!
 
Ultimately, I've been very pleased with the Katadyn Pocket's performance, with the exception of weight. Despite these 663g (filter, supplies and case), I plan on always hauling the Pocket with me on each and every trek. I've used the Pocket for close to each and every backpacking trek, primarily in the southern, AZ area, I've been on and, with the one exception, it has performed flawlessly! I would estimate the number of liters produced from the second filter, I received in 2010, at ~ 300L.
I most likely would have used the filter more often if it wasn't for the fact that I, now, always begin my adventure's with a full complement of water, regardless of the size of the hydration bladder, I either use a 6L or a 10L for backpacking, I entertain for each trip.
The Pocket has proved itself to be a most valuable component and it will indeed remain a part of my comprehensive backpacking / hiking gear for many years to come! 
Reach Your Summit!
All photos, with the exception of those courtesy of Katadyn, copyright, David Drake!
Source: bought it new
Price Paid: Full Retail Price

Bombproof filter that creates safe drinking water without any nasty side effects.
Pros
Highly durable construction
Long filter life
Superior filter efficiency
Field maintenance equipment included
Cons
Heavy
Requires periodic maintenance
Low filtration rate
High pump effort
Effectiveness: This filter is rated to a minimum particulate of 0.2 microns. This rating means that it will filter out bacteria and protozoans, it claims to catch all biological contaminants other than viruses. It removes silt and other fine particulate, and yields water with a pleasant taste.
Speed: The Katadyn Pocket is rated to .86 litre/minute with approximately 60 strokes in a minute. This is not a blazing fast filter. The pump force is rated at 16 pounds of force to drive water through the ceramic filter element, so it pumps slow and it also requires more force than many other water filters.
Capacity: The filter element is rated for 13,000 gallons. It's a silver impregnated ceramic cartridge, which water filters through the fine pores in and then exits the outlet hose. The lifespan of this element is multiple orders of magnitude greater than more conventional pump filters on the market.
Ease of Use: This is a subjective judgment, because you have to take into account your own abilities, strength and endurance. On the spectrum of water filtering, this is more difficult than most lightweight filter systems, most gravity systems, and most chemical treatments. The outlet hose has a small bib clamp to hook onto the mouth of a water bottle, but this doesn't hook into the fill opening of hydration bladders very easily. Overall the story on ease of use doesn't sound that great, but I greatly prefer it for my backpacking trips:
The Hiker Pro is a fully cylindrical device with two barbs on the side, one on the bottom for source water, and one on the top for purified filter to exit. Pumping is done along the major axis length of the device, with no levers to snap or snag. This design makes it easy to place in a side pocket and keep the device accessible. Additionally, I've added a quick-release filter connection to my Camelbak bladder so I can pop off the mouthpiece and pop on the filter's outlet hose with a watertight connection. Thusly I can stop and refill the water bladder without unloading my pack at all, I find this really convenient.
Features: By far the best features of this device is its long lifespan and solid construction. It's vulnerable to prolonged exposure in freezing environments (causing the filter to crack), and high impact shocks, but is otherwise very sturdy. The filter element is solid ceramic, the machined components are all high grade aluminum, and the filter body is a thick layer of molded polypropelene. It holds up well, and filters well for parties of multiple people. The filter element requires periodic maintenance, but tools for cleaning the filter surface and measuring the remaining lifespan of the filter element are provided.
Construction: This should be your primary concern for a water filter if you buy the Katadyn Pocket. It's expensive and requires more effort than many other filters. Water is essential for your survival, and its essential for that water to not contain anything that will make you sick. For prolonged trips, this device gives you confidence that you'll have access to clean drinking water.
Conditions: I've used this filter while on backpacking trips in e.g. silty mountain streams of 1-2 inches depth. The source hose has a large mesh filter to keep out larger particulate, and is long enough to make pumping while seated reasonably straightforward. In my experience, this filter is good for about 40-50 liters before the pump starts to slow, at this point it's a good idea to perform field maintenance on the pump, which consists of using the abrasive pad to remove the outer surface of the ceramic element.
Conclusion: This filter is extremely sturdy. Its filter element's lifespan is extremely long. However, it compromises other factors of its design in pursuit of its lifespan and sturdiness. Drinkable water is the second most important thing to have (rule of 2s), and this gives you reliable access to it in most environments except the desert.
Source: bought it new
Price Paid: Bought at retail

The Katadyn is long lasting, and easy to use. It can be cleaned in the field and removes microorganisms larger than .2 microns. It is great for long stays in the outdoors where it would be difficult to carry all the water you would need for the trip. Combined with a Steripen, it will provide drinkable water from almost any source.
Pros
Easy to carry
Filters out anything larger than .2 microns
Aluminum and plastic body is very rugged
Cons
Larger than a straw but lasts a lot longer
Requires effort to filter water
Doesn't have water storage included
I've used the Katadyn to filter water in outdoor situations where it was not practical to carry all the water needed for the trip.  The filter comes with its own carry bag that is large enough to hold the optional carbon filter. I added a ziplock bag to hold the tubes for the dirty side of the filter. One bag came with it, but I use that for the clean side tubing and attachments. The filter connects together in about a minute and is ready to pump as much water as you need. 
The pump must sit upright for it to work, so don't hold it at an angle and expect it to work. One of the other members of the group tried to use it, but had it at a 45 degree angle and couldn't figure out why it wouldn't work. Once the angle was corrected, it produced enough water for the whole group.
It puts out about 1 liter per minute as long as the water is relatively free of debris.  If the water has a lot of sand or other material suspended in it, it will slow down the flow of water. This will require cleaning the filter more often. The use of a coffee filter over the intake will help keep the water flowing.
Cleaning the filter is easy, and can be accomplished in the field with the included scrubber. Simply unscrew the housing and carefully remove the plastic cover over the ceramic filter, then use the scrubber to remove anything on the filter.
The portion of the filter that you can get to with the cover off is the dirty water side, so there is no chance of contamination. Be careful not to drop the filter, especially with the cover off.  If the ceramic is damaged the filter is useless. Wet hands, and a rocky shore could spell disaster.
There is a size checker that comes with it that is used to determine when the filter needs to be changed. With the life of the filter though, it will be a long time before it needs to be changed.
Overall, the filter is easy to use and and the ergonomic handle makes it easy to pump. The filter life is longer than most of the other filters in its range making the larger price tag more reasonable. It will be able to provide enough water for large groups with a little pumping.
Source: bought it new
Price Paid: $290

This product, although one of the more robust filters I have used, is by far the easiest to field maintain and produces a significant higher flow rate (1 quart/min) compared to other filters I have used in the past. The construction is rock solid and for those that do moderate backpacking it will be the only filter you will ever need as it has the capability of filtering over 10,000 gallons of water.

In my opinion Katadyn products are backed by one of the industry's best warranties and have earned themselves a lifelong supporter. It fully deserves 5 stars, but due to the cost, weight, and size of the filter I rate it 4 1/2.

Honestly for the price you pay, you get a bombproof solid performing water filter that will last almost anyone their entire lifetime and I will probably pass mine down to my son at some point. Thanks, Katadyn for a solid product!
Pros
Well built construction
Very high flow rate
Field maintainable
Warranty second to none
Excellent customer service.
Cons
Price
Weight
Overall size
I purchased a Pocket filter several years ago and it has served me well for my backpacking adventure up to this point. I have used it in clear running streams as well as cloudy puddles of mountain water and it has never let me down.
I love the fact that the construction of all vital components is metal and that the amount of water pumped out on a single stroke far surpasses all other brands I have tried over the last several years.
If and when I have questions comments or concerns regarding this product, the Katadyn customer service representatives I have spoken with are very knowledgeable and professional and have yet to let me down.
Cleaning this filter in the field is a breeze and the filter almost needs no maintenance.
I am now a solid supporter of Katadyn and look forward to trying some of their newly developed accessories for my filter that will make field use easier. Thanks, Katadyn for a solid product!
Source: bought it new
Price Paid: $270

This baby is durable. Easy to maintain.
I've had this filter since 1987 or 1988 and it is still going like a champ. Mostly I backpack in the western Sierras and have done Glacier National Park. Not once have I gotten ill and this filter is still going strong. Mine is the older model with the white plastic casing and I expect it to last until I can't lift a backpack.
It is a little heavy for a filter, but when I purchased it, I wanted a filter that would last. Even the original O-rings that came with the filter are in pristine condition. Every year, I just put a little silicone grease on the O-rings and they maintain their original condition.
When I first purchased it, I paid around $94. Now, it is around $369. That certainly is a lot of money, but if you want something that will last, this is it. I had thought of replacing it with a gravity filter, but most gravity filters just are pump filters that have been modified. This will put out about a liter a minute of hard pumping, but when I filter my water, I like to take my time and enjoy the scenery.
At times, I backpack when at night it is below freezing. You must take care that the pump doesn't freeze with water in the filter or the filter will crack and compromise the filter. Having been in the military, I was taught to take care of my gear. You don't have to baby this filter, but you do want to do some maintenance of it. As earlier stated, treat the O-rings; don't let it freeze with water in the filter; and, make sure it is dry when you store it. With this maintenance, it should last you 30 years, also.
Source: bought it new
Price Paid: $94

If you are more worried about weight and cost than you are about staying alive, then read no further and go buy something else. Do not skimp on your water source.
Pros
Quality
Dependability
Effectiveness
Trustworthy
First, let me give kudos to the Katadyn company. I owned another Katadyn filter, not the original Pocket filter. It was a less expensive model, but had been dependable on previous trips.
I did the unthinkable...I replaced the old filter with a new one, but did not test it before I hit the trail for a 2-week backpack trip in the Wind Rivers. Of course, it did not pump at all, and we were depending on a lesser quality backup filter carried by my partner for the entire two weeks.
When I returned, I called the Katadyn company and complained. The vice president of marketing/customer relations took my call and was extremely apologetic for the filter failure, and to make it up, sent me a brand new complete Katadyn Pocket filter to make me happy.
That is how I came to own my Pocket. I have pumped from something akin to heavy pond scum on several occasions with it, and it performs flawlessly. Like any other filter, when you are pumping heavy particulates, you will have to clean the ceramic element after each use, but since many other filters are "uncleanable" that is a small price to pay for clean water without having to carry along extra filters.
Others have given extremely well-documented reviews, so I won't duplicate their efforts. Just be confident that if you ever have a quality problem with this filter, the company will be there to work with you to make it right. I highly recommend this company, and their products.
Source: received it as a sample, freebie, or prize (Company Exec)

Extremely impressed with this filter. As it is the only one I've used, my opinion is somewhat biased.
I spent several hours on research of which filter I should go with. I read that this filter is heavy and expensive. I also read that this filter last an incredibly long time. Well, they're all true! This filter is definitely heavier and more expensive then most other filters on the market and there is NOT a chance I will buy a different one!
I've tested this filter in literally the dirtiest water I could find and it comes out clear and drinkable! I do find that it's a little bit of work to fill my 3 liter CamelBak but if you're filtering water, don't cheap out and cut corners! I find the maintenance to be very easy to do and cleaning is a breeze. I have noticed that the only part that can keep a smell is the plastic outer sleeve. It's important to clean this filter out and let it dry before storing or you will definitely acquire a permanent taste.
All in all, nothing really to complain about. It's kept me healthy after drinking water that people won't even swim in or let their dogs drink. The weight and value of it is priceless after you take that into consideration.
Price Paid: 280 CAD

If you go on long trips, don't leave home without this. I used mine in Maine after my GPS went down. I was alone for almost two weeks, and ran out of fresh water on the second day. This effortlessly filtered my water from the local streams (which I was told was parasite-ridden during the summer months) for over a week. Very handy, I never got ill.
Price Paid: $265

Consistency in filtering is an issue. Weight is heavy and constant cleaning of filter, along with difficulty in usage, make this a "miss" for filter choice.
Cons
Weight
Lack of consistency (sometimes clogs)
Frequency in cleaning
Difficulty in usage
I'm confident of the effectiveness in filtering—I have drank some poor quality water and never got sick.
I have had lots of problems though. It sometimes clogs and is very difficult to pump. It requires scrubbing of the ceramic filter very often, meaning you have to take apart to clean, lose pressure, and risk having it not work properly. Almost like it requires a priming before pump works.
It is very heavy to carry. I have to leave it at home on long-haul trips as the contribution-to-weight is not enough to include in my gear.
Replacement of ceramic filter is very expensive.
I would NOT purchase this again. Even at half the cost I wouldn't purchase again.
Background
Have used other filters. This filter, while durable, has had too many problems.
Source: bought it new
Price Paid: $280

This filter is very quality and robust.
It is heavy (as pack articles go) and very well made.
Filters water lickity-split, I was shocked at how fast I could pump 3 liters at a pop.
I would strongly suggest that you obtain a longer outlet hose, I have found that 32" is enough so that you can squat streamside, and fill a vessel tucked under your arm.
It is such a good filter, I will only bring this unit for filtration, and if weight is an issue, I will treat chemically. After using this product, the plastic stuff is just plain miserable to use.
I gave it 4.5 stars, because with some additional machining of the aluminum components, I feel that it could drop some grams...but who's counting anyway?
UPDATE:
Actually had to scrub the element when it "slowed down" (still faster than anything out there!). Definitely get a longer outlet hose as I stated above. I can fill a liter bottle super quick.
Price Paid: $240

Expedition bomb proof filter. Easily handled our family of four when hiking in summer across Isle Royale for a week and had to filter all water from the lake (don't drink the untreated water!).
Pros
Solid built
Water tastes great with ceramic filter
The only filter I would carry in the back country.
Source: bought it new
Price Paid: $300

Terrific filter, worth every penny and more. Used on a week-long canoe trip as the only filter for 8 campers. Pumping became a bit harder (and stayed that way even after cleaning) towards the end of the trip but was still pretty easy to use. Filtering a 1L bottle takes 2-3 un-flustered minutes though if pumping hard, you can do it in a minute flat.
Easy to clean and maintain. A bit heavy but will take a lot of abuse (just don't drop it in a lake!). At 13000 gallons per filter cartridge it's at least $1,500 cheaper per gallon than any other filter.
Price Paid: $305 CND

I have spent as long as 70 days in the brush with only the equipment I can carry on my back. This product is worth its weight in GOLD. The first time I left home with it I was a little worried so I took some Micropur tabs and iodide mix along with me. I was absolutely amazed when I pulled water out of the Ohio River, filtered it straight into my container and drank it. This product will save time, loading space and weight from your next trip and allow you to carry other gear instead of buches of water.
Price Paid: $199.95

Sorry folks, but the Katadyn Pocket is overpriced and it is too much work to get a decent amount of water.  Got a workout just getting a shot glass full of water. And I was always scrubbing the ceramic filter with the green-scrubber thingy. Hate it. 
Threw mine in the back of the closet as a Plan C if absolutely necessary (would have thrown it in the trash if I hadn't spent so darn much on it). 
Price Paid: $289

If you don't mind a little extra weight then you can't beat this filter. In the long run it's cheaper than the Hiker Pro, it's field maintainable, and it's made of quality materials. It's simply the best filter on the market.
Price Paid: $205

Best filter made. Easily pumps gallons. Keep the ceramic filter clean for easy pumping.
Price Paid: $200

Your Review
Where to Buy
Help support this site by making your next gear purchase through one of the links above. Click a link, buy what you need, and the seller will contribute a portion of the purchase price to support Trailspace's independent gear reviews.
You May Like
Specs
Price
MSRP: $369.95
Current Retail: $394.95
Historic Range: $176.95-$394.95
Reviewers Paid: $94.00-$300.00

Group size
2-5

Weight
550 g

Recently on Trailspace