Vargo Titanium Water Bottle

One Bottle To Rule Them All…

...Vargo Titanium Water Bottle with Titanium Lid.

Pros
650ml capacity — a perfect size!
Bisphenol A (BPA) -free
Constructed entirely of titanium (except for the silicone ring in the titanium lid)
Super lightweight at 3.9 oz / 111 g
Single-wall construction
May be used as a vessel to boil water
Opening has a diameter of 4.44 cm — perfect for drinking
Fits my hand and a bicycle water bottle cage perfectly
Cons
Dings or dents surprisingly easily
Many initial washings before poor taste/odor was removed
Full retail price of $84.95 (one bottle)
Silicone O-Ring needed to be replaced after 1 year of use
Notes and Edits below...
This bottle may not have been created by the Dark Lord Sauron in the fires of Orodruin, but it certainly is a bottle to be reckoned with and, the one bottle to rule them all…
The Vargo Outdoors 650ml titanium (Ti) water bottle with Ti lid is "lite" years (pun intended) from your standard water bottle. Don't believe me? For just a moment, consider the years we need to live before we're able to afford such a bottle, weighing in at a hefty $84.95. In the Vargo corner, weighing in at… sorry… You may need to save, borrow, sell the farm, whatever it takes to get your hands on one of these bottles and I believe you'll be making a wise choice.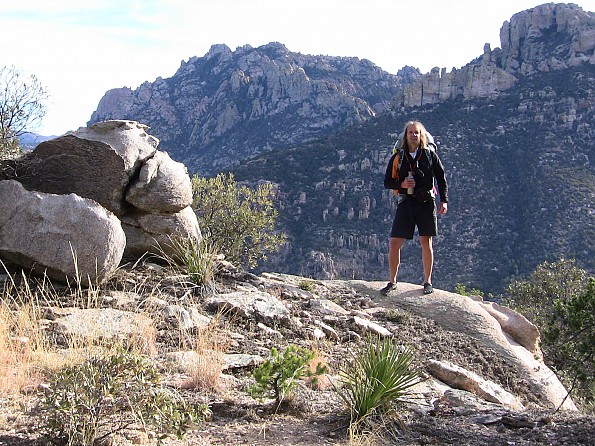 Vargo 650ml Ti Water Bottle w/Ti Lid in hand and on the trail
I've owned and haven't parted with this bottle a single day since my birthday, September 2013, the gift of all gifts. The Ferrari of water bottles. Vargo didn't create this bottle without thought, there was plenty of Einstein in his corner. Let's get right into the specifics…
The three piece construction consists of the Ti bottle, a Ti cap and a silicone cap O-ring. This is great, however, at this time I feel the need to address or share a complaint.
Before I received this as a gift, I called Vargo on two occasions to inquire if they had additional silicone cap rings. I was considering buying the bottle for myself before I received it as a gift and thought I may need to have additional silicone rings on hand in case of ring loss or damage, which, I'm pleased to report, has not been an issue to date.
Upon my first call/attempted inquiry, I was placed on hold for several minutes before I was able to inquire, personally ending the call due to a lack of patience. My second call was either an answering machine or busy signal, one of the two, and I never called back a third time figuring, and second guessing myself, the $84.95 is probably more valuable in my pocket than invested in a water bottle, of which I already own dozens of species. And, for that matter, do I really need another specimen?
Most resoundingly, Yessssssss! After all, I make a sincere attempt to gather as much Ti gear as I possibly can. Wow, there are far too many personal confessions here. Maybe I should have began this review with, "Dear Diary,"?
My lovely girlfriend ordered this bottle for me knowing I really wanted, ahem, needed one. Complaints and confessions aside, the Ti construction is just half the fun. Let's take a look at what else inspector gadget and this water bottle have in common…
It's a 650ml bottle that fits my hand comfortably, perfectly, and the size is as convenient as its weight, at just 111g. Try doing that with your personal water bottle? It is also a single-wall construction, which means you can boil water in it. Who needs a cook pot?
Now, if this isn't enough, the inside diameter of the opening is a sipping-ly perfect 1.75"/4.44cm, which means I'm no longer losing any of my precious beverage down my face and on my shirt (comparing this bottle with the opening of a large-mouth bottle). Have I convinced you yet to drop $84.95 on one simple water bottle?
Simple nothing… not only am I hiking with this bottle in my hand and I really don't like hiking with anything in my hands, but I'm trail running with it too and, this eclectic little bottle fits a bicycle water bottle cage perfectly!!! For years, literally years, I have been searching for the perfect lightweight water bottle for my bicycle because, ready for it… I do not like plastic!!! Even bisphenol A (BPA) -free plastic water bottles concerns the daylights out of me, and you guessed it, the Vargo water bottle with Ti lid is indeed BPA-free. What more could you ask for? Less costly? Hey, I sold my car back in the early '90s to buy a bicycle so everything is a possibility if you want it bad enough and, this Vargo water bottle is well worth it!
My minuscule complaint and modest confessions aside, I must disclose that I arrived at a trail head last month to begin a backpacking trip and from a height of two and a half feet I accidentally dropped my exceptionally alluring, well-travelled water bottle on the ground, slightly denting it. Talk about a heart break? I was crushed, so was it. I thought this Ti gear stuff was indestructible? So, now I've got a well-travelled, sipping-ly perfect, trail running, hiking, cycling, Ti water bottle with CHARACTER! One bottle to rule them all…
Despite the complaint, enjoy my confessions (doesn't happen much), $84.95 won't break you and with a poetic heart… I LOVE this water bottle. It goes EVERYWHERE I go without exception and I enthusiastically give it five of five stars!!!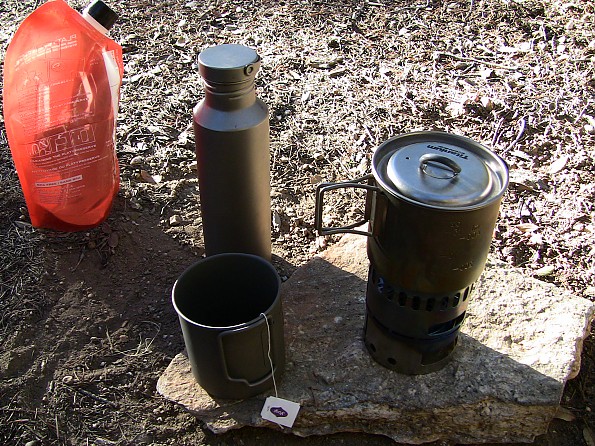 Vargo 650ml Ti Bottle w/Ti Lid
One particularly notable feature of this bottle that was meant to be listed in the "Pro" list above (could you imagine I'm exploiting all available "Pro" lines and then some) is the fact that the Ti loop on the lid makes it easy to secure the bottle to a pack when carrying in a side pocket. In addition, because the bottle is a perfect 650ml it makes it easy to slide the bottle in and remove it from the side pocket without over stretching the material.
Note: Silicone ring remains completely in tact and performing as it should, despite the fact that I reside in, "but it's a dry heat" Arizona, with temperatures ranging from freezing to low triple digits.
Edit 10/2104: Silicone O-Ring needed to be replaced after 1 year of use! 
During the month of August 2014, I ordered Vargo's Ti Bot and Triad alcohol stove. Despite the high expense, both arrived dented and scratched and were immediately returned. At this time, because the Ti Bottle dents too easily and both the Bot and Triad stove arrived damaged I decided against ordering their Ti-Arc backpack, which was going to be my next purchase due to the fact that if that failed in the field I'd be out of luck!
In addition, I have reviewed Vargo's Ti whistle here on TS and noted that the first of two whistles arrived with hairline cracks. In fact, the second arrived with hairline cracks, too but not nearly as severe as the first.
Reach Your Summit!
Source: received it as a personal gift

It really is perfect for backpacking if you don't like or use bladders.
Pros
Made of titanium
Opening is a great size
Can be used to boil water in
It is very hard to justify paying this much for a water bottle, however after saying that I haven't regretted forking out for mine yet. I have used many water bottles in the past, still own a Sigg, Nalgene, amongst others, yet this is the one that always goes with me.
It's not just the weight savings either. I like the size of it, about same diameter as a Sigg but with a much larger opening so it's easier to drink from and clean. The lid on mine is plastic with a small hole making it easy to attach some cord for holding and ensuring I don't lose the top whilst filling it up at river banks etc. I do still carry a pot but is nice to have another vessel to boil water in should I wish to.
As my summary says, it really is perfect.. but you have to pay for one.
Source: bought it new

Your Review
Where to Buy
Help support this site by making your next gear purchase through one of the links above. Click a link, buy what you need, and the seller will contribute a portion of the purchase price to support Trailspace's independent gear reviews.
You May Like
Specs
Price
MSRP: $69.95
Current Retail: $69.95-$79.99
Historic Range: $69.95-$84.95

Weight
4.6 oz

Capacity
650 ml

Diameter
70 mm

Bottle height
220 mm