Keen Erickson PCT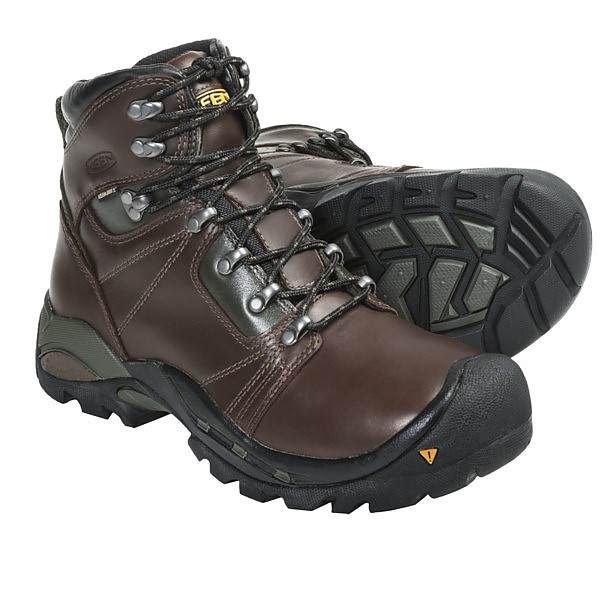 Serious boot for serious trails. Sturdy and well constructed the Keen Erickson PCT is both comfortable and reliable.
Pros
Sturdy construction
Stiff sole with just enough rocker
Waterproof within reason
Dries well
Cons
Definitely not light
Synthetic materials showing signs of wear
As with most Keen boots the Erickson PCT has an expansive toe box. Those with wider feet will appreciate the space. The arch and ankle support help prevent fatigue on uneven trails. The design of both the boot and the lacing system allow for changing the fit somewhat to better handle various terrain.
On first wear the PCTs were very comfortable with the leather upper molding easily to my feet. There really wasn't a break in period for the boots themselves, but as is often the case with my boots it took me a while to find the right sock combination. This seemed especially important given the extra room in the toe box as my first attempt with a thin sport style Smartwool sock led to a blister in an odd spot on the bottom of my big toe. I finally settled on a thick Smartwool trekking style sock over the thinner sock and have been happy since no matter how many miles I put on in a day.
The payoff for the weight of these boots is in the support. The sole is firm with a small amount of flex and a small amount of rocker. Together those features create a solid platform on rocky terrain without sacrificing comfort.  The upper provides great ankle support and toe protection.
Before first use I used both a mink oil and a beeswax treatment. The first trip these boots went on saw a tremendous amount of rain and after two solid days of walking through ankle deep water with regularity I began to feel tiny amounts of moisture which felt like it was seeping through where the upper meets the sole. The tongue gusset did not seem to allow any water through.
Shortly after that I began topping the boots once an hour or so as the trail turned into a creek so I'm not sure if that slight leak would have gotten worse. This did give me the chance to test boots out while totally soaked and I was amazed that they actually were still very comfortable though the thick Smartwool socks probably get some of the credit for that.
The traction provided by these boots was outstanding in all but the worst conditions. Two exceptions to that were glare ice and mossy, inclined bog boards after stepping up out of the bog. Neither of those are cases where I expect traction really, but they do define the limitation in terms of traction, because there was none in those cases. Anything else, wet bog boards, wet rocks, muddy slopes, dusty crumbled rock slopes and scree were not an issue.  These boots gave me confidence my feet would stay where I planted them in most all conditions.
I have worn these boots throughout the winter season except when heading into deep snow. I have only felt cold in them a few times on days that were well below zero, but again I would credit the socks at least as much as the boots for that. The thick leather, moisture barrier and liner provide some protection but these boots are not insulated in any real way.
These boots feature the Keen Dry membrane which is designed to allow water vapor out while keeping water from entering the boot.  This seemed to work well at letting moisture escape and I found my socks to be at most only very lightly damp at the end of the day if the weather was good. As for keeping water out my experience found that it held up for a while, but with prolonged exposure to water either from walking in it or pouring rain came wet feet.
One thing I found impressive was that despite numerous full soakings including multiple topping incidents these boots not only dried well, but did so without the funky odor one would expect after filling a boot with bog water. I have lost count of how many soakings these boots have taken but I can still stick my nose in there without wrinkling.
I had read other Keen product reviews that spoke of issues with the upper metal speed hook eyelets with some reporting them breaking and others having them pull free of the leather. Despite a lot of use and abuse I have not had any such issues.
One feature I really appreciated was the toe protection. Toes have been an issue for me since my teens but in these boots even the rocky rooty trails here in Maine were not a problem. On the Erickson PCTs Keen has wrapped the sole up and over the toe so that the shoe takes the brunt of any obstacles rather than the toes.
There are a few areas that are showing wear at this point and that is one of the reasons I haven't rated these boots higher despite the fact that I am very happy with them. The leather on the ankle cuff is showing some abrasion wear. While the sole and upper seem to be wearing generally well some of the synthetics seem to be having issues as noted in the pictures below.
These boots have definitely been tested having been worn both on trail and off for over a year now. I would estimate well over 200 rugged Maine trail miles as well as quite a few hundred more in training hikes, walks with the family and day to day use. All pics below were taken after that use with just a quick brushing for the camera.  I did not put a fresh waterproofing on them so as to show the wear more accurately.
Having put these boots through their paces I would definitely recommend the Erickson PCTs and Keens in general.  They seem to make a solid product that takes abuse well and is also very comfortable.
I will update this review after using them for another season so that the wear issues can be revisited, but I think if your trails warrant a heavier boot these are definitely worth looking at.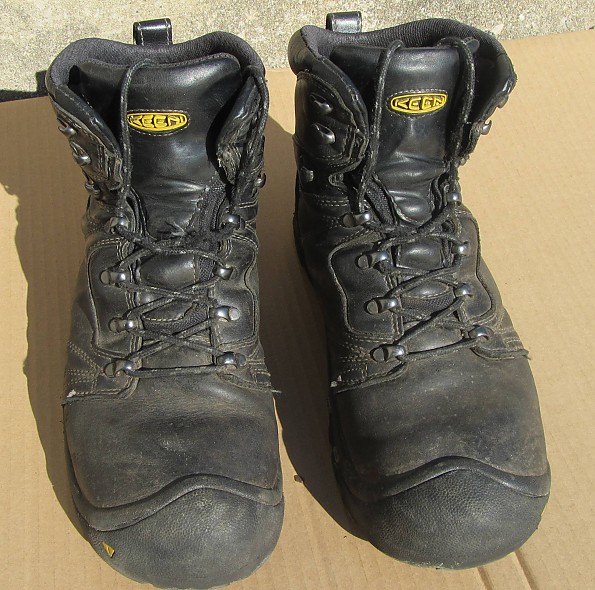 Good look at the wrap over toe protection.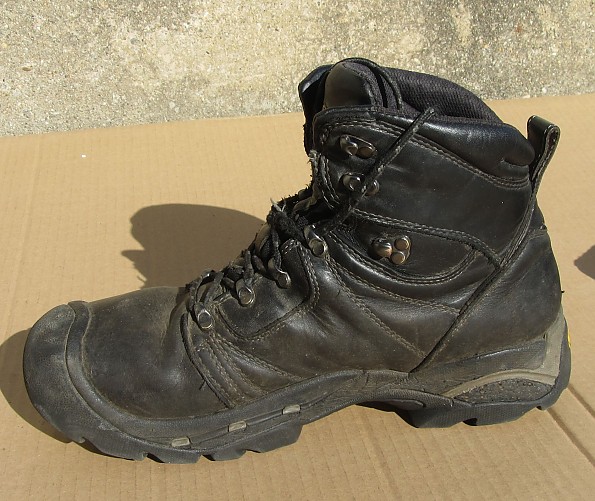 Profile view of the upper shows the ankle supporting design.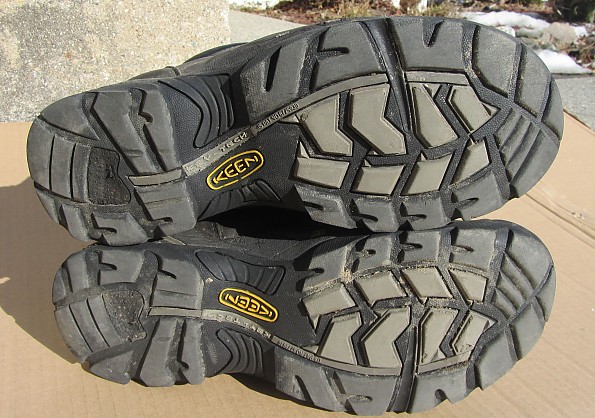 Tread/sole has held up generally well considering the rocky terrain they were exposed to.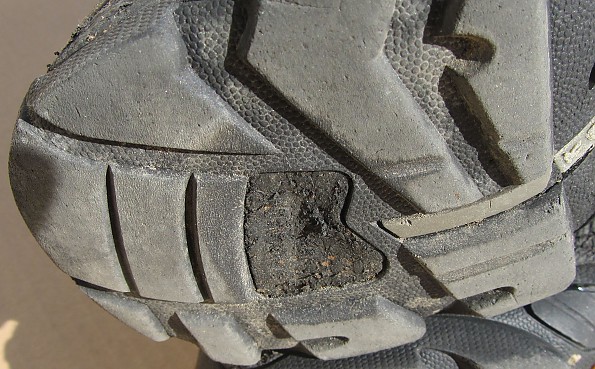 The exception to that is this tiny pocket in the middle of the heel.  Not sure what this specific material is but it is showing some signs of wear.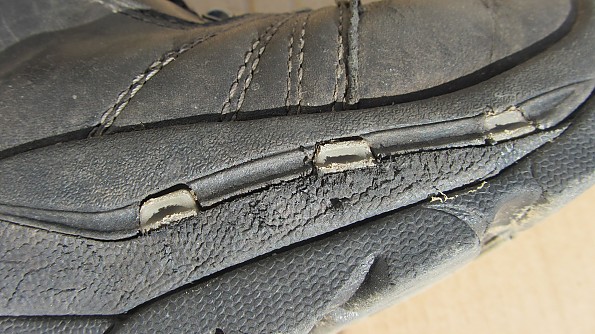 Another area of concern is this synthetic piece on the side where upper and sole are joined.  It is showing some cracking and I will be watching that for continued wear.
Neither of those issues seems to be impairing function at this time, but I thought they should be noted.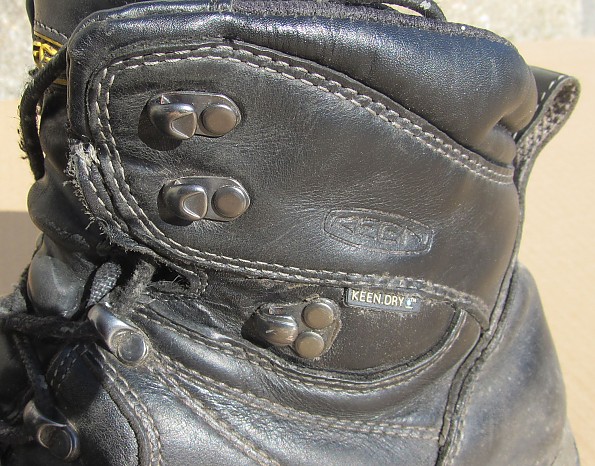 View of the speed lacing eyelets and the ankle cuff.
Source: bought it new
Price Paid: $150 (on sale)

Seriously waterproof, no rub points, and a decent price. They look a little duck-bill-y and I sweat in them, but they're full leather with a toe cap....and I sweat heavily in boots anyway. Sole is a little soft, though supportive enough to stand on knife-edge rocks easily.
Pros
Waterproof
Flexible upper
Short break-in period
Cons
Finicky lace hooks — durable, but not a speed-lace system
Flexible sole
Fit: I have size 9.5, with short toes and an average width ball area. The boots fit me very nicely. My toes can touch all parts of the toe box if I stretch them, which is nice. There's enough wiggle room that I'm not cramped, but the top of the foot and ankle are supported so my toes don't jam forward on descents.
Comfort: I broke these in on a 2-mile, flat sidewalk and proceeded down-trail without a wimper from my feet or the footwear. Especially considered these boots are all leather, they conformed very quickly and were flexible from the start. There's no rub points, and after a few days of continuous hiking my feet are tired (whose aren't?) but do not have perpetual sore spots. I've gotten no sand, pebbles, sticks or otherwise to drop into the boot, which was surprising to me. I nearly always end up with a small planet's worth of rocks in my other boots.
Support: I have a sensitive ankle that easily rolls, and the boots supported it nicely over rough terrain. Mile-long descents did not jam my toes into the front of the boot, and going back up the same route was also painless. After several uphill miles, however, my Achilles was a little taut. It didn't hurt, but it made its presence known.
Water resistance: Excellent. Superb. The main reason I bought the boot. I believe that cloth, in a boot, will not be waterproof and went with all-leather for that reason. I can confidently step in running, cold water up to the top of the boot without any fear of wet feet. I do wear thick wool hiking socks so that my help seal the top a little bit.
Traction: No complaints here. The sole conforms to odd shapes, and also has enough oomph to actually grab when you step off.
Temp: Warm. I haven't snow-hiked in them yet but any walking makes me sweaty in them. As a caveat, I fully expect any closed footwear to make my feet wet. These suckers don't vent a lick, though, so if that's important to you maybe a mesh paneled boot would be a better choice.
Ease: The laces need double-knotted. I don't really care for that, but it is what it is.
Features: I'm not sure they have any.
Construction: Rocks haven't worn through the upper yet, and the laces haven't broken. I have 30+ miles on them so far and they look nearly knew- except for the trail dust.
Conditions: Desert and Eastern U.S. forests. I'll be in forest for the foreseeable future and don't have any worries about bringing these boots along.
Source: bought it new
Price Paid: $135

Keen Erickson PCT's are the best boots I have ever owned.
Pros
Rugged
Great fit and very durable
Waterproof
Keen Erickson PCT's are the best boots I have ever owned. I have easily put well over 500 miles on them, from flats to steep and rugged Northwest Mountain ranges, as well as some great hikes in Hawaii! The only time I don't wear them is when I need a hard core mountaineering boot! 
These boots have become my go-to boot and I highly recommend them if you want a boot that is going to last for may years and thousands of mile!
Hell, they even look good with a pair of jeans when you just need to tackle some blacktop!
Source: bought it new

A good all-around boot for hiking and light backpacking.
Pros
Good fit on wide feet
Waterproof
Fast break-in
This is my third different boot from Keen. I started with the Ketchum, then moved to the Oregon PCT, and now the Erickson PCT. I switched from Asolo, which I consider a true backpacking boot, to Keen as a result of foot injuries which have forced me to find a wider fitting boot.
The Keen boots fall short of the durability of Asolo, but have been good boots. The main complaints I have about the boot is that the sole is not a Vibram sole. It does not have the depth of tread, nor the durability of sole life, of Vibram. It is softer and thinner, so if you're looking for a boot with bulletproof soles, this is not the one.
That said, this boot seems superior to the other Keen boots in that there are no seams on the toe boxing to split out. My Oregon PCT boot developed an unsewn section in a toe seam after two years of vigorous backpacking use. I never had that problem with Asolo, and I suspect that the new Erickson PCT from Keen will be more durable without that seam on the toe. The sole is the same Keen product, so I imaging that the first thing to wear out will be the sole.
I give this boot a 4-star rating based on comfort, fast break-in, waterproof performance, and what appears to be a dependable lace loop attachment design. The boot fits wide feet really well, but if you don't need the extra toe room, I recommend going with a more highly technical hiking boot for a little more money.
Source: bought it new
Price Paid: $145

Great comfort, no good fit.
I was so excited to get these boots, I love Keens and I was in desperate need of a new pair of hiking boots. Sadly though the minute I slid them on I could feel the side rivet rubbing right on top of my ankle bone. No matter how I laced the boots, tight or loose, skipping the problem rivet, etc. I was unable to make these boots work.
They are however so comfy! The "key-tech" technology makes the boot feel really good on the ground, and the dual density heel is really great. I wish I could have made them work! I really wish they would make a taller version also, and just take that lower eyelet completely out.
Source: bought via a "pro deal"
Price Paid: Prodeal

The looks are a little odd, but well structured.
I can neither favor nor state otherwise. I just got them from the retailer. Initial thoughts are OK. Toe guard is a little strange looking but you get used to it.
These boots are comparatively cheaper than those of the competitor brands because the important features such as the out-sole and the waterproof membrane are of their own so they are pricing the boots affordable. I read in another review that a guy experienced with another Keen model that the outsole started losing chunks of it after a few hundred miles of not so arduous trek. I hope I will not experience the same thing with these boots.
They are rather light as for backpacking boots, we'll see how they'll hold up to the elements. They are comfortable; the arch support is aggressive, which is something I like. The ankle support is great; my ankle is firmly locked in.
That's all so far; this review will definitely be updated before the winter season.
Update: Winter is way over and they are still going strong. The waterproofness coming with their own thing, Keed-dry, is as good as any name brand membrane. 
If you are looking for a reasonable alternative to those really high rollers, this is it, you will not regret.
Source: bought it new
Price Paid: $150

Your Review
Where to Buy
Help support this site by making your next gear purchase through one of the links above. Click a link, buy what you need, and the seller will contribute a portion of the purchase price to support Trailspace's independent gear reviews.
You May Like
Specs
Price
MSRP: $170.00
Historic Range: $70.75-$190.00
Reviewers Paid: $135.00-$150.00

Recently on Trailspace