Keen Oregon PCT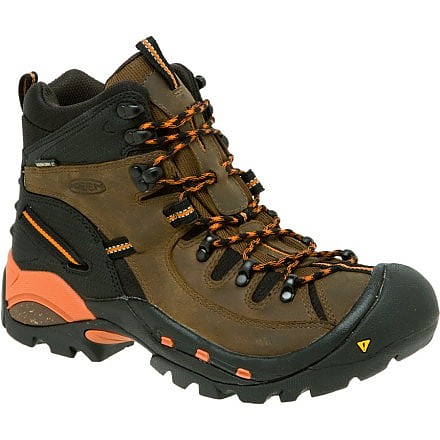 Big toe box means great comfort. These boots took me to the bottom of the top of the world and kept me dry whilst doing it. From tropical cloud forests of the Andes to the high Himalayas, this is a boot to own!
Pros
Comfortable
Durable
Sticky treads
Great ankle support
Great foot support
Good for a larger girl packing a load
Cons
Desert summer hiking gets pretty sweaty
Needs aftermarket insole
Heavy compared to most other boots people prefer to use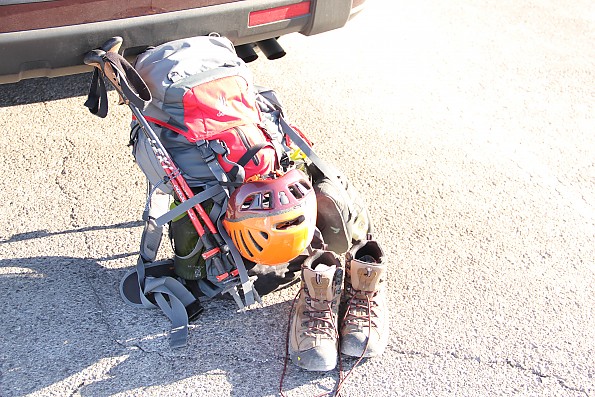 Boots at Red Rock Canyon, Ready to GO!

I have owned three pairs of these and not because the early pairs failed. I first got them in 2010 when I was starting back out to the trail after years of sedentary behavior. I hate it when my toes feel pinched so the very wide toe box was a great feature.
Unfortunately, I was not very good at fitting boots and bought the same size I would as a street shoe. As a result, I was having problems bumping my toes in the front. But even with that, the boot was very comfortable. I ordered two more pair in a bigger size and with my light hiker sock over a silk liner, the fit was great. My only other modification was a set of Superfeet. That helped snug down my heel a bit better and then things were absolutely GREAT!
I have worn these boots on hikes up Black Mountain in Las Vegas, Turtle Head in Red Rock Canyon, countless rock climbing approaches, Fletcher Canyon at Mt. Charleston, and among other weekly hiking outings, all the way from Lukla to Mount Everest Base Camp!
The fit, for me, is perfect. The lacing system has three prongs on top for a full boot hight. I have big ankles and calfs and they still tie up with no gap. You can employ your personal lacing system to tighten bottom more or top more or balance. 
I wear the 9.5 in terms of a woman's size. Right out of the box, they are ready to hit the trail. No breaking in needed. I got no "new boot" hot spots. They just felt GOOD. I must say that in all my hiking I have only encountered a little bit of water, but was in a pretty good blizzard and snowy conditions on Everest. I never had wet feet. I cannot attest for crossing streams, however. Just don't encounter them in the region I hike regularly in.
The boot is designed to keep your foot dry and to wick away moisture with a Gortex liner. But hiking in 100 degree plus temps, I just get sweaty feet. I am not bothered by it and it doesn't impact me. I do make sure I have extra socks to switch to if I feel my feet get too pickled up.
I am a plus sized girl carrying a pack. So even with light loads I need boots for my ankles to be properly supported. Where my hiking companions are wearing low trail shoes or light hikers, I still wear higher boots for support. And support is what I get. My ankles are not sore as they are if I think I can forego the boot for the shoe. To me that is good evidence they are doing the trick! My foot is also well carried by the sole. It is a thick lugged sole...not at all like the more "barefoot" model Keens that you can also get.
I do a lot of my hiking at Red Rock Canyon outside Las Vegas and the boots hug the sandstone like a fly on fly paper! They do wear out faster than Asolo soles, but the price point is better and all the other features treat my flintstone feet better, so I will make that tradeoff.
Even when my feet are sweating in the Mojave Desert heat, my feet do not get uncomfortably hot. Things evaporate fast in the desert, but the amount of moisture my feet produce in these conditions outpaves the wicking power of the Gortex liner.
That being said, there is enough wicking and absorption by my socks that I don't get that feeling that me feet are boiled onions in a hot crate. HOWEVER...my feet were pretty dang cold at Everest Base Camp, though that was more a function of the socks than the boots. Not really a great below zero boot system going there for me.
Though some people have reported to me that they have trouble losing lugs, in the three pairs of these boots and the Erickson all leather PCT's I have, I have never lost a lug. I drag these boots across rocks scrambling up on approaches, jam and wedge them into foot holds etc and they hold up.
So, I have used these boots over three and a half years time, in hot and cold and snowy conditions, and not lost a lug or worn out a thing. The inside foot liner does need to go, as it really is nothing of assistance, not unlike most boots off the rack. They are good grippers and worth every penny.
If you have a wide foot, it is hard to find another that will do the trick. Narrow feet might swim around too much though.
I would like to add that I have now compared them to the KEEN Targhee. The Targhee is a lighter boot and the sole give much more feedback. I like that, but for long hikes my feet get more fatigue so the Oregon PCT is still my go to boot. Also, the pair of Targhees I have is throwing my feet in...pronating DRASTICALLY! I am unsure if that is a flaw or what the boot always does. More on that when I review them separately.
EDIT:
11/2014
So I wore these boots trekking in Nepal. I was trying to move to a lighter, mid high boot but with my weight and a pack, it just didn't happen. So these boots continue to be my Big Girl go-to boot for backpacking.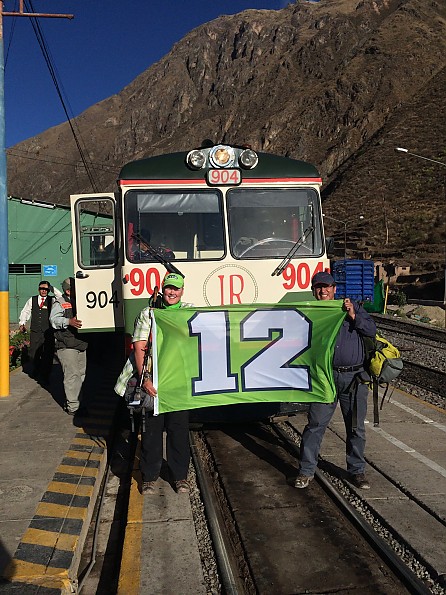 Source: bought it new
Price Paid: $136

I bought these boots to use for backpacking only. After searching high and low for affordable comfort and support I chose the Oregons. The fit is great for my feet, I love the wide toebox. Lacing was nice, once dialed into your comfort spot they hold tight. Virtually no break-in needed they were great right out of the box.
I've seen complaints about their waterproofness so I gave them a good treatment with Nikwax before subjecting them to any water, seems to have worked. Spent a couple miles hiking in heavy rain and wet muddy trails with no problems.
Overall a very comfortable boot that gives good support and traction. So why only 2 stars? One word DURABILITY.
After only a few more than 100 miles the soles are chipping and chunking apart. One full lug came off during my last trip. Everywhere on the sole is chipping out, even on the upper sides of the sole it's just wearing away. I do most of my hiking in the desert, typically very rocky and hard on boots. But that's usually on the uppers and toe area of the boots. I've never had soles chunk out like these before, not even on cheapo boots.
If you're looking for a comfortable supportive boot to use only on well maintained smooth trails these would probably work for you. But if you're wanting a backpacking boot for tougher trails then keep looking cause these ain't them!
Thanks to Altrec's excellent return policy I'm returning these for a full refund.
No I would not recommend these boots!
Price Paid: $160

A nice lightweight hiking boot for easy to moderate trails. Very comfortable...could stay on my feet all day and nearly sleep in them too! Not cut out for very rugged trails or bushwhacking on rocks or scree.
Pros
Lightweight
Comfortable
Easy to lace up
Cons
Not so durable
Could be more stiff under foot
I can't complain about my find and purchase at a local flea market. Sold to me for $10!!! (previous owner bought the wrong size and needed to unload them.)
These boots are sized as a mens 10 but fit me perfectly, and I'm normally a size 9.5, so these boots tend to run a bit small. As others have noted, they are nice and roomy in the toe box but that does not translate into a sloppy fit. I have a narrow foot and these fit snugly all the way around, even in the heel with no significant movement to cause blisters.  
These were slightly (very) worn when I bought them and I did not need to break them in at all. Because they did not need any breaking in, it leads me to believe that the uppers are quite pliable and possibly not very heavily made...therefore possibly not as durable either. This is speculation because I haven't run them thru the paces yet, but I just have a hunch that they might not be super tough.  
As laced up, I could not feel the laces cut into the top of my feet as I have with other similar boots.  Even after a full day in these, the laces still went completely unnoticed. As with all my shoes, I put in a pair of SuperFeet and from then on I had HappyFeet!! Lightweight and not clunky at all.
I did note that they were not stiff in the sole at all...something that I would not prefer on a difficult, rocky trail or off trail, but that's not where they will be used.
As another reviewer noted, these are not the most durable of boots out there. I have noted that one of the lugs is already splitting from the sole of the boot. This does not bode well for the long term. To me, a boot is made for using, and using hard. Just judging from the lack of stiff sole and the already splitting lug, these just would not stand up to the rigors of long, sustained difficult hiking. And since the soles are fairly flexible, I don't think they would ultimately be as comfortable as one initially would think, given the super comfortable initial feeling on gentle terrain.  
It's the beginning of fall here and I have not had them in any hot weather so I cannot speak to their breathability. Water resistant? Honestly, is any boot going to stay completely dry? I have not had them in the rain or wet weather, so again, I cannot speak to that either.  
So....How do I rate them??  For the price that I was lucky enough to get them, they're a 10 outta 5!! But, had I paid normal retail price, I would have to give them an average rating. They are above average in comfort and fit...and for that, they are nearly a 5! But, since they are already coming apart and have not had many miles on them (I can tell from the nearly new condition of the lugs) and that does not give me the most confidence that they will not come apart more than they already are.  
So durability comes up rather low on my list. If I'm spending that kind of retail money on a pair of boots, they'd better last quite a while and not come apart at all.  Keens have that love or hate 'em look....and I like them.  My wife doesn't!  
All in all they get an overall rating of 3, or average. Comfortable. Nice looking (to me). A bit pricey (if purchased new). Not overly durable (initial impression and wear).
Source: bought it used
Price Paid: $10!!

This is a great product for those of us with wider feet. It's an extremely comfortable boot, and when purchased I bought half a size larger that allows for any foot swelling one gets after long days of hiking.
Pros
Water resistant
Great for wider feet
Protects well
Moderate weight
Cons
They don't seem to manufacturer them any longer
This boot is my go-to boot for my most difficult terrain. I've used the boot many times, on several multi-day hikes from trails in Iceland, the Chilkoot Trail in Alaska, the La Clothe Silhouette Trail in Killarney Park, Ontario, Mount Assiniboine Park, and many others.
Prior to purchasing this boot I had trouble finding one that gave my feet the room to be comfortable in all terrain, and not once have I had a blister since purchasing these boots. They wear extremely well, and I'm hoping they last a long time, as I've heard they aren't making this model of boot any longer.
I own other Keen products, as well as a few other very expensive brands such as my Asolos, but these boots outshine them all for comfort. 
Source: bought it new

Comfortable, but weak soles.
Pros
Comfortable
Waterproof
Wide toe box
I have had three different pairs of Keen boots, and these are my newest. If you have a foot that needs a wide toe box, these are the ones. They require little or no break in, and fit fairly true to size.
My biggest complaint about Keen boots, including these, is the sole. It is their own product, meaning their design and materials, and it is the weak point of these boots. Like other reviewers, the lugs began to chip and break off on my first trip.
I'm only 165 pounds and my backpack is typically 33-38 pounds, so I don't overload these boots. Terrain goes from desert rocks to granite peaks, but soles should be of a compound to withstand harsh rocky conditions.
I have had other brands that use the Vibram soles, and the upper always wears out before the soles. Not so with Keen. The sole is so soft that on one trip I stepped on a cactus spine and it penetrated completely through the sole into the bottom of my foot. That means that the boot has a cardboard shank (the main support under the arch) instead of a steel shank which most backpack boots possess. 
I would recommend these boots for day hikes on dirt or forest terrain, but not for backpacking on rock surfaces.
Source: bought it new

Without a doubt, these are the most comfortable hiking boots ever made! I have worn them from morning till night, and at the end of the day they are still as comfortable as when I first put them on!
I've had these boots for 3 years, and they are still awesome. These fit so well you would think you're wearing sneakers! There was almost no break-in period for them, but they do form to your feet after a few hikes. They just seem to get better with age!
I do all kinds of hiking in NYS, trails,streams, and lots of wilderness hiking and these are the go-to boots. They grip great and still support your feet so you aren't feeling the rough terrain as you go.
I wouldn't plan on submerging them in water because they are not waterproof, but with the proper upkeep they do keep your feet dry. I have been in the ADK's when it has rained ALL DAY and my Keens kept my feet cozy and dry.
If they ever do wear out, I WILL buy another pair!
Source: bought it new
Price Paid: $130

Very comfortable right out of the box. Stiff sole, but not super stiff, excellent lacing system, good grip and a nice room toe box. They are not as tough as full leather boots but the comfort outweighs that drawback.
But, and it's a big problem to me, they are anything but waterproof. Mine may have been waterproof for a couple of days, but ever since have leaked a lot. Pretty poor in my opinion for a good brand claiming waterproofness.
Price Paid: $150

Overall not a bad boot. They have been very comfy and supportive, with a nice roomy toe box that I thought would have been an issue with feet sliding around, however the nice hold and fit on the ankle means that you don't drive your toes into the ends of the boots when descending downhill.
I have walked big distances in these boots and they have been very comfy. The laces and lacing design makes it very hard to get a good tight fit over the toes and arch of the foot but for some reason this doesn't seem to be a problem.
The downside on these boots have been their waterproofness. I'm surprised others have been happy with the waterproofness of these boots. Right from early days of owning these boots I have got wet feet, and not due to sweating. I'll have wet feet within minutes of walking through wet grass, very disappointing.
Luckily they seem to be warm enough, but the Keen Dry is a joke. I've never had Goretex boots to know if they are any different, but the waterproof advertising of these boots seems misleading to me. "Keen Dry - Guaranteed waterproof" is written all over the inside of the boot, yet it's far from that.
I'm not expecting to walk through creeks but I've done a lot of walking on farmland in wet grass conduction surveys and they just don't stay dry.
But as I've said, they are comfy and nice and supportive. Make your choice.
Price Paid: $250AUD

Drove from Canada to New Hampshire to hike Mt. Lafayette Oct 23. Forgot my boots at home. Told the gentleman from EMS I needed waterproof boots with good support, and NO break-in period since I'd have 'em on the mountain within 12 hours.
He suggested these, I bought 'em, and wore them for 7.5 hours, up and down 5000 vertical feet, in water and 10 degree weather.
Bottom line: Completely watertight, amazing non-slip sole (Keen proprietary), GREAT support, and most importantly NO break-in time required. Not a single blister....not even a chaffe.
And for $160 - AMAZING value!! Don't know yet how well they'll hold up, but sure am grateful for the quality and fit right out of the box!!!
Materials: Gore-tex
Use: Rough Trail - 40lb pack.
Break-in Period: NO break in period
Price Paid: $160

I wanted to like these boots. I bought them looking to replace my old Lowa Mid Renagades GTX, (which are no longer made to be the sturdy boot of old, and another story of good products going cheap).
I have worn the Oregon PCT's for one year and will not be buying another pair. They have broken down too quickly and have begun to hurt my feet. I hike and backpack in my home state of Colorado on a weekly basis and used the Oregon PCT's for hiking only, so no running around town or casual wear in these boots. I bought them to be a 'workhorse' carrying heavy loads on rough terrain.
The initial fit was good, but took awhile to get the lacing just right and the ankle cuff comfortable, the laces are a little too round and bulky (ended up changing the laces to a flat). After a month of break-in I was happy with their trail performance, great traction for the first six months of wear. But the tread has faded quickly and the cheap footbeds no longer offer support. Attempted to replace footbeds with my favorite "Downunders" and the boot just didn't fit right with them installed.
The other issue I had was the Goretex "sweat box" factor. These boots hold on to sweat and were always wet inside after use. Having years of experience with the Lowa GTX boots I never had the moisture problems I had with the Keen Oregon PCT's. And not the warmest boot in a little skiff of snowfall, toebox gets wet and stays cold.
It's a beefy boot that just didn't live up to its promise of long wear and comfort. One year of strong use broke these boots down quickly...where in the past I've gotten 2 good seasons out of hiking boots before retiring them.
So I am still searching for that great hiking boot that will last a season or two and fits just right!
Materials: Goretex
Use: Hiking-Backpacking w/ heavy pack, rough trails
Break-in Period: one month
Weight: 3lbs
Price Paid: $159

Boots have been great, not really "waterproof", but then none really are. I have snowshoes, waded winter streams and climbed Mt. St. Helens 4 times in snow & rock/loose ash. Far better than lighter Keen boots and far better than heavy climbing boots!
Materials: Gore-Tex
Use: Rough trail
Break-in Period: None
Weight: 200
Price Paid: $160

I recently purchased these boots for hiking and backpacking. Not five minutes after I paid for them, they were on my feet. I went for a stroll around the mall and was amazed at how comfortable they were right out of the box.
They have a roomy toebox which is great for downhill hikes and they are crafted of very solid materials. I have warn them on several outdoor excursions in moderate to snowy, icy weather and they performed better than I ever would have dreamed. I added a few coats of Snow-Seal Beeswax to mine the night I got them (though they probably didn't need it) to keep the leather from getting saturated too much and splashes just bead up and run right off of them. Yet, they breathe well so your feet stay dry and don't stink.
The lug pattern is self cleaning and has excellent grip even on wet rocks. I have to say the lacing system is a little funky but the lace hooks are solid as a rock and the leather and upper materials are nicely crafted and very brawny. I am a huge fan of the rubber toe guard as that is where most of my leather boots have failed in the past simply by wearing through. This is a great addition for the health of your toes and for the longlasting-ness of the boots. They are great!
After these wear off of my feet I WILL be getting another pair!
Materials: Leather, Keen-dry,
Use: Short hikes, long hikes, and messy weather hikes on rough trails
Break-in Period: 5 minutes! haha. No time at all!
Weight: 3 pounds
Price Paid: $160

I am an avid hiker and backpacker in the Southern Rockies - all year long and have been doing so for decades. I've owned just about every brand of boot - Merrell, La Sportiva, Asolo, and the list goes on. This Keen Oregon is my all time favorite boot. I wear it backpacking, for day hikes, and even around town.

A+ in comfort, A+ in traction, A+ in ankle support, A+ in water proofing, A+ in durability (unlike their Targhee model), and A+ in overall quality. No cramped toes in this boot, no blisters ever.

Keen hit the ball out of the park with this one. Many hundreds of miles already racked up on these Oregons. Get 'em!
I am a big guy, 245 lbs, who normally requires a stiff boot for backpacking, but was tired of the weight that comes with that type of boot. I bought the Keen Oregon PCT because it looked rugged enough and was fairly light and waterproof.
I did not break them like other boots because they felt really comfortable out of the box. This is a big risk normally, but these boots performed very well on a 3 day, 17 mile trip. I walked through snow fields, shallow streams, mud, and boulder hopped granite fields in these things, and they performed marvelously. I didn't wear my normal hiking socks, but did insert my Soles insoles that helped pick up some of the space in the toe box area.
I don't normally like Keen but these looked pretty tough, and felt like a running shoe right out of the box. However, I rubbed them up next to a piece of granite when I stepped through the snow causing the seem on the right boot to separate, and when I returned them to the store they didn't have anymore in my size so I had to return them for a full refund.
I feel that the boot is a little expensive for being a more light weight boot that is not a Lowa, Asolo, or Kayland, but did pretty well. I did not like the tread pattern though, my feet felt like they might slip while jumping from rock to rock, not as secure on boulder hopping as my Asolo or Vasques.
Lastly, my feet were the only ones that did not get wet on the trip so I was pleased, the Keen Dry which is their version of Gore-tex worked well also.
Use: rough trails, boulder hopping, snow fields, backpacking with moderate pack weight.
Break-in Period: No break in period required
Price Paid: $159.99

Very nice boot. True to size with room in the toebox for thicker socks and foot swelling. Seems to be well made like other Keen shoes and has a nice look for casual wearing too. I would buy them again.
Materials: Keen Dry
Use: Hikes, backpacking
Break-in Period: short
Price Paid: $127

I was looking for something in between trailwalking shoes and serious climbing boots, and the Keen Oregon PCT looked like what I wanted. I was also looking for a fall-winter-spring walking/hiking boot, waterproof, and suitable for walking in light snow.
I normally wear a 10E shoe, and the PCTs with their slightly wide footbed fit me perfectly in the 10D size. I will be removing the sole inserts and adding in the green SuperFeet I have used in other shoes and boots. I love the laces; they stay securely tied no matter what. Also great stiffness around the heel and achilles area, where I tend to step over cheaper shoes and boots.
These boots are extremely comfortable and need no real break in. When I first slipped them on, I planned on just walking around the block to try them out, and ended up going 3-4 miles without a problem.
I wear light SmartWool socks when I walk with these. I'm on pavement, gravel roads, easy trails, rocky/gravely areas, and sometimes just in the woods on a rut lane or trail. This is the one pair of boots that will work for me from September through May here in northern Michigan.
Materials: waterproof leather uppers
Use: dayhikes, 3-5 miles.
Break-in Period: none
Weight: 1 lb. 10 oz. each
Price Paid: $160

Your Review
Where to Buy
Help support this site by making your next gear purchase through one of the links above. Click a link, buy what you need, and the seller will contribute a portion of the purchase price to support Trailspace's independent gear reviews.
You May Like
Specs
Men's
Price
MSRP: $160.00
Historic Range: $79.98-$180.00
Reviewers Paid: $10.00-$160.00

Women's
Price
MSRP: $160.00
Historic Range: $61.98-$179.95
Reviewers Paid: $130.00-$159.00

Recently on Trailspace