Keen Pyrenees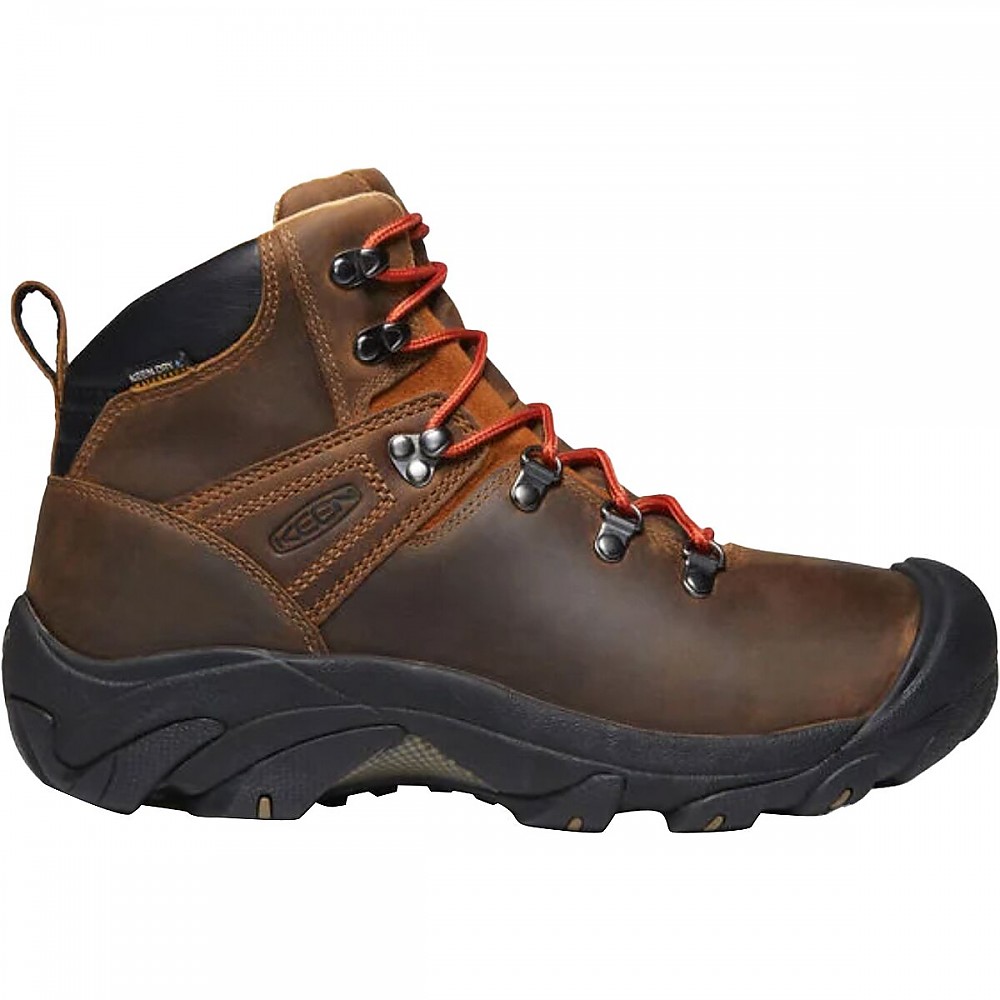 Initial impression of the Keen Pyrenees (Bison)- Build quality seems pretty good. No blemishes in the leather, stitching seems of decent quality, and overall my first impression of this boot seems quite favorable.
I purchased this model as a light duty day hiker. It is a full leather (nubuck) boot with a Keen Dry proprietary liner. The boot comes with a leather lined footbed(feels like pigskin) which is quite comfortable. Also the upper portion of the boot inner is also made of the same material as the footbed(leather/pigskin.) It does add to the comfort of the boot.
I have had the boot for roughly 4 months and I figured I put it thru enough in this short time period to give a pretty good over-all assessment of this boot. I am gonna keep it simple (pros/cons) so here goes.
PROS
-Build quality seems on par for the $140 I paid for them. No blown stitches, delamination, cracking or splitting.
-They clean up rather easily, I have gotten them very "muddy" to say the least. All I did let em dry, took a stiff brush to them, and then a damp rag. They look good as new.
-They are very comfortable, but then again they were when I pulled them out of the box.
-For me there was no break-in time. This may vary depending on invidual preference. They did soften up quite a bit by day 2.
-This boot is waterproof (I test all of my boots initially in the bath tub.) Mind you this is the second pair. My 1st pair were returned within 3 days because they were wetting out in the forefoot area of the left boot. Return was a no questions asked situation and the retailer was very kind. Keen has a 2yr warranty against leakage on its footwear with Keen Dry liners as well as a 1yr warrany on all of its footwear against defects.
-All of the metal hardwear (D-rings, etc) on the boot as far as lacing goes is quite solid.
-I personally love the wide cut in the boot. Sometimes I refer to my feet as flippers and this boot is great for me in that aspect.
-The lacing kept my foot secure on downhills and there was no smahing of my toes in the front of the toe box.
CONS-
-The sole. It has 4mm lugs which seem adequate for a day hiker. Grip on hard pack snow can be "interesting" to say the least. Picture walking on a floor of marbles. Wet logs? Find another route. Thank me later. :)
-Traction on slickrock wasn't too bad but I really didn't push it to extremes because of the other experiences I had mentioned above.
-Breathability is non-existant to say the least. I know I know, typical of a boot with full leather upper and a waterproof membrane but this is really pushing it. I wear Smartwool socks with liners and after about an hour my feet are damp. After 3hrs they are wet. Regardless of the temp. If subjected to anything below 32 degrees and I am stationary for anything longer than 10 minutes the chill sets in.
-The durability of the sole (not Vibram) is sub-par in my honest opinion. It seems as though it is an extremely soft compound and it wears down very fast to say the least. I personally feel that if I use them on a regular basis (3 days a week for me) that I would get 6 solid months use out of them before they would be rendered useless. I think for $140 that I could at least get a solid year out of them but from what I see there is absolutely no way this will happen.
-I would also like to note that you do feel alot of what is under your foot (no full length stability plate here) which could be a positive or a negative depending upon your personal preference and what ya plan on doing with this boot.
Would I purchase this model again? Probably not because of the issues I stated above. They are comfortable so I will still use them for short trips or just kicking around town. For anything with a pack I have other boots (Keen Oregons, Asolos, etc.)
***sorry if this review is a little "jumbled." I did it from my phone. :)
Price Paid: $140

I purchased these boot to replace a very worn out pair of Merrell low top hikers. I was looking for something a bit tougher, though it didn't need to be a high top boot. The one thing that was a must have, though, was a full-leather boot or shoe. My primary outdoor activity is geocaching, though I do a lot of backpacking and hiking, too.
The reason for the need of a 100% leather boot is that most of my geocaching is done in the deserts of California. I've found that non-leather boots and shoes let in an exorbitant amount of dust and dirt, either over the top of through mesh that is so popular on shoes these days. Also, here in SoCal, there are fields of foxtails and a full-leather boot is the only thing that will keep them at bay.
When I was shopping for new boots I tried on several pairs and brands. I love the way Merrell boots fit my feet, but just couldn't find anything in their line that I was happy with (and willing to pay for). When the salesman suggested the Keen Pyrenees, I was a bit turned off by the styling. They have a bit of a funky look about them. But the second I put these boots on my feet, I was sold!
Breaking in the boots took a couple of days. I had a bit of a pressure point along the tongue, on the top of my foot. By the end of the second day, that disappeared completely. A few more days wearing the boots, I knew I had a real winner on my hands...er feet.
The big test for these boots was a recent backpacking trip in the Tetons. We hiked 20 miles in two days, up and over Paintbrush Canyon Divide and out via Cascade Canyon to the truck, completing a loop. Our packs weighted close to 30 pounds. At about the 10,000 foot level, we started hitting snow. The last section of the divide was a steep headwall, approximately 70 degrees, and snow covered. We had to kick steps across this for about 100 feet to the safety of the rocks on the other side. The boots worked great in the snow.
Later that day it started to rain, which continued all the way back to the truck. The trail was a muddy mess, our packs were soaked, our pants wet, but my feet were nice and dry in the Pyrenees boots.
For me, this boot is a 100% perfect fit for both my feet and the type of terrain I travel in. They are comfortable, offer plenty of support, are completely waterproof, and stylish (yes, I've grown to like their funky look). If I had to make one complaint, it'd be that they are a warm boot (especially for the desert), but that's just the nature of the beast. You can't get a leather boot that is waterproof without having it be warm, too.
Materials: Leather
Use: Day hikes, rough trails w/ medium weight pack
Break-in Period: Two half-days
Weight: 2 lb, 6 oz., Size 9.5 US
Price Paid: $140

These boots are quite sturdy.  The leather is pretty good quality and I like that the lacing hardware, D-rings and lace hooks, is metal.  I am quite hard on my boots and have had issues with plastic lace hooks cracking or breaking, so the metal is a huge plus.  I have also had issues in the past with seams splitting and the upper part of the boot tearing.  I went with these because they are leather, thus so far eliminating that problem.
They are VERY comfortable boots with little or no break in time needed.  I wore these out on a short hike through the woods and they felt fine right out of the box.  By day two the leather had softened up a bit and they were quite a bit more flexible.  I have never had a pair of boots this comfortable.  Once they are completely broken in, and the leather footbed forms to your foot, it feels like walking on air. 
I also like the style of the boot.  The look is more non-traditional, something a little unique.
Note: Make sure you lace these up correctly the first time you wear them.  The laces do make light grooves in the leather tongue, so the way you lace them up the first time is the way you will have to lace them up every time.
The pros and cons of these boots are as follows:
PROS
-High quality product, have not had issues with seams splitting, cracking, tearing, or any issues with the lacing hardware.
-Easy to clean, if they get dirty, all it takes is a stiff brush to get any big chunks off and a damp rag and they are good as new.
-Extremely comfortable, there was really no break in time, but by day two I couldn't have asked for a more comfortable boot.
-Waterproof, during my first excursion through the woods, I did cross a stream and my feet stayed dry.
-The metal lacing hardwear, D-rings and lace hooks, is quite solid.
CONS
-Living in Minnesota, I can say these are not the best boots for snow. The traction on snow and ice is less than ideal
-The sole seems extremely soft, and I could see it wearing down very fast.
I would purchase this model again because they are made of durable leather and are quite comfortable.  I have other boots to wear in the snow, it just won't be these.  Aside from that, I would definitely recommend them.
Price Paid: $112

Great boot. Really comfortable and the leather is soft, so there is almost no break-in time required.
Pros
Super comfortable
Almost no break-in
Waterproof
Wide fit
Cons
Poor breathability
Questionable quality
Got these boots because my friend had a pair of Targhee II's and loved them. I looked at the Targhees and decided I wanted a full leather boot with more support.
Right from the moment I put them on, to a year later, these boots have been amazingly comfortable. I didn't really need a break-in but the tongue was a bit stiff to start with.
I am aware that the Keen Dry membrane works well in the Targhee boots. It definitely keeps the water out and I have good word that it breathes about as we'll as Goretex. With a full leather boot, the story is different. My feet were feeling fairly sweaty after a full days hiking (Not as bad as my old Columbus though). Granted, these boots have seen all conditions and nothing ever got in. No water, no mud, no dirt, sand dust or anything. Very pleased in that regard.
The sole (and overall fit) is wide. Which is great. Traction was OK on all surfaces, but soon the tread was thinning and grip was falling. After just 1 year of use the tread is about half of what it was new. The D rings are a bit iffy so I have always been carefull with them.
Overall this is a solid boot that really can do anything. Very pleased with these boots. Highly recommended.
Source: bought it new
Price Paid: Too much!

I have had these boots for over two years and love them. Great for wearing around the farm or just with a pair of jeans on a casual outing.
Pros
Waterproof
Extremely comfortable
Wear like iron (long lasting)
Good looking boot
Cons
Hard to find now that I need a new pair.
These boots fit great! I have a wide foot and have a difficult time finding comfortable shoes. They required a day or two to break in, but have been so comfy ever since and I have had them for two and a half years. 
The support is excellent and they are truly waterproof. I have waded thru puddles and have used a hose to rinse mud and dirt off of them and my feet remained dry.
The only problem I had with traction was on packed snow and ice. They do not grip well at all. Once I found that out I was just more careful. 
They keep my feet warm in winter but unfortunately are too warm for me to wear in the summer. They are very well made and have stood up to all the punishment I have dished out in the past 2.5 years. They are just starting to wear out and I am so disappointed as they are my favorite boots. 
Source: bought it new
Price Paid: $90

Have had 2 pair for the past 6+ months. rotate them. Very comfortable and have stayed waterproof.
My only complaint is that the soles wear too fast. the soles could/ should be another 1/4 to 3/8" thicker. then would have the perfect medium duty hiking boot.
Use: work
Break-in Period: none required
Weight: light
Price Paid: $140

Good all around boot, comfortable, and has anti-classic style.
Pros
Excellent waterproof
Durable
Huge toe box
I bought my boots a half size big in order to accommodate for foot swelling and thicker socks. These Pyrenees cup my heel but still allow my toes to move about freely. And very comfortable even after 15+ mile days. My pack usually doesn't average over twenty-five pounds, but I find enough ankle support to not tie my boots all the way up, waiting for the winter so I can test with a 40lbs pack. 
Went hiking shortly after a downpour leaving 2/3's of the trail under water. They kept my feet dry well into the hike, until on the way back when water entered over the top of the boot. After a mile or so more I didn't notice that my feet were still wet and had completely forgotten until I took off soggy socks back at the trailhead. 
Break-in time is negligible, but they do get more comfortable with wear. 
Source: bought it new
Price Paid: $78

Bought the Keens with no former product knowledge. I bought the boots based on comfort of initial fit and price. Still in the breaking in stage with only one short hike with weight--1st trip out about 4 miles on easy trail with no load- got just one hot spot but very happy with boots- 2nd day just pounded pavement around town- today did about six miles w/ about thirty pounds. boots feel good--loading up to 40+ pounds for next outing and stretching out to about 9-10 miles- i think i am breaking me in more than the boots--
Pros: 1) sole has good feel==boot seems very stable on uneven surface you can feel the lugs doing their job- 2) tongue and fit around instep feel great- 3) i am hard on boots and the protection on toes does great 4) water proof
Cons: 1) i would like a little more ankle support 2) just a little warm (but they are leather and water proof) 3) i am between sizes and have to be careful with my socks- but that's me not the boot-- maybe some one will make a 10 3/4.
overall very happy.
Materials: leather, Keen-dry
Use: short day hikes, moderate trail/ moderate load
Break-in Period: very short
Price Paid: $130

Classic look that fits my foot.
Pros
Good fit for my foot shape
Classic leather boot
Cons
Could use a thicker sole and lugs
Slippery tread on wet rocks (most Keens are)
I do not have wide feet but my smaller toes are such that I need the wide toe box that only Keen seems to have. The fit of this boot is normal width but it is a half size smaller, so a size 13 fits my 12 1/2 feet perfectly. As many of you know 12 1/2 is hard to come by.
Many reveiwers have complained that this boot kind of cuts into your ankle around the top and I have to agree, it does. I solved that by not lacing the top hooks. If I could offer any advice to Keen I would increase the sole by 1 mm and the increase the lugs by 1 mm, also use some material on your boots that are not as slippery on wet rocks (most Keens are that).
Experience
Recreational hiker and camper.
Source: bought it new
Price Paid: $135

I could not believe how well these boots fit right out of the box. My old Asolo's had finally bitten the dust and I did not have time to break in another set of those before hitting the 72 mile High Sierra Trail with my son's Boy Scout Troop.
These were waterproof, unbelievably comfortable and offered great traction. My feet usually get sore from hiking, but with these I was fine, even after a 19 mile day with a 52 pound pack.
I really appreciated the light weight as well. The roomy toe box and snug heel were the perfect combination for me and a better fit than I have had with Asolo, Vasque, HiTech and Merrell.
My issue is the sole. After two days, one of the lugs was peeling off. I am returning these, but am looking forward to the heavier Keen Oregon PCT boots that I just ordered. Hope they fit as well!
Break-in Period: around the office was all I needed
Price Paid: $140

very light, soft, orthopedic and comfortable. especially appropriate for using in the city. Its waterproofing and breathability features are awesome...
Pros
It's more comfortable than any other hiking boots.
Its arch support also very well. I bought this for wearing in the city. I had made the right decision. One week I walked with it in the rain for 4 hours per day and my feet stayed dry.
Its bottom is very sticky on the floor. I think these boots could be used for trail activities as well...it looks sturdy at the same time... but probably I will not be able to try it for that purpose. For now, it's satisfied for me.
I highly recommend it.
Source: bought it new
Price Paid: $120

Poor build quality, durability and then customer service when reported the issues. Won't have another Keen boot.
Cons
Poor build quality
Low durability
Poor customer service
Got these under warranty (when my Keen Durands fell apart in less than 12 months). Lasted six months (really two weeks in New Zealand). Leaked badly from the outset and the sole is separating (from itself and from the upper).
Contacted Keen and was told they stand behind their product—except if you got the shoe as a result of a warranty claim (??). The last two pairs of Keen boots I've owned haven't lasted me 12 months (each). I won't be having another Keen boot.
Source: warranty

less sturdy than my Keen sandals. just a bit more sturdy than a pair of chuck Taylor's. not a hiking boot and definitely not enough support for backpacking. probably great for walking around the mall tho, maybe improved trails. definitely not for off trail walking, or hiking
Cons
FLIMSY, no stiffness in the sole at all. after 2 weeks you could actually bend the heel bed with finger pressure.
fit like a pair of chuck taylors, sloppy after about a week. the laces were too high and my toes moved around too much.
comfortable until the blisters and heel pain from no support around the ankles, flimsy sole aloud to much flex of the foot bed, it was like walking in moccasins unless you were on a sidewalk. i took these to Afghanistan with me as a second pair of boots. worse 140$ i ever spent.
support, none.
they did seem to shed water, it only rained twice in the 4 months i was wearing them.
traction, better than bare foot.
not a good hiking boot in my opinion, they make great sandals and water shoes tho.
Source: bought it new
Price Paid: $140

Your Review
Where to Buy
Help support this site by making your next gear purchase through one of the links above. Click a link, buy what you need, and the seller will contribute a portion of the purchase price to support Trailspace's independent gear reviews.
You May Like
Specs
Men's
Price
MSRP: $140.00
Current Retail: $107.97-$180.00
Historic Range: $69.98-$180.00
Reviewers Paid: $78.00-$140.00

Women's
Price
MSRP: $140.00
Current Retail: $134.91-$180.00
Historic Range: $53.56-$180.00

Kids'
Price
MSRP: $70.00
Historic Range: $26.83-$55.96