Keen Terradora II Waterproof Boot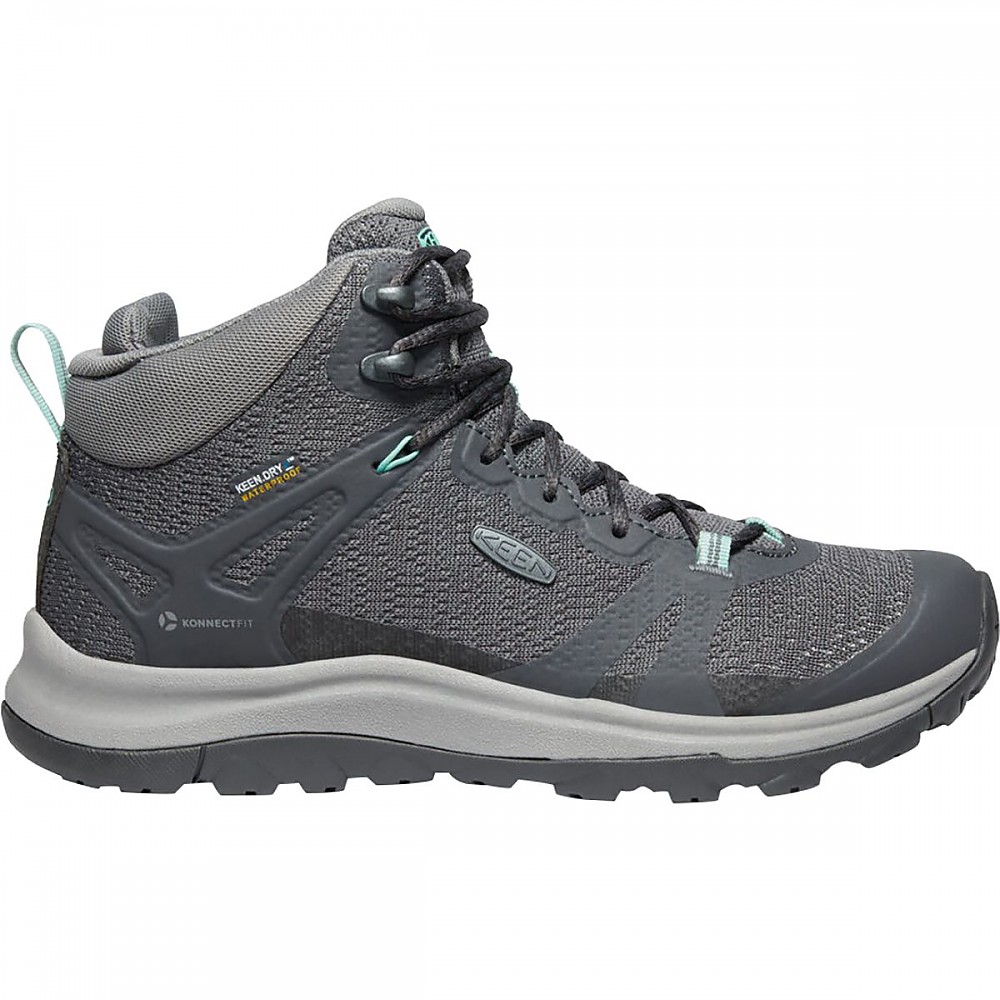 Keen's updated Terradora II Waterproof Boot is described as an "all around trekker," designed with comfort, performance, fit, and traction in mind. This mid-height hiker is just one option in Keen's women's Terradora line, which also includes a low hiker, an open toe sandal, and a toe post sandal.

I've been testing the Keen Terradora II Waterproof boots as a replacement for my beloved Keen Targhee boots, a model I have used for the past six or seven years. I no longer backpack, but do hike nearly daily, on hikes ranging from two to four hours, increasing in length and vertical climb as the season progresses. In the past 6 months, I have used this pair of Terradoras on many, many hikes, in conditions including spring and fall snow, muddy roots, slippery rocks, and dry forest floors. The temperature range for these hikes has been 20 to 90 degrees Fahrenheit.

I have found this lightweight three-season hiker to be comfortable and lightweight, providing solid traction and proven waterproofness.
Pros
Lightweight
Solid traction
Multiple color options
Waterproof in various conditions
Cons
Size women's 12/EU 43 is upper end of women's options
INTRODUCTION: Keen describes this boot, part of its updated Terradora line, as being designed specifically for a woman's biomechanics, while maintaining excellent support and comfort. I have not previously owned a pair of Terradoras before, so I cannot comment on the "updated" features of this model versus the prior version. I do know that Keen boots are very compatible with my feet; they have always been comfortable, perform well, and have lasted for many years of regular hiking in all conditions.
My impression, after 6 months of use, is that this pair of Terradora II's will continue to serve me well on my frequent hikes around Vermont and the Northeast, in a variety of conditions and temperatures.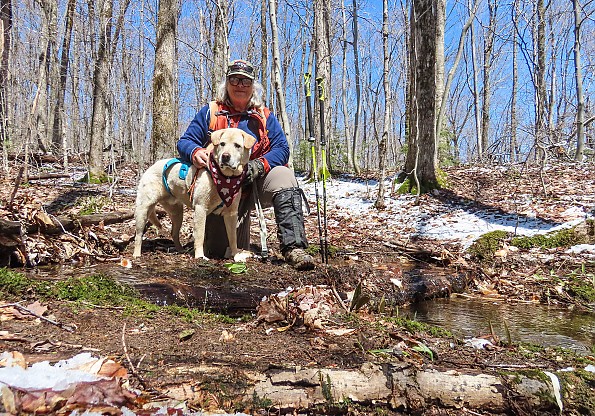 DESCRIPTION AND SPECS:
Weight: Keen describes the Terradora II as a lightweight hiking boot that doubles as an "all-around town trekker." These boots certainly are lighter than my Keen Targhees, not just anecdotally, but on the scale, too.
One of my size 12 (EU 43) Targhee boots weighs 20 oz.
One of these size 12 (EU 43) Terradora II boots weighs 16.5 oz.
One size 10 (EU 40.5) Terradora II boots weighs 14.6 oz.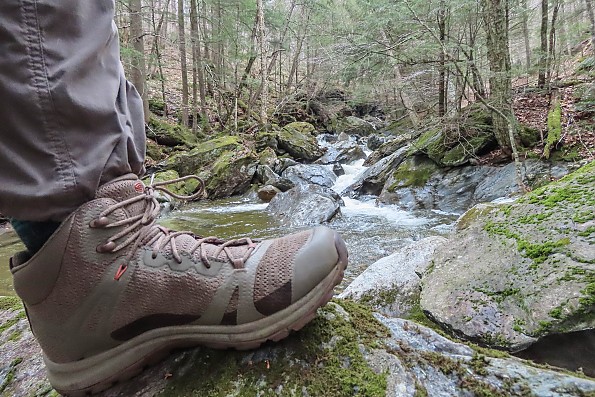 Design: The particular materials and elements used in the design and construction of this boot reflect the Keen company's values and its commitment to "ensure that the materials we use in our products are safe for you, our employees, and the environment."
The Terradora II has a mesh upper with synthetic overlays designed to provide additional support. The boot has cushioned ankles panels, for additional comfort. The lining is a breathable mesh, which is lightweight and smooth, which should improve internal comfort. The boot is uninsulated, which for Vermont makes it a three-season hiker. I have used the boot on early winter snow hiking and snowshoeing outings, so stick season (aka shoulder season) snowy hiking is also within this boot's capabilities.
The EVA foot bed is removable; it has a solid arch support. EVA is an abbreviation for ethylene vinyl acetate. This rubber-like plastic material is used due to its cushioning and weight absorbing properties, durability, and heat and cold resistance. The Terradora's low-density EVA midsole caters to a woman's foot. The footbed is also reported to have an anti-odor function, by being infused with probiotic technology, designed to naturally break down odor from sweat "without heavy metals or hazardous chemicals."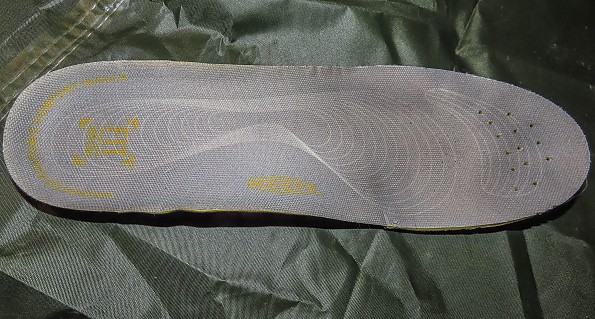 The boot has a "KonnectFit" heel-capture system for a locked-in feel. Keen describes this system as:
"a free-moving cord system that allows a custom, foot-hugging fit every time the boot is laced up. By helping to pull the heel back and into the heel cup the foot is secure and comfortable inside the boot. This reduces the common fit challenges like friction and heel slippage and improves foot stability within the work boot to create a better sense of connection between the boot and the ground beneath."
The Terradora II has a stability shank designed to provide additional stability, and to help the boot maintain its stability and shape over time and wear. The shank in the Terradora is constructed of a lightweight nylon, adding minimal weight to the boot.

The boot is described as a "mid" height hiker. I noted that the boot is approximately the same height as my Keen Targhees, also described as a "mid" boot. There is a section of upper heel/Achilles padding at the top of the rear of the Terradora, not present on the Targhee, which makes it slightly higher in the back.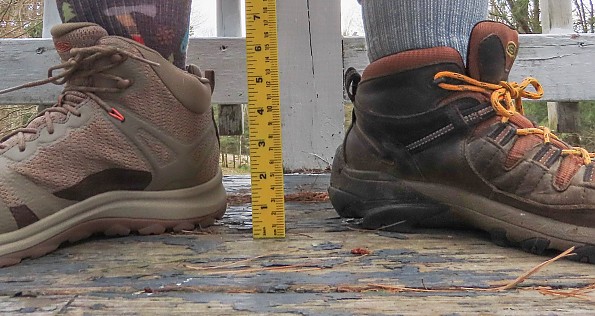 Lacing System: The boot has webbing loop eyelets at the bottom, then three eyelet holes, a reinforced ankle eyelet hole, and then two open lacing hooks at the top. The boot lace (stock) is 64 inches (162 cm) long. The tongue also has a lace securing webbing loop.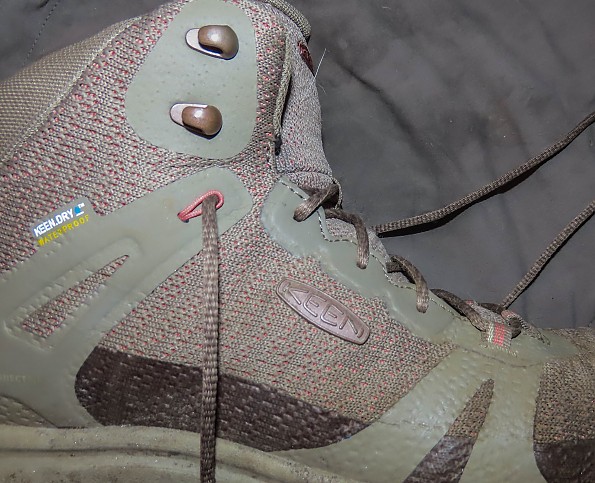 Traction: Secure and solid traction and footing is reported to occur due to the use of a "Keen all--terrain" rubber outsole. The traction sole has 4mm multi-directional lugs.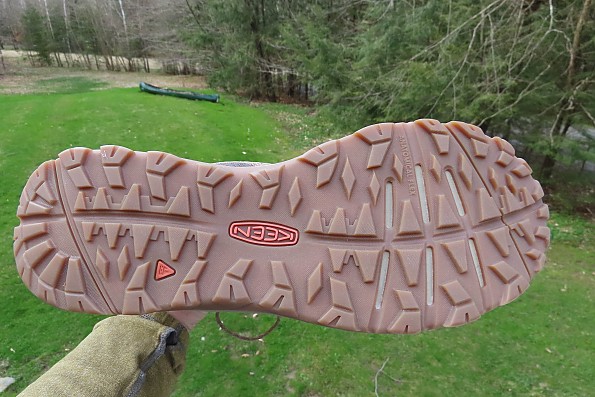 Water Resistance: Keen reports that the boots are made waterproof without the use of PFCs (Perflourinated Chemicals), which are commonly used to provide water repellency on outdoor products. Keen, aware that these PFCs are suspected carcinogens, has switched to an "alternative chemistry" which they claim is safer, without sacrificing performance. This includes the use of Keen.Dry, a proprietary waterproof, breathable membrane that lets vapor out without letting water in.
Colors: The Terradora II is available in seven different colors; I have been testing the Timberwolf/Coral combination.
Size Chart:  The Terradora II is available only as a women's model, designed as a premium lightweight hiker, on a women's specific last, to meet the particular needs and mechanics of women. The closest equivalent men's model is the Venture. The available sizes for the Terradora II range from 5 (EU 35) to 12 (EU 43). The largest size available is a 12 (EU 43), which is the size I am testing. I have women friends and hiking buddies who use a larger shoe size than I do; for them, this boot would not be a viable option.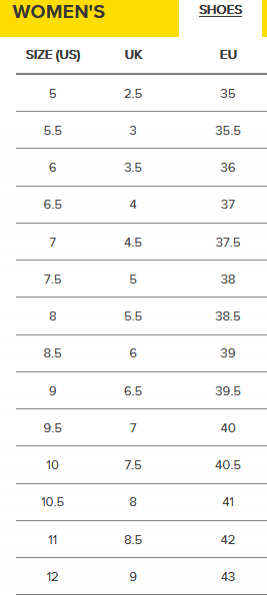 Care and Cleaning: The boots can be brushed off with a damp sponge to remove accumulated dirt and debris. Keen recommends any stains be treated immediately with a gentle cleaner.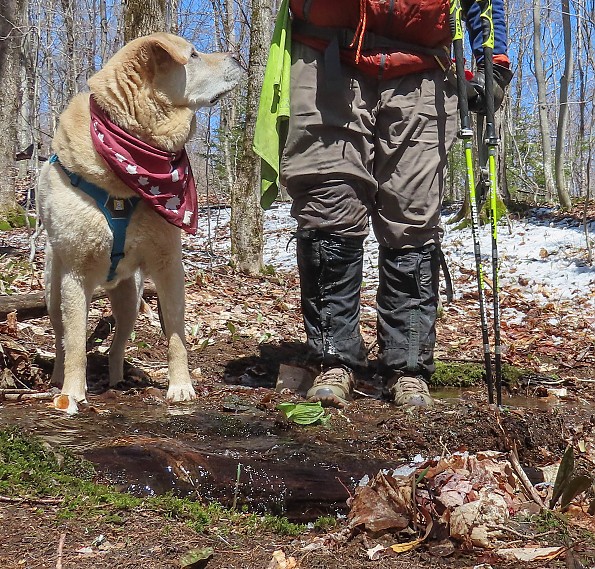 FIT: I have been able to put on a pair of new Keens right out of the box, and have had no issues with break-in on the new boots. That being said, I have previously purchased men's models of the boots, always in size 43 EU. I was therefore a bit concerned about how a women's model might fit; I find women's  boots and shoes often have a narrow or tight toe box area, resulting in pinched toes, and discomfort...something I especially do not want to deal with in a hiking boot!
In fact, on the Keen website, it advises Fit tip: This style has a narrower fit than a traditional KEEN shoe. Keen has advised that the Terradora collection is intentionally designed for a woman's foot, so it is a little narrower in the heel and forefoot; the padded back collar accommodates a lower Achilles tendon typically found in women.

However, I was pleased to realize that this pair of women's boots, in a size 12 (43 EU), is a great fit for my foot, and the fit for me is consistent with my other Keen men's size 43 EU footwear, if a bit more narrow.
The boot's lacing system has allowed me to tweak and adjust the fit of the boot; by loosening the mid-foot laces, yet keeping the top half of laces snug, my heel remains snugly secured, and ankle support is  provided, while I feel a reduction in pressure over the top of my left foot. This is important, since I have a tendency to develop pain on the top of that foot due to extensor tendonitis.
I wear a lightweight merino blend sock under my boots, year-round. These boots are a really good fit; I have tried the boot with a mid-weight sock, and though the fit is more snug, there has been no discomfort. I have not had any rub spots, blisters, or points of irritation, and have found this to be a very comfortable pair of hiking boots.
PERFORMANCE: I expect my hiking boots to be comfortable in all hiking terrain, be it rocky climbs, steep traverses, flat trails, or long downhills. My initial 6 month's use has shown that these boots will meet that criteria. The boots are solid enough to support my feet and ankles, yet flexible enough to deal with steep rocky sections of trail. On the downhills, my feet have remained securely in position, and I have experienced no forward sliding, which can result in Hiker's Toe. I have yet to feel discomfort in my feet after any of my hikes.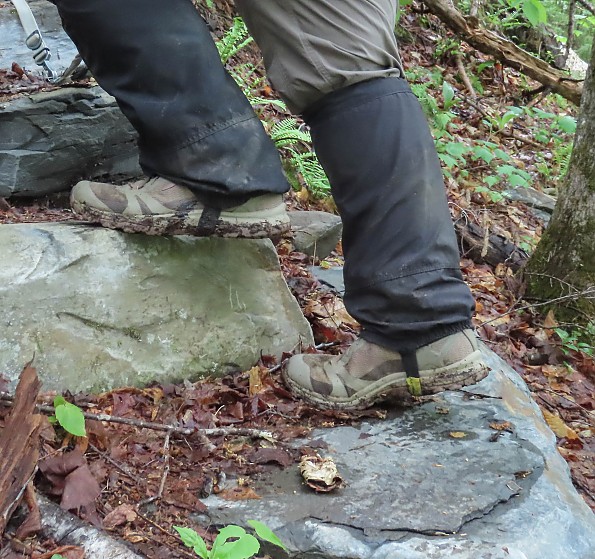 As a "mature" hiker, a boot's traction performance is critical; a slip or fall could have dire consequences for me, and as a primarily solo hiker, that is a safety concern. I have used these boots in a few inches of snow over mud, pure deep cold mud, slippery wet roots and rocks...you know, typical Vermont hiking conditions. Even on downhill sections, I have slipped only once, and it was minor and uneventful.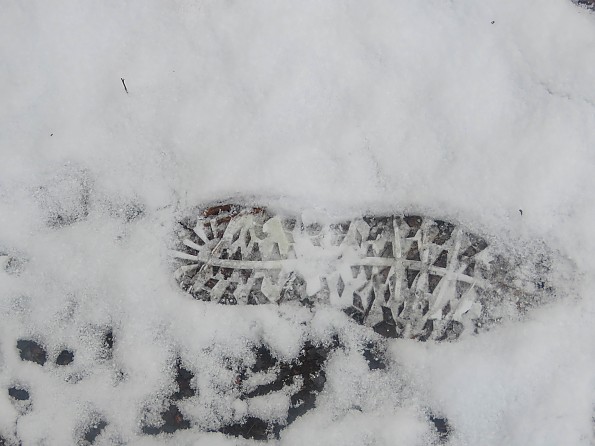 Vermont's spring and fall weather provide a perfect opportunity to assess Keen's claims that this is a waterproof boot. Our conditions have resulted in the boot getting quite wet more than once, and yet, my socks have remained dry. Following the spring hiking guidelines to "hike through mud, not around it" means that my boots have had multiple close encounters with lots of moisture.
On one hike, we ended up on a half-mile section of trail that was a pure slog...swampy muck, with no rocks or dry ground to tread upon. These boots performed beautifully. My gaiters did keep any muck from getting into the boots from the top, so the interior of the boots had some protection from the water and slime.
I have used these boots in cool (20°F) snowy and windy conditions, with microspikes and snowshoes, and in warm, summer-like humid conditions (90°F) The warmest hike was cut a bit short due to heat and bugs, but after 90 minutes or so, though my feet felt warm, it was intolerable. I rarely hike in very hot conditions, but I think this boot is lightweight enough, and has adequate ventilation, that it should be a good warm weather hiker.

In late spring and early winter snowy hikes, my feet were definitely comfortable, even with a lightweight sock (merino blend). I often use regular hiking boots (as opposed to a winter snowshoeing boot), for early-season hiking and snowshoeing. These boots worked well with both Microspikes and a snowshoe binding.  Their lack of height, and designated winter insulation really makes them appropriate only for my shoulder season snow outings, but I have been impressed with their ability to keep my feet warm and dry.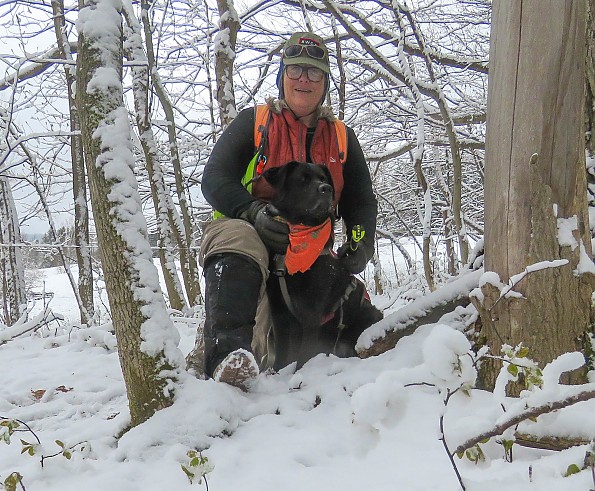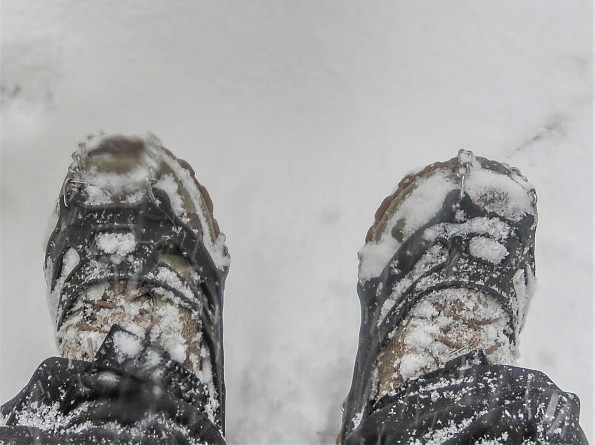 It is not easy to assess a boot's durability after only 6 month's of use; a quality boot should not be showing any marked deterioration in such a  period of time. To date these boots appear to show minimal signs of wear; the laces are intact and not wearing at the eyelets, the soles and uppers look as if new, and the interior lining is not showing signs of wear.
Experience
As a lifelong hiker, I have worn innumerable pairs of hiking boots. I have learned that fit and comfort are essential if your boots are going to take you any distance! I have previously owned two pairs of Keen hiking boots, and have worn each until they were beyond repair, usually around three years of frequent nearly year-round use, in the rough and variable conditions we find in Vermont. This is the first women's-specific model hiking boot I have used in a very long time, so assessing its durability, fit, and comfort over time is important to me.
Source: received for testing via the Trailspace Review Corps (Sample for testing and review provided by Keen)

Very disappointed! A great comfortable boot but it is NOT waterproof!!
Pros
comfortable shoes for dry weather
Cons
they claim waterproof, but they are not
I bought in February and six months later they are letting water in from just walking in wet grass! I've sprayed with waterproofer but still get wet sox! I've contacted Keen but they say post them back (what to Canada from Australia??).
I would recommend looking at another brand that IS waterproof.
It's a shame because I really find the boot very comfortable and it supports my feet well. But one needs waterproof shoes when walking in the rain or wet areas.
Experience
comfortable but not waterproof
Source: bought it new
Price Paid: $190

Your Review
Where to Buy
Help support this site by making your next gear purchase through one of the links above. Click a link, buy what you need, and the seller will contribute a portion of the purchase price to support Trailspace's independent gear reviews.
You May Like
Specs
Women's
Price
MSRP: $150.00
Current Retail: $109.85-$175.00
Historic Range: $59.73-$175.00

Kids'
Price
Historic Range: $39.98-$74.95