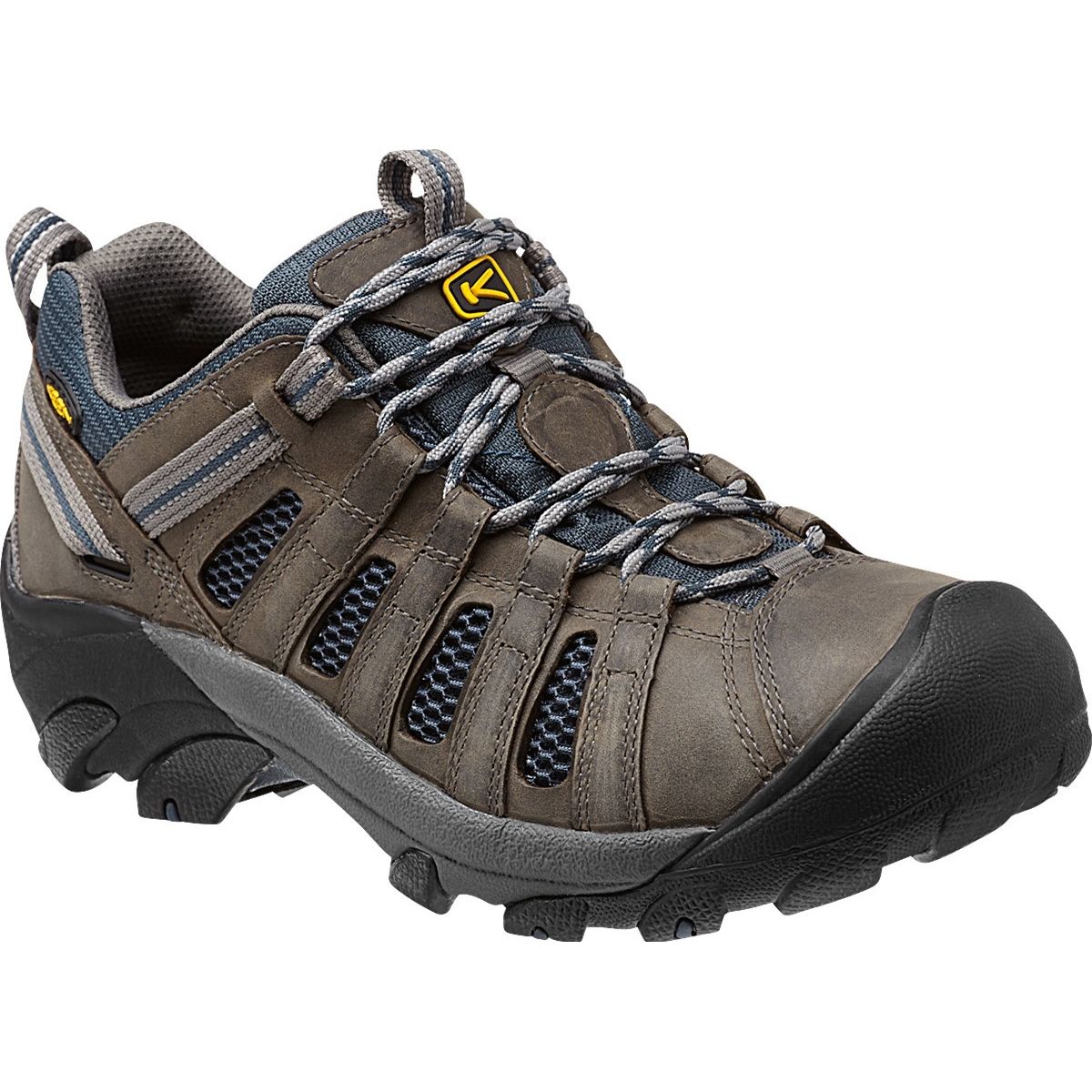 Specs
Price
MSRP: $100.00
Current Retail: $115.00-$119.95
Historic Range: $34.83-$120.00
Reviewers Paid: $69.00-$150.00

Reviews
9

reviews

5-star:

0

4-star:

3

3-star:

1

2-star:

2

1-star:

3
I find the Keen Men's Voyageur shoe to be very comfortable, especially if the fronts of your feet are wide. They have excellent traction for most situations, breathe very well, and dry quickly if they get wet.
Pros
Fit
Ruggedness
Comfort
Traction
Price
Cats like them too (see pics)
Cons
Lining quickly wore through at heels
I bought my Keen men's Voyageur hiking shoes about a year ago, to wear casually and on easier trails where boots were overkill. The fit was excellent right out of the box, with no breaking in required.
The toebox is nice and roomy for feet that are wide in the toes like mine. I've never had any problems with pinching or my toes jamming on downhills. They don't make my heels feel like they're swimming in the shoes, either. I use Sole Sport (red) footbeds to support my very low arches. They add a little volume in the heel (with a deep heel cup) but my feet have never felt like they're riding too high.
The upper is mostly leather, with mesh panels on the sides and a padded nylon tongue with leather reinforcements. The eyelets are leather tubes and haven't been worn by the laces. There's no waterproof/breathable membrane, but the shoes dry quickly when they get wet thanks to the mesh. Put on a dry pair of socks and keep hiking.
They're definitely Keens, with that huge toe cap.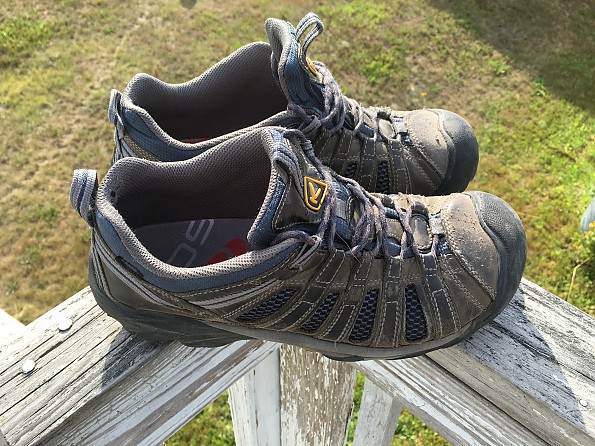 The sole is relatively aggressive, offering good traction in dirt and pretty sticky on rocks. The sole has colored lugs but as you can see in this pic it's not a dual component system, just grey rubber molded over the black. It's very flexible and gives you a good feel for the ground underneath. That also means you feel every rock you step on, which can get a little uncomfortable after a few hours.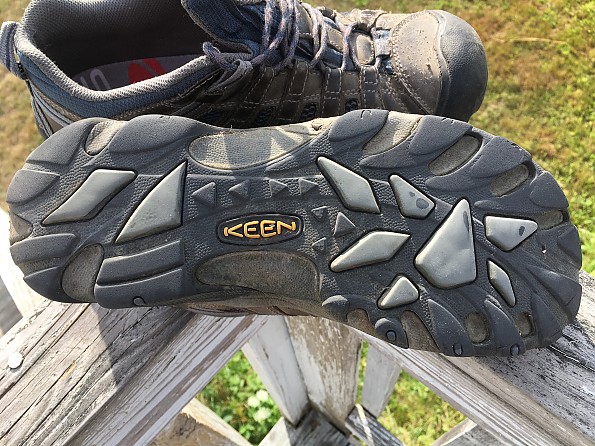 But these are trail shoes, hardcore rock-hopping isn't what they were meant for. Today I wore the Voyageurs hiking the Ledges Trail on Pleasant Mountain in Bridgton, Maine, and was absolutely sure-footed the whole time. Even hopping from rock to rock while fast-hiking down the mountain, they stuck to the rocks without any real discomfort when stepping onto a sharp or pointy rock. I really liked the nimbleness of these things, and had so much fun wearing them today that I'm ordering a pair of Vibram-soled hiking shoes meant for more rugged use.

My only real complaint with the Voyageurs is that the lining wore through in both heels. It doesn't chafe or anything, I just think a pair of $115 shoes should last longer than a year before wearing like that. They're still 100% serviceable, and I'm going to keep wearing them until they fall apart.
At the summit of Pleasant Mountain today, it was a great hike up and I was looking forward to letting my shirt dry out.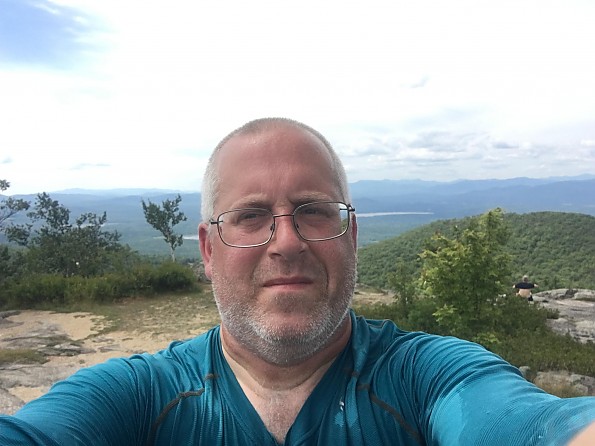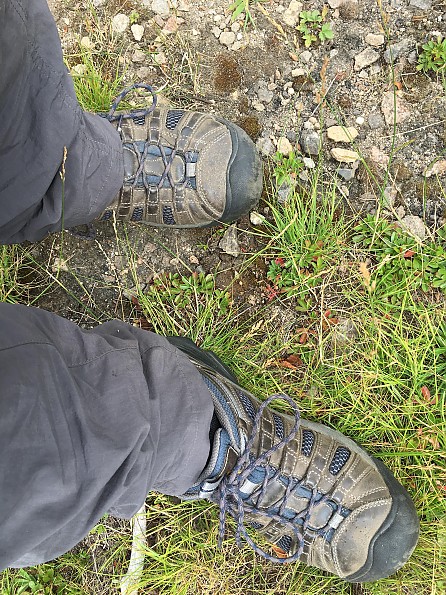 Unfortunately for me and everyone else at the summit, what appeared to be a group of teens from a youth camp or some other kind of group summited from a different trail a few minutes after I did, yelling and shouting, throwing rocks off the ledge, breaking branches off dead trees, etc. Their counselors (guides, whatever) didn't have anything resembling control, some other older hikers asked the kids to stop throwing rocks because there are other trails on that side (I didn't realize this or I would have said something earlier), and to please not leave the branches all over the place. They were ignored like they hadn't even spoken, and since that's one thing that'll send me into a berserker rage I had to head down before I forgot that I'm not sergeant Smith any more and these weren't unruly privates. But maybe being smoked with 1/2 hour of grass drills right there on the rock is what they so desperately needed!
Source: bought it new
Price Paid: $90-ish

I've owned these shoes now for just over a year. In addition to my regular morning trail hike of ~3 miles, I have taken them on 5 major hikes including one where I covered 45 miles in just 3 days.
I am a relatively large 50 year old male at just over 6'3" and ~230 pounds. I have wide feet and wear an 11 shoe size. My feet run hot and moist. I wear either a single wool sock or wool over a thin polyester liner to reduce friction. I travel with a 43 pound pack and use hiking poles the way they were meant to be used, as contributors to support and propulsion.
I am picky about what gets in my shoes and often get teased for wearing gaiters (REI desert style) in even moderate height grass or trails where sand or gravel are present. I favor hiking about 10 miles per day. All of these might be useful as you consider my experience.
Until this pair, I've never found a shoe that lasted more than a single spring-summer-fall hiking season. My two typical problems are either a disintegrating lining or sole wear on the outsides of the shoe. This pair has about 450 miles on it and has held up well. The inside is a bit worn, but still has integrity. The inner laminate of the outer sole has begun to show through, but its worn more evenly than previous pairs.
While it does breathe, my feet still get damp during a 3 hour run. Also, the laces don't hold a knot as well as one might like. These two items prevent it from earning a 5.
Overall, I am very happy.
Price Paid: ~100

This is a good everyday shoe. Durable, good cushioning, OK arch support; just a very comfortable shoe.
Pros
Durable
Well cushioned
Well constructed
Cons
So-so arch support
Not sized correctly
This is a good everyday shoe. I bought it at REI and thus far been pleased with it. I would recommend going a half size bigger that your normal shoe size to not have your toes up against the toe box on steep descents.
I just did a three mile walk with the shoes right out of the box. They felt broken in from the first step. The shoes are not waterproof because of the ventilation, but they should be fine for spring and summer weather. My feet did not get hot nor do I have any hotspots. 
The traction is fine for trails and roads, but they would not grip right if your were doing any type of rock climbing. The support is fine, but the arch support is just so-so. The shoe is very well made and should last several years with average use.
Source: bought it new
Price Paid: $80

I purchased these hiking shoes in early April 2013. I used these shoes intermittently, so I would not say I have put them through the ringers by any means. It is now August, and the boot has completely blown off the tread on the right side, and the left side is not far behind.

Luckily I was on a heli-fishing trip in northeast BC, and not in a situation where I would of had to walk out of the alpine bare footed. Perhaps I just got a bad pair, but I must say I am not impressed with the durability for the money spent, as I am now without a pair of hiking shoes.
Pros
Looks
Rubber toe
Breathability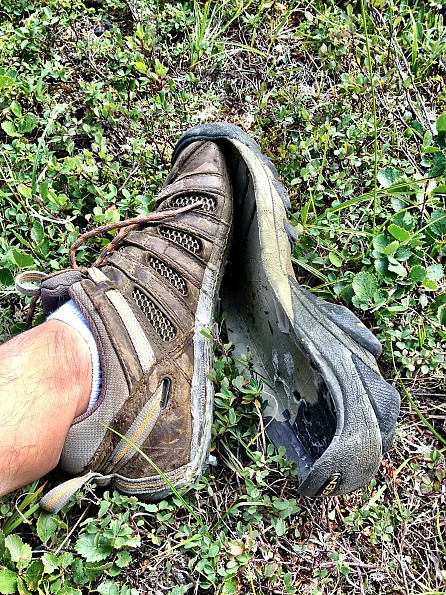 Source: bought it new
Price Paid: $150

This was the first pair of Keens I have worn. I wanted a lightweight shoe for summer hiking in Colorado as well as one cool enough to wear in south Texas where I live.
Unlike other reviewers I had no problems with the soles breaking down, however, the fabric on the heel wore completely through on the inside of the shoe causing heel blisters. I took these with me to Alaska and they are NO good for hiking on wet rock!
I did a slip and slide hike up a rocky glacier. The rock was granite and wet and the soles of these shoes are very hard and slick on a wet surface. I had to add inserts to keep prevent heel pain bc bottoms are so hard.
Next time I will look at something like a Lowa with Vibram soles!
Price Paid: $75

I wanted to share my experience with the Keen Voyageurs.  Previous to purchasing the Keens, i had consistently worn Merrill Moabs - about 5 pairs in about 4 years.  I decided to try the Keens because i was experiencing a chronic case of Plantar fasciitis and believed that a change in shoes might be help relieve the pain. 
The first pair of Keen Voyageurs were pretty comfortable for my slightly wider feet and provided some relief. As the plantar faciities subsided (another longer story), i really enjoyed the shoes and liked many of the features realtive to the Merrill Moabs but noticed that i needed another pair in May, less than 5 months after purchaing the first pair. 
Although the lifetime of the outsoles is not very long, my biggest complaint with these shoes is the fact that the outsoles are delaminating. I purchased a second pair in May and these began to delaminate quickly but continued to wear them until October.
Because of the delamination and again outsole wear, i purchased a third pair hoping that the delamination was 'a one-off manufacturing gliche.' I just returned the third pair less than one month later because of delamination issues.
In contrast to the Merrill Moabs, this is 3 pairs of Keens in less than 1 year due to short outsole wear and delamination of the outsole.
Price Paid: ~ $100

I've been a Keen fan for several years now and love their comfort but my Voyagers have let me down as the soles have worn out. In less than 6 months of light duty daily wear the lugs under the ball of the foot have worn through revealing they are actually hollow - not solid rubber.
Also the sole is delaminating along the outside of one. The tops are still pristine looking, laces strong but the soles are shot.
I've never had a pair of shoes wear out this quickly and for the price am left scratching my head. Will look at other brands as replacements.
Use: around town
Break-in Period: no break in required
Weight: 225 lbs
Price Paid: $100

I would only recommend these boots to someone who has clapped their old boots together over my head at 3am.
After wearing out my previous boots on the AT, I followed a salesman's recommendation that these boots were just as good as my previous boots with the added benefit of a wider toe-box. What I found was the following:
Any stone or rock stepped upon will be felt directly by the foot. The footbed is simply insufficient to protect the bottoms of your feet from feeling every pebble.
The tongue of the boot is too short and along with the design of the collar and uppermost hooks for lacing it was very difficult to keep the detritus of the trail from getting down deep in your boots without gaiters.
After a single day of hiking in drizzly conditions, the glue holding the soles started to give way.
These boots were returned to the store where they were purchased after six days of use.
Price Paid: $100

This is a really good shoe. My backpacking trips have been taking me through more and more stream crossings. With that, I was getting quite tired of taking my boots off and suspending them from my neck as I waded to the other side. I was looking for a shoe that would let me do the stream crossing and then drain well enough to dry out during the rest of the hike. At the same time, I wanted a shoe with more stability than the trail runners I've tried. This shoe does it all.
I actually took these on a three day backpacking trip without bothering to break them in. They worked fine with no hot spots or blisters. The terrain varied from waist high stream crossings to narrow rocky ridge lines. The toe covers actually come in handy when crossing rocky streams. I had a few incidents where my feet were swept into or under rocks. Trail runners would have left me with injured or bruised toes. The toe guards prevented either from occurring. The traction is also as good as any hiking boot I've used, and the lasts are stiff enough not to punish your feet on rocky terrain.
Materials: leather and synthetic
Use: rough trail with stream crossings
Break-in Period: 0
Price Paid: $69


All Voyageur versions
In addition to the 9 men's reviews above, there are 5 reviews for other versions of the Voyageur. Read all reviews »
You May Like
Recently on Trailspace