Kelty 50th Anniversary Pack

#7 in men's External Frame Backpacks
The 50th Anniversary Pack has been discontinued. If you're looking for something new, check out the best external frame backpacks for 2023.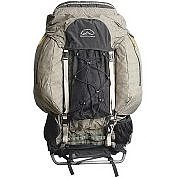 Pros
Extremely well built and designed for heavy loads.
Cons
Somewhat heavy and I would prefer a titanium frame
I first used this backpack to evacuate from New Orleans the day after Katrina hit. While wading through waist deep water in the street the pack sat securely on my back fully loaded with clothes, tools and camping equipment.
Another feature I liked was that my weapon and other gear I needed was easy to use due to the slim profile. Several months later I used the pack to move from Portland, Oregon, to Rhode Island by air and the pack held my extreme weight of gear without complaint.
If you are looking for a pack that can carry heavy loads a long ways like a bug-out bag this should be on your list. The only thing I find questionable is the pocket stiffeners as I see no need for them.
Source: bought it new
Price Paid: $285

The best value on the market at the time it was available. Good looking and very well put together. Very nice pocket and zipper layout (zips are welded and h2o tight).
Only NEG: I wish Kelty had placed a shelve in the main compartment separating the lower sleeping bag area from the main area. Pack well my friends because when you stop for that short break you'll find yourself doing a lot of digging around looking for stuff in your "cave" of a backpack!
Other than that this is one trick pony! Lots of clips and loops to allow you to "get going" in that morning rush to continue your adventure. Rides very nice for balance on the hips. The frame layout is very nice. Cool back meshing keeping you cool. I think you'll leave the pocket stiffeners at home, but I do dig the detachable mesh bag for a short hike away from camp.
Design: top loader/external frame
Size: +7K Cu inches.. freeking huge!
Number of Pockets: 1main with slot for hydro bag. 3 outside, 3 in lid
Max. Load Carried: 125lbs
Height of Owner: 6'1"
Price Paid: $130 (DEAL)

Version reviewed: size large
This is my first external frame pack, and I was hesitant at first. I thought external frame packs were primative, bulky, and heavy. This pack however, is probably the lightest pack I've carried (6 lbs. 12 oz. with all of the features on the pack; 4 lbs. 12 oz. stripped down.) More importantly, this pack has helped me to evolve--I'm actually able to walk upright while wearing this pack! I was wrong about external frame packs.
I bought it through REI last week and carried it on a three-day 24-mile hike. Carried about 45 lbs. up and down hills with some bushwacking involved (due to poorly maintained trails). The pack performed great! Very comfortable. No sore spots on my shoulders and hips as with other packs. The hipbelt hugged my bony hips better than any other packs I've owned or tried.
Nice features too: removable side pockets; mesh pocket on the front(which also doubles as a daypack) for storing wet items; water bottle mesh pocket on the side (It really can be used for water bottles!); and the material on the suspension sytem that helps with ventilation. With the super strong green Spectra gridstop material for the body of the pack, this pack is not bad to look at either.
This pack is the most comfortable big pack I've worn so far. I tried to buy a pack other than another Kelty (I own a Redwing and Slickrock 6000) because I thought a more expensive pack would be more durable and comfortable. But I keep coming back to Kelty because their packs fit me. And to tell the truth, not one of my Kelty packs has had any durablility problems so far.
If your are looking for a big pack to carry big loads, don't overlook this one. You could spend much more on a pack, and get much less.
Other packs I've tried: McHale Super Critical Mass Alpine Bayonet II (well constructed pack, but did not work for me); Dana Design Glacier (not comfortable and too small; Gregory Denali Pro (well constructed, but did not fit my back); and Gregory Windriver 2002 model(nice pack, but a buckle broke the first time I used it).
Design: Top-loading external
Size: 6500
Number of Pockets: 6
Max. Load Carried: 45 lbs.
Height of Owner: 6'
Price Paid: $230

I just purchased the brand new (as of August, 2002) Kelty 50th Anniversary pack. I had to wait four months for the pack because demand is so high.
I have owned an Alpenlite (1975 Ext. Fr.), a Kelty Royal Arch (1985 Int. Fr.), a Gregory Snowcreek (1985 Int. Fr.), a Gregory Evolution (1996 Ext. Fr.), a Dana Shortbed (1999 Ext. Fr.) a Gregory Forester (2000 Int. Fr.) and an Osprey Aether 75 (2001 Int. Fr.). Most of these last packs were models that I purchased after my 1985 Gregory Snowcreek had been technologically surpassed. I was NOT immpressed with the Royal Arch (suspension was not comfortable), the Evolution(frame broke on first trip), or the Forester (did not find the pack to be comfortable). The Dana was a great pack, but way too heavy. I purchased the Osprey last year and have been very pleased with it's performance as a overnight to 4 day pack. However, I needed a 1 to 2 week pack, and for heavy loads I much prefer external frames. Thus, the purchase of the 50th Anniversary.
I consider this new pack to be the acme of external packframe design! The fabrics used are excellent~far superior to typical Kelty products. The construction is excellent as well. The pack features a beautiful packbag design with a very nice interior hydration pocket, beautifully made side pockets, numerous other pockets, a fantastic suspension etc. The frame, suspension and the packbag are a work of art! This pack carries a 60 Lb. load a bit more comfortably than the Dana Shortbed that I owned, and weighs about 3 Pounds LESS!.
The pack won a Backpacker Magazine's "Editor's Choice" award this year. They were very impressed with the pack but wished that the load lifter straps were placed a little higher on the pack to provide better lift. I am 5'7" and have a 19.5" torso length. I purchased the large size and find that with a little adjustment, the pack fits great and the load lifters are in the right spot for me.
I took the pack on a long weekend trip (WAY TOO LARGE CAPACITY FOR THIS LENGTH OF TRIP) and really loaded it up. It carried beautifully!
Design: Top Loading/Side Loading sleeping bag feature
Size: 6500 Cu. In.
Number of Pockets: 6 + interior hydration pocket
Max. Load Carried: 60 Lbs.
Height of Owner: 5' 7"
Price Paid: $230

Your Review
You May Like
Specs
Price
Historic Range: $159.99-$181.97
Reviewers Paid: $130.00-$285.00

Recently on Trailspace