Kelty Grand Mesa 2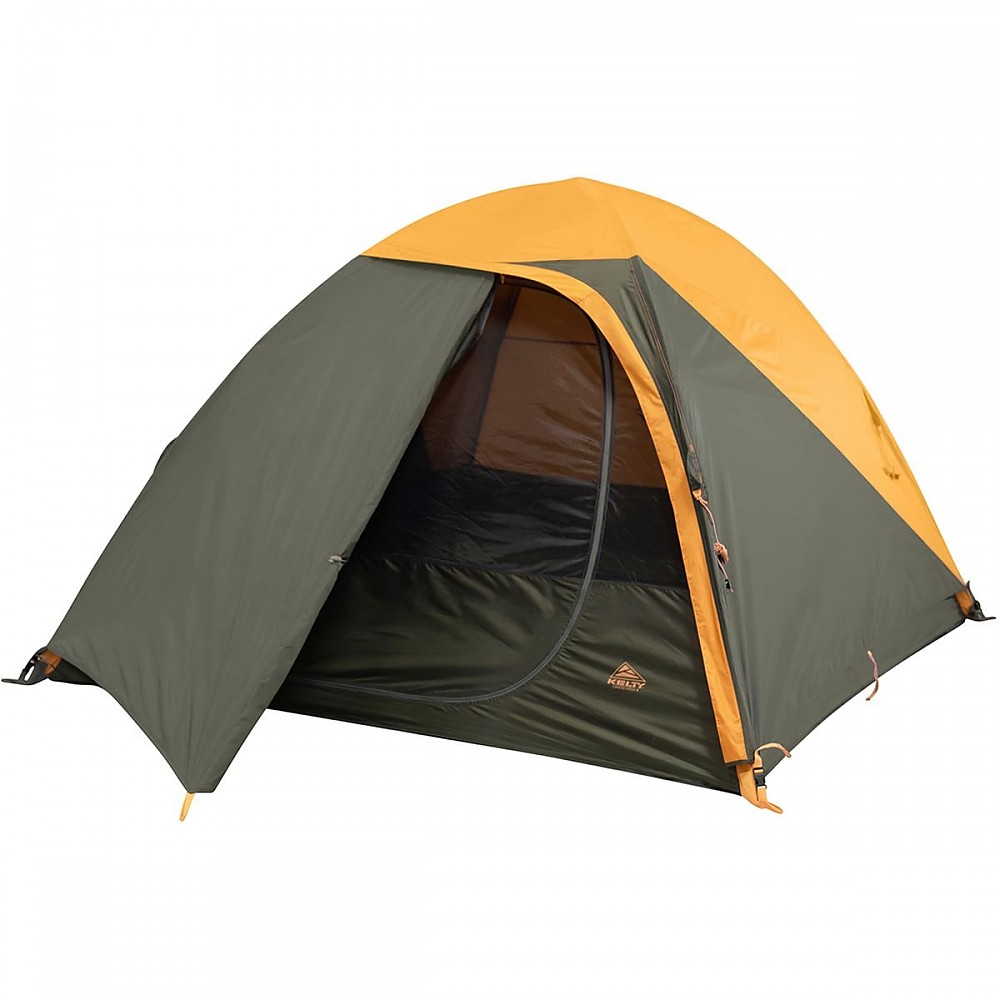 In my short time with this tent, it has satisfied all the needs I require out of this piece of gear. It's easy, simple, and very effective in separating in from out. I would highly recommend the Grand Mesa, especially given how good of a deal it is.
Pros
Perfectly waterproof
Low/no condensation
Simple design
Quality construction
Cons
May be feature-poor for some
On the small side
SETUP:
This is a tent, so if you can set one of those up, this should be no challenge. The poles snap together beautifully, and the ends slot into their places with a very nice ball-and-socket joint. The only challenge I found was orienting the rainfly due to the uniform color, but this is only a 5-second delay, really no big issue.
I have set this up on firm ground and in very loose sand, and in both cases the tent went up easily and logically. I have purchased new stakes (Vargo V style aluminum stakes), simply because I prefer those to the round hook stakes that come with the tent.
STABILITY:
It's a very tight pitch, and if you can stake down/secure the main points, there is almost no movement at all in the structure. I have camped on the beach in Big Sur with this, and wind was no issue at all, despite consistent gusts. I have no snow experience with this tent, but based on the simple dome construction and the quality of the materials, I would be confident taking it out for snow camping.
WEATHER RESISTANCE:
Although I have not experienced any sort of deluge in this tent (will report back once I do), there has been no issue at all with moisture penetration. Very heavy dew and light rain have posed no problems for the good coverage the rain fly provides, along with the great bathtub floor.
VENTILATION:
Condensation is no issue with this tent. I have slept in too warm a sleeping bag in warm weather, and even with that fairly extreme condition, There was almost no condensation. Given, as long as you are using a rain fly, there will be some, but I feel that the Grand Mesa fights this very well with well placed vents and quality mesh that comprises the majority of the main tent construction.
ROOM & STORAGE:
I'm quite tall, and this tent does not seem too small for me. My opinion on tents is that they are essentially only for sleeping in, and maybe for taking shelter if needed, so they do not need to be very roomy. I can sit up to change and organize gear, I can lay flat and straight and feel mostly unconstrained, so all my main points are met. I do feel my feet and head touch when I'm trying to be as tall as possible, but it's by no means a short tent.
The vestibule is large and capable, and two full backpacking packs can easily fit, with room for shoes and whatnot. It is also fully waterproof from above and the sides, though there is no ground coverage in that area.
PACKABILITY:
This is an ultralight tent, no matter what some will say about the benefits of shaving ounces off of your gear. It packs relatively small, considering how capable of a shelter it is. Each individual component (main body, fly, poles, etc.) come separately packed into one large sack, and that is a fairly good way to carry it.
My preference is to roll pieces together where it makes sense, and to find the ideal pocket in your pack based on what you have. I have an old Dana Designs ArcFlex with one of those exterior gear girdles, so that's a perfect packing solution.
EASE OF USE:
Any tent can be frustrating to set up in unideal conditions, but the Grand Mesa poses no outstanding challenges. It's simple, logical, and very doable. I have done all my setup and takedown of this tent solo so far, and it is no issue at all.
FEATURES:
This is a simple tent. It is stylish, but there is nothing outstandingly groundbreaking about its features. It will do exactly what you need it to, and it will do it well. There are plenty of gear storage solutions both inside and out, and a good light hook on the peak of the roof. The components are all to modern spec and are basically as efficient as can be. Great for those looking for a shelter that is just there to make your adventure a bit more comfortable, which is exactly what I was looking for.
CONSTRUCTION & DURABILITY:
I've experienced no lack of construction quality so far. All the seams are factory taped, which is awesome, the stitching is consistent and tight, and the materials should last and wear well. I've only been using the tent for a couple months now, so there is no long term wear to report, but I will be sure to do so if I find my opinions change.
CONDITIONS:
I've done most of my camping in this tent on the Central Coast of California, around San Luis Obispo. This area is prone to pretty big diurnal shifts, and there is always heavy dew/mist at night and in the early morning. There is always a breeze, and I have gotten some gusty wind in this tent.
BOTTOM LINE:
For a simple and very well made shelter, this is a great solution. It is bare bones, but the price reflects that very well. I'm sure this will last me a long time, and I am happy with my decision to purchase this over the more expensive tents that essentially serve the same purpose.
Source: bought it new
Price Paid: About $100, on CampSaver.

Excellent tent for backpacking, survived four nights in the BWCA in Minnesota, holding up to high winds and rain. Great value for the money.
Pros
Easy setup and take down
Able to handle foul weather
Cons
1 door design, may be an issue with 2 sleepers
A little heavy for backpacking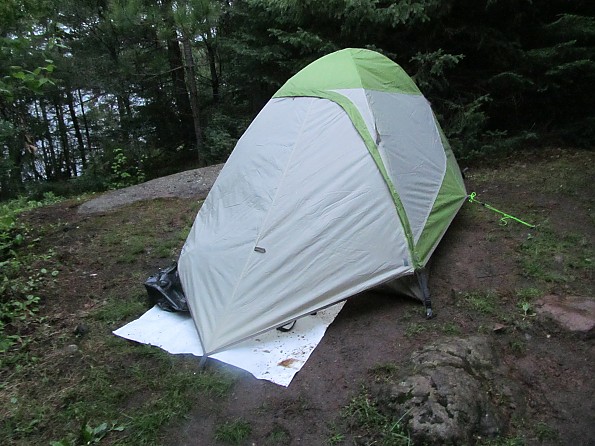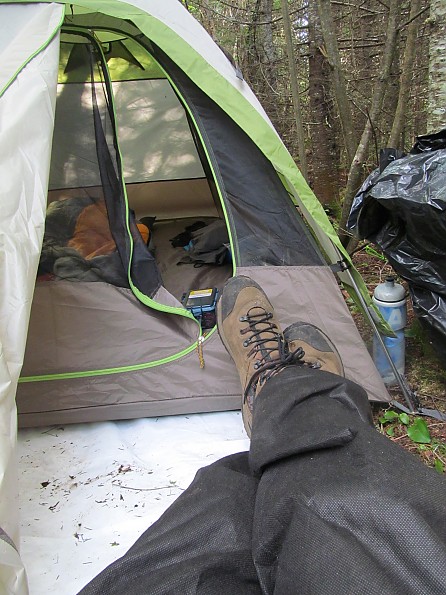 Overall I'm very pleased with the Kelty Grand Mesa 2. It was easy to set up and take down, and roomy for one camper. I survived my first trip to the BWCA with flying colors snugly inside while the howling tempest raged outside for two days.
I haven't tried it with two campers yet. I'm sure it will be snug, but with my wife by my side, I see no issues. The single front door might be awkward for two. The vestibule has a nice area to set your backpack and/or boots under and it kept both dry in the rain. I placed a long sheet of Tyvek under the tent and vestibule for added protection. I didn't buy the Kelty footprint.
Headroom was fine for sitting/crouching, no standing of course. Bring a couple of carabiners or S hooks inside so you can hang your flashlight or headlamp from the fabric loops on the ceiling. It lights up the tent well.
I had a large (78"x26") air mattress, which just about filled the tent lengthwise. In hindsight, I should've used a shorter pad to keep it off the tent walls. But still had no issues with condensation. I kept the rear vent open except for the extra cold night (36 degrees) we had in early June, which helped with airflow. 
The entire top of the tent is mesh, so you'll probably want the rain fly on for privacy and to prevent condensation. But if it's a warm summer night, you could stargaze easily if you leave off the rain fly.
I left the carry sack at home, and just packed the four items in my backpack—the tent, the rain fly, the pole bag, and stake bag. It was easier to fill in all the gaps in the pack that way.
I've only set it up and taken it down twice so far, no apparent durability issues noted.
At $115 approximately, I think it's a very good value.
Source: bought it new
Price Paid: $115

I purchased this tent in October to use for basic camping. I do much car camping but usually out on backroads in the forest or out in the Mojave desert so a tent to withstand the elements was highly desired.
So far I have used the tent once for a weekend camp trip in the desert. Second day we had gust up to 40 mph and the tent stood strong as expected.
Set up was simple with the pole clips and clip on fly once I figured out what went where. I used my larger heavy duty tent stakes for the tent and the supplied stakes for the guy lines. The fly has 7 anchor points for guy lines but only comes with lines for 4 of them. I keep extra line in my supplies already so I used 6 of the 7 points just to help keep the tent down.
The vestibule is about the size of a pair of shoes and provides very little space but will let you keep wet gear outside or even a small ice chest.
Inside the tent I found two large mesh pockets outset with 2 smaller pockets on both sides of the door. Much better than the normal pocket locations in the middle of the tent as I am used to from previous Coleman's.
The space inside the tent was a bit tight form me and my gear, but a lot of my space is used up from my twin size air mattress and the shape of the tent makes it a bit too cramped at the head end using it so I may switch off to a Therma-rest or something similar. There is a flashlight loop at the center of the tent that will likely come in handy at some point.
The few issues I did have with the tent were related to the zippers on the door and the fly. They were catching on the fabric a bit too much and became a point of frustration when trying to get in the tent during the high winds. I do suspect that issue had to do with the set up so I will take time to pay more attention in that area next time I use it.
Another issue was with the large mesh sides and top part of the door. During the high winds everything in my tent was coated with silt and sand. It would be better to have the option to close up the mesh with a zipper cover or something. Blowing sand is usually an issue at places I camp so I will have to rig something up next time.
Regardless of these two issues, I am very satisfied with my purchase.

Design: Three-Season with full coverage Fly
Sleeps: 2
Ease of Setup: Very simple setup for those with moderate to little experience with dome tents.
Weight: 5 pounds
Price Paid: $160

My first impressions are very positive on the Grand Mesa 2. Roomy, well-made and while not the lightest tent out there at all, it has an excellent weight-to-price ratio.
Pros
Headroom
Nice design, seems solid
Price!
Having only spent one night in this tent, I can't give a super detailed review, but so far I am pretty impressed with this inexpensive little tent. I used it as a solo tent and it was very roomy for one.
Setup was very, very easy and straightforward... instructions not even needed it's so simple. Ventilation is great.  Watch my video review to see the tent setup and first impressions.
Source: tested or reviewed it for the manufacturer (gave away)

The author of this review received a sample of the product from the brand or its representative in exchange for a review.
This tent is extremely durable and lightweight. I would recommend this tent to anyone who does any type of camping. From camping in the back garden to an extended trip, this tent is definitely the best choice.
Pros
Lightweight
Durable
Easy setup
Cons
Not enough room for two people and packs
The setup on this tent is very simple, With one person the tent can be up in five to ten minutes depending on if you want to tie it down as well. The tent holds up very well in the wind and rain, I would suggest tying down the outer shell to avoid rain sneaking in.
As for weather resistance it depends on how well you put the tent up. If you choose to skip tying down the outer shell the rain can get in and soak through the tent itself. The tent easily fits two people, mats, sleeping bags, pillows and a few random items; not much room for packs you can put them in the entrance section but they may be affected by the weather.
The tent packs down into a very nice size very easy to get packed away easily weighs less than 8 pounds. My family owns four Kelty tents, We have three two-man tents and a seven-man tent. We have been using them for over four years now all of the tents have held up from basic over nights to two week long trips, no tears or major damage to any part of the tents, the stakes are easily bent though.   
Source: bought it new
Price Paid: $80

After researching 2-3 man tents for a while I stumbled across the Grand Mesa 2. I found it at Academy Sports. It was on sale for $68. I'm guessing it was a returned item. All of the other lightweight tents I have been looking at were between $300-$500. So I thought I would give it a shot.
Pros
Easy setup
Cost
Seems durable
Size
I haven't used it yet, only setting it up in my hotel room before heading offshore for two weeks.
It was real simple to set up. Seemed sturdy and has ample room for myself, 6'1" 225 lb. There is also enough room for my wife if she decides to come along. The vestibule seems large enough for two packs and boots. I could sit up and not hit my head on the ceiling. It has a loop for hanging a light and a mesh pocket on each side for glasses, phone, etc. I need to get the footprint that goes with it. I saw it on Amazon for $32.
I will update my review after a couple of trips I have upcoming. 
Source: bought it new

Highly recommend this backpack for budget minded backpackers. Just a little over 4 pounds and $120. Lots of floor space and can survive bad weather.
Pros
Large floor space for 2-man tent
Durable materials and lightweight poles
Easy setup
Cons
Needs larger vestibule
Storage loft would be nice
Cheap aluminum stakes
Very basic two-man tent that I use for a solo tent. Plenty of room for me and my equipment. Setup is easy and quick with colored coded clips and lightweight poles.
It is made of very durable materials. Mine has survived high winds, rain, hail and sub freezing temperatures all in one night with no leaks.  the tent weathered the storm well, stayed taut and did not leak. Water ran under the tent and the bathtub floor did not leak. It continues to maintain it's integrity. I did treat the fly with a sealer.
To date I have not had any major condensation issues (I do use this as a one man tent). There is always a little but it does not pose a problem.
I would suggest it to anyone whether you were on a tight budget or not. Basic tent that works well. I usually camp near 10,000 feet and have used this for about 4 years.
Source: bought it new
Price Paid: $120

A good tent for the price. I set it up in just a few minutes in a windy campground, and it made it through a windy/rainy night without leaks or lots of noise. I did replace the tent stakes with MSR groundhogs, as the cheapos that come with it will bend the first time you whack them with a rock.
Also, the black guy lines are impossible to see in the dark unless you wrap a bit of reflective tape in strategic spots. The tent zipper pulls, on the other hand, have reflective thread in them and are very easy to find; the zippers work smoothly as long as you pull at the right angle or use your other hand to provide adequate tension in the material to avoid sticking.
This tent has plenty of room for gear and one person, and it's light enough to pack. I used a compression sack to get it down to size. The fly is easy to adjust and nearly reaches the ground which is great and keeps the rain out. The vestibule isn't very big, but I left my boots outside on a square of plastic for the night and it was adequate to keep the rain off them.
A tyvek ground sheet and you're good to go with this nice little dome. I'm looking forward to summer when I can leave the fly off and let the breeze through the mesh windows.
Design: three season freestanding dome
Sleeps: 2
Ease of Setup: easy to set up
Weight: 4-5 pounds
Price Paid: @ $100

This is a "high-value" tent for the money (much as described by Backpacker magazine). Well-designed configuration that accommodates two reasonably well and makes a superb 1-man tent at just over 4 pounds. I contrast this tent to the Eureka Backcountry 1 which weighs only 4 oz less but is coffin-like on the outside, lacks room for any gear, and lacks any vestibule space.
The GM-2's full coverage fly stood up to repeated downpours without leaking at all. Ventilation is genuinely outstanding, especially with the vestibule open (which is of adequate size (about 6 sq ft) given the weight. My only "complaint" after several uses is that the interior has only one loop centered on the ceiling for a flashlight. Ideally, additional loops would allow one to run some para-cord for drying lines. This is the only reason I didn't give the tent 5 stars. I'll likely sew in some loops myself.
Color scheme (tan and burgundy) is low-impact and allows for sufficient light to enter the tent during the day. White panels on the tent's interior reflect headlamp light well. Although a fitted footprint is available, I opted to cut a piece of Tyvek to size (run through a wash cycle without laundry detergent to "soften" it), maintaining the lightweight nature of the combination. I consider this tent highly enough to buy a second for my son to use for Scouting backpacking trips.
Design: 3-season freestanding; full-coverage fly
Sleeps: 2
Ease of Setup: Extremely easy set-up; color-coded.
Weight: 4 lbs 2 oz (without stakes and bags)
Price Paid: $99

I used this tent on several trips this last summer. I found it roomy and comfortable for two of us. Weight of the tent was great when split. It rained 2 times once very hard for the whole backpack we stayed very dry.
Pros
Design — layout (space) and set up is great
Kept us dry in the heavy rain
Fast and easy setup
Cons
There are lighter tents out there
I think if you're looking for a great two-man backpacking tent with plenty of room and for a reasonable price this tent is the one for you. No problems with the wind or rain, no leaks or wet spots on floors or walls — well ventilated with large amounts of mesh. Poles are simple and the colored hooks make it easy for fast setup when you need to.  
Note there are a lot of tents on the market that do weigh less, but few that can compare with the price. 
Source: bought it new
Price Paid: $120

I wanted a light weight but comfortable tent that would easily fit on to the back of my maxi motor scooter for a 10,500 mile camping trip through 23 states.
I chose the Kelty Grand Mesa 2, because of the excellent brand name, lightweight and durable characteristics. You can fit 2 people in this tent in a tight squeeze, but it makes for an ideal roomy single person tent.
I used this tent continually for over 50 nights of camping, in all kinds of dry, wet and windy weather conditions and it performed admirably.
It is a very easy tent to set up and break down. Dries quickly when wet, and easily packs into a tight space.
I hit some tremendous rain storms from Missouri through to northern Florida, and the tent fly did not leak a drop.
Camping through South Dakota I went through a prairie wind storm one night, and the tent stood up well.
I took the precaution of extra waterproofing the tent fly, and this paid off with no leaks.
I highly recommended this tent. I'm planning another 2 month 12,000 mile motor scooter camping trip this summer and my Kelty Grand Mesa 2 tent will be right along with me.
Design: three season free standing
Sleeps: 1
Ease of Setup: Very easy to set up and break down
Weight: 2.0 kilos
Price Paid: $99.95

This tent is overall a good option if you need a lightweight 3-season but are not willing to spend much.
Pros
Lots of mesh, cool on summer
No condensation
Lightweght
Good price
This tent is overall a good option if you need a lightweight 3-season but are not willing to spend much. I bought it because it fits my 6-feet long body nicely and one can sit confortably inside without hitting the roof. It's really waterproof and you get no condensation inside (tested in Brazilian rainforest).
But...the zippers are really NOT good, they broke within 3 months use...but fixable.
A good option once it's inexpensive, but if you have lots of money to spend go with one of the top brands and avoid the headache of stuck and brocken zippers. 
Source: bought it new
Price Paid: $160

Easy setup for a tent, kind of heavy, but overall a great tent. I bought this tent because it was cheaper, but wasn't built cheaper.
Pros
Easy setup
Zipper doesn't get caught
I have used this tent many times, and it has held up and done what it was made to do. I can set this tent up in less than 4 minutes by myself, which is a big plus. It's a smart design, and it looks good too.
Rain fly works good. When I was camping and it was raining it didn't rain too hard though, not sure what it would do if the rain fell hard and didn't stop. Love how I can store things that can be outside overnight under the rainfly.
Overall a great tent. Exactly what I was looking for.
Source: bought it new
Price Paid: $110

This tent works real well with one person. The inside height is perfect but the vestibule is a little on the small side. It works good to fit your boots and possibly a small pack, but not a dog or huge 6000cu in. pack. As for a ground sheet, I just used a cut down to size orange irrigation tarp from a local hardware store.
The first time I used the tent it snowed about an inch, along with wind. The tent held up beautifully and was quite cozy during the cold weather. Plenty of ventilation, no condensation in the morning. With a soft foam pad and a warm sleeping bag, this tent will accommodate 1-2 people comfortably.
Like others have mentioned, the guylines are black and nearly impossible to see at night. This is easy to fix by simply tying some orange or pink flagging tape to the cord. Also the tent stakes are a little weak, pushing them into the ground with your feet will end up bending them. I bought some MSR Groundhogs and they work great, lighweight too.
Design: three-season freestanding
Sleeps: 2
Ease of Setup: easy
Weight: 4lbs 10oz
Price Paid: $88

This is the best backpacking tent I have ever owned. It is an awesome tent. This is a premium tent at a bargain price.
First use was in a terrible rain storm. It was raining when we hit the trail, raining when we set up camp, raining when we went to bed, and raining when we got up. The tent did not leak a drop. I did not seal the seams (I know I should) and I did not guy out the fly but the ventilation was fine. Very little condensation with me and my son in it. Have since used it several times in better weather and still love it.
The negatives are: I don't like entering the tent from the end, if you and your buddy are not real close, this is a one man tent. Works well for me and my son but I can see one of us moving out in a few years.
Buy the footprint to go with it.
Design: three-season freestanding dome
Sleeps: 2
Ease of Setup: Amazingly Easy
Weight: 4 pounds, 10 ounces
Price Paid: $99

Light and easy, quick setup.
Pros
Very light for backpacking
Full cover with vestible
I spend a lot of my time in the North Cascade mountains of Washington state all year. I have taken this tent with me during fall and winter.
It is easy to setup (5 min). Very light and comfortable for two people with a full cover with vestibule for your packs allowing more room in the tent. Good ventilation and very stable.  It has aluminum poles and is constructed very well. 
I have had it for several years and stores very well inside my pack. I am 6'2" and there is plenty of room for another. I also suggest getting the footprint for it as it will protect the floor.
Source: bought it new
Price Paid: $150

I recently purchased this tent to use during my week long trip into quetico provincial park. It packs nicely at ~5lbs with all the tent gear and is a breeze to set up with only two poles that have snap clips, no sleeves to get caught on.
Overall I'm very pleased by this tent, it kept me dry during an entire days worth of downpour and provides good ventilation so I never saw any wetness in the tent. The rainfly is designed well in that is doesn't contact the tent at all so there is no wicking of liquid.
I hope to use this tent many times in the future.
Sleeps: 2
Ease of Setup: easy
Weight: 5lbs
Price Paid: $100

This tent is very easy to set up by one person. With the fly off it is completely a screen for great bug-free viewing.
Pros
Well made and engineered for easy setup
Cons
Too small for two large adults.
Easy, setup, lots of useful features. Better for one than two people.
Value priced when compared to similar tents.
Source: bought it new
Price Paid: $100

This is a great tent, pitches quick and easy, stayed perfectly dry during a two rainstorms and packs down to almost nothing. Couldn't ask for more really. Though it would be pretty tight with two adults in it.
Price Paid: $111

Great tent for the price. Easy set up and great ventilation.
Sleeps: 1
Ease of Setup: very easy
Weight: 4 lbs
Price Paid: $99

Your Review
Where to Buy
Help support this site by making your next gear purchase through one of the links above. Click a link, buy what you need, and the seller will contribute a portion of the purchase price to support Trailspace's independent gear reviews.
You May Like
Specs
Price
MSRP: $139.95
Current Retail: $129.95-$219.95
Historic Range: $89.57-$229.95
Reviewers Paid: $80.00-$160.00

Seasons
3

Number of Doors
1

Number of Vestibules
1

Capacity
2

Minimum Weight
4 lb 0 oz / 1.81 kg

Packaged Weight
4 lb 10 oz / 2.10 kg

Floor area
29 sq ft / 2.70 sq m

Vestibule area
6 sq ft / 0.56 sq m

Width
58 in / 147 cm

Length
82 in / 208 cm

Height
44 in / 112 cm

Packed Dimensions
7 x 20 in / 18 x 51 cm

Number of poles
2

Pole Type
DAC Pressfit

Wall Material
68D Polyester

Floor Material
68D Nylon 1800 mm

Fly Material
75D Polyester 1800 mm

Recently on Trailspace