Kelty Green River 6

The Green River 6 has been discontinued. If you're looking for something new, check out the best three-season tents for 2021.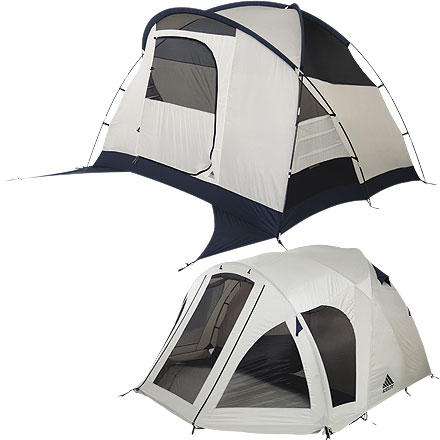 Specs
Price
Historic Range: $29.95-$369.95
Reviewers Paid: $215.00-$365.00

Reviews
4

reviews

5-star:

0

4-star:

3

3-star:

0

2-star:

0

1-star:

1
Bought the Kelty Green River 6 two years ago as a base camp for elk hunting in the archery season. Both times it poured rain almost every day, but the tent stayed dry.
Cooked in the vestibule with the door open (carbon monoxide) using an MSR camp stove on a small camp table on one side and a fold up chair on the other — lots of room (even had a ice chest). Had room to take off muddy boots and rain gear before entering the tent. Lots of room left over as I was by myself. 
The only con was that it was really too big for one person; I got it up and down with some difficulty.
Price Paid: $299.99

Bought this tent a few years ago. Wind is not favorable with this tent. First strong wind ripped the rain fly cord off of the tent.
Last month I set the tent up and went fishing only to return and find that the tent was completely collapsed from the wind gusts. Two rods were shattered, one pierced through the rain fly.
Price Paid: $365

I bought this tent for as a "base camp" for hunting and for car camping. I will have a maximum of 3 people in it so it seems HUGE. I bought it due to reviews, brand name, and the vestibule. I really wanted a tent with a large vestibule to act as a mud room or storage.
This tent really fits the bill. While I have not been able to test in in any sort of inclement weather, it seems to be well put together. I will seal the seams before I really start using it.
As far as cons go, One of the metal pieces of a pole fell off immediately. This is easily glued back on and really not a big deal... just makes you think "made in China."
Also two people are needed to make this tent easy to set up. I did it by myself but it wasn't easy. Also the tent poles do not slide through the holders very easy... they were sort of a pain.
One other thing, this thing is NOT light. Heavy mother, and not good for anything that you are not driving up to.
Once up the tent is spacious and well thought out. Room for lot of gear, with a gear loft. Plenty of ventilation. Should be a great tent.
Ease of Setup: easy with 2 people
Weight: HEAVY
Price Paid: $215

This tent is a well designed tent with a VERY NICE vestibule. I purchased this tent just for family camping. It was a wise choice. For 3-4 people, this is a very large tent with lots of usable room you will absolutely love! When Kelty states 6 people, they mean 6 people arm to arm and no extra room for gear, so keep that in mind. For my family of 3, this was an incredible large and enjoyable tent to stay in for 7 days.
I was very skeptical of the vestibule and thought it might be more of a gimmick or JUST to keep bugs out ONLY. Boy was I wrong. The vestibule, if you put some outdoor carpet or rug inside it, does wonders at keeping out trash off your feet from making its way to the inside of the tent. You can take your shoes off and leave them inside the vestibule and then enter the tent. That is very nice.
During over 6 hours of rain, there were only a few spots of water in the floor under the vestibule, so consider it extra space for items to be stored, of which I was pleasantly surprised! We used the vestibule for a number of purposes, but one that you will appreciate the most is leaving your wet rain gear and shoes outside in the vestibule BEFORE you enter the tent......NICE!!!
The sweet thing about the vestibule are the pull down shades and all the extra space. You can store a lot of stuff under the vestibule. I purchased a roll up table and put under the vestibule. Boy was it sweet for the family to use. With shades down, you were out of sight, out of the rain, and outside from the main tent. Water does go through the mesh screen, hit the drapes, and then drain inside the floor of the vestibule at the bottom of the drapes, but it was not as bad of an issue that I thought it might be. Water can also penetrate the zippers on the front vestibule door, but again, it was not a big deal. I guess by now you have found out the coolest thing with this tent is the vestibule. You are right!
An adult can stand up in the main tent area or vestibule to change clothes and walk around. It comes with a simple mesh attic loft and that worked out great to hang a portable DVD player from and all watch movies one night in the tent with it pouring down raining. It was a wonderful feeling being in a dry tent with the family and it pouring down outside and no leaks in the corners and on the bed, etc....
Another added bonus that is sweet and well thought out by Kelty are the internal side wall pockets. It has about 4 large pockets on each side of the tent to help organize stuff. It is great! On the back wall of these pockets is mesh that goes down to the bathtub style floor. If you sleep with your head on the side of the door, these side vents do wonders in venting fresh air into the tent, especially sleeping.
And now for the negative side of the tent. Like everything else sold in the U.S.A., it is all made in China, and you can tell that quality control is not up to par of what it should be for the price you pay for the tent (I would give it a 6 on a scale of 10 in terms of a quality controlled manufactured product). Your tent should come with 3 long poles and one short pole for the vestibule. Mine came with 4 long poles, all the same length! I was able to make it work for my 7-day trip by not using the two end sections, and Kelty when I returned home, as they always do, answered my phone call with a very nice lady that assured me they would take care of it and send me the correct poles. I have no doubt that they will. They are great to deal with in customer service.
I am concerned with the slow decline in quality overall of Kelty products. I have owned a lot of their products over the years. One other flaw in design or cheap China manufacturing was one of the large vents which work so well in venting the tent on each side, has a wire or plastic piece sewn in that holds the vent up so air can come in without it sagging down over the vent hole. One of them broke after my first use and so that hole does not vent as well unless I find something to prop it up with. That was a big disappointment to me in Kelty design but Kelty offered to send me a replacement fly, but I declined because I had already seam sealed all of my fly so well. This brings up my last point and the bottom line on this tent.
If you purchase this tent, make sure and seam seal the tent good with McNett's Seam grip, even though Kelty tapes each seam at the factory. I sealed all of mine before this 7-day trip except for at the very top of the large vents on each side of the tent. Guess where the tent leaked slightly during extremely heavy rains? You are right, at the top of the vents where the sewing starts.
Another point worth mentioning is that all the pictures of this tent show a FULL COVERAGE FLY which appealed to me. ONLY after I purchased it, did I notice that the BACK SIDE DOES NOT have a full fly. It makes an upside down V shape in the back and that makes the back wall exposed somewhat to the elements. The fly contains a tie off point to pull the fly out and water drips out away from the single back wall. For most rain, that is fine. For blowing rain, a portion of the back wall of the tent is exposed directly to the rain (another reason to seal all the seams very good). I do not like that. I figure it was a compromise by Kelty to provide more venting of the tent but it makes it the weakest point in the tent during storms.
One other note. This is a LARGE tent and for staying just one night somewhere, is a lot of tent to set up. Consider using it when you are staying 2 nights or longer. Also, you must have 2 or more people to set this tent up.
Bottom line, with a few minor cheap Chinese production flaws, and if you take the time to seal EVERY seam on the inside with McNett's seam grip, this tent is rock solid for a large tent. I strongly recommend purchasing the footprint to go along with it. I did mine and I am glad I did. If you are looking for a tent that has a sweet vestibule that you will treasure, then this tent is it! Just take the time and seam seal it and you are set for many dry days of camping with the family!
Update: February 10, 2010
Kelty has a real popular tent here, and at the time of this writing, has apparently stopped making it. It no longer is on their website as of Feb 2010.
I purchased this tent for my family of 3 to use camping, mainly in the Great Smokey Mountains National Park. The tent is well thought out and is an absolutely wonderful tent for extended stays with 2-3 people. I totally love the design of this tent. There are a few flaws that you need to be aware of and that is one of the main reasons you read a review, right?
First- All of the pictures show it as a complete coverage fly. This is not so. Although it is pulled out some from the main body, the back of the tent fly DOES NOT cover the tent completely in the rear. Pictures do not show this and it surprised me when I saw this. This exposes the back wall of the tent in extreme storms!
Second, you might as well consider doing this as soon as you purchase it, but you will need to seal the seams around the side vents with with the very good and very expensive McNett Seam Seal. One of the vents leaked the first downpour I had with the tent and my family in it in the Great Smokey Moutains National Park. Kelty is an extremely GREAT and rare company to deal with. They offered immediately to replace the fly, but because quite frankly, all of these tents are made by Chinese in another country, I felt like I would be doing this whole routine all over again. I thanked them and declined the offer. I sealed the seams and it worked great.
The third flaw is in the small plastic that holds the vents open on the sides. One of them broke and so the vent cover would sag down. I took some small wire and replaced it, and it works fine.
Having said all of these negative things, the tent is one awesome tent now that I have made the repairs. I dearly LOVE the layout of the tent with the vestibule. My wife and I purchased outdoor carpet, cut it to the size of the vestibule, and you talk about a nice place to stay! You can stand up in the tent ( I am 5'4") and we feel so comfortable in the tent. We have sat in chairs in the vestibule during rains, and remained bone dry. In fact, we store chairs and other things we do not want to get went under the vestibule. I take this tent out with complete confidence now. Being able to take your shoes off and leave them out in the vestibule or change wet clothes out in the vestibule is SO NICE.
I love the organizer slots on the inside tent wall to store items, and a simple yet effective clothes attic is provided at well. The vestibule has some fold back blinds for privacy and to keep some of the rain out is wonderful. If the bugs are bad, you can simply sit in your chair under the vestibule and look out the screens. If it comes up a rain, unroll the blinds, let them close over the screens, and it will keep most rain out. I wish the blinds had zippers to zip the screen covers closed rather than a couple of tie off points, but, more cost, and more weight.
Kelty and I am sure all tent manufacturers struggle with making a tent to fit all areas and climates. A highly vented big tent will be praised in the warm humid south, but fall short for those in say Colorado who may camp in much cooler climates. The Green River I feel is a great trade off on that. There is some screen area for venting but not too much. Lastly, setup is fairly easy, but WILL require 2 and if you have them, 3 people. The fly is a little bit to fool with since it is so big but the reward is well worth it when you do get it set up.
Overall, a super tent with a couple of small design flaws. The manufacturing process stinks since they all are stamped out under Chinese slave labor. Kelty and other companies have them made so cheaply that there is no wonder they are willing to replace them "instantly" for us. I say that because it seems like ALL tent manufacturers are having them made in the same plants over there in China, and they all seem to have somewhat of a "cheap" look.
As far as design, Kelty has done a great job. Since THEY don't really make them, that is where the problems come in. Bottom line, if you don't mind doing your own "patches" to make this tent a fantastic tent, then it gets a thumbs up! If you are one of those who expects a fantastic tent right out of the box for this price, you may be disappointed. Look for a more expensive family tent line such as Sierra Designs, Marmot, or The North Face.
Design: Exceptional Design with a few flaws, 3 season dome
Sleeps: 4
Ease of Setup: Very easy to setup. Fly takes a little work but overall very easy.
Weight: 29 pounds, 5 oz.
Source: bought it new
Price Paid: $253

You May Like
Recently on Trailspace