Kelty Red Cloud 5400

The Red Cloud 5400 has been discontinued. If you're looking for something new, check out the best expedition packs for 2020.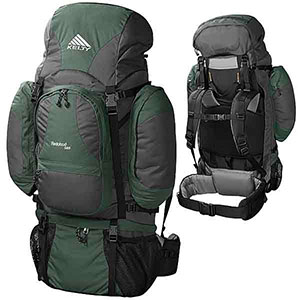 Specs
Price
MSRP: $160.00
Historic Range: $80.00-$159.95
Reviewers Paid: $135.00-$185.00

Reviews
13

reviews

5-star:

6

4-star:

6

3-star:

0

2-star:

1

1-star:

0
I've packed with the 5400 for the last 12 years. I carry from 60 to 75 lbs. It finally wore out. I'm old enough to get one a little smaller so I can't carry so much.
Pros
Durable
Comfortable
Adjustable
Reliable
Well built
Detachable top
Cons
Too much space to pack in more weight
Fit: Adjustable, so as I got older, I could adjust for comfort.
Capacity: Too much, I carried maximum 75 lbs. This pack is the work horse of backpacks.
Source: bought it new
Price Paid: $185

13 years, I love this thing.
Pros
Very durable
Comfortable
High volume
I've had this pack for 13 years. I got it when I was young, and didn't know much about packs, and have become quite experienced since.
I've tried on dozens of friends' packs, loaded, and there are some that are slightly more comfortable, or somewhat lighter, but never have I considered replacing the Kelty. This pack is fantastic. Comfortable, extremely durable, not overly heavy (5.6 lbs), and definitely roomy. The side pockets are huge, and the top lid is too. I do wish it had a bladder slot, but the exterior pocket works for that purpose.
I love this pack, and it will see many more miles of abuse in the future.
Source: received it as a personal gift

Great durable pack.
Pros
Extremely durable
Large load capability
Inexpensive
Cons
Waist belt not the most comfortable for a bigger guy.
I have had this pack for twelve years now. It is a work horse in every sense. I have carried 70+ pounds on two-week off-trail expeditions in the Alaskan backcountry and countless weekend trips in the Sierras. This pack has traveled more than 1,000 miles on my back.
The only cons is over time the waterproofness has become less, but that could probably be fixed with spray. And it is heavy, but only due to the quality of the materials
Source: bought it new
Price Paid: Less than $100 with employee discount.

This is an absolutely phenomenal pack. I've taken it on two Philmont 12-day treks, one trip to Boundary Waters and dozens of other backpacking and overnight trips.
On the latter Philmont Trek in 2004, I was able to fit approx. 80 lb of gear in and on my pack. Due to a couple of slackers, I had to carry a full 2.5 gallon collapsible water jug. I strapped the handle to my sternum strap and kept on truckin. That gives you the idea of the materials Kelty uses. Carrying 20 lbs on a 1/2 inch webbing might not fly with just any other manufacturer.
I haven't had an issue with seams breaking, holes being worn in the material, flaws in any buckles or webbing. I did have the displeasure of dropping it in the lake while unloading it from a canoe, everything inside was dry as a bone.
I have no qualms taking this pack anywhere I need to go.
Price Paid: My mom bought it while I was a Scout... can't remember.

This is a great pack. I've taken it on several trips, ranging from a quick overnighter to a week long Trans-Sierra trip.
It balances weight very well, is comfortable, has tons of pockets and is convenient and easy to pack. Compression straps make attaching tent poles, fishing pole, sleeping mat, etc to the outside of the pack very easy.
The front and side pockets are easily accessible on the trail for snacks and water. It can accommodate a hydration bladder, although I have yet to use one with it. I love the detachable top section that can be used for day hikes- it's plenty large enough for a water bottle, lunch, a camera, light jacket, whatever.
The only downside of this pack is that it's a BEAST. Taking it on a quick weekend or overnight trip is really overkill. It's much too big for that- if that's all you really go for, go with something smaller (unless you plan on taking your kitchen sink along with you).
For a longer trip, though- this pack is amazing. It can hold a LOT of stuff very comfortably. I love pretty much everything about it.
Design: Internal Frame
Size: 5400 ci
Number of Pockets: at least 8, plus main and lower compartments
Max. Load Carried: 35 lbs
Height of Owner: 5'8"

I recently climbed Mt Fuji in Japan and brought this backpack along. I am glad that I did. I carried food, water and many layers due to the temperature change from 7,200 feet to 12,395 feet. It performed spectacularly. Neither my back nor shoulders were sore and I carried about 30 pounds.
Number of Pockets: 5
Max. Load Carried: 30 pounds
Height of Owner: 6 feet
Price Paid: Free

Absolutely great pack! Have hiked up and down the Southeast with it loaded with 40+ lbs and it distributes weight perfectly. A great product...
Size: 5400
Height of Owner: 6'0"
Price Paid: $185

This is a great pack. The many strap adjustments and the adjustable torso length make for a fine tuned fit. Carries the weight like a dream. And the price was an excellent value. You won't find a better pack under $200.
Design: top load
Size: 5400
Number of Pockets: 3
Max. Load Carried: 45
Height of Owner: 5'11"
Price Paid: $135

the best pack ever. carries weight like a dream. the only thing i did was remove the two side pockets they tempted me to over pack.
Design: top loading
Size: 5400
Number of Pockets: 5
Max. Load Carried: 45 lbs
Height of Owner: 5'11in
Price Paid: $150

I have been very high on Kelty gear in the past but I returned this product. During a test hike I had a feeling that one of the shoulder straps was shorter than the other, and closer examination at home proved I was correct. Should you want to look at one, check the attachment of the shoulder straps to the framesheet carefully. It looked kinda cheesy to me, the mesh area cut unevenly and the upper attachment points for the shoulder straps offset vertically a full centimeter as a result. Not a lot, but enough to be noticable during use.
On the plus side, under a moderate load it proved to be at least fairly stable and with plenty of room, it appeared to be well constructed (apart from the flaw in the shoulder straps) and it would fit a wide range of torso lengths.
Design: Internal
Size: 5400 c.i.
Number of Pockets: several
Max. Load Carried: 35 lbs
Height of Owner: 6'2"
Price Paid: $150

I must admit I've had this pack very long, so it's lasting qualities I can't yet comment on. As for its first strenuous trip, I was very surprised at the performance and comfort for the price. I followed the included fitting directions exactly and as stated in them, I was able to attain a "God-like" fit. This pack was amazingly comfortable, easily adjustable and very solid. I experienced no wobbling or shifting whatsoever.
Design: internal
Size: 5400
Number of Pockets: 6
Max. Load Carried: 50 lbs.
Height of Owner: 5'11''
Price Paid: $150

I took this pack to Philmont this summer and it carried the load well, considering the weight I carried. Its two titanium stays stay in place and the adjustable torso feature is simple to change. The five external pockets come in handy for water bottles, cooking gear, and for small items that I often use. Although the top external pocket comes off, it isn't a daypack, but with some work, I made it into one. Good pack and seems sturdy, but I've only put 100 miles on it.
Design: Internal
Size: 4900 (5400 when extended)
Number of Pockets: one main w/slpg. bag divideder + 5 external pockets
Max. Load Carried: 42 pounds
Height of Owner: 5' 6''
Price Paid: $150

I carried this pack with 50 lbs for about 9 miles of rugged terrain. The pack had some nice features, including lots of exterior pockets, but I couldn't get the hip belt to fit right and it had thin padding in the lumbar region, which gave me sore spots on the back of my hips. This pack might be OK for occasional use, but if you intend to do a lot of backpacking or to carry a lot of weight, get a better pack. (I would suggest the Gregory Shasta or Osprey Silhouette if you can afford them.)
Design: internal
Size: 5400
Number of Pockets: 5
Max. Load Carried: 50 lbs.
Height of Owner: 6'3''
Price Paid: $140 US

You May Like
Recently on Trailspace