Kelty Redwing

Top 25 in unisex Overnight Packs
The Redwing has been discontinued. If you're looking for something new, check out the best overnight packs for 2020.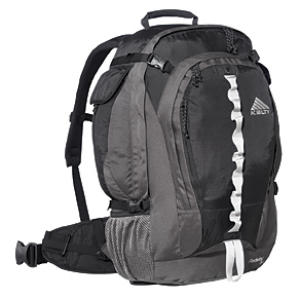 Specs
Price
Historic Range: $34.98-$100.00
Reviewers Paid: $89.00-$100.00

Reviews
3

reviews

5-star:

3

4-star:

0

3-star:

0

2-star:

0

1-star:

0
I love this pack. I'm 6'1" and my wife is 5'4" and we both use it.
Pros
Quality built
Comfort
Lightweight
I just finished hiking at Acadia National Park hiking just under 40 miles in four days from Sand Beach to Cadillac Mountain. I used it as a daypack carrying a soft side cooler with cold drinks and lunch for two, Swiss Army Knife, Garmin 60CSx, raincoats. I will never part with it.
Source: bought it new
Price Paid: $100

I love this bag. Multi-purpose. I's a great pack to have! I have owned mine for 3 years now, and still in incredible condition!
I have used Kelty Redwing packs for many years for a wide variety of hardcore adventuring including summer day hikes, winter snow hikes, snowshoeing expeditions, and worldwide travel. My three Redwing packs have been faithful companions to our family in many years of traveling around the world and hiking in Utah, Washington, and California. In terms of gear access, pocket layout, suspension, and overall toughness the Kelty Redwing has few matches at the $100 price point.
I have many other packs including a GoLite Continuum, REI UL 45 and 60, Eureka Mojave (extinct now), and a couple of North Face packs which I like as well. Each has certain features and construction that I like and need on a given expedition. But the Kelty Redwing remains the most used backpack. Although not the lightest pack it has a myriad of useful qualities and features that make it a favorite.
First off, the Redwing has wonderfully efficient layout that allows EASY gear access. Most of the above packs do not have this. This is an important feature especially during hikes that take place in a variety of weather conditions (in other words ALL hikes). If you're like me you'll be layering and unlayering as necessary as you hike. This is especially true during my snow hikes or snowshoeing outings.
Sure some packs have mesh or bungee cord external storage areas that can accomodate your Gore-Tex shell or fleece but I have found these are only useful in dry conditions. When it's raining or snowing, and it usually will, all this clothing should be inside your pack or a pack pocket to stay dry until needed. And that's where the Redwing shines.
Gear access in the Redwing is a snap: pop a couple of compression straps with quick release buckles and unzip the panel. It's quick and easy. Most of the lightweight packs are "tunnel designs" requiring removal of a spindrift top pack, un-doing several straps, un-tying and loosening the drawcord, then digging from top to bottom all your gear with a flashlight usually. It's not a quick process.
The pocket design of the Redwing is excellent though constantly "updated" by Kelty through the years: two side pockets, one large back pocket with sub-dividers. Depending on which year pack you buy this exact configuration will be slightly different. For the latest update of the Redwing, I notice that Kelty has shortened the side pockets to add mesh water bottle pockets on the bottom. The versions I have utilize full side length pockets which I like better as they can hold saws and full size knives for firecrafting (for winter hikes). Moreover my versions (circa 1994, 2001, 2004) have "flow-thru" side pockets meaning you can tuck a fishing rod or such behind them with a bottom retention pocket retaining the rod tip (I'm not sure if the new versions have this).
But the external pockets are ultimately useful; binocs, trail snacks, first aid items, sunscreen, windbreaker, cameras, etc. can all find shelter in these pockets instead of yours! These pockets also have useful sub-pockets to hold cell phones, iPods, and other side items and several have mesh organizers. My versions of the Redwing and all others I've seen have good waterproofing flaps over the zippers (OR waterproof sealing zippers). Few lightweight 3000+ ci packs have such a useful and easily accessed pocket system and many have no external pockets at all!
The Kelty Redwing also has an excellent suspension system utilizing two aluminum stays. Again I've carried this pack on all kinds of hikes with loads up to 60 lbs (yes you read that right). It carries this weight comfortably without complaint. The hipbelt, straps, and adjustments are easy to use and rugged. They have never failed me in years of tough use. One of the most striking qualities of the Redwing is just how well these elements work together to carry heavy loads. I have worked this pack with heavy loads and I am always amazed how comfortable the Redwing carries them. You know you have a comfortable pack when you're not thinking about it, instead focusing on the beauty of the hike and the sights. That's the Redwing.
My only complaint suspension-wise would be that in summer the back pad, though made of mesh and open cell foam padding, can get warm and sweaty... at least with me. I'd like to see a channeled-type of backpad to allow more airflow (the new versions may have this... don't know).
Also the Redwings can take abuse. Some models of the Redwing use heavy-weight ripstop pack cloth, some a 600-denier Cordura fabric in their construction. I have used both extensively and I like both fabrics, finding them water and abrasion resistant. I have done several 15-20 mile dayhikes in rocky terrain with the Redwings where rock and dirt abrasion is unavoidable on certain ascent lines. The fabric shows scuffing but no "burn throughs." The toughness of these fabrics have also been proven in several overseas military deployments with me as well (USAF). The interior sewing is excellent with each having nylon seam tape and excellent sewing throughout. So if you need a high degree of ruggedness in your day or extended daypack, the Redwing could be your ticket.
Moreover, if you ever do have any problems with a Kelty pack it's covered for life from the factory for ANY problems. I have always had outstanding customer service from Kelty with product issues with a cheerful and quick repair or replacement (strap failure Super Tioga, zipper on a Kelty Snowfall tent).
So are there drawbacks to the Redwing? Yes. In addition to the somewhat stifling backpad the Kelty Redwing falls short in just two other areas.
First, there are not the lightest packs out there. The 3100 cubic inch model weighs around 3 lbs 5 oz. The easy access zippers, useful pockets, and stronger materials account for this weight. You'll have to decide if this ruggedness and accessibility is worth the weight.
And secondly, the Redwing may be considered wide in profile by some. I have taken it snowshoeing several times and haven't noticed this to be a problem with snow pole swing but some snow users may demand a narrower profile. But that's about the only downsides of this otherwise excellent and timeless design.
So in summary, for around $100 you will be hard pressed to find a pack that will equal the Redwing's accessibility, good pockets, comfortable suspension, and toughness. It's been hard-tested in all my adventures and remains one of my most-used daypacks and I recommend it without reservation.
Design: Panel loading internal
Size: 3100
Number of Pockets: 6
Max. Load Carried: 60 lbs!
Height of Owner: 6' 2"
Price Paid: $89 on sale usually around $100

You May Like
Recently on Trailspace