Kelty Teton 2

The Teton 2 has been discontinued. If you're looking for something new, check out the best three-season tents for 2021.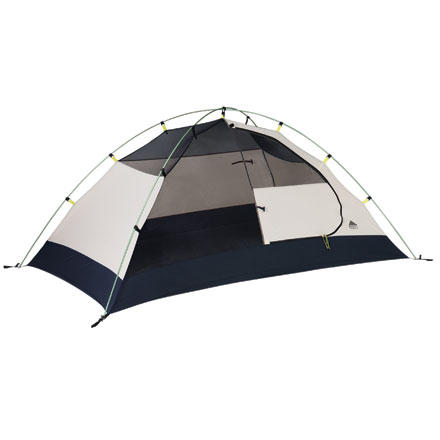 Specs
Price
Historic Range: $79.95-$179.95
Reviewers Paid: $10.00-$125.00

Reviews
13

reviews

5-star:

8

4-star:

3

3-star:

1

2-star:

0

1-star:

0
I love this tent. I have used it for years up in Montana and down in Oregon. It makes for a pretty intimate time for two folks though. I've woke up to everything being wet outside and not a a drop of dew on the inside! I could set it up in minutes and it packed down pretty well.
The rain fly makes a great little place to store gear. It gets pretty warm in the sun-but if you take the fly off it will cool down. I camped in some pretty cold weather and it was fine but I have a nice bag.
There is only screen on one side of the tent and that is kinda a bummer-I like to look out at the stars and see what creatures are moving around the tent at night and this made it kinda claustrophobic. 
Overall this is an exceptional tent-I never felt behind the times camping with folks who had tents that cost $200 more than this one. I lost the rain fly last August and so I am retiring this tent and I just bought a 3 man for the extra gear space. I would always recommend this tent and kelty. 
Oh and téton means breast in French.

Price Paid: Can't remember now—worth what ever it was!

I love this tent. It is going to replace my old solo tent.
Pros
Lightweight
Easy setup
Great design
Cons
Not a 2-person tent in my mind
I recently picked up a gently used one, in great shape, and love the tent. The only thing missing was the original ground cover. So I used one from one of my other tents and I replaced the dried out shock cord.
Easy to set up, plenty of room as a solo, and I stayed dry through a nasty thunderstorm while on a canoe trip.
This will be my solo tent going forward. I'm giving my REI NiteLite away in favor of this tent.
I have yet to see a "2-person" tent that I would use with two people.
My 2-person tent is a "3-person." I also have a "base camp" tent.
Source: bought it used
Price Paid: $10

Simple. Functional. Durable. Priced well.
Pros
Easy set up
Low cost
Durability
I believe that the best products in the world are simple, functional, long lasting, and have a great price point. The Teton 2 is ALL that.
I just pulled this out the other day to clean and air out and began thinking what a great buy this has been. I bought it new in 2007 because it had good reviews and was a cheaper tent under 5 lbs. Since then I have used it on multiple backpacking and car camping trips in quite a few different locations from a summer hike in the Grand Canyon to a rainy weekend in the Virginia mountains.
It has always kept me dry. No rips, tears or anything to report after 5 years of use. I think the thing that is best about this tent is how easy it is to pitch and take down. I've loaned it out to several people for camping trips and they have all commented on the same thing: super easy. 
I agree with another review that it could be better ventilated. But considering the price, I am very happy with how this tent has performed and am confident in it holding up for years to come. 
Source: bought it new
Price Paid: $120

I have used this tent for several years and have carried it many miles and slept in it in many different conditions. This is the best tent i have ever used and am convinced that for the money it is the best buy out there, can't really imagine the more expensive tents being much better. i do solo in it and am a big guy but have never felt cramped.
Price Paid: $120

Lightweight, easy to set up, nice vestibule area, and it keeps out the elements beautifully! 
I bought this tent when I was living in the Southeast Alaskan rain forest, and could not be more pleased with this purchase.  I used this on many solo and duo trips, and never had a problem staying dry in it. 
A definite YES to anyone looking for a quality 2 person tent.
Price Paid: $115

I have an REI 6 man dome for car camping with the fam. But in October I'm going camping with Woodbadge and on the second 3-day weekend I have to bring a tent for a backwoods overnight.
My Pack's den chief, who if he were any MORE of a Boy Scout would wear a cape and change in a phone booth, was very specific that I should get the Kelty Teton 2. On his recommendation, I've purchased it.
It is supposed to rain all through October and November, so I will fill you in on how it held up when I get back.
Price Paid: $112

I'm convinced you can't get a better backpacking tent for the money. This tent is just over 4 lbs, packs small, the easiest tent I've ever set up, and has a vestibule (a must for me).
I have a Sierra Designs Stretch Dome, which cost me 4X as much, but I take this tent on my trips probably 75% of the time. You just can't beat it!
I agree with some feedback that the vestibule is small. It is plenty big for my pack and my wife's pack on a 2 nighter, but if you plan on doing more than a few days, I agree that it would probably be small for two packs with that much gear.
The tent is a perfect one man tent, but also works great for my wife and me (in full disclosure, we are both thin - 6'3" 175 lbs, and 5'4" 110 lbs).
Another added bonus ... the poles fold up a little smaller than a typical tent, so the poles actually fit perfectly in the side pocket of my pack! Nice!!
Design: three-season backpacking tent
Sleeps: 2
Ease of Setup: piece of cake
Weight: 4lbs 3oz - 4lbs 10oz
Price Paid: $89

Pros: lightweight, ease of set-up, inexpensive
Cons: small vestibule, rain fly does not fully cover tent, not the best ventilation
I have had the tent for around a year and a half, and have used it a wide range of conditions. I initially purchased it as a solo tent because I wanted more room than a bivy sack can provide, but my girlfriend has started camping with me a lot.
As for the size of the tent (like almost all 2 person tents), it is perfect for 1 person plus gear. Two people can sleep comfortably, but there is no room for gear. The vestibule is too small to fit 2 packs and other assorted gear, so if you plan on sharing the tent, hope that it does not rain.
The tent is pretty light weight, and without the poles you can really compress it down to fit in the bottom of your pack.
Set-up is a really simple and quick.
I have used the tent in heavy down-pours and high wind, and it preformed so-so in both. Serious gusts really rattle the tent, even when it is staked down well.
All in all, this is a good, inexpensive test for solo camping in lots of conditions or 2-person camping in fair weather. I am seriously thinking about getting a 3-person tent for trips when I am not alone, but I am satisfied with the Teton 2 for solo trips.
Design: 3-season freestanding
Sleeps: 2
Ease of Setup: easy
Price Paid: $125

I love this tent. This is my first tent and I have no regrets. This tent is awesome. It is so easy to set up. The tent has color-coded clips for the aluminum poles and the clips on the fly, so it would be very hard to mess it up. By myself I could always set this tent up before my two friends could finish setting up the tent they were sharing.
I used this tent in winter conditions, which it is not intended for, and the tent did collect moisture on the walls. But I can't penalize it for that because it wasn't meant for those temperatures. In the rain I was kept very dry. I have only used this tent solo, so I can not comment on how it performs as a two-person tent. Anyways, I love this tent and would recommend it to everyone.
Design: Three season freestanding rectangular dome
Sleeps: 2
Ease of Setup: Incredibly easy
Weight: 4 lbs. 2 oz.
Price Paid: $90

Kelty is the best. This tent is perfect, in weight and in setup. Big Bend twice 3 nights each. AWESOME. Kelty is the best quality for the price. Highly Recommend.
Design: three-season freestanding dome
Sleeps: 2
Ease of Setup: VERY EASY
Weight: 4.5 lbs
Price Paid: $100

Great Value.
Went on a 3-day 2-night trip with the Teton in varying weather conditions. Seams held tight through storms (no leakage) and very little wind noise from the fly. Very light weight and packs small without the poles. I used it as a solo and kept my gear inside. Only downfall is the small vestibule.
Design: Three season- 2 Pole- Freestanding
Sleeps: 2
Ease of Setup: Color coded tabs, sets up in less than 5 minutes
Weight: 4.2 Min Trail Weight
Price Paid: $90

Okay, I got this tent as a back-up for friends that want to come along. It has seen way more use than my $400 tent. Very easy idiot-proof set-up. Not too heavy and interesting pole intersections. My only complaints are ventilation could be a bit better and the rainfly is not full coverage, and small vestibules. Overall this is one heck of a bargain at $100. great for beginners or as a back-up. Not suited for really hot conditions though.
Design: 3-season freestanding dome
Sleeps: 2
Ease of Setup: easy
Weight: ?
Price Paid: $36

Very nice low cost tent that is good for two people and a dog, as long as you like each other. Used one season in Colorado from May to October. Had no problems in the snow or rain or sun. Temps ranged from 15F-90F. No problems with quality, well used. Good for the money.
Design: three-season freestanding dome
Sleeps: 2
Ease of Setup: Set up in my sleep, pouring rain or hot sunny day in same time
Weight: 4lb 10ox
Price Paid: $120

You May Like