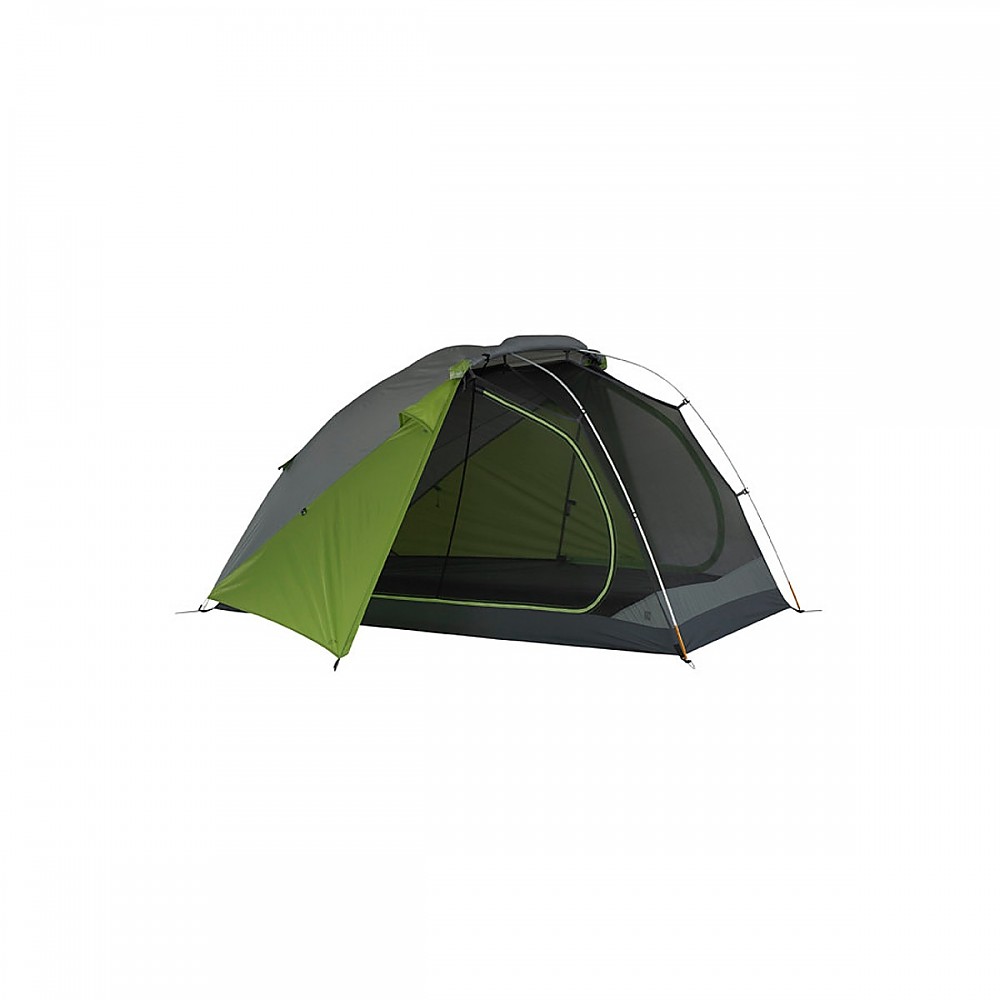 Specs
Price
Historic Range: $124.93-$249.99
Reviewers Paid: $150.00-$250.00

Reviews
9

reviews

5-star:

2

4-star:

4

3-star:

1

2-star:

2

1-star:

0
Lightweight, high quality tent with lots of room. The footprint is impossible to find at the moment so either make your own out of Tyvek, or temporarily use a footprint from a similar 2-man tent if you have one (I used my Marmot Limelight footprint - not ideal but it worked).
Pros
Lightweight
Easy setup
Good ventilation
Intuitive fly design
Small profile fits backpack better
Cons
Water can splash up under the fly if not completely guyed out
Hard to find footprint
Fly loses some of its star watching appeal if you have to guy out






The Kelty TraiLogic TN2 tent is a Backpacker Magazine Editor's Choice winner with some good reason. The tent fly rolls up on the head end and is secured at the top of the tent, and can also be closed by 2 people without ever leaving the tent.
This tent is a quick and easy setup for 1 person but if you're buying a new one, don't expect to find a footprint (not included). Neither the manufacturer nor any retailers have it available and I can't find anyone who can tell me when it would be. I consider this very poor planning on Kelty's part.
The ceiling and walls are completely mesh and the fly has 2 vents, so ventilation is great. We spent a week in Yellowstone and got rained on every day (and night).  Daytime high temps were around 57°F and nights would drop into the upper 30's so with all the moisture and colder temps, there was bound to be some condensation. Even then, the condensation collected on the inside of the fly but ran down the sides instead of collecting and dripping on us in the middle of the night
The bathtub floor only rises up on the walls about 4 inches, and unless you completely guy out the bottom of the fly at both the head and foot, rain splashes up underneath it far enough to get through the mesh wall. And if you do have to guy it, don't expect to take advantage of the bedtime star watching opportunities without the effort of removing the guy lines, and don't expect to be able to put the fly down in the middle of the night without climbing out to reattach the guy lines. Once we guyed out the fly, we didn't get wet at all - no leaks through the floor, walls, corners, seams, fly.
I love how compact and light this tent is (around 4 lbs) and there's a fast pitch option (provided you can find the fly) that would lighten it even more. The whole tent fits in an 11x14" rectangular bag that easily fits into a backpack without taking up a whole lot of room. I also love the fact that the tent has 2 good sized vestibules, 2 doors (one larger than the other), and nearly vertical walls. All that mesh and the vertical walls makes the TN2 seem huge for a 2-person tent.
I wanted to be able to give this tent 5 stars because I really do love it. I've been a Kelty fan for a number of years and I think that overall they've done a great job with this product too. I can't give them a 4 or 5 rating because of the rain splashing under the fly, and because of the issue with not being able to get a footprint. If I'd been able to get the footprint, I'd have given it a 4.5 instead of a 3.5 rating but I'm a bit bent by what seems to be Kelty's serious lack of planning.
UPDATE:  I just bumped my rating to 4 stars thanks to Kelty's great customer service.  I called to find out why I can still find plenty of tents online but not a single merchant who has the footprint.  I explained I'd signed up to get email notifications from the only 2 merchants who offered to alert me when they got the footprints in but hadn't received anything.  I also voiced my dissatisfaction that this appeared to be very poor planning on Kelty's part.  The CSR was very apologetic but told me they weren't expecting to get any in before December 10th.  When I told him I'd looked everywhere and not a single merchant had them or could tell me when they expected them, he did his own quick online search and immediately found one at Amazon (yeah, they were one of the merchants who said I'd get an email notification - still nothing in my inbox).  He suggested I hurry and order it since the cost was lower than if I waited until December to order one directly from them.  I paid $26 USD plus $5.58 shipping whereas Kelty has the cost listed at $39.95.  Thanks, Kelty - I remain one of your many loyal customers!
Source: bought it new
Price Paid: $250 USD

This two-person tent has performed flawlessly.
Pros
Lightweight
Easy setup/tear down
Durability
Cons
Must get used to getting out of the tent.
I read numerous reviews on a ton of backpacking tents. I wanted something lightweight and big enough for two people, but I didn't want to break the bank.
This tent has more than met my expectations. I live in Texas where it is hot most of the year. The first time we took this out it didn't drop below 75 at night. Luckily we could roll back the rain cover and get a nice breeze coming through. We are going to Big Bend this December and look forward to seeing how it holds up in the cold.
I love the design of the bag. First off, everything fits back into the bag so easily and I can include the footprint (purchased separately) without issue. Also, the square design makes it very easy to pack.
Lastly, the setup is very easy and takes about 10 minutes or less to put together. If you are struggling with it, go to you tube and watch someone put it together. Once you see it once you'll have it down.
Source: bought it new
Price Paid: $250

Great space and quality EXCEPT—after less than eight overnighters the "windows" came out leaving two HUGE holes in the fly on a rainy night. Would be awesome without the windows. Also the elastic in the poles have stretched and have a lot of slack too.
Pros
Two vestibules/ doors
Good interior height
Good weight for the price
Easy fast setup
Cons
The "windows" came unglued. Not repairable
Don't offer a "No Window" version.
I really liked this tent until the windows fell out. They just started coming unglued. Hasn't been abused or left up over two days at a time.
Pretty much everything else is perfect. Quick easy setup, good zippers, plenty of room. It's kinda heavy for one person but for the price it's great.
I just wish it didn't have two double fist-sized holes in the fly. I would not recommend this tent. If they offer the same thing without windows, it would really be perfect.
Source: bought it new
Price Paid: $150

This tent is fun. I have multiple tents but this one is too user-friendly to skip on. The color coding and special features make this my go-to tent for backpacking with friends and car camping with the wife.
Pros
Simple setup using color matching system with easy clip connectors
Stargazing rainfly rolls back easily once you're ready for bed
Works great in heat and cold and even fit a queen size air mattress once
Extra guyout points for zero touch rain fly
Cons
The hangable storage unit is great and big, but is not built in which makes is vulnerable to losing.
Packs a bit big in the backpack
I've used the TN2 multiple times and the durability mixed with the user-friendly setup and features leaves no room for disappointment. It serves every need from backpacking as a couple to car camping. 
Setup
The setup is color coded and clean. You couldn't possibly have a need for the instructions once you've set it up once. I've even had to set up in the dark and once in the rain. It's simple and smart design is dummy proof.
Accommodations
Breathability is not debatable. Full screen interior design with fully waterproof shell makes it perfect. In the summer I don't even use the rainfly on clear nights.
Lightweight stakes, poles, and everything in between keep it very light. It does make the tent less durable, so if you're after something very strong for car coming only, then these lightweight features may seem pointless.
Huge vestibule (2) make room for any size pack. You can't fit a bike under it, but you won't have to worry about its size compared to comparable tents. 
Room
If my wife and I can "fit" then any two people can fit. We even fit a queen air mattress inside the tent once. You won't have room for gear or packs, but that is what the vestibule is for. 
Experience
I am mostly a car camper with a dog and family of five. I rarely go without my family but cannot get enough of it.
Source: received it as a sample, freebie, or prize (Won from Kelty through Gear Junkie)

Probably one of the best tents I have ever owned. Easy to set up alone, dry in the wet, no condensation problems at night, and not too heavy. The design is well thought out and there are many great features.

My only gripe is that it is not built for anyone taller than 6', as your head/feet will likely touch the front and back of the tent.
Pros
Easy to set up
Roomy vestibules
Well designed
Cons
Too short for tall people
Source: bought it new
Price Paid: $220

Upgrade over big heavy tent, but not what I was expecting from Kelty.
Pros
Easy setup
Star Gazer fly
Cons
Bit heavy for backpacking
SHORT!
I had a three-man Wal-Mart special 'backpacking' tent that weighed in around 9 lbs. Since my son has started going on backpacking trips with his Boy Scout Troop, I wanted ... no ... needed something smaller and lighter.
The one thing I loved about the big heavy tent was that it had zippered windows so before I fell asleep I could lay and watch the stars. 
So I was drawn to the Kelty TN2 tent.  I looked at others and poked around the tents that people in the Troop used.  I kept coming back to the TN2 for the star gazer fly.  
Setup is easy, 1 hubbed pole that sort of self assembles itself, and 1 small pole for the fly all color coded so you know which end is which. Goes up quick and painless. Haven't had it through any strong storms so not sure how dry it will stay, but had it through a stiff wind and some slight sprinkles and no real issues.
The little square bag was pretty cool at first, much more contained than my old setup. But after the first trip out the square bag went into the garbage and replaced with a stuff sack. Getting the tent in and out of the square bag was more trouble than it was worth and it took up a huge amount of room in my pack. Now with the tent, fly and ground cover all rolled up together it's a touch smaller and can get hung from the back of my pack with ease.
The Star Gazer fly is nice to have, but so far I haven't had decent enough weather to make it worth having it open. Peaceful summer weather might be a different story.
Kelty claims it's a 2-man tent and we all know that really means 1 person, 2 in an emergency.  The length of the tent is suppose to be 6'11" but at 6' even I don't fit in the tent. Either my head or my feet touch the tent. So I'm forced to sleep diagonally across the tent and even then I tend to wake up with my feet or my head up against the tent. I am able to sit completely up and change without much effort.
It's a bit heavy at nearly 5 lbs with the footprint, but I knew that going in and felt the star gazer was worth a few extra pounds. After a few uses I'm not sure that's the case. Fortunately, I got it on sale and paid about 1/2 price for it. It's an upgrade over my big heavy Wal-Mart tent, but I'm not sure I'd buy it again or recommend it to others.


UPDATE 4/26/15:  OK, so couple nights in the rain and I was dry inside!
First night was mainly drizzle very little wind. Nothing too major but very happy to see I could get in and out without getting water inside. It rained sideways pretty much all morning. The second day, had a few tents in puddles and some with wet floors, wet sleeping bags and wet cloths. Mine too was in a puddle and as I apprehensively zipped open the fly; I figured I was in for a cold, wet night.  
Amazingly, the only water in the tent came off my wet rain gear .... doh .... after helping others move their tents to dryer ground ... heck ... I just left mine in the puddle and took off my rain gear before I got in. All night in the puddle and no water in my tent.  When I packed up the next morning, the Kelty ground cover was pretty much soaked but the tent bottom was fairly dry considering where I slept.  
Still no decent chance to use the Star Gazer, still a bit smaller than I thought it would be, still a tiny bit heavier than others, but it kept me dry and well heck that's what a tent is for isn't it?
Source: bought it new
Price Paid: $159

Great design, but smaller than advertised.
Pros
Stargazing fly
Quality materials and construction
Nice design
40D is good balance of sturdy/lightweight
Cons
Floor dimensions smaller than advertised
Possibly iffy QC
This appears to be a well-constructed tent, and the stargazing fly is a genius idea. When I did a practice pitch in my yard and put my 77" Therm-a-Rest pad in the tent, though, it seemed like a tighter fit than it should be.
Sure enough, the tent floor on mine measured 81.5" x 48" at the widest, and that was being generous with how I was measuring, and I had the tent fully staked out. The narrow end was likewise a couple of  inches narrower than stated. On top of that, mine arrived with a couple of small holes in the mesh of the large door.
I might have just exchanged it if it weren't for the smaller than advertised dimensions, because I really like the design. If you have a regular 72x20 pad and you aren't very tall, this tent might be great for you — however, though I'm only 5'11", I felt the tent's actual length wouldn't work for me.


Source: bought it new
Price Paid: $200 on sale at Campsaver

Easy to use, not very heavy backpacking tent. It comes with the star gazing rain fly which is great!
Pros
Star gazing rain fly
Lightweight
Works perfect with Trail Logic backpack
Square pack size
Cons
Was not as long as packaging indicated
Setup is super easy with this tent. Kelty has color coordinated poles, tent, and rain fly so that putting it together is really simple. The color coordination is not obscene or obvious so no one will know that it is there unless they are putting the tent up. 
The tent has the ability to keep the rain fly rolled up and out of the way so that you can view the stars at night. If the weather turns you simply stick your arms out and roll it down to clip it. Very simple to use, and it was awesome to see the stars at night. 
The size for width is great. My wife and I fit really well with space to spare. It has two vestibules for gear storage as well. The only downside is that the tent is not as long as advertised. I think it was supposed to be 6'11".  I am 6'4" and my head and feet were touching the first one on both ends (they were sicking far out). Kelty, which has amazing customer service, sent us a new one which was better, but still not the advertised length.
We have used the tent in fair weather in the mountains outside of Salt Lake City. It seems like it will hold up just fine in bad weather. 
Source: bought it new
Price Paid: $250

Great two-person tent. Very lightweight yet spacious.
Pros
Easy to set up
Lightweight
Reliable
Cons
Rain fly can pool if not set up correctly.
Recently bought the Trailogic TN2 and used it to to do some car camping in the Tetons and Yellowstone. Rained a lot one of the nights and the tent held up great.
Best features are that it is easy to set up and very spacious inside and in vestibules. I have yet to try the stargazing mode but I am excited to use it.
One problem was that water did pool in the top of the rain fly. This could have been an error in the setup. The fly as a whole did not stay up off the tent very well when wet.
Regardless, I am excited for this tent and look forward to using it more. 
Source: bought it new
Price Paid: $200

You May Like
Recently on Trailspace