Kelty Trekker 3950

The Trekker 3950 has been discontinued. If you're looking for something new, check out the best external frame backpacks for 2023.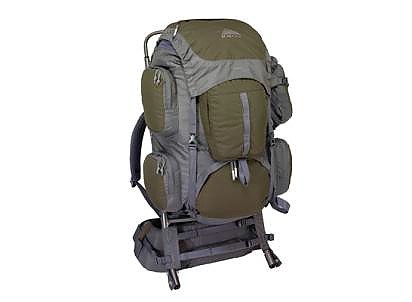 You can still find well-made Trekkers in like-new condition online if you're a smart shopper. Before Kelty switched to polyester materials and a thinner hipbelt, this pack represented a practical, comfortable on-trail option for people hauling heavy loads. For a Boy Scout, especially an adult leader or a teenager with the strength of a mule, these packs still represent a good choice. There are now a lot of better options on the market, but they cost more money.
Pros
Great ventilation
Great organization
Comfortable, quality padding
Cons
Best for on-trail use
Heavy
No longer a top choice for any particular useage
I recently purged my outdoor gear collection, and this was one of the packs to get the axe. My pack was made in the mid-2000's. It was a Kelty Trekker 3950, and it was green. The hipbelt and shoulder straps were thick and comfortable, and the packbag was made with nylon packcloth. Since then, Kelty has thinned the padding and changed materials for the bag. I won't criticize the newer model, but I can't vouch for it, either.
Fit: Kelty externals offer a wide range of adjustment for different sizes of people, but they don't offer minute adjustments. The torso length is changed by shortening or lengthening the frame in increments of about an inch. This is good for most folks, but it won't provide the near-custom torso fit of common velcro adjustments like that found on most Osprey frame packs.
Shoulder width can also be adjusted by moving the pins inward or outward on the frame. To work the adjustments, you have to be comfortable working with clevis pins, which isn't rocket science but all the same isn't fun on the trail. Shorter torso models are available, but they come standard with a significantly narrower hipbelt.
Comfort: This is relative, and people who are used to an external frame pack will find nothing to complain about here. The frame is completely rigid, and it will feel constricting if you're only used to internal frame packs. Still, I think my Trekker was the most comfortable traditional external frame pack I ever used.
The padding was far better on my 2008-ish model pack than on my early-2000's Kelty Continental Divide pack, and the hipbelt didn't slip on the Trekker. The material is comfortable on the skin. The padding is soft, but maybe a little bulky. If you can find a Kelty Cache Hauler, which is much heavier than the trekker, the the feel is similar. Ventilation is superb.
Capacity: At nearly 65 liters, the Trekker can hold most of what modern backpackers need in the bag itself. The only obstacle here is the excessive compartmentalization, which inevitably leads to wasted space. Out of habit, I tended to strap my sleeping bag to the outside in a waterproof sack, and I usually overfilled the bag.
Organization & Accessibility: After criticizing the Trekker for over-compartmentalization, I have to turn around and say that I usually enjoyed having all the pockets. The pack seemed like a nicely organized office desk, which was great when I was looking for things late at night.
There are two main compartments, one of which (the lower one) is usually designated as the sleeping bag compartment. For a traditional backpacker, carrying a typical load of a bag, two-person tent, and sleeping bad, it was easy and intuitive to load the pack.
Ride: Our forefathers used external frames for just about every activity under the sun, but this simply isn't the best choice for off-trail travel. The pack is tall and wide. The load is suspended by a trampoline back away from your body, which is nice for just about any weather but not so nice for precarious moves. 
Compression is almost non-existent on the Trekker. The pack is designed to keep loads away from your body, nice and high. Great for some things, but not for a cozy, stable ride.
Construction & Durability: This pack is not a work of art by any stretch of the imagination. The construction is solid, and you can still order a replacement bag from Kelty, but the external frame can cause wear and tear on the bag over time. In my experience, the padding never flattened out and became uncomfortable. I think a person could get several years of heavy use out of this pack, but it's not a long-term investment.
Conditions: I used this pack for several years on and off the trail, alternating between it and another Kelty external frame (the Continental Divide that I reviewed a while back) based on what kind of organization I wanted. I used both packs less and less as I lightened my load and took on greater challenges. I learned firsthand the benefits of an internal frame. I sold the Trekker so that I could buy a nice all-around pack, but I wouldn't hesitate to take one on a wide variety of trips.
There are plenty options out there in the internal frame world that won't break the bank and will carry just as heavy loads in similar comfort. That being said, this pack wouldn't be a bad choice for someone who found a good deal on one in good condition and knew what he or she was getting into.
Source: bought it used
Price Paid: $100

I purchased my Trekker for a 300-mile thru-hike of the Long Trail in Vermont's Green Mountains. It was my longest backpack, I knew I'd be packing a lot of weight, and I needed a pack that gave me piece of mind on the trail.
My first day's load was 47 lbs, and the pack distributed the weight well. The extra large hip belt cushioned the load and transferred around 80% to my hips; sore shoulders were an extreme rarity for me. As the load lightened (as I wised up and dropped some gear) the fit improved, but a 45 lb load is well within the "feel-good" range for this pack.
The adjustor straps and webbing all held throughout, and were easy to adjust and whether on the move or standing. I had one of the metal loops on the frame pins wiggle out around mile 90 (from deformation due to weight, but the pack has two spares and it never happened again. The frame, pins, and welds never showed any sign of failure.
The top-load capability made packing easy, and I took advantage of the webbing inside to keep my heavy items close to my back (once I discovered it was there!). The outside pouches are of considerable size, although at first I wanted to be able to stuff more gear into them. The external frame gives you tones of space to strap, bungie, or tie darn near anything to the outside.
Being an external frame, it sat somewhat precariously while I made exposed moves, but that comes with the territory. It does have a better chance of throwing you off-balance than an internal frame, in my opinion. Also, scrambling was more difficult because the pack frame inhibited my ability to look up as I was crawling along.
I think external frames look incredible, some strange mix of size and nostalgia, and the Kelty Trekker made me look like one tough hombre. It is on the heavy side at ~5.5lbs, but it has an aluminum frame, for crying out loud. I'd call that light. Your pack is an extension of yourself; don't drain your wallet and leap at that Gregory. For long trips without a lot of exposure, an external frame will do the job wonderfully.
Design: External Frame
Size: 3950 cubic inches
Number of Pockets: 8
Max. Load Carried: 47 pounds
Height of Owner: 5 Feet 8 Inches
Price Paid: $90

The "experts" will mostly tell newer backpackers to get an internal for any number of reasons. This pack blows almost all of those reasons out of the water. I have spent whole weekends bushwhacking through tight underbrush, tree limbs, and thorns with only two major snag-ups... both of which would have happened with any internal I've owned.
The ventilation to the back is beyond words. I am very hot-natured and sweat like a Texan with any internal frame, yet I can hike a 15-mile trail section FAST with this pack on and only sweat under the hip belt.
The comfort is second only to the ventilation. This pack is much more comfortable than every internal pack I have owned or used.
The "experts" generally claim that externals hold the load so far behind your back that they are clumsy. Despite the excellent ventilation, the pack hugs my back and does not feel clumsy at all if properly packed. It even feels LESS clumsy than my internal.
I tend toward the lighter end of the spectrum, usually packing out at 28lbs including food, fuel, and 3L of water. Most folks who pack this light go with a light pack. At 5lbs, this pack weighs the same or less than many internals, but the extra weight is worth it to me for the reasons above. I did take off the head bar and the internal hold-open bar.
I feel that this pack stands head and shoulders above all other packs I've tried or owned, and that's without considering the price! I got it for $75 with free shipping... you can too. Shop around for the bargain!
Max. Load Carried: 40lbs
Height of Owner: 6'0"
Price Paid: $75

This pack is comfortable and carries a lot of gear. What more can be said. This pack succeeds where it needs to. It does weigh five pounds, but with hip belt sizes on most packs being so large, I would guess that most people are carrying an extra five all of the time. I would suggest loosing that five first.
I have a long torso and am skinny. I have had difficulty finding internal packs that fit right. The Trekker 3950 fits a 20.5 inch torso great. And the hip belt fits my 30 inch waist. This really is a good, comfortable, well made piece of gear.
Design: external frame pack
Number of Pockets: 6
Height of Owner: 5' 11"
Price Paid: $100

I just got back from a 30-mile 3-day backpacking trip in the Porcupine Mountains in Michigan's UP. It was a great pack that held up perfect. I had plenty of space for all of my stuff and more than enough lashing space. It easily carried my clothes, food, tent, sleeping bag and also my sleeping pad. All in all it was around 50 pounds I would guess. The trail was tricky at times but the pack never gave me problems.
What I like most is the waist strap and shoulder straps. They make it very easy to fit the pack perfectly. The pack also allows for several different adjustments. Take the time to fit it to your body and you'll do fine.
I love external frame packs and this one is my favorite. I don't know why the market has shifted to internal frames, but I think that externals are way better.
Design: external, top load
Size: 3950
Number of Pockets: 8
Max. Load Carried: 60 lbs.
Height of Owner: 6'
Price Paid: $114

I have had a Kelty 3950 since Summer 2006. I have since taken it on a weeklong trip to Isle Royale, many 3-5 day (20-30 mile) trips, and am currently training for our Spring 2008 trip with 70 lbs worth of dumbbells in the pack.
I love this pack. I tried on all the packs in the store, with no notion of what I was looking for except the "most comfortable backpack in the store." With 8.5 years in the US Army Infantry, I know something about UNCOMFORTABLE backpacks.
I would recommend the Kelty 3950 to anyone.
Max. Load Carried: 85 lbs
Height of Owner: 6'3"
Price Paid: $145

I've been backpacking since I was still in my mother's womb. I started using my own pack when I was around 6 years old, and have since been through a youth bag and a full size Coleman hand-me-down from my father. After two years in college, I decided it was about time for me to buy all of my own gear.
I knew from the start that I wanted an external frame pack. It's all I know, and it has always worked well for me. I needed something reliable that could be sufficient for a overnight trip to a weeklong expedition. Looking through the Campmor catalog, I was quickly drawn to the Kelty Trekker. I read some reviews on the internet and decided (despite some less than fabulous reviews) to go ahead with it. I COULDNT BE HAPPIER WITH MY DECISION.
This pack, for the money, is comfortable, reliable, and more than adequate for a traditional outdoorsman. I have taken this pack out on dozens of weekend expeditions, confident it could serve its purpose for a weeklong trip. I will be doing a 5-day hike on the AT in a few weeks for spring break, and I plan on taking this pack with me to the Olympics this summer. I have no complaints.
This is a simple pack perfectly suited for the simplicity of the wilderness. All the bells and whistles on much of the gear today takes away from the experience. The Trekker 3950 is a perfect pack for beginners and experienced mountain men alike. Good trekking!
Design: top loading packbag
Size: 3950
Number of Pockets: 5 external
Max. Load Carried: 35lbs
Height of Owner: 5'10''
Price Paid: $100

I ordered a Kelty Trekker 2 3950 two weeks ago, and my sons and I went on a backpack trip to the Shining Rock Wilderness, NC on July 21. The Trekker seemed to be very well designed, however on July 23 as we were climbing Tennent Mountain suddenly both vertical frame members broke, just below the cross member where the pack straps were secured. Hopefully this was an unusual frame material problem....REI is sending us a new one to replace the broken pack.
Design: External frame
Size: Size 3
Number of Pockets: 7
Max. Load Carried: 40lb
Height of Owner: 5-11
Price Paid: $140

I don't know if I'm really qualified to "review" a backpack, but I used to backpack a bit when I was a teen. I don't remember what pack I had, but it was an external frame, probably not too expensive (I remember that it was bright red). It worked, but I have to admit that I didn't give it much of a workout, just a few weekends on the AT.
This past summer, I decided I'd do some hikin' and campin' in the Adirondacks. I planned to carry stuff in, set up camp and do a couple of day hikes over the weekend. I bought the Kelty Trekker 3950 because it looks traditional and the salesman recommended it as a good, sturdy pack. I think I may have bought the wrong size, though, as I am fairly short (5'6-1/2") and have a short torso (17"). Maybe the Trekker 3900 ST ("Short Torso") would've worked better for me. I've got the Trekker 3950 set to its second-shortest setting, but when loaded up for a weekend's worth of camping, the pack's weight seems to sway around quite a bit. I got blisters on my feet hustling into Marcy Dam to make camp, which I don't think was the fault of my boots, as I've never had blisters before or since (but who knows?). I probably could have packed better -- maybe better weight distribution?
The Trekker's materials and durability seem just fine. The look is great, if you're the traditionalist type. I just can't seem to get very comfy with this pack loaded up. I tried a $99 house-brand internal frame pack at EMS that fit me like a good suit, but I know I could never carry as much stuff in a pack like that. I'll tweak some more and post here again if I get better/different results.
Design: External frame pack
Size: 3950 cu. in.
Number of Pockets: 5
Max. Load Carried: 35+ lbs.
Height of Owner: 5' 6-1/2"
Price Paid: $100

Your Review
You May Like
Specs
Price
Historic Range: $60.00-$140.00
Reviewers Paid: $75.00-$145.00

Recently on Trailspace