Kelty Continental Divide 5300 (External)

The Continental Divide 5300 (External) has been discontinued. If you're looking for something new, check out the best external frame backpacks for 2023.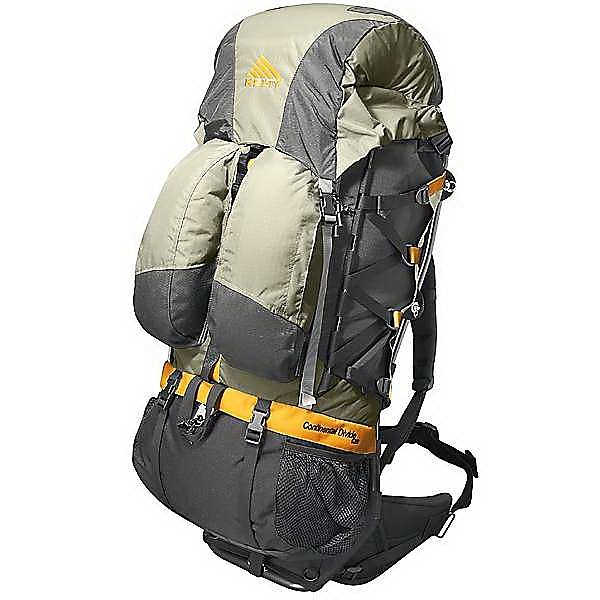 Some people will look at this pack and say it has an identity crisis. It is basically an internal frame bag attached to a narrow external frame. There are pros and cons to this, mostly depending on how you like to pack.

This model is out of production, but a lot of folks might find that it meets their needs. This sort of design works great for expeditions with heavy loads, and it could be a great deal for someone who finds it used.
Pros
Durable
Great load-carrying ability
Plenty of capacity
Narrow profile
Stable for an external frame
Good load compression
Cons
Shallow side pockets
Shares the cons of an external frame and internal-style bag
Poor ventilation
Heavy!
No one has reviewed this pack in almost ten years, but I figured I might as well share my experience. I bought this pack back when I was a Boy Scout in the early 2000's. I carried it all through the Colorado and New Mexico Rockies in all sorts of terrain. Just a few years ago I took it up Longs Peak for no good reason at all. I like this pack, although I've lightened my load and rarely use it these days.
First off, here's a stock photo from a quick google search. I'll try to get a picture of my own up when I get a chance, but it's pretty much identical.
Fit:
Like most external frame packs, this is a highly adjustable pack. It fits torsos 16 to 22 inches, according to Kelty. Unlike many other externals, however, the adjustment happens by adjusting straps to move a back panel. It's not super easy to do, but it is pretty solid once you have it adjusted.
Kelty made a short torso version with less capacity, but I'm guessing it would be even more difficult to find. The pack and frame are relatively narrow, meaning that smaller folks will feel less like they have a small car on their back than they would with a Super Tioga or something similar.
Comfort: 
The hipbelt is nothing to write home about. It lacks modern features. No pockets, for example. But it is comfortable! I'm guessing it work for waists as small as 29 or 30 inches. The shoulder and sternum straps are similar - typical late '90s, early '00s Kelty. They are no frills, durable, and comfortable.
The sternum strap moves up and down a piece of webbing, which works pretty well. For me, however, the bottom of the shoulder straps sometimes dug into my side. This could usually be fixed with a bit of tweaking, but the problem popped up every now and then. Ventilation isn't great. The back is padded, which is probably more comfortable than a trampoline-back, but not as cool.
Organization & Accessibility: 
Internal frame users (so pretty much everyone) will be right at home with this pack. There are five compartments: the main bag, a sleeping bag compartment, the top lid pocket, and two large pockets on the front of the bag. All of these are pretty huge, and the setup is pretty intuitive.
This leads to one of my issues with this pack. One of the main advantages of an external frame pack it the ability to strap things to the outside, as unfashionable as that is these days. They are highly adaptable.
This pack doesn't give you any room to strap things to the frame. Your options are pretty much the same as they would be with any internal frame pack, meaning that you can strap things on the sleeping bag compartment, on the sides using compression straps, and under the top lid. All of those options work just fine, but it's not that safe and secure feeling you get when you strap a tent or sleeping bag or pad to the frame of your Kelty Trekker.
Also, the compression straps don't have buckles. They crisscross down the side of the pack, and you can only tighten or loosen them. This means you have to slide items in from the top or bottom that you want to attach there.
Finally, many external frame fans like the huge number or pockets and all the organization possibilities that come with them. This pack, although it's no slouch in the pockets department, lacks that hyper-organizational feel of other externals.
Ride:
I wouldn't take this pack skiing, but that's about it. The load rides well, and packing is not as much of an issue with an external frame. It still helps to follow the traditional guidelines for packing, though. I carried up to 60 or 70 pounds in this thing back in my Boy Scout days, and it was about as comfortable as that sort of load can be with any pack. It was also about as stable as a monster load will be in an internal frame pack.
The frame rides pretty close to your body, and the compression straps keep things close. The profile is narrow, so you can bushwhack with a little more confidence. I never felt encumbered by this thing, except for the normal feeling of being encumbered that comes with any heavy load.
Compression:
The straps do their job. They bring the load tight into the frame. I described the setup when I talked about organization — it's not the most convenient, but it works!
Ease of Use: 
It's an external frame pack. Adjustment is pretty simple. Using it is easy as can be.
Construction & Durability: 
I abused this pack about as badly as any teenager has ever abused a backpack. It held up perfectly. It still looks great, almost fifteen years after I bought it. The zippers are beefy and so is the nylon. The buckles work as well now as they did when it fist came in the mail.
Conditions: 
This was my pack of choice for weeklong Boy Scout trips, usually in the summer. We carried heavy stoves, heavy tents, and too much extra gear. Thank goodness I had this pack to help with those outrageous loads! We bushwhacked up densely forested mountainsides and we scrambled over mountain passes above treeline. Mostly, though, we hiked down miles and miles of trails in places like Philmont, the Indian Peaks, the Holy Cross Wilderness, and the Wind River Range.
Conclusion: 
I won't bemoan the decline of external frame backpacks — I'm too young for that. For people carrying modern loads that rarely exceed thirty pounds, an internal frame pack is probably going to be more comfortable and stable. Yuppies from Aspen won't look down on you as much if you're carrying an Osprey internal frame, although they will still know you're a peasant who can't afford Arc'teryx.
But for loads in excess of thirty to forty pounds, I think most people are doing themselves a disservice by not considering an external frame pack. Their ungainliness in comparison to internals is overstated, as is their instability. The idea that you can't travel off-trail with an external frame is just silly.
If you do want to try the external route, I'd highly recommend finding an older Kelty (no more than ten years) in close to new condition. Those packs were well made (definitely over-built) and used quality materials (nylon instead of Kelty's newer packs, which use polyester), and several are much lighter than the Continental Divide, which was more than 7 1/2 pounds!
Ultimately, I'm giving this pack four out of five stars. It did everything I ever asked of it, but I wouldn't buy one again. When I use an external frame, I use a lighter weight but similarly beefy Kelty Trekker 3950 from 2008-ish.
If I'm going to go external (and there are disadvantages), I prefer the utility of a traditional bag and frame style, which allows me to strap everything and the kitchen sink wherever I like. I also prefer the ventilation of a trampoline back. But for someone who comes across a Continental Divide pack and likes it, I say go for it!
Source: bought it new
Price Paid: $120

I've used this pack on the Pennsylvania section of the Appalachian Trail and on Scouting campouts in the wilds of Maryland and Pennsylvania. It's an excellent bag that is great for balance on narrow trails and for general hiking on well-worn footpaths. I like its narrow frame which conforms to my back nicely and the design of the internal bag. It was a dream to adjust the frame and straps to my torso length and my style of hiking.
Design: top-loading internal/external hybrid
Size: 5300
Number of Pockets: 3; one large bag with 2 large back pockets
Max. Load Carried: 47 lbs.
Height of Owner: 5' 10"

I've hiked in the Ozarks, the Rockies, and Kauai's Kalalau Trail and this pack has never left me saddle sore. It's streamlined design is almost a hybrid of an internal and external frame pack. I like it so much I bought the smaller version for my wife.
The side compression straps are great for shoving a Therm-A-Rest chair, an empty gallon water bladder, and a backpacking saw into. Since it's an external frame pack, you want heavier items toward the top. Most cook sets will fit in the top removable pocket that doubles for a day pack. Extra pockets are located on the back of the pack and not the sides like most external packs. Great for storing rain gear and small items. The loops down the middle can be used to hook sandals and nalgene bottles to.
You can't beat the versatility of this load hauler. If you're like me and not a minimalist, this is as good as it gets.
Design: top-loading external
Size: 5300 ci
Number of Pockets: 5
Max. Load Carried: 60 lbs. (includes pack weight & water)
Height of Owner: 5'10
Price Paid: $159

High quality pack, lots of room. The narrow close to your body frame is excellent, it keeps your back cool and shirt dry (even hiking in AZ desert), and you don't get the sway when leaning left or right that you do with other externals. Straps/clips are strong and hip belt comfortable so far. The daypack attachment is convenient, has enough room and is comfortable to wear as well. If you're looking for something negative about this pack, all I can give you is that I've had some minor squeaking while hiking with heavy loads, but that is easily corrected by tightening a couple of straps. Highly recommend, great pack for the price! Most benefits of an internal with the cost of an external.
Design: hybrid
Size: 5300
Max. Load Carried: 35 lbs
Height of Owner: 6'0
Price Paid: $179

This backpack is an excellent low-profile external frame. It's narrower than many externals like the Kelty Tioga or Dana Longbed, and this makes it a good deal more capable off-trail, and less likely to snag brush. The internal hydration pouch and tube slit is perfect for a Camelback and on-the-go drinking. The C.D. weighs less than comparable Dana externals and is much less expensive. All components were well-stitched, straps and belts very comfortable and easy to adjust. This is a state-of-the-art external frame backpack.
Design: External Frame
Size: 5300 c.i.
Number of Pockets: Two plus internal hydration pouch
Max. Load Carried: 50 lbs.
Height of Owner: 6' 1"
Price Paid: $139 (sale)

Your Review
You May Like
Specs
Price
Historic Range: $139.95
Reviewers Paid: $120.00-$179.00

Recently on Trailspace