Kelty Trekker

Top 25 in unisex External Frame Backpacks
The Trekker has been discontinued. If you're looking for something new, check out the best external frame backpacks for 2020.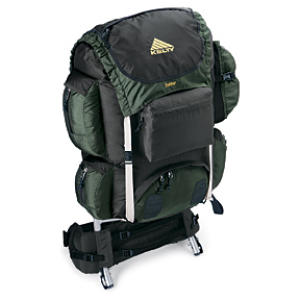 Specs
Price
Historic Range: $59.83-$139.95
Reviewers Paid: $90.00-$110.00

Reviews
10

reviews

5-star:

4

4-star:

5

3-star:

0

2-star:

0

1-star:

1
I bought my Trekker back in the '90s and it still is the best pack that I have used. I have several packs and this one is the BOSS.
Price Paid: 105 bucks

I have an older style Kelty Trekker, but it's always been great!
When I got into Boy Scouts my parents got me this for Christmas one year, I've had it for 12 years or so now and I've never had a problem! I've beat the crap out of this bag and it's never given me a problem. What also is great about it is that as I've grown and my body shape has changed over the years the different adjustments with the frame and the straps have kept up.
All around a great bag! 
Price Paid: Christmas Gift

I !love! my Kelty Trekker. I don't get a lot of people agreeing with me, but I dislike internal frame packs. I lash all kinds of stuff to this frame and hike away happy. I am 6'2" and have an athletic build and I can put more than I can carry in here.

Heres what I can fit in this bag for a solo trip. Two top outside pockets are perfect fit for nalgene 1 liters, plus a little outside pocket has a small camera, journal, and pencil. In the main area I have a knife, small axe, shovel, rope, clothes, food, and rain gear on top.
The back pocket carries simple toiletries, spork, and flashlight. Lower outside pockets have 1st aid kit, emergency gear, and spare light and batteries. Lower compartment has stove, water filter, towel, folding camp stool, cooking gear, and fire starters. Then I tie on my tent, bag, and therm-a-rest.
So that's it, one Kelty Trekker holds an arsenal of backcountry gear, 3 changes of clothes, and ~5 days of food. All this and there's still some room. Some packs are bigger, but this one weighs in around 70 lbs. fully loaded, why go bigger?
I would recommend this to anyone who has a wider frame and can haul a heavier pack.
I'll also say that the bag is amazingly light empty and has proven to be very durable under some pretty heavy use.
Size: 3950
Number of Pockets: 6
Max. Load Carried: 70 lbs
Height of Owner: 6' 2"

I bought this backpack about 6 years ago and it has served me very well on about 18-20 1-2 night backpacking trips, most of which involved some significant up- and down-hill mountain hiking (I live in Washington state) in Cascade and Olympic rain forest, Eastern Washington hot sun, beach excursions, and winter snowshoe backpacking on Mt Rainier (snow).
It is a great value for the money. The design as adjusted is very comfortable on me - I'm 6'1" 180 lbs with a 34" waist and 34" inseam. I really like external frame packs because they are so sturdy and versatile - you can lash all sorts of stuff to them, or use them "as is." Stability has never been an issue for me. I can't understand why people don't buy them much anymore - unless it is simply a fashion trend - they want to look like they're climbing K2.
The drawbacks relate to hydration: The user cannot grab a Nalgene bottle with it on, because the pocket is up high, and my model has no bladder pocket. Also, a little peeve - the zippered radiuses on the small side pocket are tight, making it hard to zip them closed when anything is in them. While I'm considering getting a Gregory Whitney for a more extended trek, I would still keep the Kelty Trekker for shorter hikes.
Design: External frame backpack
Size: Tag says "Size 3" - 3900? 3950?
Number of Pockets: 1 center, 4 side
Max. Load Carried: 55 lbs
Height of Owner: 6'1"

My 11-year-old son hiked 17 miles with this pack on, his first backpacking overnight trip. He is on the short end of the pack fitting his torso, but is chunky around the waist so the waist strap fit fine once we adjusted it down a bunch. We found the exterior pockets to be very handy for bottle, shovel, other trail gear, and loved the load adjustment straps. Very easy to pull tight or loosen as needed.
The inner pack space was easy to fill and unload and there is a convenient inner pocket to put a hydration bladder, if desired. Easy to hitch gear to the exterior bars, although it would have been nice if there were already lash straps attached to the top flap. We had to make do with bungee cords last minute and bought lash straps to attach for the next trip ($2).
Another thing that would have been nice is a secondary pack attachment for day hiking. He brought an additional hydration pack along for our day hike. This pack should last him many years to come. I am pleased with the pack and the price we paid for it.
Design: top-loading external
Size: 3950 cubic inches
Number of Pockets: 4
Max. Load Carried: 30 lbs
Height of Owner: 4' 10"
Price Paid: $109.99

We bought this pack approx a year ago for our son to go to the Philmont Scout Ranch. To this point we are extremely happy with the quality of the pack. It is easy to adjust and very comforable to wear. We especally like the hip belt buckle adjustment and the load lifter straps. The only complaint we have is that the external side pockets are a little on the small side. I have always been a Camp Trails fan but I am now looking at the Kelty 50th annversary pack for myself.
Design: Top Loading Upper, Panel Loading Lower
Size: 4300
Number of Pockets: 6
Max. Load Carried: 40 lbs
Height of Owner: 5' 2"
Price Paid: $90

It has served me well. I have had it for 4 years. I'm only 15, just last week I did 20 miles, I didn't have any problems with it, I never have. Now I am looking into internal packs specificly the Lowe Alpine Australis 70. I think it is a great pack for beginners, but if i were you I would get an internal frame.
Design: external frame
Number of Pockets: 5
Max. Load Carried: 50
Height of Owner: 5'6"

I don't understand why people criticize externals for being cumbersome and awkward.. WHERE are they trying to hike? A cave? The crawlspace under their house? Do they just have NO balance at all? My strategy is light and fast. I hiked 16 miles a day for 4 days with just under 40 lbs in this pack (Georgia AT), wearing a pair of Adidas and a pair of ankle socks. Didn't trip once. It's much more comfortable than any internal frame pack I've ever used. Sure, internals are more stable, but they KILL your shoulders. Besides, how much stability do you need, you klutz? :)
Design: External Frame
Size: 4300
Number of Pockets: 6
Max. Load Carried: 40
Height of Owner: 5'10"
Price Paid: $110 at Galyan's

I used this pack to hike the VT. Long Trail (268 mi.). I have few complaints once I got the proper size hip belt. It carried my load well and was very comfortable. It has held up well with little signs of wear despite all I put it through.
My only complaint was that the side pockets could have been larger.
Its size made me think carefully about what I brought which is good for me because the larger the pack the more I bring.
I was on the trail for 4-5 days before resupplying and I had plenty of room even on the sections I carried a tent.
Design: external
Size: 3900+
Number of Pockets: 6
Max. Load Carried: 39
Height of Owner: 5'8"
Price Paid: $100 on sale

I admit it... I was searching for a bargain while buying this pack... and I'm paying for it. First off, the pack is almost impossible to tune in to the right size... it seemed like I had to stop every few miles on the appalachian trail to screw around with the frame. The next problem that I had was slicing myself constantly on the stupid little clevis pins... I tore all three of my shirts on a week long hike on the AT. These might seem somewhat trivial but the next problem made life horrible... it sways like a ship in a hurricane. I almost fell off a cliff due to this... thanks again Andy. Anyways... this pack gets a big thumbs down!!!! I'm thinking of going internal... any suggestions on a pack with around 5000 cu in? (price is no longer a big issue)
Design: external
Size: 3900 cu.in.
Number of Pockets: 5
Max. Load Carried: 55-60 lbs
Height of Owner: 5'10"
Price Paid: $99 (on sale)

You May Like
Recently on Trailspace