Kestrel 2000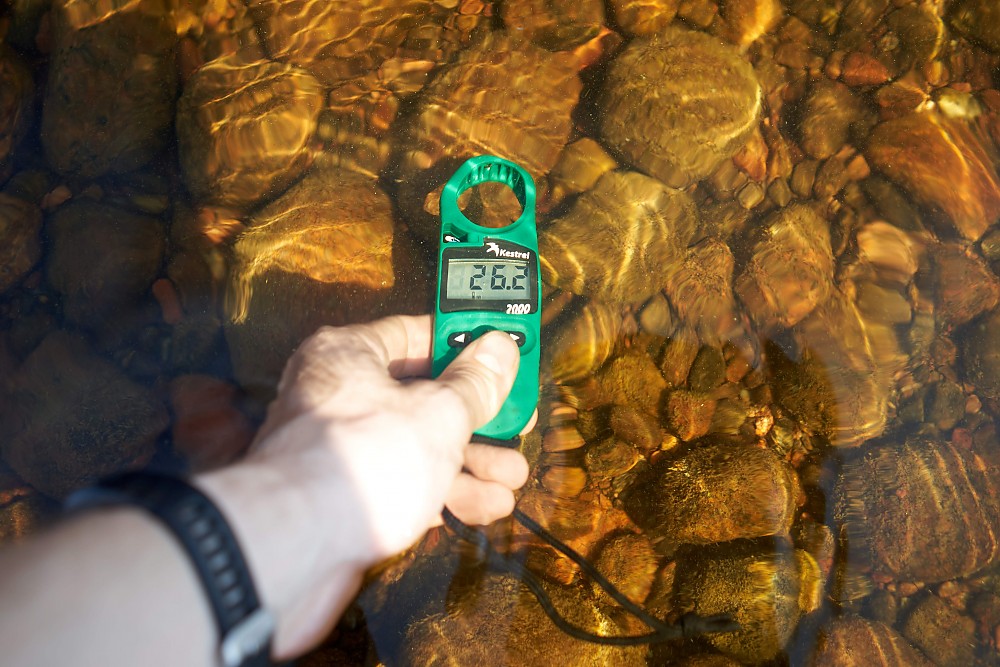 This small device brings some advanced weather monitoring capabilities in your trips. It can measure the wind speed, air and water temperature, as well as wind chill. It may appear handy not only for special applications (like air sports), but for casual campers as well.
Pros
Compact and lightweight
Right feature set
Backlight
Replaceable impeller
Little temperature inertia
Water temperature measurement feature
Convenient hard case
Cons
Inconvenient non-replaceable neck strap
Since ca. 2010 I like doing some sort of weather observations in my bicycle trips. I started with temperature sensor and altimeter in my bike computer, and quite soon I also got barometer (now in my Garmin GPSMap 64s unit) and remote temperature sensor (Garmin Tempe). Not long ago I discovered pocketable wind meters too. The first one wasn't really compact, it was a cheap Chinese model. So I didn't take it to my trips because of excessive dimensions. Then I aimed at more expensive models and ultimately purchased this Kestrel 2000.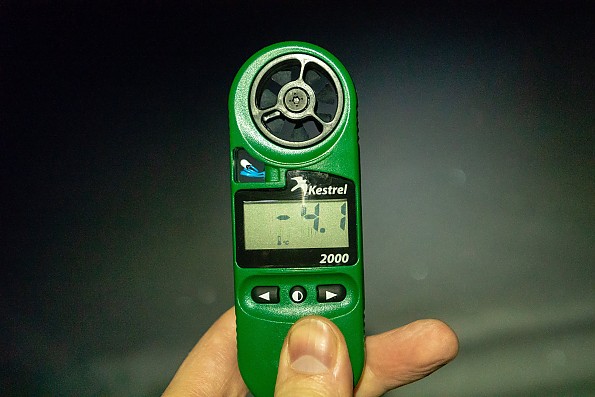 The device body (shared between various Kestrel models) is extremely compact and lightweight (65 g / 2.3 oz), it can be easily taken to any trip without reservations. The included hard case is well thought and convenient to use—one can throw the device to the bottom of backpack without any worries, and in the same time the anemometer can be removed from the case (by sliding it away) in mere moments. The case is held by a knot on neck strap, so it's almost impossible to lose. Very clever.
The 2000 model has just the right set of features in Kestrel model line. The cheaper one (1000) lacks the temperature meter, and the more expensive (2500) benefits only from barometer, which isn't quite useful without GPS (as the pressure is bound to your altitude, and you cannot analyze the pressure trends without knowing your altitude variations—it's solved automatically in Garmin GPS units by getting the rough altitude from satellites). Even more expensive Kestrel models are equipped with extremely rich set of features (making them pocketable weather stations), which is not useful for general backpacking activities, but may become handy for special applications.

So, this 2000 device can measure:
wind speed (instant/average/maximum),
air temperature,
water temperature (with removed impeller),
wind chill (the perceived temperature which takes the wind speed into account).
It also has a backlight which is especially convenient in the tent at night.
The full comparison of Kestrel features can be found here: https://kestrelmeters.com.au/pages/compare-kestrel-meters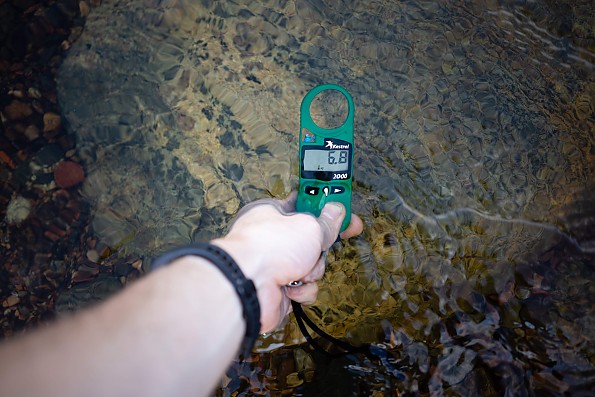 My child bathed in Ladoga lake throughout the summer evening—6.8°C equals to 44°F
After almost two years of using this anemometer, I can say that it works entirely as expected. I rarely face strong winds, so the maximum value I've seen so far is 8 m/s, which conforms to the readings from nearby official weather station. (According to included paperwork, the impeller is calibrated and shall give accurate readings.)
It's very nice to have the compact wind/temperature meter in various trips, as in subsequent trip report you can give readers the exact figures, not your highly subjective feeling (like "strong wind" which usually converts to something like 6 m/s, which is technically a moderate breeze). I always noted that the perceived wind force is always stronger than the values from anemometer—most probably because of the sense of coldness which is brought with the wind.
Another useful feature of Kestrel 2000 device is temperature meter which works in both air and water. The actual sensor is hung in special cavity, and therefore it has little temperature inertia, and reliable readings are available in about 10-20 seconds after removing the device from the pocket. As long as I have two more thermometers on my bike, I use this one inside the tent, hanging the device from the ceiling. It's quite entertaining in unusually cold or warm nights.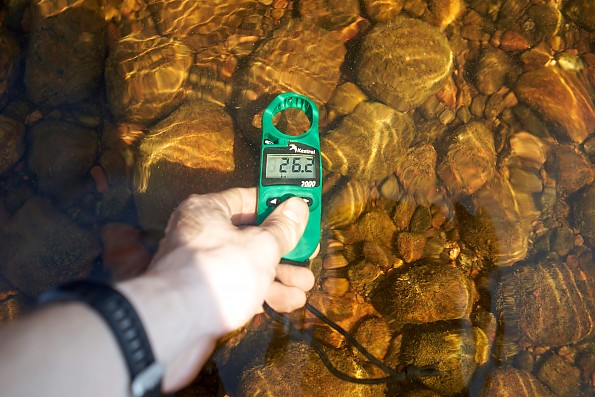 Same lake, same season—26.2°С equals to 79°F (obviously you can pick the desired unit system to display) 
An ability to measure the water temperature is used quite often too. One must detach (push away with some effort) the impeller before measurement, and immerse the device into water. Afterwards the device shall be dried before attaching the impeller and stowing away.
The impeller itself is cheap ($15) and replaceable. It's great to have a possibility to replace a potentially fragile mechanical part without replacing the entire device. My son loves this anemometer, and in infant age he had a habit to stick his fingers into impeller. Luckily it lived through that period without any damage. 
The one thing I really dislike about Kestrel wind meters is the neck strap. Unlike Garmin, which allows attaching any strap you like, here the strap is permanently attached to the device body, and it cannot be detached without disassembly (probably voiding the warranty). Besides, the strap is extremely long and therefore inconvenient. I shortened it by 3/4ths, effectively making a wrist strap which is exactly what I need. Nevertheless the inability to detach and replace the strap is the only major disadvantage of this device.
***
In general I'm very pleased with Kestrel 2000 device, it fills just the right niche in my gadget park. It has little drawbacks in my eyes, right feature set, and its price reflects the quality very well. Recommended.
Experience
I've used this device for almost two years in various cycling and hiking trips, though never encountered a storm so far.
Source: bought it new
Price Paid: $109

I bought my first one in 2010 for use in my kayaking business in SW Florida. The Kestrel worked fine for measuring temperature, but stopped working when left in a kayak cockpit with an inch of water for about 2 minutes.
I returned it to the company as it was still under warranty and got excellent service as they shipped me another one right away. This one stopped working as well when in contact with water for no more than a minute.
I want to believe the company has a great product but have found it unreliable twice.
Price Paid: $79 on sale

Your Review
Where to Buy
Help support this site by making your next gear purchase through one of the links above. Click a link, buy what you need, and the seller will contribute a portion of the purchase price to support Trailspace's independent gear reviews.
You May Like
Specs
Price
Historic Range: $94.00-$139.95
Reviewers Paid: $79.00-$109.00

Recently on Trailspace