Klymit LiteWater Dinghy (LWD)

This product is well suited for anyone wanting to enhance their backpacking experience by floating or paddling mild rivers and flat water lakes without adding excessive weight to their backpacking kit. This ultra-light product works as advertised with some small caveats. This is one of the most fun things I've thrown in my backpack in some time!
Pros
The light weight is the primary pro, but that's too simplistic. This raft can significantly change the dynamic of a backpacking trip by letting you see and experience areas not easily accessible by foot and with a minimal weight penalty.
Intuitive to maneuver
FUN! (in case you didn't hear me: this thing is FUN!)
Dries quickly
Inflates and deflates quickly
Cons
The design is a bit short for extended paddles with a pack strapped on
backflow valve for seat cushion started failing on fifth inflation, annoying but not a big deal
Single chamber construction leaves little room for error in terms of cut or puncture
Swamps easily in even mild white water
Utility is somewhat limited per recommended uses, UL paradigm changes with expanded use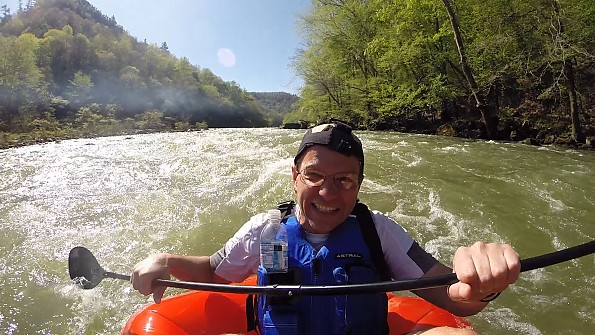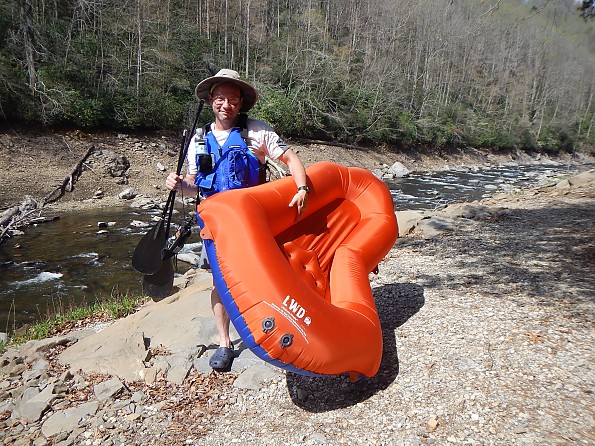 About the raft:
The Klymit Lite Water Dinghy is an ultra light entry into the pack-raft market. The manufactures specs and story on this boat are here.
The primary spec is the 35 oz (992 gram) weight.
The raft inflates with a bag bellows that also serves as a dry bag. The seat has a small air chamber that can only be inflated by mouth (as the bellows doesn't fit it) and must be inflated before the primary air-chamber. There are six tie points for securing a load. There are two dedicated valves for raft body inflation and deflation. It also comes with a patch kit.
About the tester:
I'm an avid backpacker with lots of recreational backpacking experience (check out my trip reports here on Trailspace to see where I go) but comparatively I'm a novice paddler even though I really enjoy the water.
About the testing:
During the review period I was able to take this raft on six outings in the areas I normally only traverse by foot. The areas included Great Smoky Mountains TN and NC, Big South Fork TN and KY, Santeetlah Lake NC, Melton Hill Lake TN, and Nantahala Forest NC. I hiked about 80 miles with the raft in my pack and paddled or floated about 30 while also spending a few hours fishing and playing. I was able to try solid class 2 white water as well.
Most of my testing was done with an Astral Designs Ronnie PFD and Alpacka Ninja paddle; my total kit was about 4.2 pounds when used with a PFD and paddle.
-------------------------------------------------------------------------------------------------------------
Please forgive the amateur video attempt but rather than showing a staged demonstration I've chosen to show these real trip videos of some of my testing trips as they really help demonstrate the product. The middle two have the best trip continuity but all have demonstration value.
This is the first trip at a local state park. This will briefly show inflation and relate the story of the maiden voyage:
This video is an over night pack-rafting trip in Big South Fork and demonstrates entering the raft, a bit of white water fun, and the most convenient portage ever:
This video is the best example of white water usage that I captured:
This video demonstrates the raft with no pack in two different scenarios:
The quick researcher can stop here but more details follow bellow.
-------------------------------------------------------------------------------------------------------------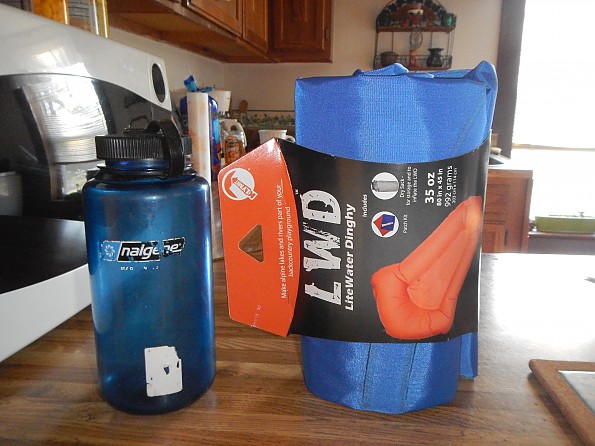 Packing and carrying
I was pleasantly surprised at how little space the raft, PDF and paddle actually took up in my pack. The stated packed size is 4.5 x 9 inches but I rolled it thinner and longer for nice vertical packing. I did have to use my larger bag (70 liter Mystery Ranch Trance) but there was plenty of room for a three day trip.
I used my normal backpacking water proofing system which is individual dry bags inside a contractor's garbage bag. The only change I made from the normal setup was to allow more air into each dry bag (to increase buoyancy) and to use packing tape to seal the rolled top of the garbage bag.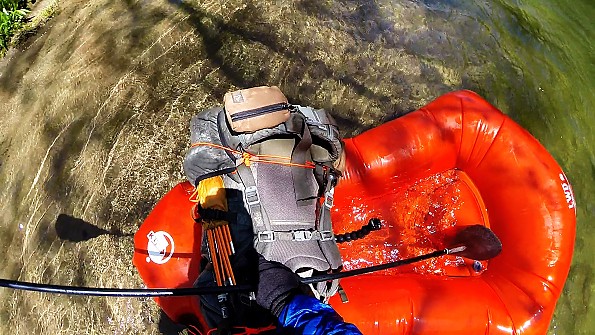 Inflating, deflating and transitions from hiking to paddling:
It takes me about 7.5 minutes on average to inflate the raft using the provided bellows bag. It deflates in 2 minutes if you press the air out after opening the deflate valve. I found the total transition of hiking to rafting and vice versa was about 35 minutes on average. If sunlight is available the raft dries completely in about 10 minutes.
Entry and Exit
The shape of this raft is quirky. You have to learn to kind of fall or hop into the center if you want to keep the seat area dry. If put your weight on one edge it can create a crease that dips below the water line and causes the seat area to get wet. Having a pack strapped in the front seemed to help make dry entry easier by proving a balance point.
Exiting was a similar process except seemed less likely to cause water to come in.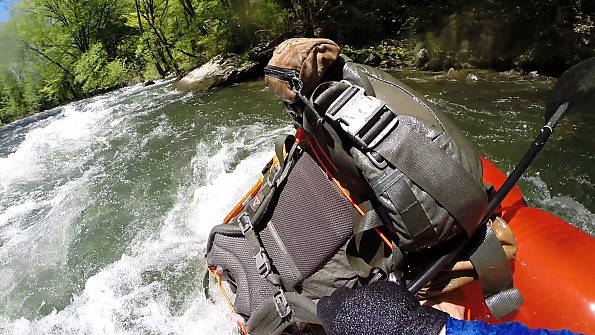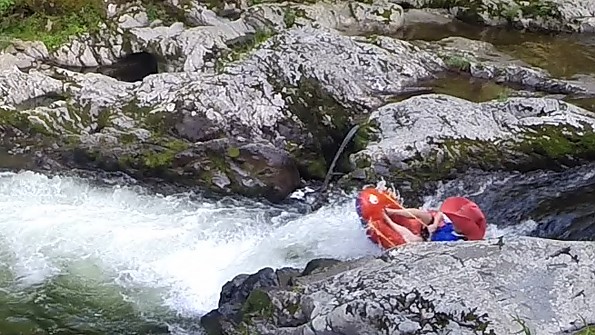 Stability
I found the deign to be terrifically stable during testing. Through poor navigational decisions and contestations with gravity, I found myself in positions that should have encouraged the raft to go ahead and flip over and it never did. In such scenarios it is more likely that you will slide out of the raft before it actually flips.
I found the raft easier to maneuver with the weight of my pack on the front. I also used my pack as a handle on many occasions and it was a primary reason I didn't slide out when in awkward positions but of
course that prevents active paddling and is not conducive to directional control.
I did notice that once the stern passes a certain axis of forward motion the boat wants to spin around. I didn't list this as a detraction because someone with more skill than me might not have an issue with that.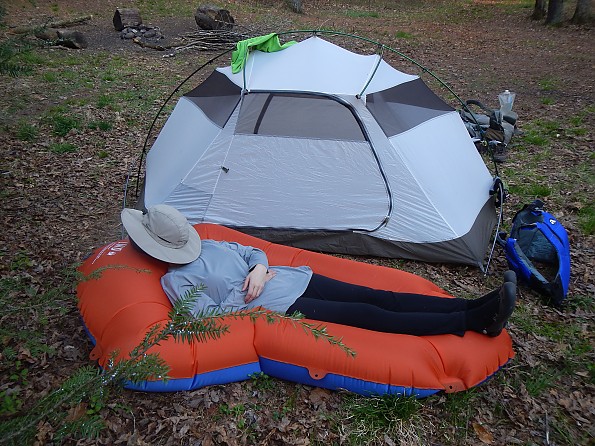 Comfort
I found the raft to be generally quite comfortable if a little short. When I used it with no pack (while fishing or just playing around) it was of course much easier to straighten and flex my legs. On the longer trips where the pack was tied on the front, I had some issues with my legs getting stiff and cramping a bit. Although, this wasn't a problem for me until after the two hour mark and I found that in total, four hours was about my comfort limit for a single paddling session.
The seat cushion adds to the comfort level; the packaging states that the seat protects you from the water but I appreciated it more to protect my bottom on several unintended rock smacking events.
As camp furniture this is as good as it gets I think: My wife fell asleep at one camp after a day of hiking and paddling around the creek.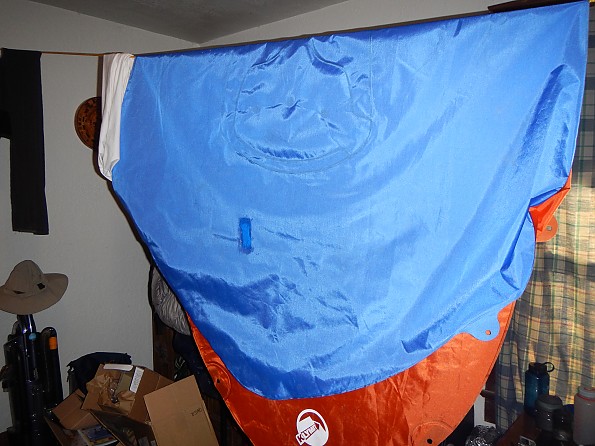 Durability
This topic was an interesting journey of discovery. On my first test, I cut the raft while in the middle of a big lake. I had unintentionally floated up over a sandbar and the water became shallow so quickly I had little time to react. I felt the bottom rub on something (I think it was shale but I'm not sure), heard a hissing sound and saw tiny bubbles.
For some reason only two options occurred to me in the heat of the moment: should I go ahead and untie my pack while I could and try to drag everything along while swimming to shore or should I just keep paddling until it sinks? I chose to keep paddling and go down with the ship. As it turned out, I was able to paddle another 30 minutes with the leak and the boat just started to deflate enough to sink at the very moment I reached shore.
With clarity of hindsight and experience I now know that if you find yourself shallowing-out in an inflatable boat you should get out, get your weight off the boat immediately and walk it back out to deeper water. But after the cut I could also have stopped in the shallows, pulled out the patch kit and repaired on the spot.
In any case, this first impression of frailty caused me some hesitation and concern on subsequent trips; I was worriedly looking out for anything remotely sharp or abrasive and not really enjoying myself. However, after hitting some white water I became swept up in the fun and stopped thinking about what might happen. Before I knew it I had traversed 8 miles of class 2 water and was grinning ear to ear. This pattern continued through several more trips, and I must say I'm now rather impressed with the craft's overall durability.
One small area that fell short with my sample was the backflow valve on the seat cushion air chamber; it started failing on the fifth inflation and still requires fiddling with. The effect is that it's difficult to get a full seat inflation because you can only remove your mouth from the nozzle and cover the valve so fast and a small amount of air escapes before you can close it off. It's mostly annoying but I would rather have that cushion firm.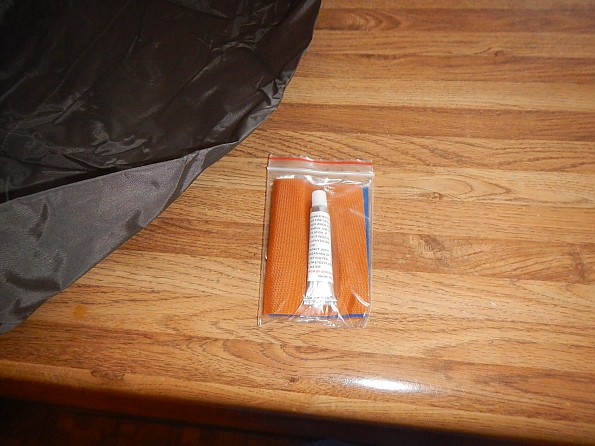 Regarding the patch kit
The patch kit does not come with any instructions whatsoever nor are there any on the Klymit website as of the time of this review. The only writing at all is the toxicity warning on the glue tube. While intuitive to use, there should really be some indication of how long the glue takes to set before putting the raft back in the water.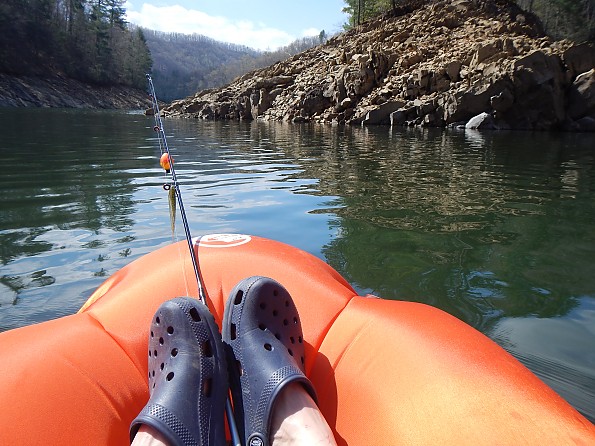 Fishing from the LWD
I didn't do much fishing but can recommend bringing some kind of anchor if you want to fish from this boat as it does tend to drift quite a bit. Be careful with hooks on an inflatable boat!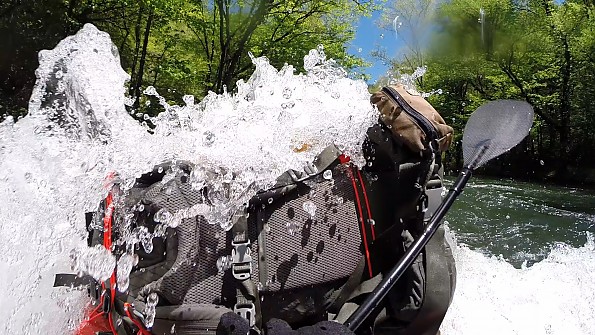 White Water use / Expanded use
I think Klymit knows what it has with this product and has represented it quite accurately in title and marketing; although the Class 2 rating is true it probably should have an asterisk. The cardboard packaging states: "Recommended uses Class 1or 2 water", while the web site says: "Rating: Class 2: We recommend the LWD for conditions from mild flat water to very wavy water with easy avoidable obstacles."
Even mild Class 2 water will swamp this boat quickly and fully. You will become "one with the river" whether you want to or not. The bright side is that even with the boat completely full of water it never sank or became a real problem (except in cold water).
I weigh about 160 lbs and my pack was around 30 for most trips so this may not be true for all users. Once understood, the limits can be stretched with more challenging water; but the UL paradigm changes by requiring a decent paddle (which may weigh more than the boat), a Personal Floatation Device and possibly a wetsuit if used in cold water with rapids.
I hope this review helps you make a more informed purchase decision!
Source: received for testing via the Trailspace Review Corps (Sample provided by Klymit for testing and review)

I use it in the sea, and I like it. It's light, easily packable, and it holds its own quite well once in the water.
Pros
Light
Portable
Easy to set and pack
Dries fast
Feels safe in the water
Not expensive
Cons
The cockpit embarks water easily
Affected by crosswinds
Only one air chamber
I became attracted to the concept of packrafting since the first time I knew about it. The idea of a boat you can carry with you everywhere really turned me on. The problem was that most packrafts are quite expensive... until I found the Klymit Litewater.
I ordered it via Amazon. I was a bit worried, as it had to get through Spanish Customs, but it arrived O.K. I use it in the sea, both in the Spanish Mediterranean and Atlantic shores. I've been using it for a year now, and I'm really pleased with it.
The first problem is how to get in without embarking water: the best way I've found is to put the boat between my legs and then let myself fall in. Easy in a beach, but I don't know about a river bank...
The paddling position is confortable, although it can feel cramped after some hours paddling. If you use hard strokes, the boat tends to zigzag, a gentle but steady paddling rythm is the best way to advance fast. Obviously, it's slower than a "true" kayak, but not as much as you would think.
It handles waves quite well, but it's easy that water gets into the cockpit. If you get a Klymit Litewater, simply assume that your butt will get wet.
I've used it with choppy sea, tidal currents, and crosswinds, and the boat always felt safe. The main problem is that, as it has no skeg or keel, it gets carried easily in crosswinds: for each metre forward, you also travel one metre in the direction of the wind. If you are heading for a large beach, this isn't a huge problem, but don't forget it.
After a year with the Litewater, I am really pleased with it. From May to November, I always carry it with me: a small Decathlon backpack can hold the boat, a collapsable paddle, swimming trunks, a small beach towel, a spare T-shirt, a raincoat and all my usual gear (wallet, keys, cellphone...), so, if I have two hours left and I feel in the mood, I just have to head for the nearest beach, inflate it, and start sailing.
Experience
I didn't have experience in packrafting, but I have quite a lot of experience sailing and some experience kayaking.
Source: bought it new
Price Paid: 170€

This is one of the most fun things I've thrown in my backpack in some time!
Check out my new review on YouTube.
Pros
Lightweight
Robust
Comes with dry bag
Dries quickly
Cons
Single chamber construction leaves little room for error in terms of cut or puncture
Here you can watch the review. Have fun.
Source: tested or reviewed it for the manufacturer (I kept it / SCE Consulting and Equipment / Timber Outdoor)

The author of this review received a sample of the product from the brand or its representative in exchange for a review.
OK, but not robust.
We don't have much water—even less white water—down here in Australia, but I decided to buy a LWD anyway.
I've taken it on two Lilo trips down the Colo River (near Sydney) and while it definitely outperformed the conventional Lilo, on the second trip it developed a leak in the seam between the main chamber and the otherwise un-inflated floor. There was also air escaping from this leak to the outside.
There does not seem to me any way to repair such a leak as it's in the heat sealed seam.
Hmmmm
Source: bought it new
Price Paid: AU$250

Your Review
Where to Buy
Help support this site by making your next gear purchase through one of the links above. Click a link, buy what you need, and the seller will contribute a portion of the purchase price to support Trailspace's independent gear reviews.
You May Like
Specs
Price
MSRP: $199.99
Current Retail: $199.99
Historic Range: $99.95-$224.95

Weight
44 oz / 1270 g

Capacity
300 lbs

Material
210D polyester

Dimensions
76 x 45 x 9.5 in / 193 x 114 x 24 cm

Packed Dimensions
9.5 x 5.75 x 5.75 in / 24 x 15 x 15 cm

Rating
Class 2: We recommend the LWD for conditions from mild flat water to very wavy water with easy avoidable obstacles.

Recently on Trailspace