Klymit Motion 35

The Motion 35 has been discontinued. If you're looking for something new, check out the best overnight packs for 2023.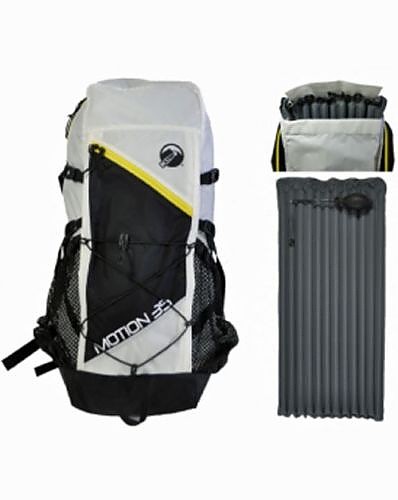 Klymit has hit a homerun with its 35-liter Motion pack! This lightweight day hike/overnighter pack is very easy to wear, tough, and comfortable! I have never had a backpack that I routinely forgot that I was wearing like I do this one.
Pros
Comfortable
Did I mention comfortable?
Well-designed
Simple
Waterproof zippers
Water resistant fabric
I forget that I have this pack on
Cons
Not waterproof
Deep compartment with narrow top zippers
Learning curve to learn how to fine tune inflatable frame sheet
Inflation squeeze bulb will fall off tubing
No hydration port access or bladder sleeve
White fabric gets dirty pretty fast
The keystone feature of this pack is the adjustable sheet frame. Klymit is cashing in with its air pad technology and innovative design in this remarkable, lightweight pack.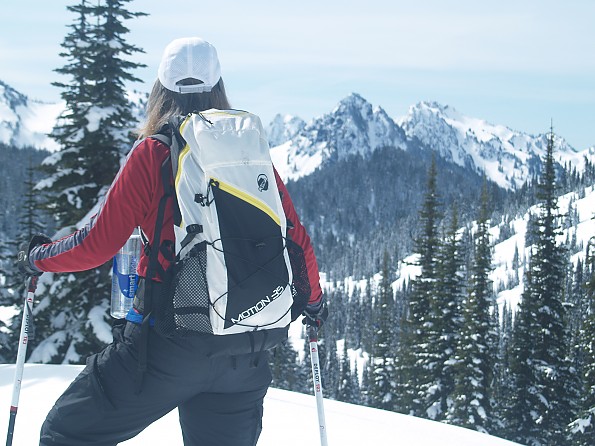 FIT:
The pack I tested is rated small/medium, and I would say it is true to size. I am a "medium size" woman, and it fits really well. I asked my 6' male co-worker to give the pack a go, and he really did need a medium/large.  The pack does not need to be considered gender-specific.
Per Klymit:
Weight 1.53 pound (695g)
Volume 35L +3L pocket
Waist Size 28-40 inches
Torso Length 16-20 inches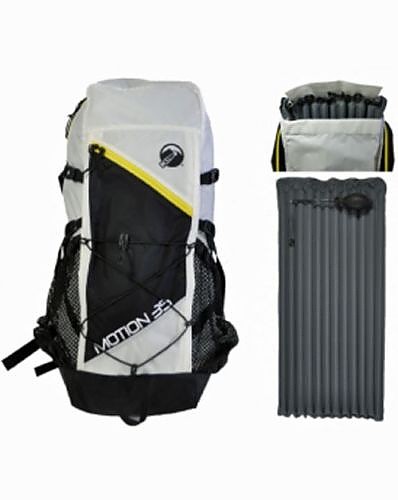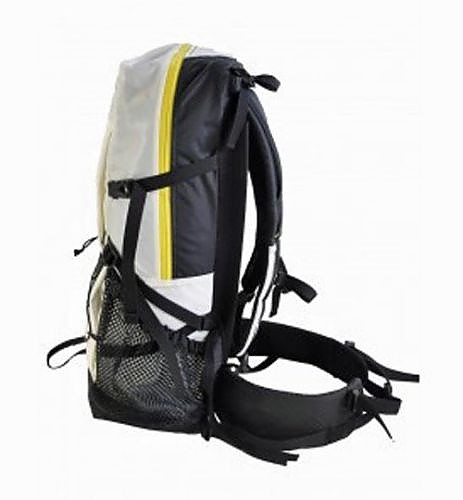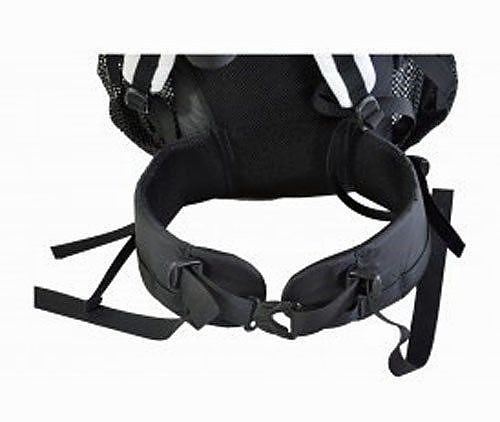 These stock photos are better than the ones I took. These show the features better than mine.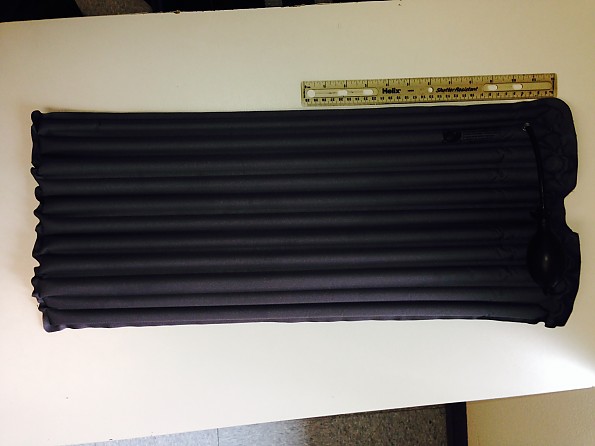 Comfort:
When I first picked up the pack, I was VERY skeptical about how lightweight the strapping looked. The shoulder and hip straps are very lightly padded. The pack "looked" frail. I was delightfully proven wrong in the comfort of this pack! 
I knew I would have a learning curve with this pack to maximize the frame sheet element. So, I underfilled the pad at first, then got it adjusted. One day, I intentionally overloaded the pack to test, and the pack felt awful. Then I realized I hadn't adjusted the frame sheet pressure. Once I did that, I literally felt the relief of the pack fitting as though I had it customized.
The vented back panel allows heat to escape. I honestly didn't notice the pack heating me up. During the winter/spring wearing layers and jackets, I didn't feel like the pack was another jacket like I have with some packs. Even when I am carrying the pack with just a shirt, I have never felt over-heated. The pack is designed to breathe, and I feel like it does a really good job handling body heat.
The pack also moves very naturally with my movements. At first glance, the straps and hip belt look flimsy, but what I discovered is the straps form to my body, making the pack a part of me and hence my motions. I believe that the design of the straps is exactly why this pack rides so well. I truly forget I am wearing it.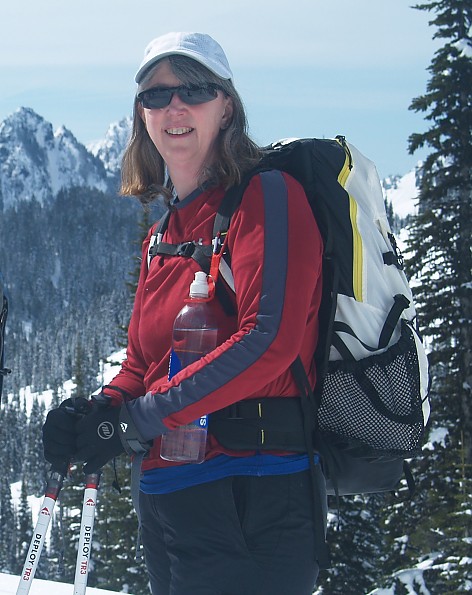 Organization & Accessibility
I was not expecting this super light pack to be burly enough to handle a 30-pound load. The pack is rated for a top weight of 35, and I would agree to that being its top end. In fact, I would probably consistently not go over about 25 pounds. I found the pack would begin to sag and pull since it is designed to be so lightweight and simple. But the pack handles the 25 pounds really well.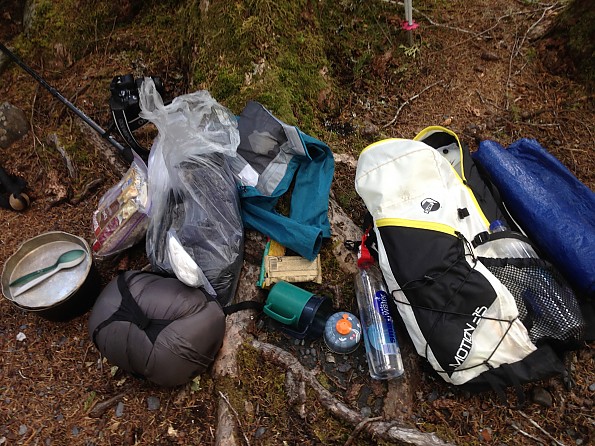 The pack is a very simple design. This pack just simply opens and the owner has to fill it as full as he or she can get it. It has a zip top that opens to about halfway in the main compartment, and the second pocket located on the front has a simple top zip that opens on a slant.
Since it is just one big sack, the pack swallows gear easily. Unlike some packs that are rated to certain sizes, where the owner has to be some Houdini to get the gear packed, this pack is the model of simplicity.
Ride:
This pack, being a basic "bag style" needs to have the contents loaded evenly within the pack. If it is loaded symmetrically for weight, it feels very comfortable and stable.
As noted earlier, the top end it is designed to carry is 35 pounds. That would be its true limit. Klymit hit that sweet note of using light but sturdy materials, but the load needs to reflect the intended design of the pack.
The inflatable frame sheet does a remarkable job of making different weight loads stable. To me, this feature makes using this pack worth using!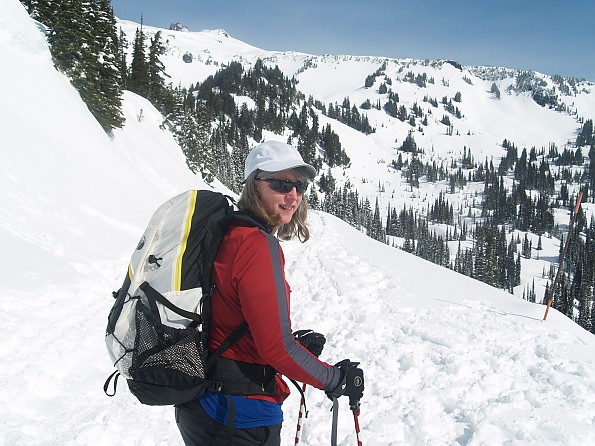 Compression: Does the pack adjust well to different loads?
Klymit uses a "V" style lower compression strap. The lower end is sewn into the inner side pocket and comes up and connects above the pocket. The other strap is set a couple inches about that.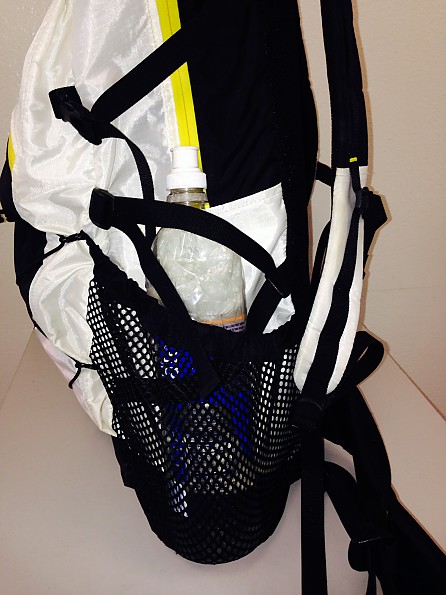 Ease of Use
As noted, the pack is the model of simplicity, which makes it work very well. I have filled up and released the frame sheet, intentionally tugged the zippers, overfilled the pockets, and pushed the pack to emulate real-life and/or careless conditions. The pack has demonstrated a real toughness and durability during the testing.  I have not noted any stretching, pulling, or breakdown of any element of the pack.
I do think it would help if the top zipper opened three inches more on the top to fold the top open more. It wouldn't really change much about the bag except for ease of getting into it.
The one strange element that I didn't like is the frame sheet has to be folded over about 4" to fit in the frame sheet pocket.
Features:
Since it is essentially a fancy "bag", the pack stows gear easily. The two side pockets will hold two slender water bottles, or one Nalgene and one slender bottle. Thus, it will hold Nalgene-sized air mattresses, tent poles, or even super-compact tents.
All of the strapping and belts are made with very light materials. The hip belt is not really padded, nor are the shoulder straps.  The hip belt nor the straps are detachable, but they are quite adjustable.
As noted, Klymit has kept the basic design quite simple. It has waterproof zippers (but the fabric is NOT. It needs to be waterproofed) The pack also has a small item pocket in the front, with stretchy lashing laced across that.
The only time I found this design to be a problem was when I intentionally put over 30 pounds into the pack. While the pack is rated to hold this much weight, I found the straps really started to pull and sag. I would not suggest loading the pack that full.
Construction & Durability:
I took this as a fast-n-light pack on a three-day backpack trip to the Olympics to Enchanted Valley. I filled it pretty full with my own stuff, then I loaded more into the bag as the weekend wore on when I realized that my husband had over-packed, and he was getting tired.
Sunday it just poured. While we were prepared for rain, much of our gear got soaked like we expected — like the tent and tarp. So, when we loaded up to hike out on Monday, I loaded up very wet gear into a dampened pack.
The pack was awesome.
I was really hoping the pack wouldn't break down, get soggy, pull, and so forth on my long hike out. It did NOT.
Conditions: Where, when, and how long have you used this gear?
I started using the pack during all of my training hikes as soon as I got the pack early this spring. 
It's been up snowshoeing on Mt. Rainier. It was the perfect day pack size!
I also made a decision to take in on a three-day hike to the Olympics. While it worked out, at least for me, this needs to be a summer pack where I don't need as much rain protection. But, if it were not for the inclement weather, I found it plenty big enough to carry my summer gear list.
Like all equipment that has adjustments, the user has a learning curve to figure out how each adjustment works. 
For comparison, I have an older REI 40 L pack. I have used this pack on fast and light trips, travel, and it's my go-to winter day-hike pack. The pack features padded straps and belts, little pockets, extra strapping, etc. 
But while it is feature rich, and does even compare to the comfort of the Klymit. 
What Klymit has trimmed for weight, it more than makes up for in wear-ability.
This is a terrific lightweight pack that acts like it's a ton burlier and heavier than it is. It gives great performance all on its own, and as a  lightweight, gram-weenie pack — it performs out of this world!
This is my new go-to fav in my backpack arsenal!
Source: received for testing via the Trailspace Review Corps (Sample provided by Klymit for testing and review)

Your Review
You May Like
Specs
Price
MSRP: $149.95
Historic Range: $49.95-$112.45

Weight
1.53 lb / 695 g

Volume
35L +3L pocket

Waist Size
28-40 in

Torso Length
16-20 in