Koflach Arctis Expe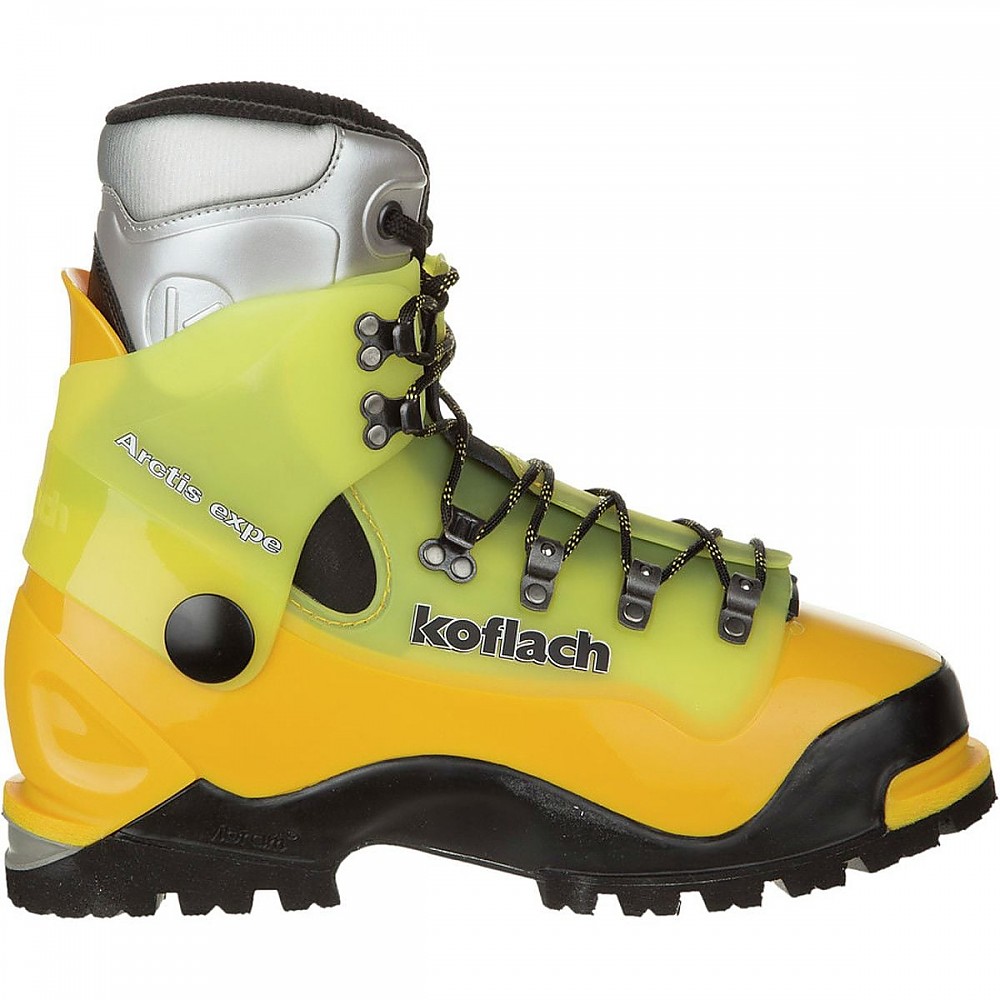 Easy to walk in.
Pros
Tough
Waterproof
Inserts removeable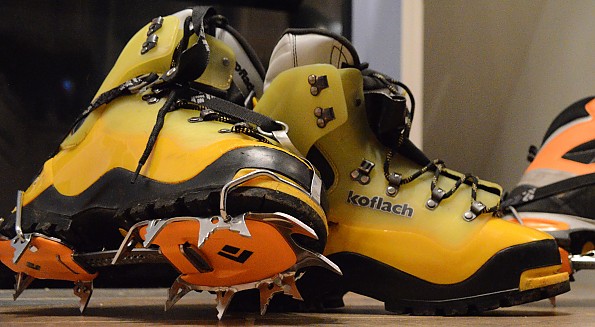 I take a size 10.5 in my summer hiking boots and the 11's with Smartwool mountain socks fit great.
I bought these boots for camping because you can take the inner boot with you in the sleeping bag and they are sturdy also for hiking in the White Mountains.
The weight of the boots doesn't bother me, but I found that the inner boot rubs below the calves so I wrap them. I'm guessing it's because I have skinny legs. I have used them three times, once camping in about negative 10 degrees and my feet did feel the cold slightly. The other two times was hiking in the White Mountains, about 0 degrees and recently hiking Mount Osceola and it was about 10 degrees.
Crampon use is easy, once you've done it a few times.
Update November 2018: It has been about seven winters and the inserts will need to be replaced. I'm still using the same boot laces and the soles look good.
I have used these boots every time it's below 20 degrees.
Used them on Mount Washington, overnight hike the Bonds, overnight hike the Wildcats, and a Mount Katahdin seven-day hike, not the best boots for the long road walks to the trailheads.  
Source: bought it new

The Koflach Arctis expedition mountaineering boots is made for extreme cold weather conditions. It has been a popular choice for many climbers for trips such as Denali, Elbrus, and the Himalayas.
Pros
Extremely warm
Liner insert helps to dry the shoes faster if needed
The plastic outer shell construction is virtually indestructible
Cons
They are huge and will take some getting used to the clumsy feeling
They are not meant for very technical routes
The Koflach Arctis expedition mountaineering boots are made for extreme cold weather conditions. It has been a popular choice for many climbers for trips such as Denali, Elbrus, and the Himalayas. I have used it in -7°F weather at Mt Rainier and Mt Whitney, and they kept my feet very warm.
The double plastic construction is practically indestructible, and the liner insert shoes will help in drying the shoes faster if required. I can do class 3 moves and some class 4 moves; however, they are very big, so keep in mind that they are not designed for extremely technical routes. They are meant for deep snow conditions.
Source: bought it used
Price Paid: $150

Used these boots in 2010 for 4 years and they were superb and particularly warm and dry. By 2016 after being in an airconditioned closet for 4 years, the plastic shells had cracked so badly they had to be replaced. Replaced shells, used once in 2017 and by 2022 had cracked and torn so badly that they were useless and need to be replaced again.
Pros
Warm and comfortable with the inners being perfect
Usable outdoors in the snow around the tent
Cons
The shells are definitely the weak point and after having had two sets of boots, both of which have had to be replaced, it appears the plasticizer in the plastic shells leaches out within a few years and the shells fall apart.
For a couple of years I would consider these are the best boots available but they degrade very quickly to terrible when the shells disintegrate when the plasticizer vaporizes or disappears from the boot shells
Background
Used on Aconcagua, Cotopaxi, and several other Andes climbs and they were superb with and without crampons till the shells cracked and had to be replaced. Second set used in the Himalayas once and once in Norway and after 4 years the shells cracked and became unusable.
Source: bought it new
Price Paid: $350

I have had these boots for 8 years. Climbed around the Cascades, up Rainer, in Canada and they are hands down, the most comfortable and reliable. I have never had any foot problems, i.e. blisters. They are flexible and easy to walk in, whether glacier scree or pavement, they walk about as easy as any hiking boot.
They are a cold weather boot though. On Rainer my feet were hot and sweaty, even in 10 F weather. Awesome for ice climbing. I use a rigid frame crampon and they make front pointing a breeze. A couple of things that are irritating are that the black rubber toe welt started separating early from the yellow plastic and the top edge of the liners where the black inner lining meets the silver plastic edge wore through. So now the foam insulation sticks out, but who cares, its under the gaiters.
Overall a superb boot, bummer that Koflach isn't importing boots anymore.
Materials: double plastic
Use: mounteering, ice climbing
Break-in Period: Short!
Price Paid: $325

I purchased these 30 cm monsters in Japan (where I live and climb), mainly because there was no other boot that would fit my feet. The shop owner threw in an extra pair of liners 'cause customers for this particular size range are evidently far and few between. The extra set is one size down and fits with single socks and possibly from an older model i.e. velcro, no laces.
Have used the boots for three seasons. Here's what I've learned about them:
1. Super warm. I've used the smaller liners 90% of the time, even in -18 to -20c temperatures. Have started using the lace ups only because the smaller ones have begun to rip apart near the velcro wings and sewing by hand has proven ineffective. The lace ups require double socks, are too warm and end up getting very wet inside (the moisture from using the smaller liners with one pair of socks for a week one time was tolerable, though my partners may not have thought so).
2. Super rigid, so great for front-pointing vertical ice and rock. They fit my feet perfectly so there's no problem with slippage.
3. On the other hand, the rigidity rapidly brings on Koflacitis to my shins if there's any extended walking involved, basically every time I use them. Flat snow or rock is ok, but any uphill walking turns me into a duck. Likewise, descents are particularly uncomfortable and scary, as I either have to take the punishment or allow the boots to throw me off balance as I step down. Experiments with lacing don't seem to help.
4. The shells started peeling after 2 seasons. Paper thin sheets @ 3x4 cm. Not so big and not cracks, but it does cause me some concern.
If it weren't for the discomfort caused from walking I would consider these boots again as I'm satisfied otherwise, but I'll be looking closely at the latest single construction synthetics for next season.
Materials: Plastic
Use: Mixed Alpine, Ice
Break-in Period: None - they're rigid
Weight: unsure, but they're definitely big
Price Paid: approx $350 US

I thoroughly enjoyed these boots for the three+ years that I had them. They were incredibly warm even in the coldest temps. I've used them trekking up through talus, on snowfields and glaciers, and on vertical ice.
Which leads me to the end of my boots. I was climbing a pitch of vertical ice and one of my boots cracked on the top front over the toes. Luckily, I wasn't on an expedition.
In their defense, they still kept my feet dry after I stepped into a creek on the descent!
Break-in Period: Quick to break in
Weight: Worth the weight

These boots rock! People may whine about them being heavy compared to leathers, but it simply isn't a factor. I haven't noticed them being heavier than leathers once they're on my feet. I've ice climbed in them several times now and they frontpoint better than my La Sportiva Nepals. As for walking around they have enough of a rocker sole to be comfortable. Plus, when winter camping you cannot beat the removable liners. No cold feet again!
Price Paid: $270

Классные ботинки для покорения вершин зимой. Рекомендую.

[Google Translate: Cool shoes to conquer the peaks in the winter. I recommend.]
Очень теплые. Удобные во время ходьбы. Не пропускает воду и удобны для одевания и зашнуровувания. Реально класные ботинки. Кошки держатся плотно. На высоте выше 6000 метров показывают себя комфортными и теплыми. А в зимних Карпатах даже жарко в них. Поэтому рекомендовал бы их для высот за 5000м.  
[Google Translate: Very warm. Comfortable while walking. It does not let water pass and is convenient for dressing and lacing. Really great shoes. Crampons keep tight. At an altitude above 6000 meters, they show themselves comfortable and warm. And in the winter Carpathians it's even hot in them. Therefore, I would recommend them for heights of 5000 m.]
Source: bought it used
Price Paid: 330$

They are back in business in 2011.
Guru Dane Burns wrote:
Wet or cold this boot will do both with ease. Still light by modern standards but unchanged for a few years now. Still one of the best all around endurance ice boots available. Alaska alpine ice or the big faces in the Alps ... this one will do both better than the modern stuff.


They dry much easier then Baturas when wet (my own experience!!!).
They are flexible to walk in. Use them on your approach skis.
Compare them with the Baruntse?
They are warm.
Price Paid: € 480,-

Perfect for high altitude, alveolite liners keep my feet warm to the top of aconcagua (22,837 feet)
hard lowers offer extreme warmth and soft uppers walk really well. My favorite boot of all time. :)
Materials: plastic
Use: extended expedition, high altitude, steep ice
Break-in Period: 2 weeks
Weight: 5 lbs 12 oz
Price Paid: $380

Your Review
Where to Buy
Help support this site by making your next gear purchase through one of the links above. Click a link, buy what you need, and the seller will contribute a portion of the purchase price to support Trailspace's independent gear reviews.
You May Like
Specs
Price
Historic Range: $79.96-$449.00
Reviewers Paid: $150.00-$380.00

Upper
Pebax

Sole
Vibram Dalaugiri

Lining
Arctics Expe HA

Sizes
4-12.5 UK

Weight
1290g (half pair size 8 UK)

Recently on Trailspace