Kurgo Journey Air Harness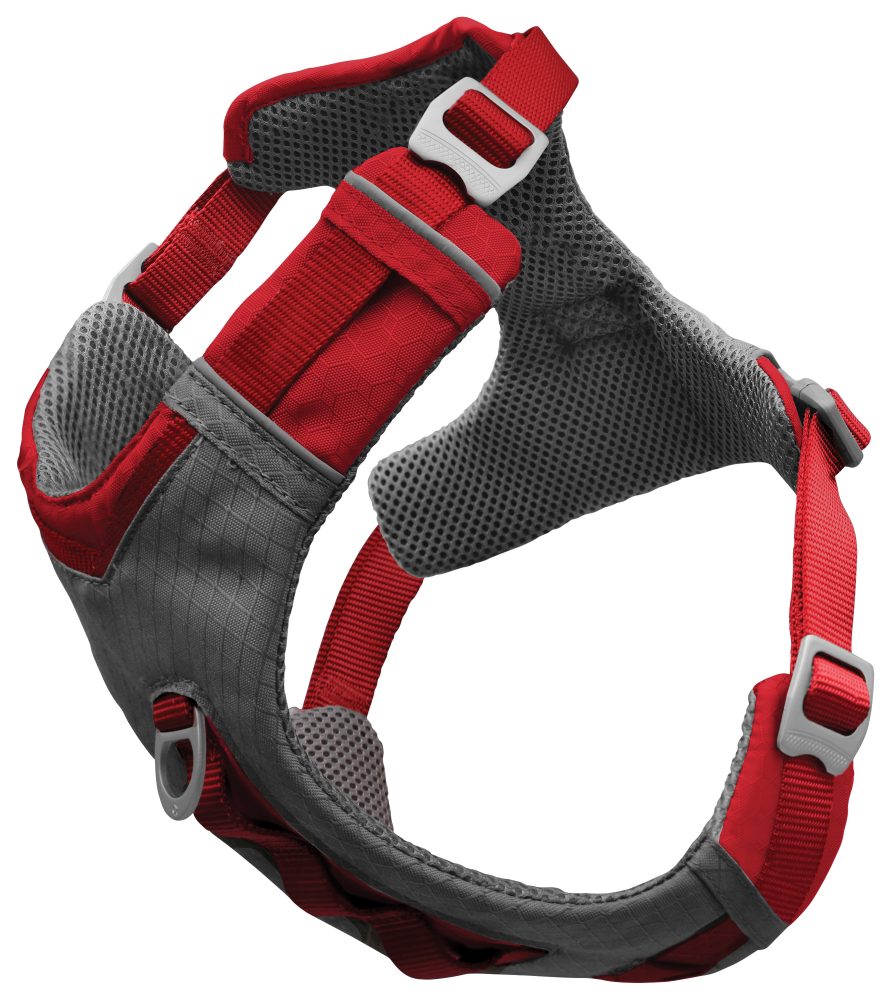 The Kurgo Journey Air harness is a lightweight (8 oz/ 226 gm) dog harness designed for outdoor dogs who like to hike and snowshoe, romping through woods and streams. According to Kurgo, the Air Journey is an upgrade from their Journey harness; this newer version has more padding, and is made lighter by the use of aluminum hardware.

We have been testing this harness on Edgar, our 55-pound lab mutt—who is an active, tough, serpentine hiking, pucker-brush plowing, often hard pulling adventure dog—since the end of May 2020. Year-round, Edgar is out hiking 3-4 days per week on the trails of Vermont, New Hampshire, and the Adirondacks. While hiking and snowshoeing, each of our dogs is always on a trekking line, connected to us, so a well-fitting, strong, and reliable harness is essential.

We hike in all conditions, so this harness has had a good workout so far. I like this harness, and more importantly, Edgar seems to also. It is comfortable for him, provides solid security, and seems durable despite its lightweight ventilated construction. We have successfully and confidently used this harness throughout the summer, fall, and into early winter, on our daily hiking and snowshoeing outings.
Pros
Lightweight
Padded harness body
Dog appears comfortable while wearing
Works well over a winter jacket
Cons
Unpadded webbing sections
Leash attachment ring not completely compatible with other brands
No ID tag/name plate area
Edgar is an active outdoor dog, who participates in hiking, snowshoeing, paddling, skijoring, and kicksledding. He, and our other dog Gryphon, has a number of activity-specific harnesses, but the style harness that he uses most frequently is a hiking harness. We were excited for the opportunity to test out a Kurgo harness this spring. We have successfully used Kurgo products for years (such as car seat covers, car restraints, bowls, leashes), but neither of our dogs had used a Kurgo hiking harness before.
We are pleased to note that Kurgo, a company founded in New England and based on experiences hiking with dogs in Vermont, really does give back to the dog community. For example, the Kurgo Foundation "assists organizations that help people explore the world together, as well as organizations that help dogs in natural disaster situations".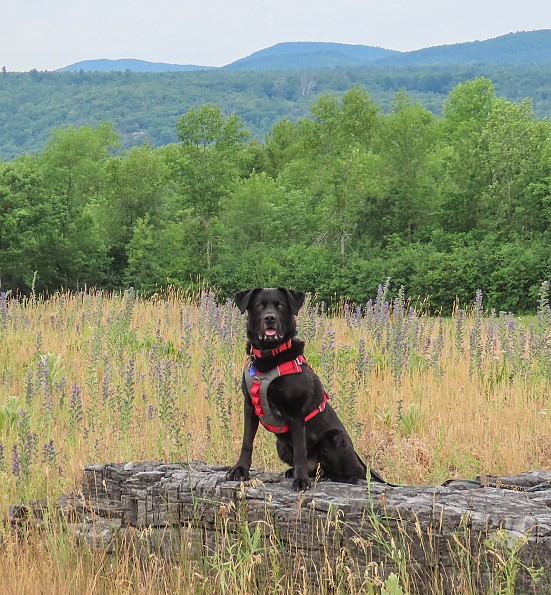 DESCRIPTION AND DESIGN: 
The Kurgo Journey Air harness is designed for active dogs, who may be hiking, going for walks, or running with their owner. It is available in five sizes XS (5-10 lb) to XL ( 80-100 lb). The harness is easy to put on (put the back side over the dog's head, and the chest side underneath the dog, then fasten the Nifco Brand plastic quick-release buckle on each side) and is adjustable at four points (two on each side). The harness is lightweight (8 oz.) and is constructed of a durable fabric made of rip-stop fabric with a soft and breathable mesh interior.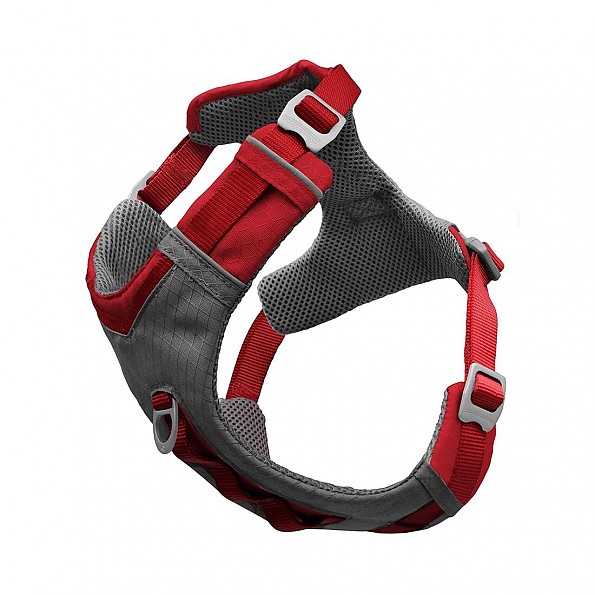 The harness has a leash attachment on the back, as well as on the front chest plate area. The attachment rings and adjustment sliders are aluminum, so they are rust-free. The harness has what Kurgo describes as an "athletic cut"; it has a deep V-neck that is designed to keep the dog's shoulders free to move with a padded chest plate with outdoorsy looking webbing loops.
Kurgo suggests that these webbing loops can also add a layer of protection for dogs running through heavy brush, brambles, or marsh grass. Though some may attach an item (such as a bell) to these loops, we would not want anything hanging from our dog's chest area. The loops would make a good spot to attach a wrap-around light, for added nighttime visibility.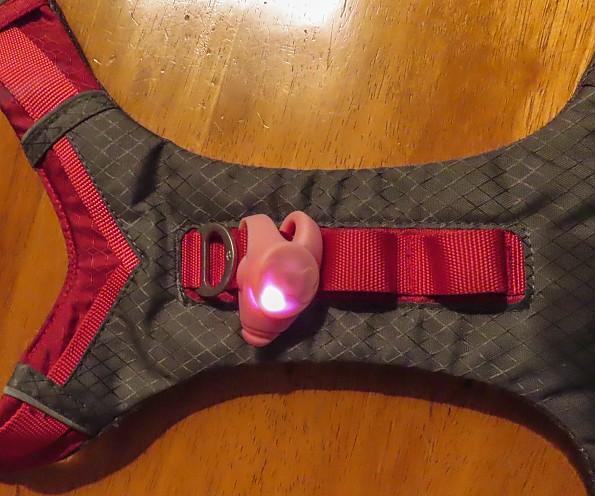 The harness has an easy to grab handle on the back, which can be very helpful in assisting a dog over obstacles, or as a place to grab should you need to restrain your dog. Such a harness handle can also come in handy if you have an older dog, or one with physical challenges that needs the extra assistance.                                            

The four harness straps are constructed of 1-inch wide (2.5cm) flat webbing and are unpadded outside of the areas where they are positioned over the harness body.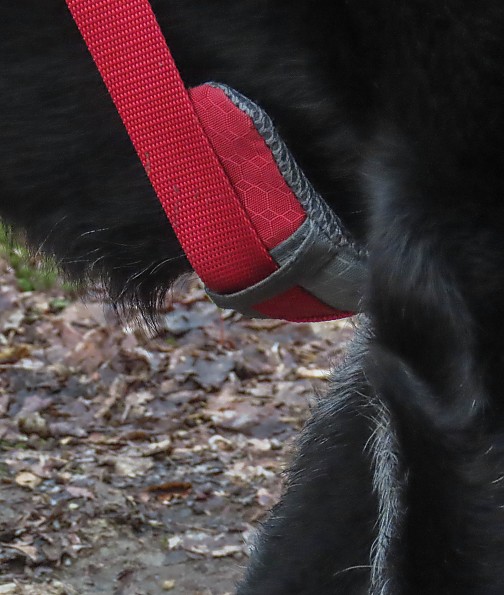 There is reflective piping on the harness, providing nighttime visibility. The harness is available in three colors (red, black, or blue…no clever "appeal to owner" color names). We are testing the red, a perfect complement to Edgar's other red gear.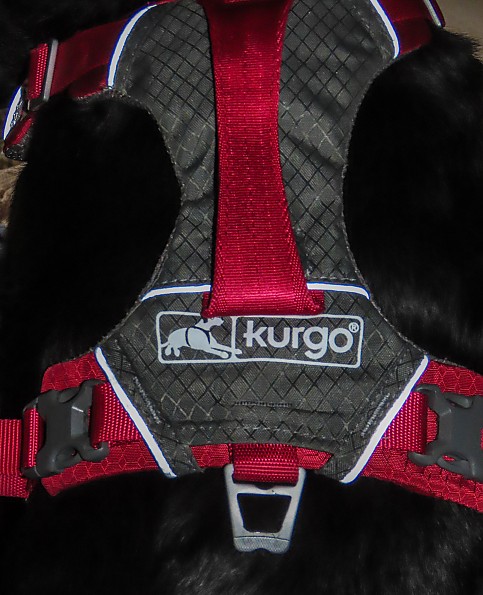 The description of the harness does not specifically mention that it is waterproof, but any dog harness would be subject to getting wet from surface water, as well as by immersion. Kurgo does say the harness is machine washable. There is no designated name plate area.
As other Kurgo products, the harness is covered by a lifetime warranty. The harness arrived attached to a neat little doggie coat-hanger…which we now use for hanging up dog bandanas and harnesses to dry. It also comes with an attached 7-page guide (multi-lingual), describing the warranty, sizing, how to put on and remove the harness, adjustment tips, and description of the key features of the harness.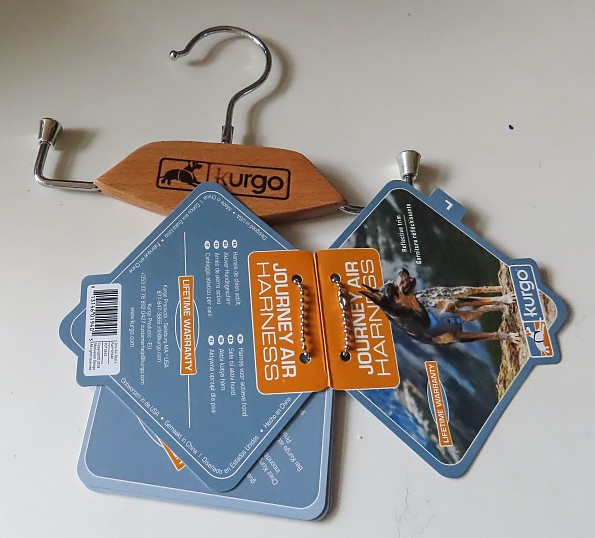 FIT AND SIZING
Edgar is a lean, medium coated lab mutt, who weighs 55 pounds. His neck size is 19 inches (48cm) and he has a chest of 28 inches (71cm). This harness is available in sizes XS to XL (see chart below). He is testing the size LARGE Journey Air harness. His size puts him at the lower end of the sizing spectrum for LARGE.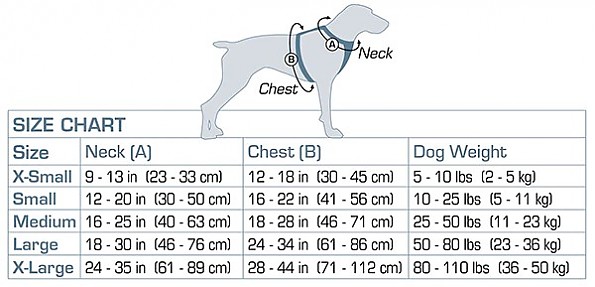 The harness, adjusted to its smallest size, may be a smidge large for him. However, it does hold him securely, does not irritate him at all, allows for freedom of movement, and has easily permitted his wearing a winter jacket under the harness. No snow was found to accumulate under the front harness plate. The harness that is just a bit large in front adjustment is preferable to a harness that is too small; the maximum strap adjustment allows the harness to be used safely and comfortably.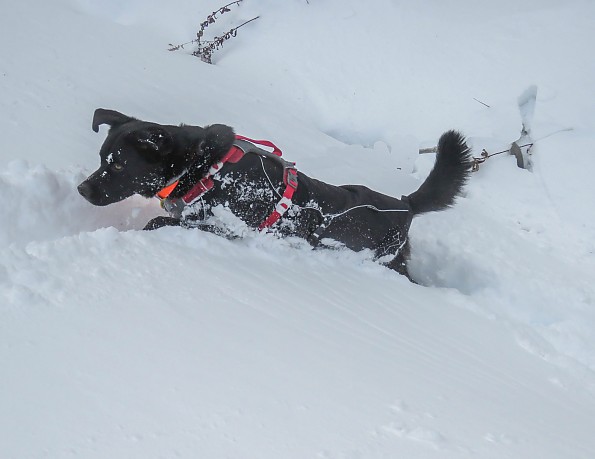 Our other dog Gryphon, at 74 pounds, with a very thick neck ruff, is at the upper end of the LARGE size range. For Gryphon, the harness is a bit small, and if we had selected a harness for Gryphon to test, we would have selected the XL size. The LARGE side has too much unpadded strap webbing, and binds around his shoulders. He would be unable to wear one of his jackets beneath the LARGE harness.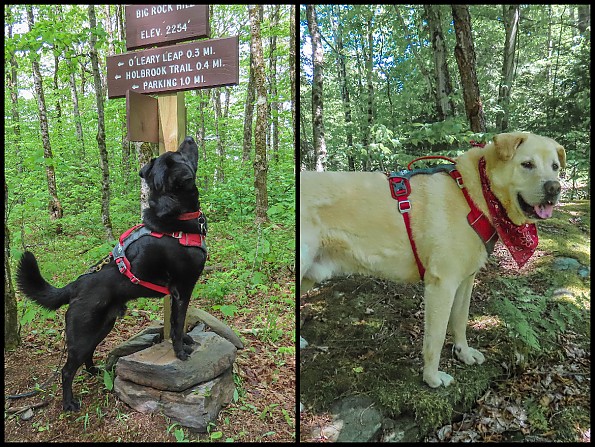 A dog harness should fit snugly, but should not be restrictive or binding. We like to have two-fingers worth of wiggle-room between the harness and the dog's body. Whenever we try a new harness with the dog, we check regularly for any points of irritation of chafing; with a furry dog such as Edgar, that means giving a good visual and manual examination of the dog's back, chest, neck, and under his legs. Despite the fact that there are sections of webbing that do not have padding, we have not noted any spots of concern on Edgar.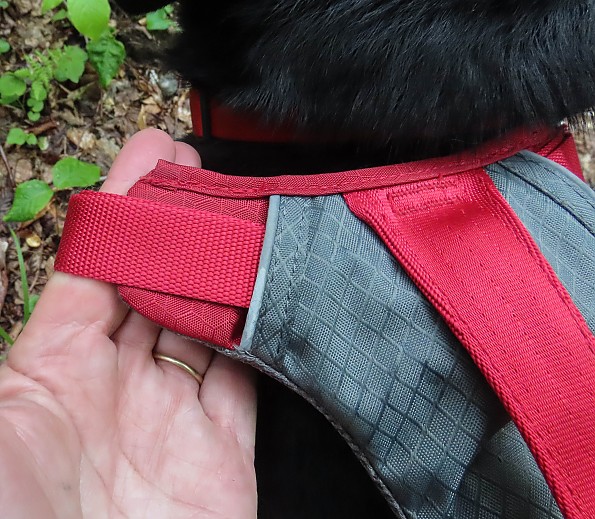 This harness has four adjustment points, allowing you to select the proper fit and position at the shoulders/neck, and at the torso. We found that the sliders on the webbing make adjustment easy, and the back straps (chest area) fit Edgar quite well.
The front straps, when tightened to their shortest distance, still allow a bit more space and room in the harness than we may prefer. However, since this harness is used for hiking only, and is not a pulling harness, we are comfortable with a bit more "wiggle room". It has not affected the performance of the harness while hiking, other than when we lift Edgar by the back handle. During this action, there is a bit of "sag" noted, and Edgar hangs quite low below the handle. Since Edgar is quite agile, and loves scrambling and leaping over streams, we rarely have to carry him.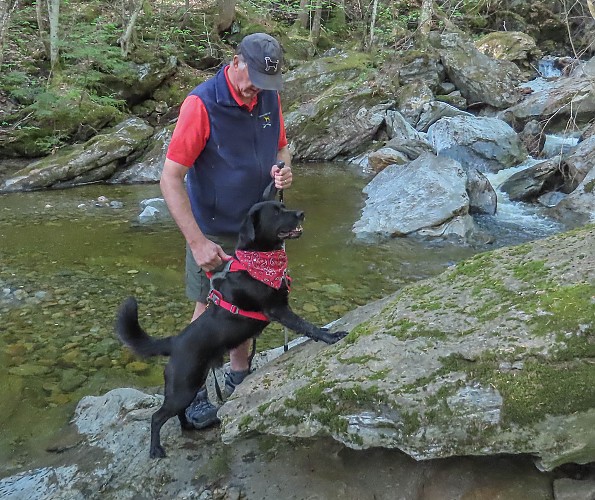 PERFORMANCE: Edgar is technically my husband's dog, and he is the one most frequently at the tail end of Edgar's line. However, I frequently take Edgar out hiking solo, so each of us has had a chance to use this harness with Edgar.
With Edgar we need a harness that is strong and durable, yet lightweight, which works well with our trekking lines. We hike in all weather conditions, and our dogs get wet, muddy, and snowy; a harness should be resistant to degradation when wet. It should also provide enough ventilation and air flow, so that in hot conditions, it does not create a warm layer over our dog's thick coat.
For security and safety, the harness needs to have a strong leash attachment point. Though he has improved greatly as he ages, Edgar still can be a bit of a puller, and can put incredible force on a leash or harness if he decides to pursue a chipmunk!
The harness must also be comfortable for Edgar and allow adjustment for use over a jacket in the colder months. The harness must not impinge upon our active dog's movement; Edgar loves to jump logs and brooks, run through high brush.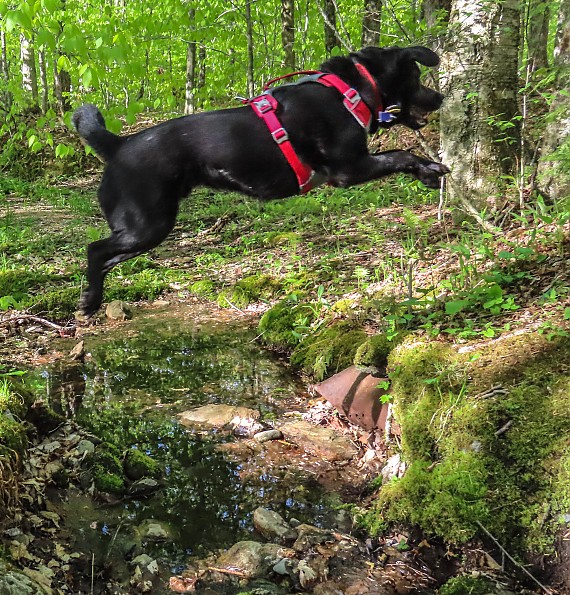 Many of our trails are lined with old barbed wire fencing, so a harness that permits such movement, and additionally protects his chest, is desirable. Edgar gets all excited when he realizes he is going out for a hike; putting a harness on a wiggly mass of black fur can be challenging, so ease of harnessing-up is important.
A back handle is essential, as we sometimes must lift him dogs over fences, across wide, cold icy streams, and up rocky scrambles.
Oh, and if the harness is a nice bright color, and has a rugged outdoorsy appearance, that is an added bonus!
On all these elements, the Kurgo Journey Air harness has generally performed quite well. In our nearly six months of regular use of this harness, we have made the following observations.
The back and front leash attachment rings are made of lightweight aluminum. We never leash our dogs to a front ring, but since Edgar is always on a trekking line, the back attachment ring gets lots of wear and tear, tugging and pulling, and stress against it. It is important that this ring be strong enough to hold Edgar safely in all situations.
I gave the ring the "maximum pull test" by securing Edgar in the harness, with our trekking line, facing an area where striped critters often roam. When I yelled "Chipmunk!", Edgar lunged forward with full force, putting a lot of stress on the attachment ring. I did this six times, and was satisfied the ring would hold. Then on a hike, a real life situation...little chippy ran right out across Edgar. Maximum pull, nearly toppling my husband...but the ring held firm.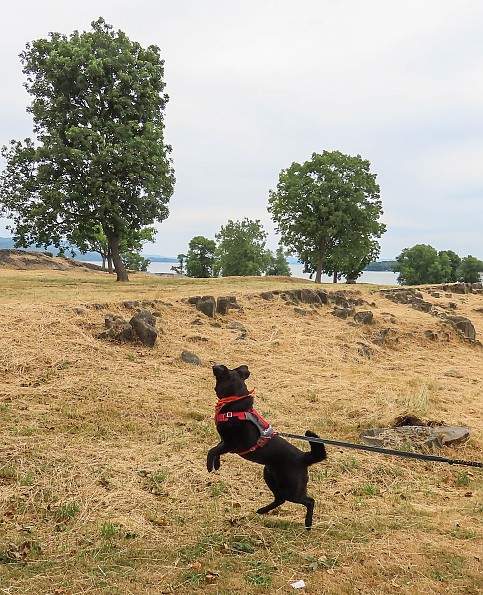 The aluminum rings on the chest is rounded, but the back ring slightly curved, and is shaped like a flat-top capital "A". This shape made it tough to clasp on the snap link from a  different brand leash, as the gate of this leash would not open adequately and still be able to clasp the Kurgo attachment ring. With a standard snap link attachment, this was not an issue.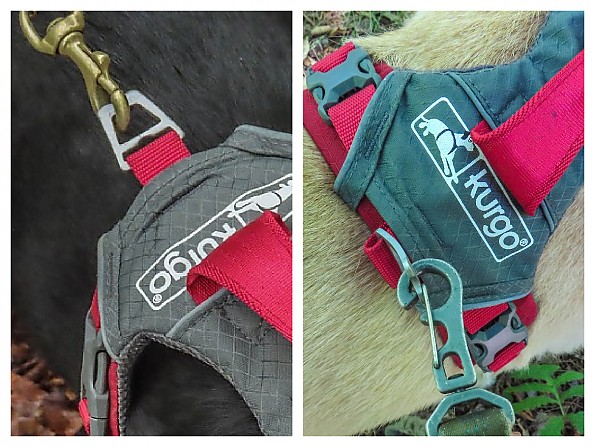 We find the chest loops primarily cosmetic, though it appears they might add more protection to the chest plate area. Other than one flat light, we are unlikely to hang anything on them. We did have concerns that loose branches might get caught in the loops, as we have had branches and sticks occasionally get caught in any harness. However, to date we have not encountered this. Those who have dogs that swim in water with lots of vegetation or debris may also want to keep an eye on the loops, should any material collect there.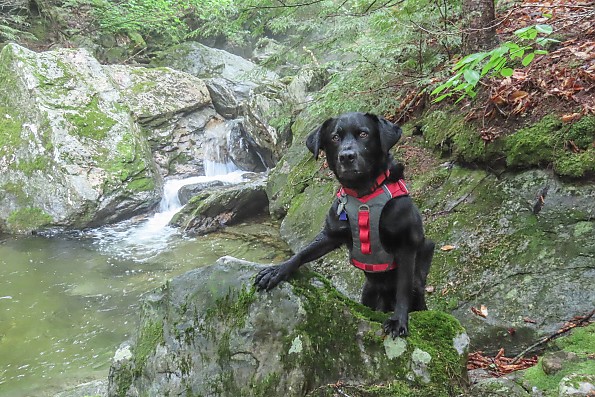 This is a solid harness, but perhaps a bit thick for Edgar to use under his life jacket. When on camping or paddling outings which include  hiking, the dogs often wear their harness under their life jacket. We will continue to use a lightweight guard harness for that situation.
Edgar, despite his obvious Labrador DNA, does not enjoy swimming, so we have not tested the harness in a full immersion situation. We anticipate that he will go swimming on some summer camping trips, so it will be good for him to have a waterproof harness. It is always interesting to assess the drying time for any dog gear!
Conclusion: We anticipate continuing to use the harness regularly for Edgar's outdoor excursions. It has proven to be well made, strong, durable, and comfortable for the dog for all his various types of hiking. After six months of regular use, in various conditions, I feel confident in recommending this harness for active dogs.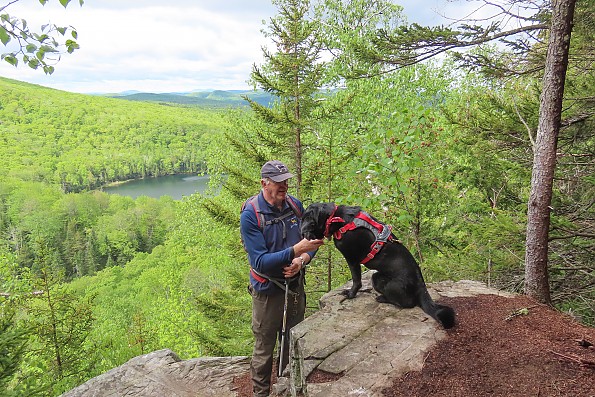 Experience
Each of our dogs has four harnesses, each designed for a particular activity. They have pulling harnesses for skijoring and kicksledding, lightweight harnesses for camping tie-outs, winter snowshoeing harnesses, and lighter weight summer hiking harnesses. We keep our dogs on trekking lines 99.99% of the time, and take them out nearly daily on trails in all conditions, year-round. We are familiar with the quality of Kurgo dog products and have enjoyed the opportunity to test a Kurgo harness, the first of that brand that either of our dogs has used. Our experience, and our recognized promotion of safe outdoor adventuring with dogs, makes us quite qualified to evaluate this gear.
Source: received for testing via the Trailspace Review Corps (Sample for testing and review provided by Kurgo)

Your Review
Where to Buy
Help support this site by making your next gear purchase through one of the links above. Click a link, buy what you need, and the seller will contribute a portion of the purchase price to support Trailspace's independent gear reviews.
You May Like
Specs
Price
MSRP: $54.99
Current Retail: $39.99
Historic Range: $39.99

Use
running, hiking, walking

Weight
8 oz