L.L.Bean Gore-Tex Cresta Hikers, Leather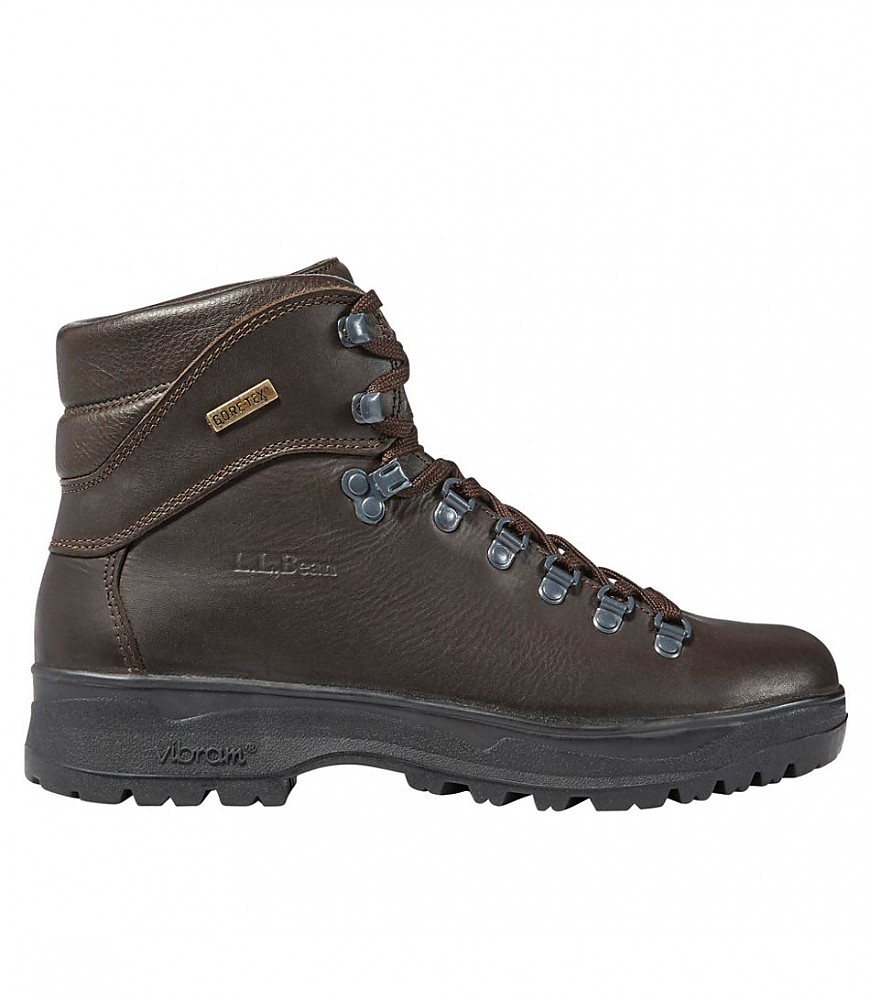 These boots offer excellent support and protection. They took a couple weeks to break in, but after that period, I don't really even notice them. Just awesome, and L.L. Bean's support is icing on the cake.
Pros
Supportive
Sturdy
Comfortable
Grippy
Waterproof
Well-made
Cons
Long(ish) break in time
Leather scratches easily
Insole is a cheap sockliner
As far as fit goes, these are amazing (after breaking them in). During break in, the tongue would put pressure right on the top of my foot, just above/in front of my ankle. After that leather wore in there, it was all good. Also, during break in it seemed hard to find the right tightness for the shoe. But again, after break in, I just slip them on and go.
I have pretty weak ankles and I weigh 185, so I can't go with a lightweight low-cut hiker. I need support, and these give it to me. I can tell you that they've kept me from turning my ankle quite a few times. The insole is definitely just a sock liner, and not worth much. I replaced mine with green Superfeet, but that's what I do with all my shoes. I just like a firmer and more shapely insole. 
I've crossed many creeks and hiked in snow and wet conditions and they have never leaked. I don't expect them to either.
I might be extra hard on boots, but the leather seems to scratch rather easily. Nothing functional is affected, though, just appearance. I suppose they do look "cooler" a little scuffed up, though.
Some people say their feet get hot in Gore-tex, but mine always feel great. I'm used to wearing all leather footwear, though. Construction is just awesome Leather is super-nice, and the outer seams are double stitched. 
Overall, I'd definitely buy another pair.
Source: bought it new
Price Paid: $160 (on sale)

A nice 3-season hiking boot. A leather boot that is waterproof and has an excellent grip on the sole.
Pros
Leather
Waterproof
Good support
Grippy sole
First of all, these boots are 'broke in' right out of the box. I've had these boots over 2 years and have hiked many miles up and down mountains, through the mud and rain and have not had wet feet. Traction is very good on slick surfaces like wet rocks, leaves and mud.
I do treat the leather once or twice a year with waterproofing. They look just like new after doing this.
The boots are fairly light considering they are a leather boot and for the support you get from them. They come in 3 width sizes so you are sure to get one to fit your foot.
I didn't give a full 5 stars as I did replace the inner sole as I do with most of my hiking boots — I just come to expect this now with all boots.
I'm looking forward to a few more years with these boots and when they wear out I'll buy another pair. My husband also has the same boot and loves them. An added bonus is that LL Bean offers free shipping.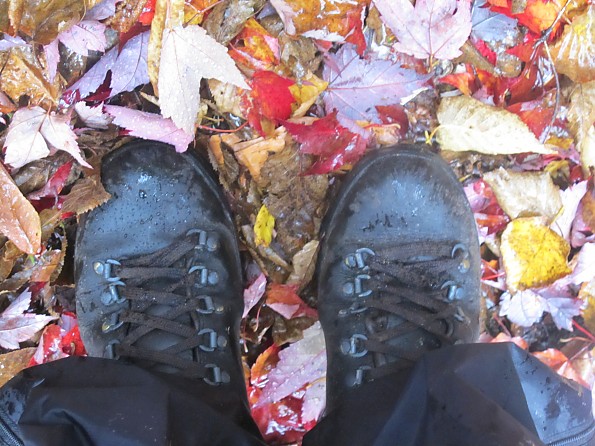 Source: bought it new
Price Paid: $200

I just bought my 3rd pair of Crestas. These are the only heavy duty backpacking boots that I can find that are wide enough for my puppies. My first 2 pairs were 11W. My last order for 11W were one size too small. I had to pay for return shipping from LL Bean and reorder a 12W. (at 58yrs I don't think my feet are still growing). I guess they changed the equipment or supplier that cuts and forms the boots.
Anyway, after trying the heavy duty Lowa, Asolo, Montrail and North Face, the Crestas shine through as the best of the best, nothing fancy, just a well made, form fitting boot that lasts and stands up to serious abuse from this outdoor hound.
Ive never had a leak, the Gore Tex keeps everything dry unless of course the rain runs down your legs, just a little warm in the summer. Good stiff last in the sole. Generous toe box for downhills and cold weather.
I weigh 205 and even with 35-40lb backpack they don't bend much, surely not enough to ever be uncomfortable. Super rocky trails aren't a problem, good ankle support and the sharp rocks aren't even felt. The soles wear like iron, but beware on wet rocks, wet logs, roots or frosty areas. You'll be on your butt before you know it.. That's one hard Vibram sole.
That hard Vibram sole is a plus for long wear, but they are slick when it's wet and can be dangerous on a rock face and are the only reason that I don't give the Crestas a 5 star rating. With a stickier sole I'd recommend them 100%.
On second thought maybe it's better to leave perfection unattainable.
I feel like I should get a discount on my next pair after this review...but even as a freebie there it is.
Materials: leather GTX
Use: bushwhack /heavy backpack
Break-in Period: 10 mi +
Weight: 4lbs pr size12
Price Paid: $179 plus shipping

Version reviewed: GTX
This boot is a work of art...and even the great reviews don't do it justice.

The uppers are simply things of functional beauty - thick, luxurious leather-- meticulously constructed. Perfect right down to the smallest stitch.

The cut and form reflect Bean's years of refinement, working with the same Italian bootmaker. (I heard the whole story when I got these in the Freeport store.) You can see what they are talking about when you look at the form-fitted heel from the outside. The subtle curves and lines show why the foot fits so securely into the heel cup. The toe box is wide and rounded...you can wiggle your toes comfortably even on descents (as long as you are fitted properly, of course.)

The footbed and Vibram soles show similar details. The soles extend slightly at the bottom to create a wider platform that keeps the footstrike centered -- thus helping avoid rolls and sprains...which is a major benefit for someone like myself with trick ankles prone to painful twists.

This is complemented by the overall fit and support of those heavy-duty uppers. I'm not sure how they've done it...but Bean (and those Italian guys) seem to have designed the Cresta to customize to your foot as they break-in. (That's they way it seemed to me anyway.)

I looked at a LOT of boots to replace my worn out Asolo 530's (also a great boot...) My College age son loves his Vasque Sundowners...and I tried them along with the current Asolos, Montrail Moraine, Merrel Wilderness, and La Sportivas Makalus (heavy duty--but with great support). I was about to choose one of them when I found myself at Bean's Freeport store on the way back from a ski trip.

I had read glowing reviews of the Cresta by the magazines and online reviews by users...so I checked them out. The quality was obvious right from the start.

To my way of thinking this is the state-of-the-art in an all-round boot for avid backpackers and hikers. (If I were more into true Mountaineering and long, extended backcountry backpacks, I would probably have chosen the La Sportiva Makalu's.)

But I usually head out for 2-5 nights at a stretch...and do a LOT of demanding day-hikes. The Cresta is clearly the best option for those kind of treks (on my feet, anyway.)

Another factor in their favor: Bean has the best customer policies in the business. You can ALWAYS return something that doesn't work out. (No need to walk just around the house with the Crestas...take 'em out and hit the hills.)

Great to see that Bean's still doing it right.
Materials: Leather w/Gore Tex
Use: Backpacking and rough trail hiking
Break-in Period: Comfortable right away -- well broken in after 2 weeks of hiking
Weight: 3 lbs 9 oz
Price Paid: $159

Very rugged well made boot. It's heavy, but is a good value for its class.
Pros
Rugged-long lasting
Good ankle support
Price
Full grain leather upper
Cons
Heavy
Long break in time
Gore-Tex liner unnecessary
I bought mine in 2005. They were my first serious pair of hiking boots and I didn't know really what to expect. I felt like they were a poor fit for my foot at first because I hadn't allowed enough break-in time. Break-in time is extrememly long but I think that is true for any full grain leather heavy hiking boot.
They've held up well under some pretty gruelling conditions (lots of alpine hiking, off trail adventures, mad runs down steep scree slopes). As i'm think of getting new boots and pricing similar pairs I've come to the conclusion that the Cresta Hikers are one of the most affordable in their class.
The only reason i'm not giving five stars is the Gore Tex lining. Full-grain leather that is kept correctly is full water proof and breathable. Putting gore tex in this boot just makes it less breathable. Next time I might shell out the extra money for a US made boot  (Danner or Limmer). In conclusion, it's a good boot worth the price.
Source: bought it new
Price Paid: $180

Extremely comfortable straight from the box. I struggle to find boots that fit my feet comfortably. These boots fit like a dream.
Pros
Feel great.
Great support.
Cons
Replace the last three lacing hooks with something different.
I work as a paramedic and have struggled for years to find plain black hiking boots. I have weak ankles from previous injuries and difficult to fit feet.
These boots are definitely the most comfortable boots I have owned in a long time. I do not like the Paratrooper, Military or Police officer style boots. Just give me a good pair of hiking boots and I'm a happy camper. These boots are perfect. I hope LL Bean continues to carry these in black, a uniform requirement.
I've only worn them for a week so I cannot attest to their durability, but I'm sure LLBean will go good if I have a problem.
Source: bought it new
Price Paid: $199.99

I bought these boots and properly broke them in for my Outward Bound hike in the Sierra Nevada's. 1/2 way through my O-B trip, 5 eyelets on my right boot and 3 eyelets on my left boot came right out of the leather. I had to finish my hike wearing sneakers!
These are no longer your daddy's Cresta. The eyelets are now soft aluminum or cheap steel.....years ago the eyelets were much stronger. The soles on the boot started to de-laminate on both toes.....have they gone to cheap inexpensive glues?
The good news: Beans still honors their money back guarantee, but it wasn't fun hiking in sneakers. Maybe it's time to start making things in the USA again...where we can know what glues and components are used on the mfg. line.
I hear there's open factory space in Lewiston, Maine.......or any town in the USA for that matter.
Materials: leather & gore tex lined
Use: trail with pack
Break-in Period: several weeks
Weight: ?
Price Paid: $179 in Freeport

I live in the UK, where L.L. Bean is completely unknown, but having tried various leather backpacking boots that are popular here in Europe (Meindl, Raichle, Scarpa) and not being particularly happy with any of them, and having seen the reviews on here and on www.outdoorreview.com I thought I'd give the Crestas a try.
All I can say is WOW. These really leave the rest of the brands mentioned above in the shade as far as I'm concerned. They feel absolutely amazing, and are in no way heavy or stiff feeling (even though they actually are), in fact they almost feel like wearing a pair of basketball boots. I can't vouch for their longevity, as I have only just started using mine, but comfort-wise they really are streets ahead of anything else I've tried.
With regards to the customer service I received from L.L. Bean themselves, all I can say is "if only more companies behaved in the same way". The first pair I got were a size 7.5, which is my normal shoe size, but was advised to go for that by their customer services as they are designed to be worn with thick socks. When I received them they felt great straight out of the box, however on my first day out on the hills they started to crush my toes on descents. I phoned L.L. Bean and they said that I obviously needed another half size up, and were happy to take back the ones I currently had, even though they had been worn outside. I've now received the 2nd pair and it is obvious straight away that they are perfect. This kind of attitude really takes the stress out of buying boots online.
All in all I couldn't be happier with my Crestas, and am over the moon with the service I've received from L.L. Bean.
Price Paid: $170

Version reviewed: GTX
I was shopping high and low for my first pair of high dollar hiking boots. I originally considered Vasque, Zamberlain, and Raichle, but was turned off when I found out many models are now imported and not made in Italy anymore.
On top of that, I have wide feet, and that pretty much limits me to Vasque or Danner. But I noticed these LLBean boots had about the best overall review in the Outdoorreview.com database, and they were also highly regarded by Backpacker magazine. When I found out they are all leather, still made in Italy, and come in wide sizes, I was sold.
This is the first pair of Italian shoes I've worn and they have met my every expectation: thick luxurious leather and flawless stitching and workmanship. The leather around the ankle and tongue is buttery soft and textured (like an expensive leather coat). But I've never had a shoe fit like this one before. Very secure and snug around the heel, glove-tight around the ankle, with a roomy toe area.
You don't have to really cinch down the laces to keep your feet in place, and there is no worry of your toes mashing into the front of the boot while descending inclines. The boots are heavy and sturdy, so you get your money's worth. I heard these boots are made for LLBean by Aku, a reknowned Italian boot maker. The whole inside of the boot is lined with Goretex fabric, and looks seamless.
Yeah, I expected to pay $200+ dollars and see a famous name on the side of the boot, not LLBean, but you can't go wrong with their customer service (I was hearing bad stories about Vasque). Wear the boots for 6 months, if you don't like them, return them for full refund! Don't think that will happen with these babies, though.
Materials: ALL leather!
Use: General backpacking
Break-in Period: Not done yet
Price Paid: $169

Easy break-in and kept my feet dry.
Pros
Comfortable
Quick break in
Keeps my feet dry
I like these boots because they come in wide. They are very comfortable and broke in easily. The boot has plenty of ankle support for carrying a 35-40 lb. ruck.
During two different backpacking trip in Baxter State Park we had rain and my feet kept dry and the traction on the wet boulders was outstanding. I don't think the boots overheated my feet beyond reason.
I have owned two pairs since the 2005 and still have plenty of use left in my second pair.
Source: bought it new
Price Paid: $150

After reading reviews for L.L. Bean's Cresta leather hikers for several months, I finally ordered a pair last week. I must say everything I have read is more than true. These are the most comfortable boots I have ever owned. They are more comfortable than my daily wear Nikes.
Excellent support, thick substantial leather. The tongue and ankle material is made from a glove soft leather. I have never imagined a boot so supportive while remaining so soft-feeling on the foot. Having worn them every day now they seem to actually mould to the shape of my feet. The ankle and instep are non-slip snug while the toe box allows me to wiggle all my toes and with no bumping on downhill walks.
My foot is unusually wide yet I ordered the medium width. With normal sport socks or even light wool trail socks the fit is perfect. This is a very roomy boot. I would say anyone with a normal width foot will find the sizing very roomy and you'll need thick socks or a half size smaller fit.
Craftsmanship is flawless. Perfect leather and stitching. The tag inside says "Made in Italy". I believe it. When I was in Florence a few months ago I had the opportunity to try some very nice hand-made boots. Unfortunately I wasn't able to afford any of them !
I am a 35 year old full-time student and experienced back packer. I regret I have not yet had the opportunity to use these on the trail, although I have put them through the paces on some fairly rough local terrain. If you are considering these boots, do yourself a favour and stop thinking,- go ahead and buy, you'll be glad you did.
~Angus McTavish
Materials: All leather
Use: suburbs- so far
Break-in Period: one hour at most
Weight: 3 pounds something
Price Paid: $169

I was just going through my boookmarks and found a review here I made back in "99. I quit school 2 years ago and bought a cattle and poultry ranch. I've worn these same boots every day these past two tears and want to let everyone know how they hold up.

Except for some minor scuffing on the toes, (I wish they had rubber toe caps), these boots look almost as they did when I first bought them. They remain extremely comfortable and the thick leather shows absolutely no wear even at the critical crease points, (such as where the instep meets the toe). The lace d-rings are all intact, stitching is still perfect, and the insides show no wear whatsoever. Even the laces look new. The Vibram sole is at least at 98% despite my wearing these in very demanding conditions; Constant exposure to gravel, mud, red clay and of course here on the ranch, daily contact with both cattle and poultry manure.

Every few weeks I'll clean them with soapy water and a brush and apply Nikwax. At six months I like to rinse out the sweat with plain water and stuff with newspaper to dry. My only complaint, in all honesty, is about the insoles. The removeble insoles are great, at first, but quickly compact and lose all cushioning ability. You might as well go ahead and plan on a few dollars for a good pair of Spenco or similar high-end insoles.

All in all, best money I ever spent on footwear.
Materials: All leather outer with gore-tex liner
Use: Ranch work.
Break-in Period: none
Weight: 3LBs ?
Price Paid: $179

Version reviewed: GTX
Best boots I have ever owned. Like many of my fellow gear heads out there, I tend to buy more and better equipment than I will ever use. (i.e. VE-25 expedition tent for fall camping in Virginia) I have made this mistake in the past by purchasing very expensive, heavy boots for backpacking in the blueridge. I was hesitant about these "cheap" boots, but bought them because of the good reviews they received.
Let me tell you, I have never been happier with a purchase. The leather is soft, waxy and thick. They G-Tex bootie has held up great. I have never had a blister even after multi-day trips in hot weather. They ofer plenty of support. (And, like I said I am a gear head; so may pack usually weighs in at over 80 lbs. (no joke, just ask some of my minimalist friends). plus, naked, I tip the scales at over 220 lbs.) 
If you have a narrow foot and have had difficulty finding boots that fit, these babies (in B width) are for you. I did find that you should order about a half size smaller than your normal size. Happy hiking and praise be to the LL Bean Cresta Leather Hiker.
Materials: Leather w/ G-Tex
Use: Rough trail w/ heavy pack
Break-in Period: out of box, on the feet, hit the trail
Weight: ??
Price Paid: $159

These boots are excellent. Before my first hike in them I only wore them to work at my office job for two days as a break in. I then hiked a very rough 12 miles with a 30 pound pack--these boots could not have been more comfotable.
I have since worn these boots on several very rugged day hikes and they have been outstanding. I have treated them with beeswax and they are absolutly waterproof.
I wear light wool hiking socks with them and my feet have been dry and comfortable. I had thought that since they are waterproof my feet might get sweaty, but that is not the case.
The cons that I notice:
1) The leather is kind of cheap looking compared to other boots, however functionally performs very well.
2) I only wear these boots for hiking, but I notice the heels are showing significant wear after only a year of use...I am so pleased with the boots I am hoping they hold up a little better.
3) Until treated with beeswax they made an annoying rubbing sound with each step.
My boots are 1/2 size smaller than my normal shoe size and still have plenty of toe room--a perfect fit.
Materials: all leather, Gore-tex liner, vibram outsole
Use: rough day hikes
Break-in Period: very short
Price Paid: $170

Basically, I purchased these trusting the reviews of others and I am very pleased. I wear a 10EE so I got the wide width model. I hike in the southeast so I'm very concerned about water!!! Which ironically I haven't encountered really bad weather since I got them.
Anyway, comfortable right out of the box. I put about 15 miles on them the first 2 days with a light pack, moderate terrain with no problems. The next trip was in Talladega National Forest on the ridge trail with about a 60 pound pack. Almost always hiking on a slant with lots of rocky trail and a little rain to boot. 
The boots were superb! Almost immediately I got a hotspot on my big toe from a poor choice of sock. Swapped socks and continued the rest of the 3-day trip without any irritation. Support was good as well as traction and sole strength. This isn't a boot for small people on day trips. This a boot for heavier conditions all around.
I highly recommend them and would definitely buy them again.
Materials: Leather
Use: Rough Trail w/ pack
Break-in Period: baptism under fire
Weight: 3 lbs 9 oz
Price Paid: $159

Version reviewed: GTX
I have short, wide feet. My normal shoe size is 8 1/2 EEE. I have great difficulty in finding any store stocking a "wide" size boot for me to try on. My last pair of boots I found on sale for under $200.00. They are Vasque Super Hikers. I found them in 8 1/2 wide. After having lost my left big toenail twice and my right big toenail once, I attribute my physical misfortune to my idiocy in buying boots that should have been one half size larger than they are.

It was with some trepidation that I ordered size 9 EE boots from L.L. Bean. I needn't have worried. I've done two hikes with them in the last two weeks and they are very comfortable and my feet thank them. (The hike I did yesterday was to Mt. San Antonio summit via the ski hut trail and down the devil's backbone trail - 11 1/2 miles r.t. with 3900' gain and loss and my feet felt fine!)
Materials: Leather
Use: Rough Trail/Off Trail with medium pack
Break-in Period: none
Weight: 3lbs. 7oz.
Price Paid: $169

Version reviewed: GTX
I have tried a lot of boots and none compared to this one. My feet are a bit messed up (narrow heel, really high arch, and wide forefoot), and I require custom orthotics which most boots just don't accommodate. I had looked at/tried out Vasque, Merrel, Danner, Montrail, Dunham and Asolo before reading the good reviews on the Cresta. Right out of the box they felt OK and with my footbeds the boot was great.
I wore them around the neighborhood for two weeks and then did a four day walk on the Appalachian Trail. Lots of rain the first day - no problem. Ridge walking the second and third days was a breeze and a long, steep downhill on the last day proved no match for these boots. My foot never left the heel cup and my toes were never rubbed against the front of the boot. For the money, easily the best boot I've ever owned.
Materials: Leather/Goretex
Use: varied trails with heavy pack
Break-in Period: 2 weeks
Weight: 3lbs
Price Paid: $169

Version reviewed: GTX, women's
I just wanted to make a comment on the sizing. I ordered a pair of these boots in size 10 1/2. L.L. Bean suggests these boots be used with heavy weight socks. I read some of the comments on this site that suggested that these boots be ordered about a half a size smaller. These comments seemed to relate to the width.

When I tried mine on I found that a better fit would have been a half a size smaller than my regular size in both length and width. Wearing heavy duty socks with the boots probably would have solved the problem but I wanted to use the boots in light/medium hiking situations and not have to fool with heavy duty sock, especially during the summer.

I returned them-L.L. Bean has excellent customer service and I had no problems. For those that are into really good leather, I think Scarpa uses better leather. Although these are good.
Materials: Leather/Gortex
Use: Never Used-Size
Break-in Period: None
Weight: 2 lbs ?
Price Paid: $170

Version reviewed: GTX
These are rugged, classic, well-built, soundly-designed boots. I expected a lengthy break-in period for such fairly heavy duty boots like these, but on my first time out with them (7 hours up, along and down the Kinsman Ridge in the Whites), I was completely comfortable and didn't experience any blistering, hot spots, jammed toes or other unpleasantries.
The footing/traction was terrific and ankle support (which I notice quite a bit) was excellent. Good room in the toe box, which I have found to be a problem with some of the other brands. (You know, the black and blue toes after descending for a few hours).
Very nice boots, well crafted, backed-up by the best customer service in the business. I used to have an old pair of Italian-made boots from one of those fancy-sounding European manufacturers, and I honestly say that these LL Bean boots are better.
It's nice to see LL Bean offering such a great product.
Materials: Leather with gore-tex lining
Use: Moderate to rough trail with mid-sized pack
Break-in Period: Didn't notice any
Price Paid: $165

The boot is a very stable shoe. If you are embarking on a serious off-road trip, encountering many miles, I embrace it. If you are looking for a day boot, this is not the choice. The boot is Gore-Tex and is truly waterproof. I emerged my foot in a stream and timed how long it took for the water to seep in......it didn't. (of coarse i was fishing for dinner).

Any way, I would recommend this boot to the advanced hiker. This boot is to be worn with a thick sock (eg. Smartwool, Thor-lo, etc.) The only quam I have about this boot is the long break in period. It is a stiff boot and requires a lot of loving care and wear. Use the boot wisely and Get Out More! (GOM)

Materials: Full Grain Leather
Use: Backpacking
Break-in Period: 50 Miles
Weight: Very light for full grain
Price Paid: $169 without employee discount

I was looking for a boot that I could use on and off the trail. I read all the reviews, and I decided on these shoes from L.L. Bean, due in part to their legiondary service, and liberal return policy. I wear a size 10 1/2 in a running shoe, between D and EE, so I wasn't sure if the 10 1/2 D would be the right size when worn with heavy wool socks. But after I got them and put them on they fit perfectly, lots of toe room.
The shoes needed minimal breaking. They look good and feel good. I haven't tried them in wet condtions yet. I am looking forward to many years of use from them. Only improvement I would like to see is a rubber bumper for the toe area.
Materials: leather
Use: Short dayhikes, around town
Break-in Period: 10 days
Weight: 10 1/2 D weigh 30 ounces on my postal scale
Price Paid: $169.95

Version reviewed: GTX
I gave the last review of the Cresta and wanted to follow up after 100 miles of hard duty on this boot in the high mountains of Utah through days of rain, mud, and stream crossings. I didn't know then, but I can tell you now that these are COMPLETELY waterproof (except, of course, for that big hole in the top of the boot).
I really can't add much to the other great reviews of this boot here. All I can say is that after spending months aquiring gear for backpacking (boots, pack, bag, filter, stove, etc, etc) before this summer, the Bean boots, well, and my tent (Walrus Starstreme) are the only two purchases that I made that I am TOTALLY satisfied with.
Materials: Leather
Use: rough trail w/heavy pack
Break-in Period: almost none
Weight: ??
Price Paid: $119 (sale)

Just finished backpacking 75 miles in Spain over five days with the Crestas. The terrain was varied from rocky paths to some roads. Uphill and down. The boots were worn with liners and a second pair of either medium or medium-heavy socks. The boots were a pleasure to put on in the morning. No blisters, but my feet were tired/sore at the end of each day. I'm going to test some liners to see if they better cushion the feet. The boots saved me from at least one rolled ankle and I never felt a single rock the entire trip. Look forward to putting them on again.
Materials: leather, gore-tex, vibram
Use: medium trail with 20lb backpack
Break-in Period: none
Weight: don't know
Price Paid: $169

I was raised right near the flagship store and I have owned three pairs of these boots. I am VERY sad to say that I do have only one complaint. The inside of both rands, towards the toes, pulls away after about a year on all three pairs.
I am sad to report this because these boots are by far THE MOST COMFORTABLE BOOT I have ever worn!!!! If Bean's would stitch and not glue their rands, this would be a non-issue.
I would still recommend these boots due to their top shelf quality and unbeatably return policy. Please give these babies a chance!!!! Thank you.
Materials: Leather, Gore-tex
Break-in Period: Instant!!!!
Price Paid: $170

Version reviewed: GTX, women's
Funny thing about this review is that I bought these boots based on the reviews I read right here. I agree with all the other folks that say this a great boot. Very supportive, high quality leather, excellent workmanship, very good fit, and COMFORTABLE. Heck, they're my favorite knockaround shoe!

I wear mine with merino wool socks, and I've found them to be very breathable even in the rocks, sand, and heat in Utah. I can't comment on waterproofness yet, but they seem to be tight as a drum. I'll find out when I tackle King's Peak in the High Uintahs wilderness this summer.
Materials: Leather
Use: Day hikes so far
Break-in Period: Several days wearing them to work
Weight: Don't know
Price Paid: $119 (sale)

Tough, comfortable.
Pros
Comfortable
Tough
Waterproof
Fits like a slipper. No break-in, no chaffing. Support is good, ankle support is good for not being a true hiking boot. Water is no problem. Traction is good.
I can use light socks or medium socks well. These are the best boots I have ever worn. Upgraded from the Knife Edge Hikers. Hope they keep these in stock.
Source: bought it new
Price Paid: $180

An excellent boot, and an excellent value.

I have had mine for several years now. I was dubious about buying a boot from LL Bean (known for quality, but not for cutting-edge design, in outdoor products) rather than, say, Vasque or Asolo. But these boots are great -- well made, durable, and comfortable. This last is a big deal -- I have wide feet (EEE), and it is hard to find a hiking boot manufacturer that produces good boots in wide widths; Bean does. Plenty of space in the toe box.

Highly recommended. 1/2 star off because the boot cannot be re-soled.
Materials: leather; gore-tex
Use: all kinds of moderate and warm weather hiking and backpacking
Break-in Period: shorter than expected for an all-leather boot

Best boots ever made? These are very possibly the greatest boots ever made. I have worn them with over 70lbs on my back and my feet and bad ankles were glad I did. Picture walking on air and you will have some idea how comfortable these boots are. I am on my third pair of insoles and the actual boots show no sign of damaging wear. After each trip I clean and polish as needed and they have stayed in great shape even after miles and miles of punishment. These are great boots at a great price (for what you get).
Materials: Leather and Gore-Tex
Use: Heavy backpacking
Break-in Period: Very little break-in period
Price Paid: $180

Version reviewed: all leather
I've had my crestas for a couple years now and i really like them. They fit really well and there's plenty of room in the toebox for me to wiggle my little piggies. The heelbox fits me nice and snug.

The gore-tex membrane works pretty well, i guess. Not the world's most breathable boot, but hey, i like them. The only complaint that i have is that after a couple of hikes with some moderate rock scrambling, the leather on the toe and heel got all chewed up. They still work great, just look quite worn out on the outside.
Materials: leather
Use: off trail with moderate pack
Break-in Period: Pretty short
Weight: Durf?
Price Paid: ~$159

these boots are great. i wear mine everyday. to work, working around the house, hiking, camping, fishing, everywhere. they're incredibly comfortable, and very waterproof. i haven't owned a better pair of footwear in my life.
i wore these on a five day backpacking trip covering all sorts of terrain, rocky, marsh, trails, crossing streams, and i felt like i was walking on clouds from the start of day 1 to the end of day 5.
i would recommend these boots to anyone. and if that wasn't enough, you won't find better costumer service than with LL Bean.
This has been an excellent boot. I've had it for over a year now and am very happy. I did 15 miles in the boot with a heavy pack the first weekend and had no problems. I have used the boot mostly in very cold conditions but have done some summer hiking in them as well. They hold up very well in wet weather and provide good support on rough trails. The boots fit best with a heavy sock. I highly recommend the boot for rough trails with a moderate load.
Materials: Leather
Use: Rough trail, heavy pack
Break-in Period: none
Price Paid: $169

I've had these boots for about 5 years now and have hiked virtually all of the 4,000 footers in the White Mountains in them. They are, simply put, an amazing and comfortable workhorse of a boot. Great for day hikes with light to medium loads, but beefy and stable enough to take on serious backpacking.
Total quality construction plus comfort. I don't know how you could do any better. I will never never stray from the Cresta, even after these ones (eventually, after some serious beatings over many years) wear out.
I just got my 3rd pair. I've worn these boots for over 15 years, and I wear them hard. These boots will conform to your foot, they are very water proof. I would recommend them to anyone.
I have a pair of light day hikers, and they are ok, but I much prefer to wear the Crestas. I've done trips in PA on the rugged trails of the AT, rocky, everyone knows that fact. The AT in PA is rocky and unforgiving, these boots help mitigate that rocky problem.
I have had five pairs of these boots in the past 16 years. They are the best all around boot I have ever owned. My feet don't get too hot in the summer and they always stay dry. 
The downside of this boot is the tying system. If you try to tie them tight the eyelers bend and this makes them weaker and it's happened on every pair I've had. I wish they would just have the holes all the way to the top.
Okay, I do love these boots. Italian craftsmanship and durability, and Bean customer service. I hike arduously in the Sierra Nevada. I'm giving the Crestas four stars just to take a jab at LL Bean: Why did you guys stop making the Speed Guide Hikers? Gore-tex, Kevlar, leather, and Vibram, these flat out were the best backpack boots on the planet. Settling for the Crestas is a good thing, but the Speed Guides were in a category of their own.
Price Paid: $169

Great boots right out of the box. I've had 2 pairs. The rand on one pair failed (left boot near your big toe) L.L. Bean customer service is by far the best in the industry, if not the world. They sent me a new pair.
The only complaint I have is for a $180 boot made in Italy the footbed insert is very flimsy/cheap. I'd like to see them go w/a rigid or cork style footbed (like Meindl).
Materials: Gore-tex/fabric
Use: General outdoor use
Break-in Period: Approx 1 week of full time use
Weight: 2 LBS ?
Price Paid: $170

A glaring design flaw ruins these otherwise well-made, comfortable boots: the seam for the Gore-tex liner runs up the middle of the heel cup and no amount of breaking-in will get it to flatten out. Ugly, deep blisters resulted from wearing these boots on a five-day hike and 14'er summit in Colorado. I have tried for over two years to make these boots work and finally gave up. Surprised no other reviewer has had this problem.
Never thought I would buy hiking boots without trying them on, but the great reviews convinced me. True to size, excellent ankle support, very comfortable and waterproof. After a few days of break in at home, I took them to a rain forest in Central America for a week where I truly enjoyed the comfort of the boots and dry feet. I use them for hiking on weekends and they are a joy to wear.
Materials: leather gor-tex
Use: day hikes
Break-in Period: three days
Price Paid: $179

Awsome boot. The first hike I did with these boots was the 18-mile loop in the Rawah wilderness. Not a single blister or sore spot. I walked through rivers and had no problems with wet feet. I carried a fifty pound pack and I weigh 250 pounds, no problems there either. The quality is excellent, a very well made boot. I ordered the size I always wear and the size I got was perfect.
Materials: Leather

I bought the boots at LL Bean (25 Min. from home). Fit was great as I tried them on and walked the inclines in the store. They have been a great day hike boot. Good support for my mid-foot particularly on descents. I have used them above treeline on rock, on all types of trails, and for casual walks in the woods and still pleased with value for price.
Materials: leather
Use: AMC Trails, some bushwahcking w/ overnight pack
Break-in Period: 2-3 hours light walking
Price Paid: $170

Version reviewed: GTX, women's
These are fantastic boots. I (a woman) have narrow feet and these were a perfect fit. I hiked 13 miles the first weekend (over Lincoln, Haystack and Lafayette) and not a hot spot or blister did I get. I love them. The next hike in torrential downpours to Zealand and I stayed dry and comfortable. Trust me these are GREAT!!
Materials: All leather w/gore-tex inner lining
Use: Heavy duty w/35 lb pack or lite day hike
Break-in Period: a few hours around the house
Weight: 3 lbs 4 oz
Price Paid: $145

These boots are amazing. I've only gone on a couple of hikes so far, but their comfort is already obvious. They just form to your foot's shape, similar to a baseball glove. Also, they seem to actually be waterproof and durable. Would defin. recommend them to anyone looking for a comfortable, durable pair of hiking boots.
Materials: Leather
Use: Rougn Trail w/ Heavy Pack
Break-in Period: Felt good right out of box.
Price Paid: $180

These boots are tanks that ride like a cadillac. There's a good reason LL Bean has been making this boot for nearly 17 years. You can go lighter, but you'll compromise stability and comfort with anything else.
Get the right size (Beans will work with you like no other) and you'll have no complaints.
Materials: leather, vibram sole, gore-tex
Use: everything
Break-in Period: 5 miles
Price Paid: $180

These boots are beautifully made and fit well. They come in 3 widths and are hand assembled in Italy. They have a Gore-Tex bootie and offer fantastic support. They blow the Vasque Sundowners I have away! I wish I had bought these first! A great buy too at $159.
Materials: Leather
Use: Off Trail
Break-in Period: 2 weeks
Weight: 3lbs 8oz
Price Paid: $159

Version reviewed: GTX
I tried Asolo 535, Vasque Clarion II and Sundowner, and Merrell Grand Traverse--none of them fit like this boot. I have about 30 miles on them without a blister or a hotspot.
They are hot on the feet, but that's just the GTX.
Materials: Full Leather
Use: Rough trail w/pack
Break-in Period: Fit well out of the box.
Weight: 3 lbs
Price Paid: $159

NO NEED TO READ OTHER REVIEWS.
These boots are, far and away, the best ever owned (by a serious backpacker). Soft leather, great support, great tracking...
Materials: Leather/Gore-Tex
Use: backpacking
Price Paid: $169

I have had mine for eight years of hard use, just now geting a new pair. These boots are great.
Materials: leather and Gore-tex
Use: rough trail w/ heavy pack
Break-in Period: two weeks of normal ware
Price Paid: ?

Your Review
Where to Buy
Help support this site by making your next gear purchase through one of the links above. Click a link, buy what you need, and the seller will contribute a portion of the purchase price to support Trailspace's independent gear reviews.
You May Like
Specs
Men's
Price
MSRP: $299.00
Current Retail: $299.00
Reviewers Paid: $119.00-$199.99

Approx weight
3 lb 9 oz

Women's
Price
MSRP: $299.00
Current Retail: $299.00
Historic Range: $299.00
Reviewers Paid: $119.00-$200.00

Approx weight
3 lb 5 oz