La Sportiva B5

The B5 has been discontinued. If you're looking for something new, check out the best approach shoes for 2023.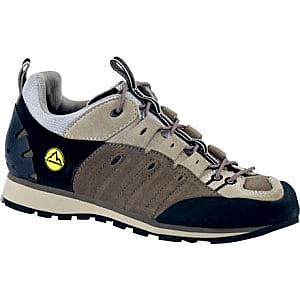 I'm a huge fan of La Sportiva shoes and when I saw these on closeout at EMS (in my size!), I couldn't resist. I've done about 50 miles and 15,000 vertical gain, so review time.
Bottom line, I like the Cirque Pro's better than these. The Cirque is a little bit lighter, the Cirque's tread is sticker, and these B5's have a nasty habit of rubbing my heel on the uphill and the top of one of my toes on the downhill. I should probably be wearing a half size smaller.
These shoes have a stiffer sole than most approach shoes, which is great for climbing if you're trying to catch a toe hold. As noted in the product description, you really can climb some small features in these shoes. I got up a 5.7 crack with little difficulty.
One thing these shoes do not like is water. Like snow or streams. They seem to hold the water and weight down the shoe. Also, I feel like the insole loses its padding (this also happens with the Cirque's, btw).
If you're doing a lot of friction climbing, I would definitely go with Cirques. If you're climbing features like small holds, etc., the toe on this B5 is a bit better.
I don't notice any effects the downhill shock absorber (impact break system) than the description talks about. My knees still hurt like they always do.
About durability, I found myself on a sharp slate rock slide and was very thankful for these leather uppers. Literally the sharpest rock I've ever been on (the backside of Sheep Mountain in the Gros Vente range). The front rubber at the toe has a few shallow scratches from being jammed into the rock, but no signs of wear on the leather.
I wear a half size up in Sportiva shoes, but now I wish that I had bought my actual size because of the rubbing.
All in all, a good pair of shoes (as expected from Sportiva). I've dinged them one star for not being as comfortable as the Cirques, esp. when wet. Still much better than anything from 5-10 (yes, I'm biased).
Materials: Leather uppers, stick rubber soles
Use: Climbing, boldering, hiking
Break-in Period: 25 miles
Weight: 16.3 ozs per shoe
Price Paid: $57

I'm not sold. Love the fit but the shoe is not durable. The leather upper near the toe lacing (outside edge) on both shoes ripped exposing a hole about an half inch to an inch in length, which allows dirt and gravel to enter. I didn't subject these shoes to much abuse at all, mostly boulder hoping and casual wear.
In addition to the lack of durability in the leather upper I wasn't pleased with the way the sole began to break down. The impact brake system strips delaminated prematurely and I had to remove the front two or you are left with floppy rubber strips to deal with. I think the IBS is gimmicky on an approach shoe.
Thirdly, I could never get the tongue to stay in place, it would constantly wander to the side (I'd like to see a bellows tongue which would help to keep gravel out of the foot area).
With that said I have never had an issue with La Sportiva products before. I believe this shoe would definitely be a winner if they addressed the above issues. I recently purchased a pair of the Cirque Pro's and from my initial observations it is superior to the B5. Although I do like the fit of the B5 a little better. I'll post a review of the Cirques once I've given them a go around.
As with all the Sportiva shoes I've tried, I love the fit. If you have narrow feet and want a snug fit, it's a very comfortable shoe. They feel very poised, a good combination of stiff and flexible, with great traction for approaches, light hikes, and trail running.
I've used them in dry, wet, flat, and vertical conditions, and liked the comfort so much that I used them as street shoes for a while. They have enough support for multi-day hikes in most conditions, if you like traveling fast and light.
I agree with the other reviewers that they're not very durable. Almost immediately the top eyes came unriveted, but the upper leather has held up despite this. After a year of walking an average of 20 miles a week in them, parts of the soles are worn through, and there are genuine holes in the toes. I haven't had problems with delamination so much as the soles just getting worn away. Naturally the traction decreased after a while, though it is still reasonably good.
So yeah, not the most durable shoe. But if I can keep replacing them (just ordered my second pair), the price is low enough that it's worth it. I hope that La Sportiva keeps this model around so I can continue to replace them. Maybe I should just get a stockpile.
Materials: rubber, leather, synthetic lining
Use: light hiking, approaches, trail running
Break-in Period: 1-2 day hikes
Weight: 1.5 lbs?
Price Paid: $80?

I have had the shoes for a few months now. I love these shoes. They are semi stiff, with very sticky rubber that seems to be wearing well for how much I use the shoes. I adore the lacing system on these, to the toe so you can get a precise fit. I used these to climb the grand this summer, worked great. My only complaint is I wish I had a smaller pair for precise climbing footwork on 5.6-5.7.
Break-in Period: none
Price Paid: n/a

I got my B5's yesterday (5/5/06), tried them out today on a rocky hike, and found that I love these shoes! On dry days, I think I prefer these over my boots!
Materials: Suede leather
Use: Short hikes in and climbing
Break-in Period: It took me 1.8 miles on Gorge Trail at Gorge Metro Park to break mine in.
Weight: 2 pounds (these are light !)
Price Paid: $95

Your Review
You May Like
Specs
Price
Historic Range: $50.85-$99.00
Reviewers Paid: $57.00-$95.00