La Sportiva Glacier EVO

The Glacier EVO has been discontinued. If you're looking for something new, check out the best mountaineering boots for 2020.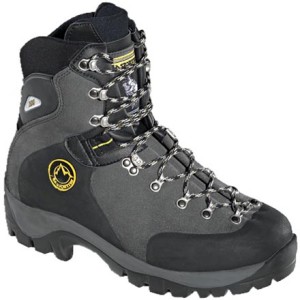 Specs
Men's
Price
Historic Range: $142.53-$265.00
Reviewers Paid: $200.00-$265.00

Women's
Price
Historic Range: $57.16-$264.95
Reviewers Paid: $209.00

Reviews
7

reviews

5-star:

0

4-star:

2

3-star:

3

2-star:

0

1-star:

2
Fell apart after quite moderate usage at the same heel seam that other mention. Such a basic design fault and they cannot have done much product testing at all. I'd avoid La Sportiva in future for that reason — selling a reasonably upper end mountaineering product that hasn't been properly tested is appalling.
Pros
Good sole in snow
Good initial fit
Took a long while to break in and were only moderately comfy till then. However, just as they're broken in the same heel stitching problem has beset me — they are falling apart. This is after pretty light use, no more than a dozen days of hiking, mainly in snow.
They also are not waterproof in prolonged contact (e.g. wet snow), which I think is mostly down to the fabric section in the rear. 
I'm just glad that I didn't pay the list $375 for them because I'd be livid; instead I'm just p'd off and avoiding La Sportiva in future. Back to Scarpa for me.
Source: bought it new

My family bought 4 pairs of Glacier EVO's ($265 each) in the last two years, all about the same time. They have all fallen apart in the heel stitching. We have taken two pair back for one exchange and one credit. I'm on my second pair (exchange) and they are starting to fall apart as well.
I have read the reviews on this web site regarding La Sportiva Karakorums. They apparently fall apart as well. I'm looking at getting credit for my second pair (REI) and getting a different brand as my daughter is as well. 
We have not hiked that much to warrant such expensive pairs of boots to fail (all four pairs !!). They fit fine but their quality sucks!
Price Paid: $265

I bought these boots last winter (2009) hoping to do some light Colorado mountaineering, some fun scrambles, and for general backpacking. After one season of use, I am a bit unimpressed with the wear and tear.
I did about 25 or so 14ers this past year including the Maroon Bells with the traverse with them and they have a good mix of rigidity and functionality. While they hold my black diamond crampons rather well and have great grip on my heels, the negatives are that in temps less than 10 deg, my toes are always almost frozen, the tread is already about 2/3 of the way worn down and the stitching is coming undone on the back around my achilles for about 1 1/2" on each side of each boot that now lets in moisture. They also give me blisters on my arches when I kick a lot of steps.
I have wide feet and they are a good fit with my true size though which is wierd because La Sportivas are supposed to be narrow. Good luck!
Materials: Leather, Goretex
Use: Rough Trails and alpine scrambling
Break-in Period: 6 or 7 hikes
Weight: kind of heavy
Price Paid: $250

I give this boot a bad rating for several reasons.
First, I thought the initial in store fit was okay. However after several weeks and breaking them in the ankles I noticed was cut for someone with huge ankles. And I have huge calves, so the eyelets end up touching almost and the boot still isn't tight, they come undone all the time super annoying. The rubber compound isn't that sticky. Also what was La Sportiva thinking there no lace locking system.
Anyways the kicker is that all boots take awhile to break in and have there little flaws and a lot of them break out. but my boots still cause me pain, and I had similar stitching issues, withe the leather and soft neoprene fabric coming undone i haven't even had them a year yet. Boots should last at least a year or two even under hard abuse. Mine was light use.
Use: backpacking mountaineering
Break-in Period: 1 month
Weight: 200
Price Paid: $200

I have difficult feet to fit for this sort of boot. One foot is a bit larger, I have ridiculously narrow heels with a medium width foot overall, and low arches.
I will say these are quite true to size.
All right, I've been using these on very steep pitches on uneven/rocky, and scree terrain. They'll take some more breaking in but here's the good part, the overall shoe is so stable that I can hit even the tiniest and uneven rock surface on "toe-point" and maneuver right up with no slipping off or instability whatsoever, as the shoe grips and maintains its "platform" in the sole very well. Stability on descent seems to be right up there, as the shoe does what it is meant to do by allowing me to pick correct lines rather than concentrating on trying to keep my own foot and ankle stable...the shoe does that for me.
These are not tennie-like "day hikers" per se, and really are called for only on technical terrain and/or where you might encounter snow fields/glaciers. I have not had a chance yet to use on snow. For general non-technical backpacking/hiking I would not choose these.
There is some heel slippage on steep climbs but so far no blisters/hot spots. Definitely plan on a break in period of several miles. If you have narrow feet, expect some heel slippage. If you have slightly wider or thicker feet, expect some pinching across top near the toes until the shoe is broken in. Don't get the regular width if you have quite wide feet.
Overall, worth the $200 smackers I spent!
Price Paid: $209

This is the first pair of boots I've ever had that didn't shred my heals. My feet are nearly impossible to fit - 13/14 extra narrow. While I can just barely cinch down the Glaciers EVO's enough to be snug, they are. I have a pair of 46.5's to keep the volume down and they're a tad short, but I would have sloshed around in the 47's. The one use for the insole that comes with the boots, I've found, is that they're so thin you can use them to add a little extra volume under a quality footbed that you add.
I've been on a number of hikes and climbs with them in the Cascades over the past year and they seem to be holding up very well. They're very comfortable on trails, but also are great for rock climbing. Great stiffness up front for kicking steps in the snow. I haven't had them out in very cold weather yet, but judging by how hot my feet get in them I'd imagine they'll be pretty good on Rainier.
Overall: great boots so far, fifth star would be a little snugger fit for my ankles.
Materials: leather
Use: light mountaineering, scrambling, heavy backpacking
Break-in Period: 2 days
Price Paid: $250 at REI

I've been backpacking with those boots in the Rockies all summer long, so I can tell you the pros and cons of these boots.
At first, this is a heavy backpacking/light mountaineering booth, so you have to wear them often before going to any extended trip. When it's done, they feel really good. Good support, not too heavy, and so on...
But after only three weeks of use, I had a little problem with one of them. The heel/ankle junction started to unstitched. After a couple more weeks, the other booth started to unstitched at the exact same place. Design problem? Personally, I think that it is due to the fact that the leather and the black fabric don't work together very well. The leather is probably too rigid for the other fabric.
Since I needed them for the rest of my backpacking trip, I waited untill early August before I brought them back for warranty service. By that time, the first boot to unstitched has went a little worse. In fact, in the last week I've been using them, the whole area around where the first problem appears collapsed...
La Sportiva thinks I waited too long before I brought them back, they don't want to warranty them.
Will I buy another pair of booth made by La Sportiva? Ask me!
Price Paid: 325 CAN$ + txs

You May Like
Recently on Trailspace