La Sportiva Katana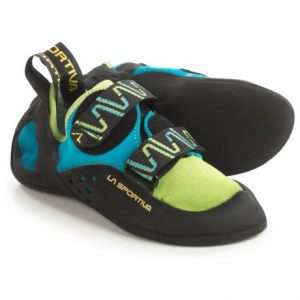 I am a novice weekend climber, who purchased the La Sportiva Katana climbing shoes two years ago. During this time it has given me many opportunities to test them out and provide useful information for prospective buyers.
Uses
I have used the Katana climbing shoes for bouldering and indoor rock walls. They have other uses but these are types of climbing that I have used them for. My review will be based on these types of climbing. Any climbers who are out on the crag, may have different experiences using these shoes.
Fit
Rock climbing shoes are very unique in their fit and style. If you are from a country that does not use the metric system you will need to do a conversion to find the correct size for you. Once you have completed the conversion the fit seems to be true to size.
One thing to remember about climbing shoes is that they are meant to be snug on your feet. This will be very important for new climbers and people who have not worn climbing shoes to keep in mind. If sized correctly, they fit well on the heels and do not rub, cause discomfort, or blistering. The shoes have straps instead of laces which make them very easy to take off when resting between climbs. The straps also help customize how tight they are on your foot.
Durability
Over the two years that I have owned these shoes they show only very minor wear and tear. The soles are still attached and the leather uppers have held up well. I still use them every weekend when I climb, so they continue to have life left in them.
Performance
These shoes have allowed me to bring my climbing to the next level. The sticky soles of the shoes allow the use of foot holds that traditional shoes have not allowed me to use. The minimalist design has helped me to be able to maneuver and feel where my feet are at on the wall.
Final Thoughts
The Katanas are quality shoes that have made it through the test of time. In my opinion they were money well spent. Whether you choose these shoes or another pair, I wish you the best out on the rock. Happy Climbing!
Source: bought it new
Price Paid: $90

Version reviewed: Velcro
Awesome shoes! If you're doing advanced bouldering (v7+) you may want something a little more sensitive and down-pointing, but for intermediate bouldering these shoes are fantastic.
The Good: Almost everything! Great for edging, smearing, and heel-hooking. Rubber stickiness is excellent and sensitivity is good. These shoes look cool, fit great, and have the best Velcro system of any shoe I've ever tried; the wide straps strap down tight and you get some customization in terms of where you want the straps affixed due to the large circular Velcro patches.
Also the opposing-direction straps (one strap pulls one way, one the other way) provide a balanced fit, whereas most Velcro shoes feel like they're being pulled to one side. These shoes stretch very little...how they feel in the store is pretty much how they'll feel a couple of months down the road; so don't buy a painfully tight size thinking they'll loosen up a lot...they won't.
Lastly, the shoes feel very well made and they're made in Italy.
The Bad: The trim around the heel cup digs into your Achilles area somewhat — it's not terrible but definitely noticeable. However, over time it does soften up and becomes more comfortable (I don't notice the issue at all anymore). Also, the metal "rung" that the lower Velcro strap passes through can be felt on your foot (on the inside of the shoe). I haven't noticed it being a problem/painful while climbing, but it's still worth noting.
Overall I love these shoes and highly recommend them. When these wear out, I suspect I will replace them with an identical pair.
For sizing: they are a bit on the narrow side, but wide enough for me. Prior to these I had the Evolv Pontas which were so narrow that my big toe would tuck under the toe next to it, even though I only downsized a half size.
The Katanas are about 1/3" wider than the Pontas and fit my foot just right...but if you have wide feet, the Katana may be too narrow for you. For sizing, I would go down one full size from your street-shoe size for comfort. 1 1/2-2 sizes for performance (you can go smaller but they are going to be punishingly tight).
Price Paid: $125

I don't recommend going small in size!
Great shoe, but I wanted to let people know that my personal experience with these is to NOT go smaller!!! I bought a 39.5 originally and had to get a 40.5, my actual street shoe size! (I am actually an 8.5 or 9!)
I spent an afternoon climbing in the 39.5's two days ago and my feet STILL hurt! My big toe joints all the way up my foot were in pain, and some old nerve pain from an old Morton's Neuroma is all fired up and hasn't been in ages!
So I just wanted to pass this info along to folks who are boggled about what size to get. Now that I have the 40.5's I feel I can actually wear them without taking them off between every single climb! :)
Source: bought it new

The best pair of rock shoes I've ever owned!
They are extraordinarily comfortable for a pair of technical shoes, and have performed well on a variety of surfaces, even out performing (to my delight) my more technical shoes. I would highly recommend these to any level of climber, for the money (they generally aren't cheap) it really is worth it.
I noticed that some reviews mention there being a problem with their durability. While I am on to my second pair of these, the first pair lasted a good year (climbing three times a week on various surfaces) without any problems (other than the usual wear down to be expected), and the second pair are still going strong...
Love climbing, hate killing your feet for it? These are the shoes for you...
I've been climbing for 1.5 years now and own currently seven pairs of climbing shoes. This is by far the best climbing shoe I've had. It is very technical, but very comfortable. I had a pair of Vipers before and although they had great grip, taking them off was a pain, whereas the Katana are easy to put on and remove, and with the velcro you adjust how tight you want them.
I have used it indoors, on granite and basalt, and has always excelled! Great sport climbing shoe.
Down side? After using it 2-3 times a week, had to resole them after three months.
Materials: leather
Use: climbing
Break-in Period: 2 weeks
Price Paid: $70

All my Sportiva shoes have fallen apart. I have a pair of Katanas that "perform" very well on the rock. However, they have delaminated terribly and require constant re-gluing to keep them from falling apart. This also happened on my Sportiva Mythos and Megas.
The resole shop that I frequent says that they get a lot of complaints about Sportiva shoes and that they have problems because they are not cleaned thoroughly before they are assembled. I no longer buy Sportiva products.
Also, when I sent messages to Sportiva N.A. customer service, they never responded. How bad is that?! They suck!
Use: hard sport climbs
Price Paid: $135

Used these shoes on granite and limestone sport and sometimes in the gym. Great edging and hooking (both toe and heel) abilities! Bought these snug (I'm a size 12 and got a 43) and they took a little breaking in, about 2-3 wks.
Only drawback was the wear. After three months of regular use (1-2 times/wk) the toe rubber started delaminating.
Price Paid: $119

I manage an indoor rock climbing gym and just recently bought a pair of Katanas. I've owned four other brand name shoes, but have already enjoyed these the most. The dual direction velcro makes for a great fit, they're extremely comfortable, they climb awesome, and on top of all of that, they look really cool!
Use: Indoor bouldering
Break-in Period: no time at all
Price Paid: $103

Your Review
Where to Buy
Help support this site by making your next gear purchase through one of the links above. Click a link, buy what you need, and the seller will contribute a portion of the purchase price to support Trailspace's independent gear reviews.
You May Like
Specs
Men's
Price
MSRP: $135.00
Historic Range: $35.40-$200.00
Reviewers Paid: $70.00-$135.00

Women's
Price
MSRP: $135.00
Historic Range: $43.00-$150.00

Recently on Trailspace