La Sportiva Trango Trek GTX

The Trango Trek GTX has been discontinued. If you're looking for something new, check out the best backpacking boots for 2023.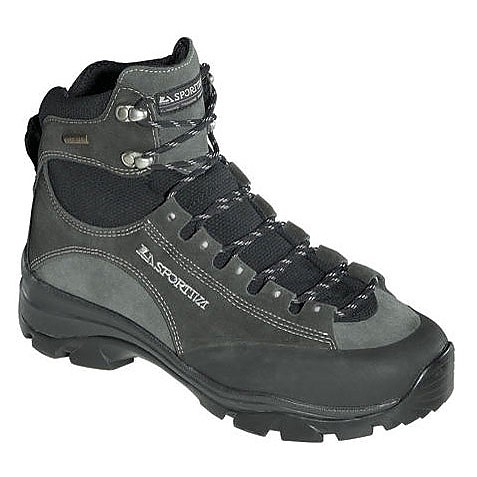 I want another pair. I bought these boots 3 years ago. They felt great from day 1.
This past summer they started a well worn in boot, with a few hundred miles on them.
Over the course of the summer, i worked in them (forest research), I was putting 40 miles a week on these boots. 10 hour days. Most of the mileage was off trail. I did this for 15 weeks. Conditions ranged from wet and light snow, to dry, terrain was unstable hills, side hiking off trail, rocks, etc. I finally killed the boots.
I still wear them but the goretex is not as good as it was, and the tread is severely worn. I wish I could post pictures of them. I am proud that I was able to wear out the soles of these boots. I gave them a serious beating. And I was always comfortable.
I want another pair. They fit my foot perfectly.
The final mileage on the boots is near 1,000 miles.
They stood up to nasty terrain, in nasty forests with lots of trees and sticks that would rip holes in pants. We would constantly walk perpendicular to 30 degree slopes, with loose footing. Places no one would ever choose to go hiking.
Good for narrow feet.
Price Paid: $160

Used these boots in all types of terrain from swamps to desert with lots of mountains and hills thrown in. From the first time I put them on they were very comfortable and required no breaking in and have been that way for nearly two years.
Now they are worn out. That is not a critiscism. I used the boots very hard and they have stood up to everything thrown at them and then some and been very comfortable into the bargain.
I am 6' and weigh in at 200 lbs so good support is esential and these boots porvided it. In my profession people wear boots 12/14hrs and upwards daily in hard country, so they go through boots very quickly. For normal hiking and back packing they should last a good while.
Am going to order another pair as soon as I can find somewhere to buy them.
Price Paid: $180

These boots have kept my feet bone dry on many very wet hikes in the White Mountains. They have been very good to the bottoms of my feet as well, no aches and pains at all and that has been a problem for me!
The problem with this boot is the tongue!!!! The tongue slides to one side and leaves your ankle to take the brunt of the pressure from the laces. It doesn't matter how you tie them up this always happens. This has caused me great discomfort and stopping frequently to straighten the tongue and retie the laces again and again!!
Break-in Period: none
Price Paid: $230

2 years and they're DEAD... poor quality boots.
I usually go to the mountains about 2 times a week, 6-8 hrs excursions... it doesn't seem this much!!
In these 2 years I had to get them repaired 2 times. Customer service working fine (quick and professional) but now, as both the soles are opening (front side)... I gave up. Will change brand, for sure.
Older boots from this same brand were much better. Maybe China effect? I don't know, but surely don't trust their products anymore.
Use: regular excursions / trekking

Great boots. Comfortable yet rugged. I use these for hiking, caving and landscaping work, and they are the best boots I've owned.
The only drawback is they are made in China.
Price Paid: $129

The boots seem to be a solid boot. After looking for several days I finally found a nice fitting boot.I was looking forward to wearing and I've have worn now for a week or so.
My big complaint is the made in China on the box. After the green feet and membership for REI they tipped the scale at $231 for a boot made in China. I DON'T THINK SO>>> These are the only pair, so I've been told, that are made in China. Well what a mistake on their part because I'm taking them back.
If you say made in Italy that's what I expect. Now I don't trust them. What a shame.
Materials: leather, gore-tex
Use: hiking everyday
Break-in Period: a week of all day use
Weight: middleweight
Price Paid: $165

Your Review
You May Like
Specs
Men's
Price
Historic Range: $71.98-$220.00
Reviewers Paid: $129.00-$230.00

Women's
Price
Historic Range: $50.86-$220.00

Recently on Trailspace