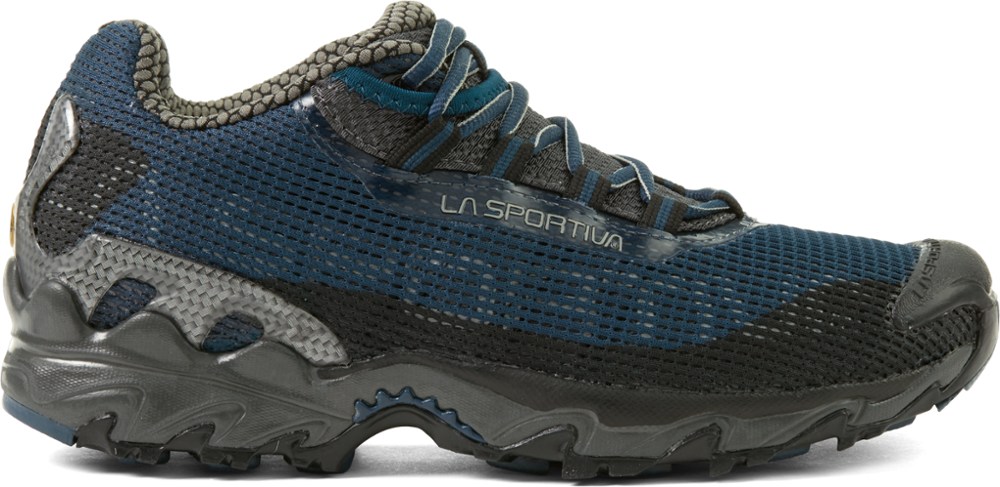 Specs
Price
MSRP: $100.00
Current Retail: $110.00
Historic Range: $29.00-$299.99
Reviewers Paid: $49.99-$110.00

Reviews
7

reviews

5-star:

2

4-star:

3

3-star:

2

2-star:

0

1-star:

0
For my activities, the ideal hiking shoe. A sturdy heel cup stabilizer that keeps me firm in uneven terrain with a non-waterproof mesh upper that breaths for warmer hikes and drains for creek crossings.
Pros
Great security and support around foot.
NOT waterproof!!!
Top quality control and solidly built to last.
Perfect fit for my European thiner heels and wider front foot if you go up 1/2 to 1 Euro. size.
Cons
The footbed is too soft for pack support. Need insole for bottom support.
Prefer not to wear on concrete or asphalt. Its tread is for on/off trails.
I bought the Wildcat as a test platform to get the same company's Raptor, which is a burlier style (now Ultra Raptor) as they were the same fit style.  I have come to prefer the Wildcat for the regions that I hike more commonly, although the Raptor might be better in more tougher conditions. I have just purchased my 2nd pair even though my first pair still has quite a bit of life left in it, despite frequent wear for 1 1/2 years. 
Even though I should be a 46.5, the 47 fit me perfectly with thinner wool socks (DeFeet Wooleators to Smartwool light PHD).  I have used them with a 20 lb. pack with a Sole Thin Sport Moldable Footbed for bottom support and with factory insoles without a pack. I prefer low cut shoes as I greatly prefer a low-ankle sprain to any high-ankle sprain (neither are good, but low-ankle sprains can be gotton over in a short while). 
I can use either a simblissity or Dirty Girl trail gaiter with the shoe to keep junk out of the low cut. On side angles, they are secure in keeping my feet from "sliding around" in the footwear as almost all low cut shoes do with me.   
As I live in Texas, I am also tired of "waterproof" footwear with their difficulty in breathing, and having to remove boots for stream crossings, which exist in some of my preferred trails. If you wish to try lighter weight hiking, or want a burly trail shoes, see if these fit the bill. I did and am glad.
Source: tried it in the store
Price Paid: $110

Comfortable out of the box, good fit, lightweight. Good shoe.
To date, the best hiking footwear I have found. I was looking for a lightweight trail shoe for three-season hiking. They were comfortable on day 1, worn locally as a precaution but didn't seem to need it.
They are breathable but not waterproof and offer good traction on rocky, rooty trails, damp or dry. They performed well on multi day backpacking trips of 10+ miles per day over rough terrain. No damage to feet or shoes.
Source: bought it new
Price Paid: $100

Very comfortable, but uppers durability is suspect.
Pros
Comfortable
Cushioning
Breathability
Insole
Outsole/grip
Toe box
Cons
Uppers durability
Lateral support
I used these for hiking/backpacking about 100 miles in hot rocky wet and dry conditions and I really enjoyed them. I did notice my foot moving sideways inside the shoes on uneven ground like on the side of a hill but that was not a deal breaker.
Unfortunately I wore a big hole in the inside of the heel under 100 miles and returned. Now I have Ultra Raptors instead which seem to have more durable uppers and heel area.  Also try on Ultra Raptors too if considering these. They are very similar.
I really like La Sportiva fit and feel for my feet which are lower volume and I like a roomy toe box.
Source: bought it new

A lightweight comfortable shoe that can be used for long or short term hiking with a backpack. Feels a lot lighter than it is. The outsoles are amazing particularly on downhills. The shoe could be more stable laterally as I think the last could be wider.
Cons
Last could be wider, needs more lateral stability
When I got these shoes I was looking for something that could be used for more than a trail runner. Regular hiking shoe are too bulky and stiff for my taste.
This shoe hit the mark and is versatile for both its use as a trail runner and hiking shoe. I was particularly impressed with the outsole's performance downhill as its grip was superb and I never lacked confidence that it wouldn't stick or that I'd fall.  
Only issue is that the toe box is wide enough and the mid foot and heel are snug enough but the last of the shoe is not wide enough for me, causing the shoe to lack lateral stability. I have to be conscious of my ankles rolling on cambered trails.  
Otherwise the shoe is very durable and the mesh is very breathable.
Source: bought it new
Price Paid: $49.99

A sturdy trail runner fit for lightweight backpacking. The outsole on this shoe is the best thing since the old Vibram soles on my heavy full-leather boots. They stick to every condition I've encountered on the Appalachian Trail (except for mossy wet rock, but everyone is going to break their neck on that stuff). Lightweight and breathable. If the shoe fits, wear it!
Pros
Outsole/lugs
Breathable
Heel cup
Dries fast
After 15 years backpacking in heavy, full leather, boots, I finally decided to give a trail runner a try. I wish I had switched sooner. The differene between having 2 lb boots on each foot vs. this 12 oz shoe is amazing! 
Here's the bad news, these shoes will not last as long as a leather boot. The inside of the shoe at the top of where you insert your foot is starting to wear after only about 80 miles of backpacking and trail running. But, that's the only place where I think they are wearing too soon. And, that's a spot where the shoes are hitting each other when my feet hit each other as I move along the trail. So, it could be I'm just a unique case where the way I walk causes the shoes to bang into each other more than necessary. 
I have strong ankles, and I can roll them without slowing down. But, I rolled my ankle in this shoe, and since there's no leather to protect the side of my foot, I got a terrible and deep bruise along the side of my foot that the mesh of this shoe just couldn't protect. 
This shoe has a very sturdy plastic guard along the heal, and I think La Sportiva would do well to add just a little protection along the side of the foot to guard against rolling. I've also seen others wearing Wildcats, and the area along the pinky toe down to the middle foot seems to wear and tear open on these shoes before wearing out the lugs/outsole. A little hard plastic would be perfect to solve this problem. 
As for fit, this shoe fit my foot well. I knew as soon as I put them on that I found the right shoe. Feet vary, and this shoe may not fit your feet. I usually wear a size 11 in daily footwear, and I usually buy 11.5s for backpacking to make sure I have plenty of room in the footbox. I bought a size 12 for the Wildcats, and I suspect they may run a little small. 
The heel cup in this shoe holds your heel comfortably in place helping to prevent your toes from banging into the front of the shoe during those long descents from summits to gaps. 
The shoes are a little stiff as well, which helps to prevent too much movement off of the sole, either forward or lateral, during trail running or backpacking. I recently ran some trail in a Brooks Ghost 8 running shoe, and immediately noticed how those shoes didn't keep my feet in place as well as the Wildcats. Of course, the Ghost 8s aren't supposed to do that. The point is that you want your foot to not slide off the sole, and the Wildcat does a good job holding your foot in place and assuring you that your foothold is secure. 
After doing five 12-mile days in a row, my feet and ankles were sore, but whose aren't? I used the insole that came with the Wildcat. I suspect I could upgrade to something that would absorb shock better? In any event, my feet and ankles didn't hurt any more than they would have in my leather boots with cushion insoles. 
These shoes aren't waterproof, and that's a pro. The only time I want to hike with a waterproof shoe is when it is wet and temps are going to get down below freezing. Otherwise, I want my shoes to breathe and dry fast. Waterproof (think Gore-Tex) shoes/boots don't breathe or dry fast at all.
Shoes have a giant hole in the top where your feet go in — that hole is going to let water in. Your feet are going to get wet. And, if your feet don't get wet from the outside, then they are going to sweat and get wet from the inside. So, the Wildcat offers a very breathable shoe that helps to keep your feet dry.
I also used a Smartwool light hiker with a synthetic liner. I made a point not to submerge my feet in water crossings. At the end of the day, my feet were as dry as I could hope for. I only got one little hot spot on the outside of my left toe which already has a callous from rubbing anyway.
As for traction, this is the best shoe I've had. I recently tried a pair of Merrell boots, and the soles were terrible. They didn't grip to anything, including dry rock with a minimal incline. The Wildcat soles are well designed. They claw the ground. They become one with rock. I've run in them and I've backpacked in them. I don't think I've ever had a serious slippage that wasn't related to a loose rock or sandy soil.
I took the Wildcats on some very long and steep descents along the AT in North Carolina, and they just stick to the trail. La Sportiva claims to have designed the sole to increase braking, and maybe they did a good job. I'm still skeptical. But, I can tell you, I feel extremely confident the Wildcat is going to grip everything. Of course, everyone should still be wary of wet roots and wet rocks. 
Overall, I would buy another pair now for when these wear out, but that means I wouldn't get to go shopping and try out a different toy. 
Source: bought it new
Price Paid: $110

Go# Wow. They may depress more than slightly after a thorough two hundred miles of wear as mentioned, but what miles those are/ Incredible.
I had to get the Gore-tex version last month to check out the other side of the tracks. I weigh enough at present, and my feet have had a brute life. The sock type fit is secure enough and sucks up to the individual with its own idea still maintained. The cushioning is unmatched for long fast technical single track hiking. Long steep descents may prove sore tootsies because it's hard to lace tight the forefoot.
As for every other part of the hike, it's worth the trade off. You can't go wrong if you put in some red laces.
Price Paid: $73.95

I love the Wildcats but unfortunately they are not very durable. My first pair failed in about 250 miles of trail running.
The problem is with the heel cushion. Overtime it starts compressing and you lose stability. Mine compressed over a half inch. During a race they eventually caused my heel to start slipping resulting in a bad blister. Also I noticed the sole itself cracks.
I've never seen such a bad failure in quality trail shoes with relatively low miles. La Sportiva really needs to take a serious look at the durability problem.

Price Paid: $85


All Wildcat versions
In addition to the 7 men's reviews above, there is 1 review for another version of the Wildcat. Read all reviews »
You May Like
Recently on Trailspace