Lafuma Cordillera 50L

The Cordillera 50L has been discontinued. If you're looking for something new, check out the best weekend packs for 2020.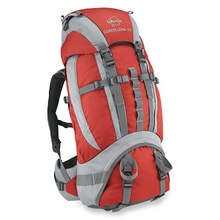 Specs
Price
Historic Range: $64.93
Reviewers Paid: $55.00-$64.93

Reviews
2

reviews

5-star:

1

4-star:

1

3-star:

0

2-star:

0

1-star:

0
My North Face Terra 40 pack was too small for multi-day hikes. I needed something larger for a 2-day backpacking trip. I had used a friend's REI Mars Pack and found it to be too big for just 2 days, which is what I supposed I typically do.
I liked the front and panel loading of the Mars pack so I began looking for a smaller pack with this and other features I had in mind. I found the Lafuma Cordillera 50L on sale at REI for about $60 and placed an order.
This was the winter of 2005 and I had plans! By the time I received the pack, I had dislocated my shoulder in a snowboarding accident. I was on a trip to India, so I decided to use this bag for all my stuff, instead of a regular suitcase. I hate suitcases for the sheer amount of things that can be stuffed into them and the fact that they become unmanageably heavy and bulky. Anyway, for the first use, my Cordillera was a travel pack lugging my clothes to and back from India.
And then I made longer trips for which I borrowed the Mars pack from my friend. I finally got to use my backpack a few weekends ago for its real purpose. Here's what I found:
The good:
1. Bullet-proof bottom: The nylon bottom is practically bulletproof. It's made of a smoother texture that wont snag on nature and unravel. I've dragger this bag, while it was sitting on it's bottom, across airports and dumped and pulled it on trails.
2. Adjustable: The torso length is also adjustably on this pack making it good for some customer fitting. The strap to adjust is quite easy to use.
3. Dual access: Can be filled from the top or from the front (panel), with 2 parallel zippers for a quick open-stuff-close operation.
4. Separate sleeping back compartment: And the best part is that it can be opened and the whole bag is available for your stuff!
5. Thumb tabs: I didn't notice them till I used them on the trip up Mt. Langley. Pass the thumbs through the little loops near the collar bone and pull. I don't know of bags that might have this feature, but I think Lafuma hit a jackpot with this feature! Putting the thumbs through the loops, does not take away from a natural gait while walking with the pack. In addition, it relieves some of the load from the shoulders (see below for why the load on shoulders is critical for Lafuma). I found myself clocking a few miles without even taking my thumbs out of the loops.
6. Waist belt loop back: Some bags do and most don't. The waist belt can be cinched with ease by pulling the looped back waist belts towards each other. Quite a few bags don't have this and one has to pull the waist tabs outwards, which is not very efficient.
7. Rain cover: The bag comes with one.
8. Loops and belts galore: The bag has sufficient loops and belts to take care of some loose items. Sleeping pad, poles, ice axe, fishing rod...
The bad:
1. The shoulder straps are soft and cushion-y. But they are narrow. And for the 30-35lb load that I end up carrying, soft or not, the shoulder straps dig in. And pressure = force / area. Narrowed straps = higher pressure for the same load. Not good for long hikes.
2. No pockets on the waist belt: I am surprised this hasn't become a standard in the industry!! Great place for a trail bar!
3. Side pockets are too narrow. And besides these, there is no storage on the length of the bag. The space on the top is good, but depending on what one has towards the top of the bag, that space may be very restricting.
The ambivalent:
1. The narrow profile: I am not against bags with a narrow profile. In fact, I kinda like them as they don't impede movement as much. But I think they don't "sit" as evenly on the back and tend to sway a bit easily, pivoted at the waist belt.
2. Color: Hey! it matters to me. I love red and I love the color of the pack. But I now think that perhaps a not so "Look at me!" color would be good for some urban usage. Nothing wrong with some urban tourist usage while hiking in India :)
There you have it. It's a good bag. Has some issues, but for a 2-3 day trip, I think it is perfect for me. Especially since I got my new down summer sleeping bag, incidentally also from Lafuma, I have enough room for my other stuff!
Design: front+top loading, internal frame
Size: 50L
Number of Pockets: 1 main with zippered sleeping bag compartment, 2 small zippered pockets, 1 compartment on top lid.
Max. Load Carried: 35lbs
Height of Owner: 5'10"
Price Paid: $55

Bought this pack from REI outlet when I was looking for an internal pack to replace my external REI Sierra Crest pack. I thought I'd give it a try. I must say I found a perfect pack for me. I have gradually converted to the "Light Backpacking" trend over the years so I didn't feel I needed a big pack.
This pack is great, it fits everything I need with a little room to spare for a weekend trip. I wouldn't neccessarily recommend this pack for a week or longer trip unless you ONLY want to bring along your essentials. I fit my sleeping bag into the sleeping bag compartment and my tent and Thermorest fit great strapped outside the pack on the lower buckled straps. This gives the rest of the room inside for everything else...which is actually quite a bit of room.
One thing I love about this pack compared to other internal packs is that it holds the pack a little off your back to give your back some air to breath...unlike other internal packs that are right up against your back for it to get hot and sweaty. This pack fits great and has so many adjustments. You can even adjust torso length!!! I'd have to tell you that this is also a very comfortable pack, I guess I only have an external pack to compare it to but I can't imagine a pack this cheap that is this comfortable.
Other things about this pack I've found great are the built in hydration system ports and holders, three zippered pockets other than the main compartment and sleeping compartment, and just the overall comfort of the pack.
For the price of the pack this is an GREAT deal. I haven't put the pack up to the time test yet but over the years we'll see how that goes, seems to be a very rugged built pack so I don't see anything comming apart or tearing up on it. Great pack! Any questions about it just e-mail me.
Design: top loading main compartment with zippered front loading sleeping bag compartment
Size: 50L
Number of Pockets: main compartment w/sleeping bag compartment +two side zipper pockets & one zipper compartment on lid of bag.
Max. Load Carried: 35lbs and felt very comfortable
Height of Owner: 5'11"
Price Paid: $64.93

You May Like
Recently on Trailspace