Lansky Blademedic Knife Sharpener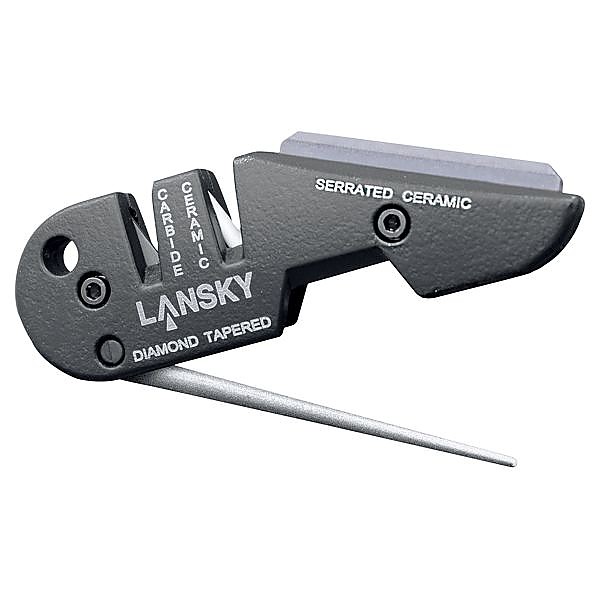 Inexpensive, small knife sharpener. From pocket knives to serrated edges to gut hooks, it comes in handy for many uses. Has brought two pocket knives back to life, though be careful as it can seem small for larger hands. I wouldn't recommend for anything bigger than 6" long knife.
Pros
Well made construction
Loop hole for attachment
Several options for sharpening
Magnetic to hold extended edge
Inexpensive ($10)
Cons
Ceramic edge can be brittle if dropped
Tiny (trouble for larger hands)
No angle set up (stationary angle)
Background
I've previously only owned a whetstone which I used on pocket knives and kitchen knives, but never used on any other knife (say, with a serrated edge) or any other hook or hooked-shaped implement.  When used on old knives I have, this tool rejuvenated them.  It didn't bring them back to brand new capacity, but definitely back in working order (more detail below).  When used to maintain current sharpness, it works as advertised and I'd recommend this as opposed to bringing old knives back from the knife graveyard.
Below is a list of the features of this tool and when it's used.  
Length (with tapered tool collapsed): 4 ¼"

Length (with tapered tool extended): 6 ¼" 

Weight: 5 oz. (per packaging, unconfirmed)

Carbide joint

: aggressive, to be used on very distressed edges (used on my old pocket knives) 

Ceramic joint

: used for polishing or maintaining edge (use this for newer edges or after carbide joint is used) 

Ceramic edge

: 2" long, for serrated edges knives and I've also used on hook-edged knives though I prefer the tapered tool for this (next) 

Tapered tool

: 2 ¼" long, more of a multi-tooling edge, can be used extended or collapsed. Has the whetstone feel to it when used. The best way to understand is through pictures and videos, so here are a couple!
While the ruler is stainless steel, I dare not sharpen it. The accounting profession is not that dangerous to necessitate wielding a sharpened ruler! Well, maybe during tax season ;)

 Left to right: carbide joint, ceramic joint, ceramic edge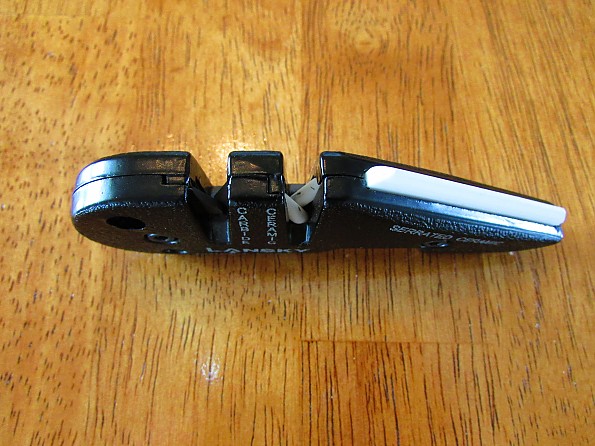 With this end sticking out and right on the edge, I'm concerned that this may break if dropped. Ceramic is a tough material, but I fear the right hit can literally make it or break it. On the other hand, the tapered tool can act as a good replacement for the ceramic edge. The difference is that the ceramic edge is less aggressive.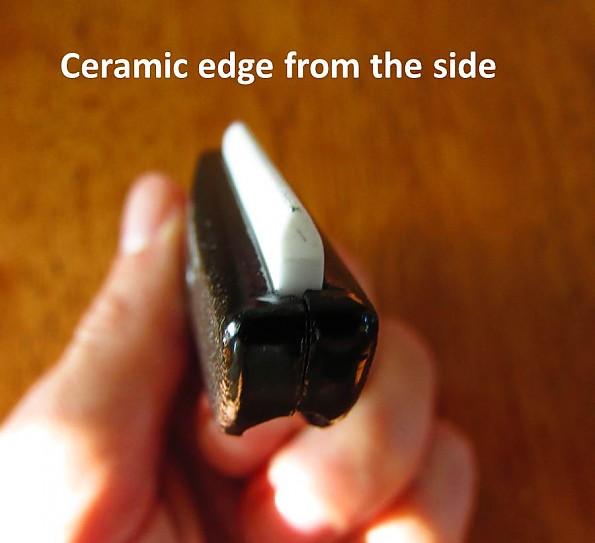 Note the size of the sharpener and how I'm holding it.  It can be small if you have larger hands.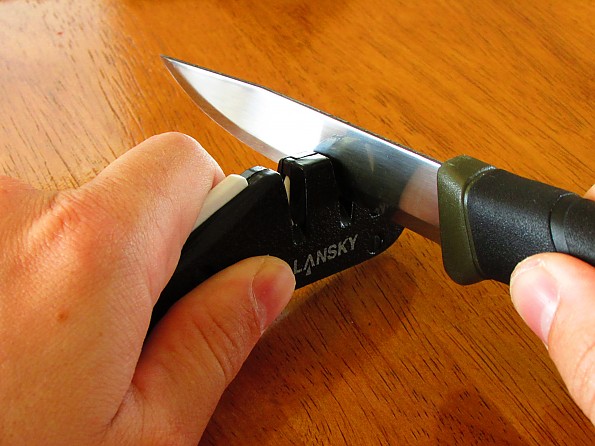 The pocket knives which I sharpened were "experienced." Let's just say, all they were good for was poking, no cutting or slicing, they were well used. I used the carbide joint first; 3-4 strokes are recommended, I used about 5-6. What resulted were very fine shavings. (I took a picture, but didn't attach as the shavings were very fine and didn't picture well). Like I mentioned before, this carbide is relatively aggressive.
I followed up with the ceramic joint, again about 5-6 strokes to smooth and polish up the roughness from the carbide.  It's subjective, but I'd say it brought the knives to about 80-90% of their original sharpness.  The knives didn't work well on some twine I was using to tie up bushes, after this they worked much better and took less effort.
I prefer to hold the sharpener against a solid, flat surface. That even goes for smaller knives like this pocket knife. For me, holding it against a table helps me to focus the effort on the pressure on the knife and moves my fingers out of the way.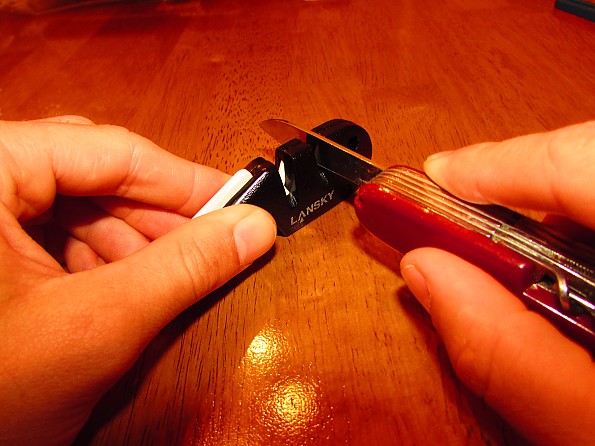 Here is another way to sharpen using the tapered tool while closed.  I don't prefer it, but it's available as the body gives a little more support to the tapered tool while handling.

I also used the tapered tool for a sewing tool, a seam ripper.  I've used it on sewing projects as well as cutting aluminum cans for an alcohol stove. The middle which is used for thread seams was pretty dull as was the leading edge.  The tapered tool worked so well that I borrowed one from my mom and fixed hers up too.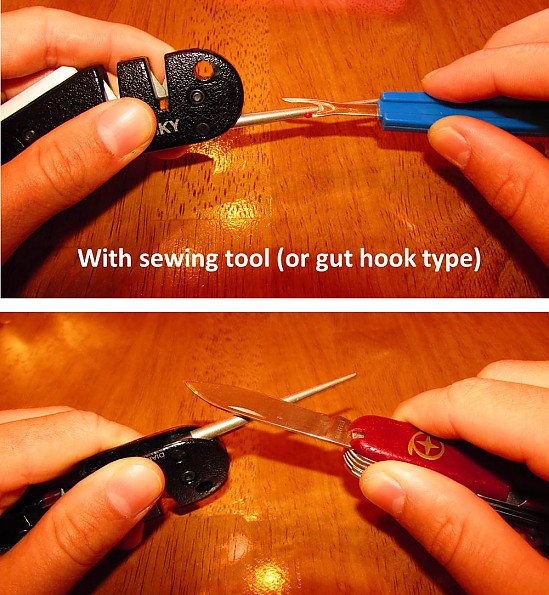 The magnets really do hold the tapered tool well. The hinge is plastic, so that's a little concern if I were to put too much pressure.  Maybe it'd snap.  The hinge actually goes all the way through the body of the sharpener, so it's well made in that respect.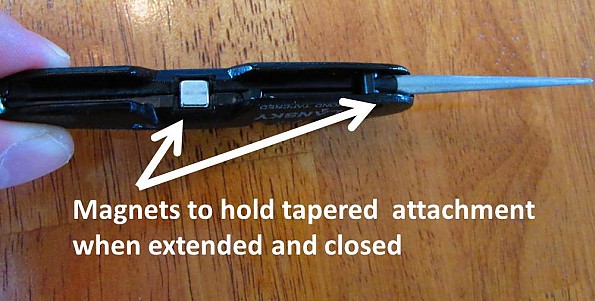 Special thanks to my wife for holding the camera in front of my face for this video...the original GoPro. The video below shows what I've already explained, but I think the video gives a better feel for the size and see it in action.
The DOs and DON'Ts 
This is a great tool to either keep in the tool box, glove box, or pack to spruce of old kinked edges. Metal knives, fish hooks, gut hooks, serrated edges will all work well with the sharpener. 
A few things which either won't work from my experience or that I wouldn't try are: 
sharpening scissors (it just wasn't the right angle with those I have, tried two plus some nail scissors to no avail)

ceramic knives (don't own one, but packaging notes only metals)

hatchet (didn't try, seems awkward, I'd just use a rock or large whetstone) 

I'd say knives longer than 6 inches. This is truly a hand-held tool and I don't think would be good for large jobs. Not just that, but I think it'd be difficult to put the appropriate amount of pressure on the sharpener entirely over the length of the blade to do it justice. 
Overall
It's a cool tool to own. I got this plus a new knife from my wife. I've owned a few knives in the past, all in a different state of disrepair. The sharpener will help bring back some gusto into older knives, it's not magic though so don't expect it to be brand new.
It brought my pocket knives back to fighting shape and they'll live to see another day of cutting rope without a problem, so for me, it's a win. I've also sharpened a few other home tools and sewing tools for my folks that otherwise would have been thrown away in time. For $10, the durability and features are worth purchasing.
Source: received it as a personal gift (gift, cost $9.99 from Amazon)

Maybe we are leaving out of this that some knives get SO dull that the first step must be a reshaping with a file. Then go to the fine stuff for that final edge.
This looks like a really well featured version of a number of available knife sharpening tools, but a small file is called for with a very dull/nicked blade, so don't expect miracles folks.
Your Review
Where to Buy
Help support this site by making your next gear purchase through one of the links above. Click a link, buy what you need, and the seller will contribute a portion of the purchase price to support Trailspace's independent gear reviews.
You May Like
Specs
Price
MSRP: $15.99
Current Retail: $24.99
Historic Range: $11.99-$24.99

Recently on Trailspace