LazerBrite Multi-Lux Unit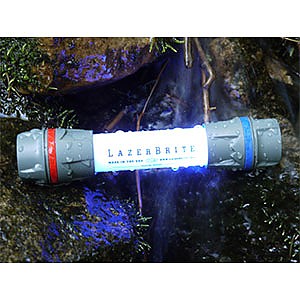 If you can't find at least a hundred uses for this light you aren't trying. This is the most handy item I have tested.
Pros
Extremely versitile
Dozens of configurations
Submersible
Made in AMERICA
Durable
Infinately customizable
Weighs almost nothing
Cons
Many modular parts can get misplaced
Don't trust it around gear-hungry friends
You need a bag to keep the extra pieces
Not bright enough to be your main navigation light
You know something is cool when the first thing you hear after showing it to someone is, "Cool, can I have it?"  Do you have a visceral hatred for headlamps?  Please read further.
First Impressions
I heard this from people so often when they saw the LazerBrite LED lights that I finally quit showing it to people. The numbers of people lusting after it was only eclipsed by their ideas of great uses for it. This is no exaggeration; this light has so many uses and is so interesting that I will only begin to scratch the surface of the long list of great uses for this light but I get ahead of myself: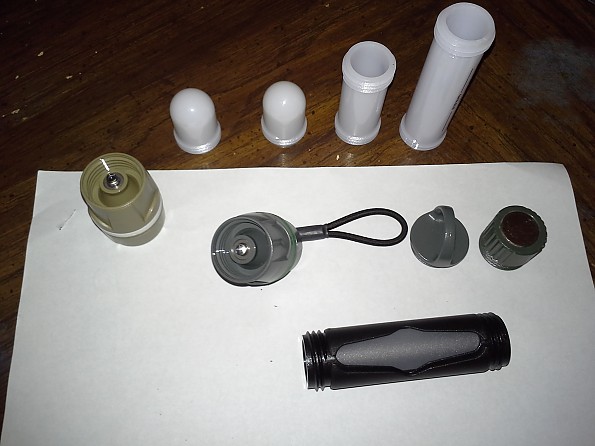 The parts
Description
This isn't like any other light so I need to describe it. The LazerBrite LED light is a modular light that can be configured as a bare bulb, signaling baton, flashing emergency signal, tactical navigation light, magnetically mounted light, conventional flashlight, diffuse reading light and more. 
The main unit is twist operated and accepts modular pieces on either end to create the perfect tool for a specific task or many tasks. Did I mention it's Submersible, super lightweight, tough, made in AMERICA and carries a "We'll buy it back" guarantee? I'll let the pictures do some describing. Although it comes in several different colors I tested the white and green one.
So, if you are a diver, hiker, mechanic, hunter, biker, climber, law enforcement officer, fisherman, tactical operator (or wannabe) or do anything ever in the dark this device has several configurations to serve you.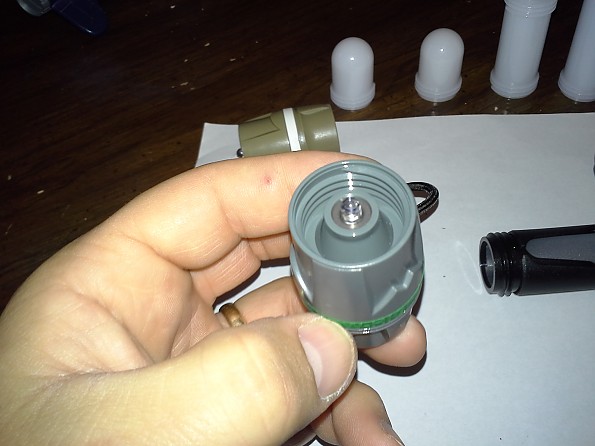 This is the base unit to which everything can be attached.
Twist the base to turn it on/off.

The "iris" is an aperture that can be opened or closed to allow as much light as you require for reading maps and remaining discreet in the case of military/LE or just trying to evade The Man. Put the white end on the other side for full-brightness.

Your buddy forgot a light? Share yours. I don't recommend it though, they'll never give it back. The green light has hi/lo/flash settings that you can differentiate by feel.

One possible configuration.

Optional magnetic base.  Makes a satisfying "thunk" when it touches ferrous metal.

Attached to a 1933 refrigerator (trivia note: refrigeration was invented to keep beer cold).

Attached to a 2012 refrigerator (still used to keep beer cold).

Optional end cap for hooking to stuff (use your imagination).

The elastic "helix" is very handy.

I'd avoid this configuration as it exposes the bulb to damage.  Just my 2 cents.

Is the inner gear geek in you awake yet?

Directing traffic?

The iris closed down tight

Get the idea? It's versatile!

Minimalist packaging!!!

Made in USA!!

My personal favorite configuration.

You never know when you will need to do this ;)

"Land the chopper here"

A fantastic signal device or fun toy?

My camouflage dog is easy to see at night with the green light on her collar. Watching the light jump around as she chases a rabbit through the brush is pretty fun.

So, it's not the brightest navigation light but suitable as a backup. Very good for reading in the dark.


I usually show pictures of me using the stuff I test, but trying to take pictures of someone using a flashlight in the dark didn't really work out.  Besides, this is probably not the best choice for a bushwhacking navigation light but really its not too terrible if all you need to see is directly in front of your feet. 
Brightness
Using the LazerBrite as a walking flashlight works well, but the light isn't quite hot enough for use as a headlight for a biking. If you are looking to replace a headlamp this might not be for you since the brightness is designed more for task lighting or signaling, to me. 
Children
I guess the final testimony to its intrigue is that, after a stern admonishment to all of my brood to keep their hands off this light, half of it (the white part) still managed to walk off and get misplaced by one of my five clones (#2 to be exact) who had to miss out on a goose hunt as punishment. 
One thing I always to do when I take very young (2-7 yr old) children hiking/camping is hang a chem light around their neck at night when they are walking around (I use a Mylar balloon during the day). Each little one gets their own color to show at a glance who is who. This way I can find them easier if/when they stray. With The LazerBrite light they also have a navigation light so they can see where they are going and it lasts much longer. 
Battery life
How long does it last? After disappearing the green half for a weekend child #2 still couldn't manage to wear out the battery, and I am sure he used it a lot. The white half, once I find it, will probably still be on. 
Conclusion
Even though this light is not the brightest light on the market all of its other features and functions should make this light part of your standard loadout for just about any trip. That is if you can figure out which way you like to configure it best.
Source: received for testing via the Trailspace Review Corps (Sample provided by LazerBrite for testing and review)

Your Review
Where to Buy
Help support this site by making your next gear purchase through one of the links above. Click a link, buy what you need, and the seller will contribute a portion of the purchase price to support Trailspace's independent gear reviews.
You May Like
Specs
| | |
| --- | --- |
| Price | MSRP: $39.99 |
| Weight | 0.19 lb |