Leatherman Skeletool

Top 50 in Multi-Tools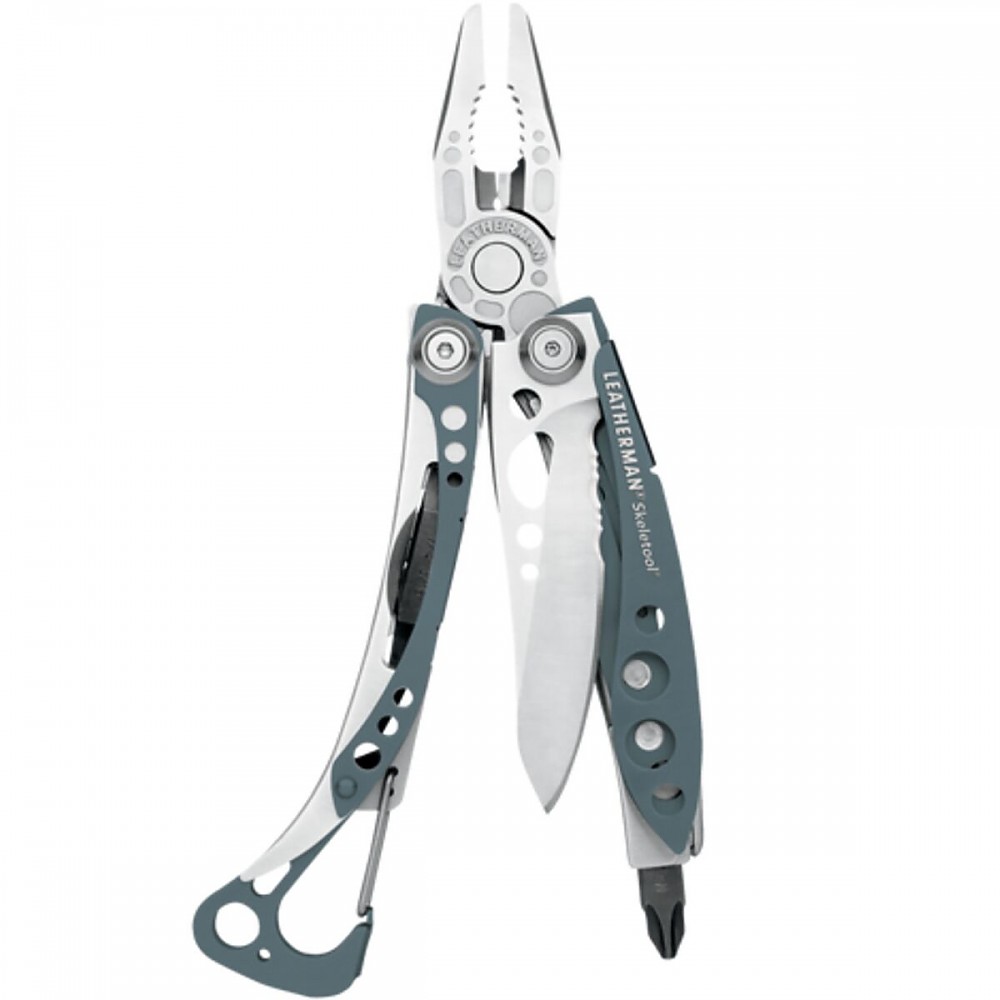 Specs
Price
Current Retail: $64.95-$69.99
Historic Range: $29.98-$94.95
Reviewers Paid: $25.00-$70.00

Reviews
5

reviews

5-star:

3

4-star:

2

3-star:

0

2-star:

0

1-star:

0
It is the minimalist approach to multi-tools and sticks with just the basic tools one tends to use versus all the extras that may never get used.
Pros
Functions as if the primary tool is a knife, while still providing pliers
Cons
It is heavy for a pocket knife
This is a good compromise between a pocket knife a multi-pupose tool. I like that that knife opens similar to a pocket knife with one hand versus having to open the tool to access the knife component.
This has replaced my regular pocket knife as an everyday carry. It has proven very handy when I need a screwdriver or pliers and I do not have to carry a bulky multi-purpose tool. 
I would rate it 5 stars if they had made use of the "holes" to lighten the weight by making them useful as wrenches for standard bolts and nuts.
Source: bought it new
Price Paid: $25

I own 2 of these bad boys. I lost the first one, and had to buy a second one to replace the first. A year later I found the lost one in my basement couch. That pretty much says it all about this tool, so valuable I had to have it in my life.
What I love about this tool is that I can clip it to my pants pocket like a pocket knife, but then it also has the pliers, screwdrivers, and functionality of a Leatherman while not being as heavy other Leathermen. My life and work dictate the need for a light weight tool that has all these functions.
I do have a few negatives on this guy.
I've bent the pocket clips on both of these knives easily. I clip it to my pocket and then the clip would get stuck on something while I was working and bend. That stinks. i've had to take the clips off and re-bend them. I hope you read this Leatherman.
The philips head strips under heavy use. Maybe I work it too hard, maybe a stiffer metal. Just a suggestion. The skeletool is no different then my Leatherman Supertool in that the wire cutters on the pliers did not take much use to become marred. I guess all leatherman wire cutters should only be used to cut thinner wire.
All those harsh negatives being said, I still have a Skeletool in my pocket all day everyday.
Ebay was the cheapest place to buy a Skeletool.
Price Paid: $60-ish

I've owned this tool for over a year now. I actually used it to re-do half of my new kitchen. Whenever the electric drill would run out of juice the Skeletool was always there.
I've owned Swiss Army knives and Benchmade knives. They're all fine and serve a purpose. Honestly, this product just does it all. It has everything you need and nothing you don't which is one of things that I couldn't understand with Swiss Army. How much crap can they put in there that you don't use?
The pliers are fantastic. Wire cutters too. I wouldn't call the knife itself anything spectacular but it's sharp and does the job. Overall 4.5 stars due to the knife getting a little dull but I'm a hard rater.
Price Paid: Can't remember

I recently have purchased the 'Skeletool' to use and an everyday knife. It has blown me away! So simple, so light, nothing i don't need. Super skinny, it slips into my pocket with ease and I forget it's there! Always useful, always handy...there are just too many wonderful things to write about it!!!!
I use my 'wave' for camping, and around the house, but everywhere else it's my Skeletool baby!
-pirate
Price Paid: $70

There's not a day that doesn't go by that I don't use this multi tool. Outdoors, around the apartment, in the office, in the data center. I use this everywhere.
It's very light weight and very sturdy. The pliers are the part I use the least, but they have been handy in a pinch.
I'm sure I'll have to send it back to Leatherman to get a new blade in several years as I sharpen it down from overuse.
Price Paid: $65

You May Like