Leatherman Skeletool

A minimal approach to a multi-tool after years with the now-discontinued Leatherman Wave. I like that it's lighter and less expensive. Definitely worth getting a case and extra driver bits. I wish it had one non-serrated blade. Very solid build quality.
Pros
Price
Simplicity
Versatility
Build quality
Cons
No non-serrated blade
No file
Leatherman's Skeletool is a great option for people who wonder why they don't use all the fold-out attachments on a multi-tool or Swiss Army knife. As with any simplified tool, there are certain options that people might miss; if so, look at Leatherman's other, more tool-heavy options. Personally, though, there are very few situations where I miss having the extra tools.
For an extra $20, you can get the Skeletool CX. It's a half-ounce lighter, the knife blade is not serrated, and the blade is made from 154cm, a premium type of stainless steel that should hold an edge a little better. The frame on the CX is plated with a darker coating.
The case showed below and the sets of extra drivers have to be purchased separately for all Leatherman multi-tools. 
A preliminary question may be, why carry a multi tool for hiking? It's all about doing field repairs. Sometimes things we use for hiking break. Metal gets fatigued, screws unscrew, parts get jostled loose. Heck, sometimes your soles peel off your shoes.
I carry a few basic repair things on longer trips because stuff happens, and I think people who head out into the woods should be prepared to do a quick field repair and move on, rather than wrecking a trip or cell-phoning someone to pick up the pieces.
In addition to a multi-tool, I carry some duct tape, extra cord, baling wire, and a small sewing kit with nylon thread and a portable awl. I have fixed tents, packs, snowshoes, and rigged temporary repairs on all sorts of things.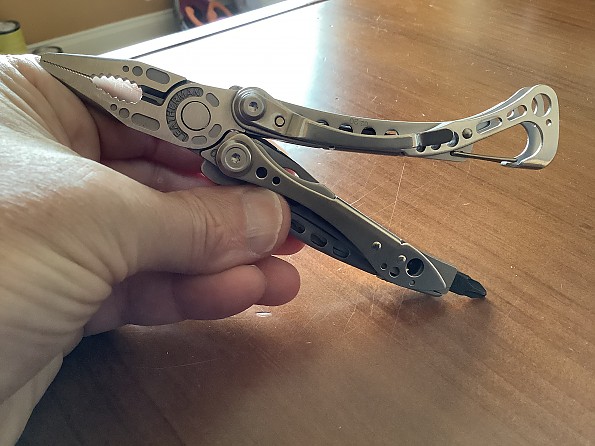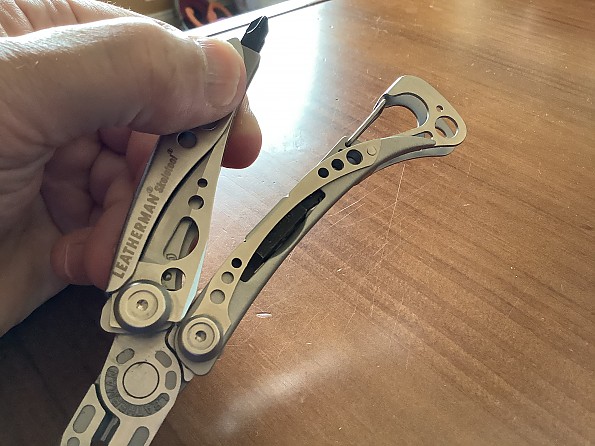 What do you get with the Skeletool? Folding pliers with a smaller nose and an area to grip larger stuff, as well as a wire cutter and stripper. One fold-out blade that locks via a liner lock and has a partially-serrated blade; a bottle opener that doubles as a way to clip the tool to a belt loop; a spring clip if you prefer to carry it on a pocket; and a socket with two drivers, which are basic flat and Phillips head screw drivers. That's it.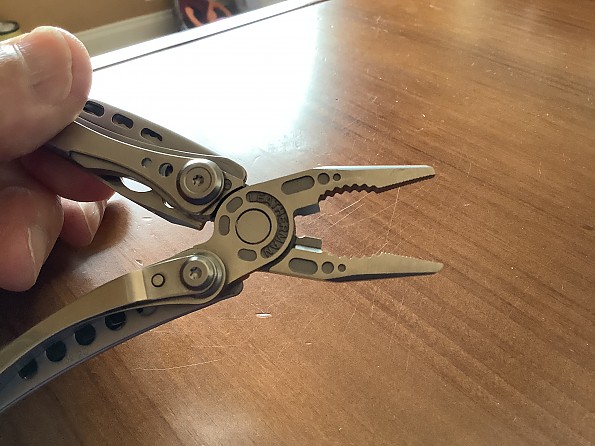 What you don't get: my venerable Leatherman Wave (now replaced by the Wave+) has four larger fold-out tools—serrated and non-serrated knife blades, a small toothed saw; and a file. I never used the saw and rarely used the file. I did use the straight and serrated blades often, and the lack of one tool with both options is the one omission that led me to dip below a five-star review  The old Wave also had multiple fold-out screwdrivers that have been replaced by the driver socket approach, a small fold-out pair of scissors, and a bottle/can opener; not included here.
Advantages: First, weight. The Skeletool weighs 5.5 ounces, not counting if you leave the extra driver set home; the Rebar is 6.7,  Wave+ is 8.5, the Charge+ 8.3-8.8 (there are a few versions of the Charge), Surge is 12.
Second, it's sturdy and well-made. The pliers and joints have no play or looseness. The knife is sharp; I haven't felt the need to sharpen it, though that would be a bit challenging for the serrated part of the blade. I think that in general, Leatherman has improved the joints on its tools across the board; my older one feels a fair bit less solid, though that's after more than a decade of relatively regular use.
Third, versatility, though Leatherman's adoption of the socket/driver system plays a big role in that. I purchased the extra drivers because they give you a lot more ability to fix things that you might not necessarily anticipate.
Fourth, simplicity. There is something to be said for avoiding overkill. I looked at Leatherman's other options when I bought this, and they are fine tools. However, I know from experience that I wouldn't use many of the tools and didn't see the point of having all that stuff I wouldn't use.
Finally, price. This cost about $60.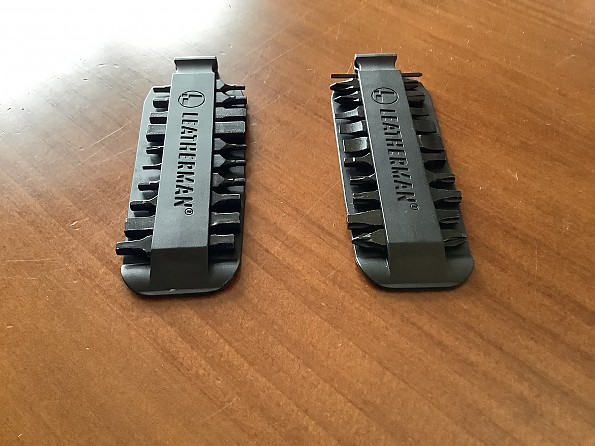 Example: on a recent family trip, I did quite a bit of cycling. The cleats on my cycling shoes loosened up, making them hard to disengage from the pedals. The cleats attached to the sole with screws that need an Allen (hex) key to secure. The extra sockets include several sizes of Allen keys, so getting my cleats re-oriented and secured was was easy; I hadn't brought my multiple sets of Allen keys with us.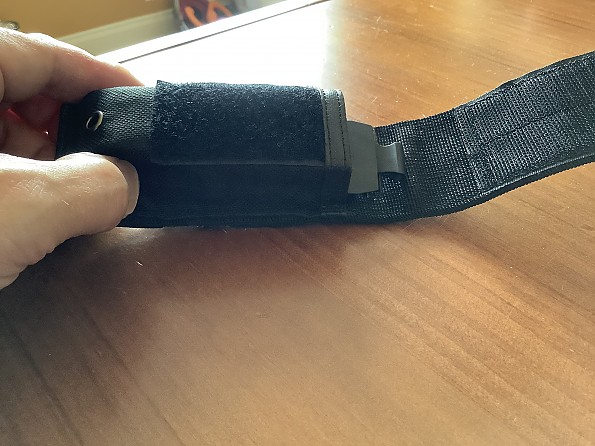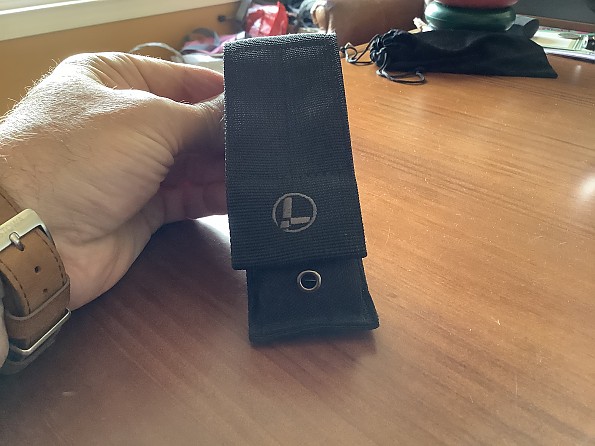 Takeaways: I like this tool and probably would have liked the slightly upgraded CX version too; i figured one blade that's half straight, half serrated would be better than no serrated blade at all. I have always felt plier multi-tools are a good item to have around and take on trips, and I was very pleased with how this tool improved on my older Leatherman. 
Experience
About 8 months of use, more for home projects than trips due to COVID restrictions.
Source: bought it new
Price Paid: $60

It is the minimalist approach to multi-tools and sticks with just the basic tools one tends to use versus all the extras that may never get used.
Pros
Functions as if the primary tool is a knife, while still providing pliers
Cons
It is heavy for a pocket knife
This is a good compromise between a pocket knife a multi-pupose tool. I like that that knife opens similar to a pocket knife with one hand versus having to open the tool to access the knife component.
This has replaced my regular pocket knife as an everyday carry. It has proven very handy when I need a screwdriver or pliers and I do not have to carry a bulky multi-purpose tool. 
I would rate it 5 stars if they had made use of the "holes" to lighten the weight by making them useful as wrenches for standard bolts and nuts.
Source: bought it new
Price Paid: $25

I own two of these bad boys. I lost the first one, and had to buy a second one to replace the first. A year later I found the lost one in my basement couch. That pretty much says it all about this tool, so valuable I had to have it in my life.
What I love about this tool is that I can clip it to my pants pocket like a pocket knife, but then it also has the pliers, screwdrivers, and functionality of a Leatherman while not being as heavy other Leathermen. My life and work dictate the need for a lightweight tool that has all these functions.
I do have a few negatives on this guy.
I've bent the pocket clips on both of these knives easily. I clip it to my pocket and then the clip would get stuck on something while I was working and bend. That stinks. I've had to take the clips off and re-bend them. I hope you read this, Leatherman.
The philips head strips under heavy use. Maybe I work it too hard, maybe a stiffer metal. Just a suggestion. The Skeletool is no different than my Leatherman Supertool in that the wire cutters on the pliers did not take much use to become marred. I guess all Leatherman wire cutters should only be used to cut thinner wire.
All those harsh negatives being said, I still have a Skeletool in my pocket all day, everyday.
Ebay was the cheapest place to buy a Skeletool.
Source: bought it new
Price Paid: $60-ish

I've owned this tool for over a year now. I actually used it to re-do half of my new kitchen. Whenever the electric drill would run out of juice the Skeletool was always there.
I've owned Swiss Army knives and Benchmade knives. They're all fine and serve a purpose. Honestly, this product just does it all. It has everything you need and nothing you don't which is one of things that I couldn't understand with Swiss Army. How much crap can they put in there that you don't use?
The pliers are fantastic. Wire cutters too. I wouldn't call the knife itself anything spectacular but it's sharp and does the job. Overall 4.5 stars due to the knife getting a little dull but I'm a hard rater.
Price Paid: Can't remember

I recently have purchased the Skeletool to use and an everyday knife. It has blown me away! So simple, so light, nothing I don't need.
Super skinny, it slips into my pocket with ease and I forget it's there! Always useful, always handy...there are just too many wonderful things to write about it!!!!
I use my Wave for camping and around the house, but everywhere else it's my Skeletool baby!
-pirate
Price Paid: $70

There's not a day that doesn't go by that I don't use this multi tool. Outdoors, around the apartment, in the office, in the data center. I use this everywhere.
It's very lightweight and very sturdy. The pliers are the part I use the least, but they have been handy in a pinch.
I'm sure I'll have to send it back to Leatherman to get a new blade in several years as I sharpen it down from overuse.
Price Paid: $65

Your Review
Where to Buy
Help support this site by making your next gear purchase through one of the links above. Click a link, buy what you need, and the seller will contribute a portion of the purchase price to support Trailspace's independent gear reviews.
You May Like
Specs
Price
MSRP: $64.95
Current Retail: $64.95-$74.99
Historic Range: $29.98-$94.95
Reviewers Paid: $25.00-$70.00

Closed Length
4 in / 10 cm

Open Length
6.0 in / 15.24 cm

Blade Length
2.6 in / 6.60 cm

Weight
5.0 oz / 142 g

Width
1.24 in / 3.15 cm

Overall Thickness
.52 in / 1.32 cm

Materials
420HC Stainless Steel

Tools
7—Needlenose Pliers / Regular Pliers / Hard-wire Cutters / Wire Cutters / 420HC Combo Knife / Carabiner/Bottle Opener / Large Bit Driver

Included Bits
Phillips #1 & #2, Screwdriver 1/4" & 3/16"

Recently on Trailspace