Ledlenser ML6 Connect WL

Top 25 in Battery-Powered Lanterns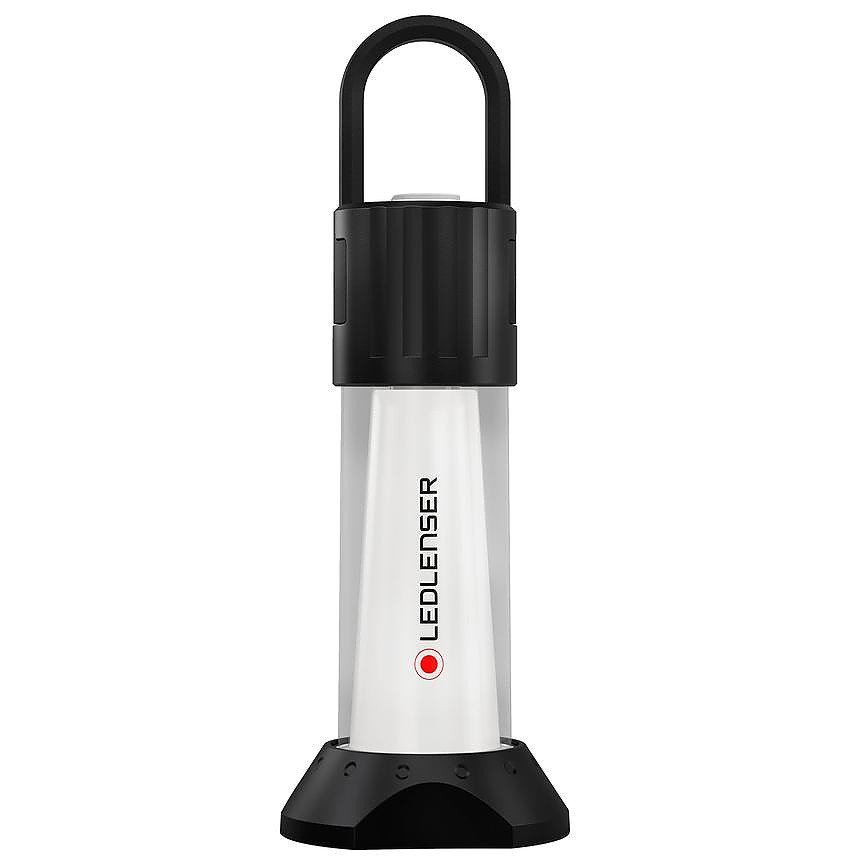 Specs
Price
MSRP: $119.95
Current Retail: $79.99
Reviewers Paid: $150.00

LED Configuration
18 x Power LED

Luminosity
MAX 750 lm - MIN 5 lm

Battery Duration
MAX 180 h - MIN 3.5 h

Length (defocused)
178 mm

Head Diameter
31 mm

Weight
139 g

Battery
1 x 18650 3.6V

Battery Capacity
10.89 Wh

Water Resistance
IPX6

Dust Resistance
IP6X

Rechargeable
Yes

Reviews
1

review

5-star:

0

4-star:

1

3-star:

0

2-star:

0

1-star:

0
I've been using Lupine LED light systems for night MTBiking and other activities for more than a decade. It's hard to beat the Germans when it comes to high-end LED equipment in terms of performance, quality, versatility, and reliability. When it was time to shop for a new camping lantern, I decided to choose one from Ledlenser, another German manufacturer with similarly good reputation, but in camping/backpacking light equipment.
Pros
Elegant
German engineering and design
Amazing illumination
Powerful: 750 lumens
Warm light: comfortable K temp color
Packs small
Tough, well built
Awesome app to control everything from smartphone or tablet
Remote control (maybe a gimmick, but nice and works well)
Common, easy to find battery (18650)
Versatile: has an USB port to function as power bank
Various mounting options
Too many functions
Cons
Proprietary "magnetic" charging cable is gimmick and limits functionality
App will disconnect from lantern when closed or phone is locked
Too many functions
These high-end lighting German manufacturers have great pride in their engineering and craftsmanship, and above all the quality, performance, and design of their devices. I can attest to that 100%: my Wilma, Piko, and Rotlicht bike light sets from top brand LUPINE are still performing strong after a decade of hard and frequent use.
I've been wanting to try Ledlenser for some time, so when shopping for a new camping/backpack/survival lantern, I decided to take the plunge and go with the flagship model, the ML6 WL Connect.
Ledlenser has a huge line of lighting equipment, from flashlights of all kinds and outputs, to headlamps and working lights. None of it is toy-like: all their products are professional level, high-end stuff. 
The ML6 has a smaller sister, the ML4. It's a small, cute little 2.5oz/4" lantern that puts out 300 lumens for about 2.5 hours in max, or 45 hours in low (5 lumen) mode. The ML6 is bigger, heavier, and packed with features, which is ideal for longer explorations, and that's why I decided to go with it. Both models can be purchased in white or warm light, but this is fixed.
First, the basics: the ML6 pumps out 750 lumens max and 5lm min, for a range of 3.5 hours @ max to a whopping 180 hours @ min., using a single rechargeable Li-ion 3400mHa 3.6V 18650 battery. Total weight is 260g and length is 178mm.
Charging is done by use of a proprietary magnetic connector/USB cable, which in my opinion is the Achilles heel of the ML6: if you lose/forget/ruin the cable, you're stranded. A simple micro-USB or even a modern USB-C connector would have been much, much better and more convenient. Here's hoping Ledlenser corrects this on future ML6s (hopefully with the possibility of retrofitting old ones too!).
I carry a small Olight Universal Battery Charger as a backup for various devices, and the ML6 tops the list for that reason. Another option is to carry extra 18650s, but that has limitations unless you can recharge (hence the Olight UBC), and adds weight that would be otherwise unnecessary. Anyway...
It's IP66 rated and feels solid throughout. All parts have tight tolerances and absolutely no sign of corners cut anywhere. I haven't yet dropped it or abused much, not beyond standard demanding use that is. It feels capable of standing some rough treatment, though I certainly don't want to put this to test. It can be hung from the detachable rubber loop or the metal hook located under the rubberized and removable plastic stand/foot. There's also a strong magnet in the base/battery cap. I've added a carabiner just to make it easier and faster to hang (shown in the pictures).
WL stands for warm light, and it's a great and comforting depart from the most common white, "cold" LED light found in most flashlights and lanterns out there. It has red light, which I always love when I need to preserve my night vision, or just have some discreet lighting around. Blinking, pulse, and emergency signal modes are also featured.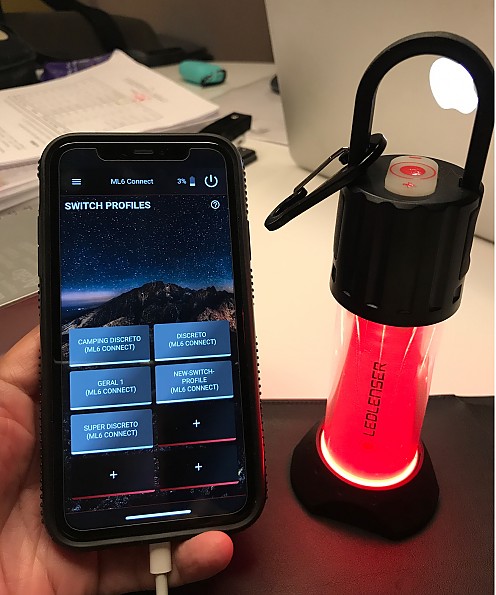 The light is an eye-pleasing, glare-free, diffuse warm that resembles the light provided by some gas-powered lanterns like my old Coleman and some other unbranded ones that since the appearance of powerful LED and Li-ion technology years ago have been relegated to homestead/emergency use.
The 750 lumens in max output is more than enough to light the entire campground around my tarp, even other campers in tents or hammocks nearby. I must mention that my LuminAid with only 300 lumens and white light is also pretty capable, diffuse and quite comfortable too. But the ML6 is twice the output and it shows.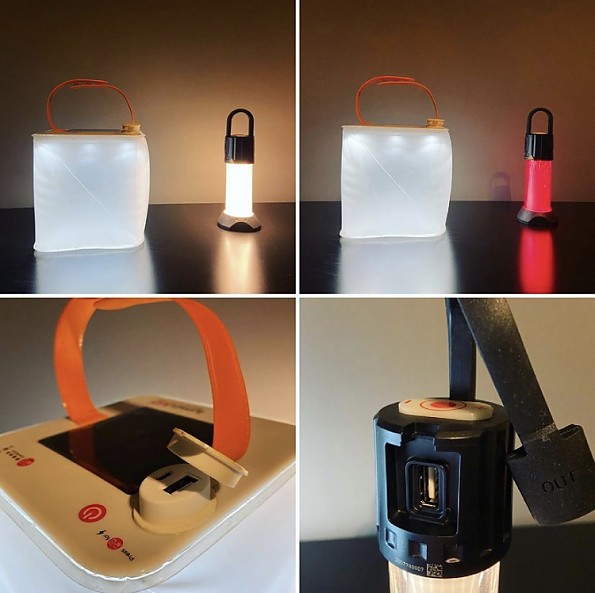 Ledlenser uses a proprietary lens treatment they call Micro Prism Technology to provide glare-free, diffuse light, and it does work well. The lens have a phosphorescent ring that remains lit after the light is turned off, which is a nice feature to have in a camping item and especially in a lantern. The rubberized switch on the top also glows in the dark, and allows for the adjustment of luminosity with simple + and - buttons.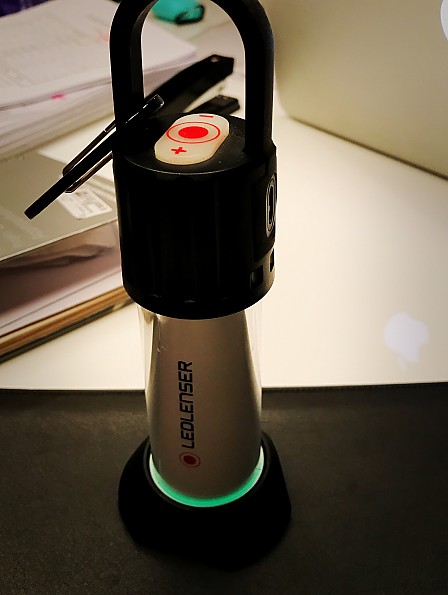 Phosphorescent trimmings help locating the lantern in the dark.
Connectivity 
The Connect stands for bluetooth connectivity that sets it apart from the other ML6 models. When used with Ledlenser's proprietary app, this lantern really shines (pun unintended). With the app it's possible to set up every conceivable parameter, including timer, various switchable profiles, locking, intervals, etc., allowing for full customization of the lantern to the owner as well as various different uses/situations.
It is also possible to control the light levels directly, monitor battery charge, change light settings (white, red, blink, etc.) and many other settings. I find this awesome as I can install the lantern wherever it works best in my campground, use it at will, change settings as necessary, and even turn it off (or on) while  in bed (or elsewhere) from my smartphone or tablet.
For instance, if it's cold I can turn it on or off from inside my sleeping bag when it's time to sleep, or to wake up for toilet time or something. It's also useful to play tricks and piss friends (yes, I did that a few times for a good laugh of course).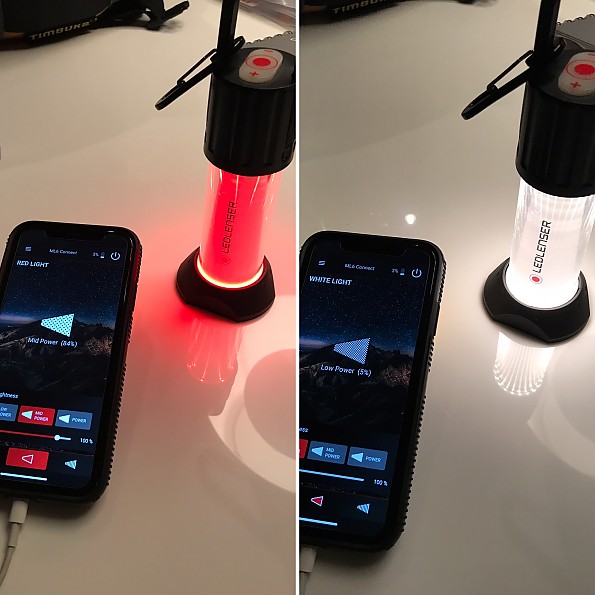 This may not sound like much, or a gimmick, but it is a big convenience and even a luxury really. Is it necessary? Absolutely not. Is it nice to have? Absolutely yes. It's also practical for when I'm fishing or cooking or doing something, not close to the lantern, and need more or less light, or turn it on or off, or change settings for some reason. Oh, and it also works as a normal, simple lantern too. 
Remote controller
Another way to control the basic operation of the lantern is by using the included remote control. On, off, + and -. I can see the potential uses too, as for instance controlling the lantern while it's in the backpack (i.e. in our back) or inside the hammock far from the sleeping bag, without having to grab the smartphone, for whatever reason (rain, etc.). 
Maybe I'll find other situations in which this could show more advantageous, who knows. But it's kinda gimmicky in my opinion. So far it hasn't proved much useful or a big differential. Anyway the RC comes integrated in a rubber wristband and is as fancy and well made as the lantern. It could be lost easily in a trip though. For those reasons I leave it at home most of the time.
The not-so-good
Aside from the proprietary magnetic charging cable mentioned before, the app also has some quirks. Despite being excellent and well designed, fully-featured, it gets disconnected when minimized, or when the phone goes into lock mode (standby). Meaning, every time you want to make an adjustment or whatever to the lantern via your smartphone, you'll have to restart the app and reconnect.
Reconnecting is quick and straightforward, and hasn't failed once in months.But it's annoying, also because the lantern blinks red twice when it (re)connects and/or disconnects. Maybe this is by design, to save energy or something. This would make sense, though bluetooth's energy consumption is usually negligible. Besides, the ML6's 18650 is capable enough to serve as powerbank. Maybe it's related to some OS limitation or something, but who knows. 
The lantern can be reconnected again within 50 minutes from being turned off and this has proven useful. After that time it has to be manually turned on to become "reconnectable" to the app again.
The other problem is most likely something with my unit and not really a flaw or design issue. I'm having issues with the battery. I mean, I guess (and hope) it's the battery, and not the charging manager or other electronics. But anyway, it's acting weird lately, discharging when not in use and charging to full in just a few minutes. I was surprised when I took the pictures for this review and saw it was 3% after a full charge just days before. In use, it's dropping charge faster than it should too, considering the manufacturer's specs.
Does this have some intelligent charge management to prevent cell damage? Some intelligent batteries do, but usually not in this type and size of equipment. I'd be surprised if the Ml6 has something in way of managing auto discharge. And that doesn't explain the quick recharges and discharges in use.
Either way this behavior is very uncommon for Li-ion/LED equipment, and even more so with high-end German LED devices, so I'm currently using it with another 18650 Li-ion rechargeable battery to see what gives. I'm considering a 3500 mAh from Nitecore to test the new high capacity, as the Lendlender original is rated at 3400 (not a big difference but we'll see).
Conclusion
These are minor drawbacks in an otherwise awesome LED lantern with all the bells and whistles one can imagine in such a piece of gear. It's also backed up by a solid warranty by a reputable manufacturer. I expect my ML6 to last a long time. I highly recommend it for someone looking for a powerful, efficient and comfortable adventure lantern with lots of features and some gimmicks. LL has other ML6 models without all the gimmicks yet same warm light but for le$$. 
Experience
I have a special interest in flashlights, headlamps, and lanterns. I'm not a collector, I just appreciate their simplicity and functionality. I have one or two of each item for each specific use (cycling, MTBiking, trekking, backpacking, camping, etc.), use and enjoy each fully and take good care too. "Have two have one. Have one have none". That's to say it's one area I like to follow the developments and advances, and it's been advancing quite fast. Currently I have the LuminAid inflatable lantern which I use in conjunction with the new ML6 for camping/backpacking and also at home, when necessary.

I used to have gas (propane) light lanterns, but dropped those for outdoor trips because of size, weight, and practicality. The ML6's illumination reminded me of those gas lanterns with its 750-lumen output and warm light. It's different but almost as comforting without the hassle and bulk.
Source: bought it new
Price Paid: USD 150

You May Like
Recently on Trailspace