LuminAID Packlite 12

Top 25 in Battery-Powered Lanterns
The Packlite 12 has been discontinued. It was replaced by the LuminAID PackLite Titan 2-in-1 Power Lantern.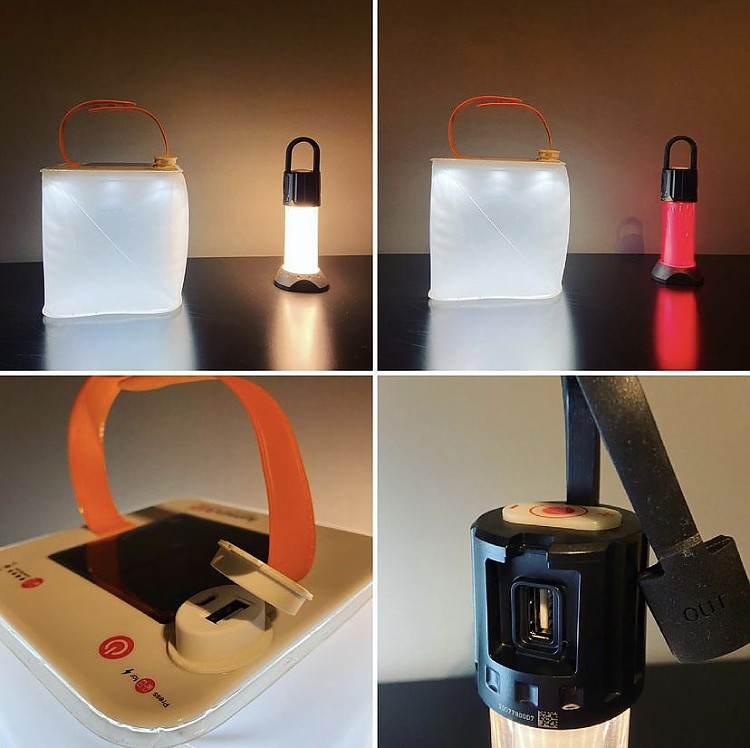 Specs
| | |
| --- | --- |
| Price | Reviewers Paid: $26.00 |
Reviews
3

reviews

5-star:

3

4-star:

0

3-star:

0

2-star:

0

1-star:

0
I've owned (and still do) many different LED camping lanterns, but this is hands-down the best, most reliable, and versatile one I've ever put my hands on. Lightweight, powerful, tough, versatile—it has so many qualities and very few downsides. I use it for camping, but also at home during power outages.
Pros
Lightweight
Solar recharge works
Excellent illumination, perfect diffuse
300 lumen model is powerful
Charge indicator
It floats
Four modes/intensities
Works inflated and deflated
Double as powerbank
Can be repaired if punctured
Durable
Cons
Inflating nozzle not too practical
Folds flat and thin but not too small
Insects can enter the inflating part of the lantern (hard to remove!)
Battery can't be changed
I'm not a collector of anything, but I do love lanterns and flashlights and confess that I have a few more than I need (and I believe we only need a good one and that's it). But life's not that simple.
I find the design of the LuminAid genius. It's simple, relatively cheap, extremely functional and efficient, robust, and lightweight. It's admirable in form and function, and it's well executed too. The illumination is excellent, diffuse and soft and despite using white LEDs it's very comfortable and suave.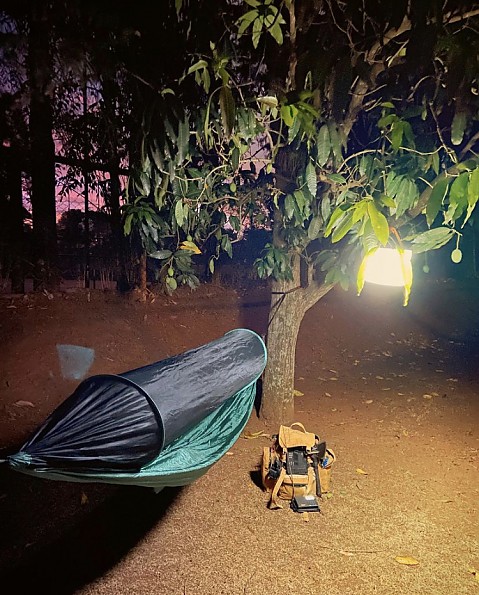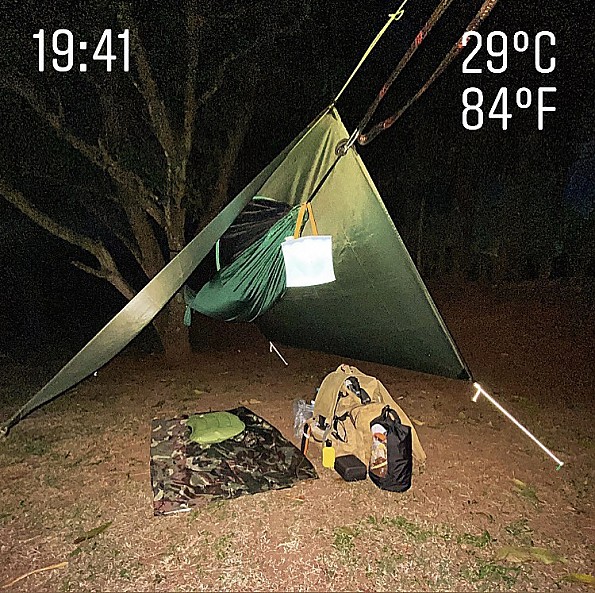 It works inflated or compressed, though it's considerably more efficient when inflated, which is the intended form. The max output is rated at 300 lumen, and it's a lot to provide enough light for a big tent, a hammock/tarp setup, or a relatively large campground. It can also be used at home during power outages, more than enough for performing any tasks like reading, cooking, showering, etc. It's really cool. 
It has two charging options, and even the small solar panel works, which is not really common with this kind/size of item. After using it during the night and half a charge (or less, depending on the intensity/time of use), I put it in the sun after waking up and before lunch it's usually topped up. I've managed to charge it from around 20-25% to full in one day.
My solar-powered powerbank has more capacity than the LuminAid battery for sure, but it takes 3 or 4 days to go from around 30% to full, just for comparison. I'd guess the lantern's system is more efficient at recharging but that's anecdotal I admit. 
It doubles as a powerbank, and can charge a smartphone or other small appliance (flashlight or headlamp) and still have enough juice for one night illumination. It has a 4-LED charge indicator and it's pretty precise. This thing is simple and basic, but it seem to have good electronics in my humble opinion.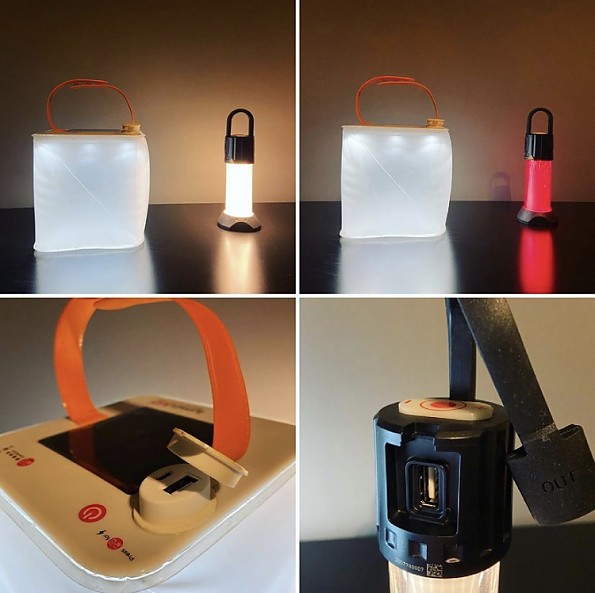 It's really waterproof, and even floats (great for night fishing or rain season). But small insects managed to enter mine, I have no idea how. Maybe I forgot the valve open a couple of times without noticing it, I don't know. It was a pain to remove them from inside the inflatable part of the lantern though.
Talking about the valve, it's the only not-so-cool part of the LuminAid. It sticks out when deflated, and even though this hasn't caused any issues, it's clunky. Also hard to pull out to deflate, and it hasn't the blowback valve to prevent deflation while closing. It's just like those kid's and pool floaters. But that's minor compared to the overall performance of the lantern really. 
Another drawback is the impossibility of replacing the battery or performing any maintenance. It's completely shielded in the TPU (or TPU-like) plastic of the expandable part, and the solar panel/battery/LED cluster and control system is also fully enclosed and sealed in plastic.
It can be repaired in case of rips though: I've used vinyl and even tarp/sleeping pad repair kits on friend's LuminAids, and once I repaired one that was blown by the owner's dog in a camping tent next to me using a glueless bike tube repair patch. Maybe that can work to re-seal one in case the battery dies and needs replacement.
I'll have to wait for mine to die on me before attempting this though. I love my LuminAid and intend to keep using for a long time as it is. 
Experience
I've been using mine for years, with the same level of performance. The plastic is not looking clear-new anymore, but it's still flexible and functional. I'm currently using a Ledlenser ML6 connect as well and it's a blast, super-high-tech german LED lantern with warm-light and red light LED, bluetooth connection and dedicated app to control pretty much everything... But I absolutely love and trust my LuminAid lantern in every situation. It's basic but it's awesome all the same.
Source: bought it new
Price Paid: USD60 for the 300 lumen model with new features (USB port, etc.).

Handy solar charged lantern for backpacking or car camping. Easy to clip on a backpack for travel or in a tent for reading.
Pros
Four light settings
Lightweight
Strap has three plastic snap locations for hanging
Cons
Hard to get nozzle out of lantern body for blowing up or letting air out.
This was a gift, and has ended up being a take everywhere lantern. It lives on my vehicle dashboard for constant solar charging until I strap it onto my backpack to hang in my tent in the backcountry.
It has three strengths of light lasting between six and twelve hours on a full charge, and a flashing light lasting up to thirty two hours on a full charge. At 3.2 ounces, the convenience of the lantern outweighs any hesitancy about adding it to my pack for a multi-day hike.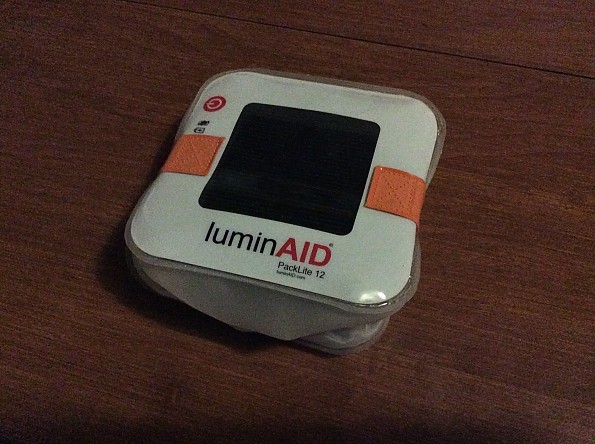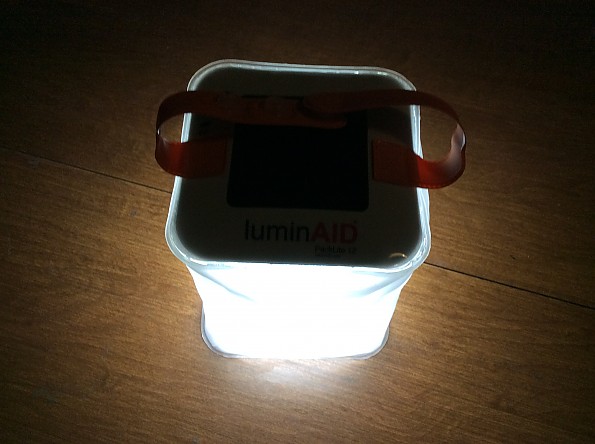 The lantern is waterproof, 100% PVC free and lead free. LuminAID cost is between $16 and $23, and LuminAID has added additional versions of this lantern for even longer lasting light. Size: 4" x 4" x 4" inflated. 4" x 4" x 1" deflated. 
The only inconvenience is prying the blow-up nozzle out of the lantern body, but that doesn't deter me from using and loving this lantern to light up my tent or my truck camper when sleeping in the back. I just snap the strap together and hang it where I can. And I don't have to use up my headlamp batteries to read by. 
Source: received it as a personal gift

This was hands down the coolest piece in my pack: Super compact, weighing almost nothing, low price, and so much fun to use!
Pros
Compact
Lightweight
Waterproof
Solar powered
Fun
I've heard tell of a new model coming soon with a micro USB to charge devices and a more accurate battery indicator. Those improvements would be swell, but this gadget is awesome as it is.
Bring it to some hot springs after dark, send it floating with the "Spectra" color gradation model, and prepare to be amazed. Perfect amount of ambient light and I've seen people hiking with it, although it's definitely a diffused, lower lumen output than a headlamp.
It's so light and compact, there's no reason not to bring it everywhere! Just don't leave it sunning on a beach in Cambodia and you'll be good to go.
Source: bought it new
Price Paid: $26

You May Like
Recently on Trailspace