Leki Sub1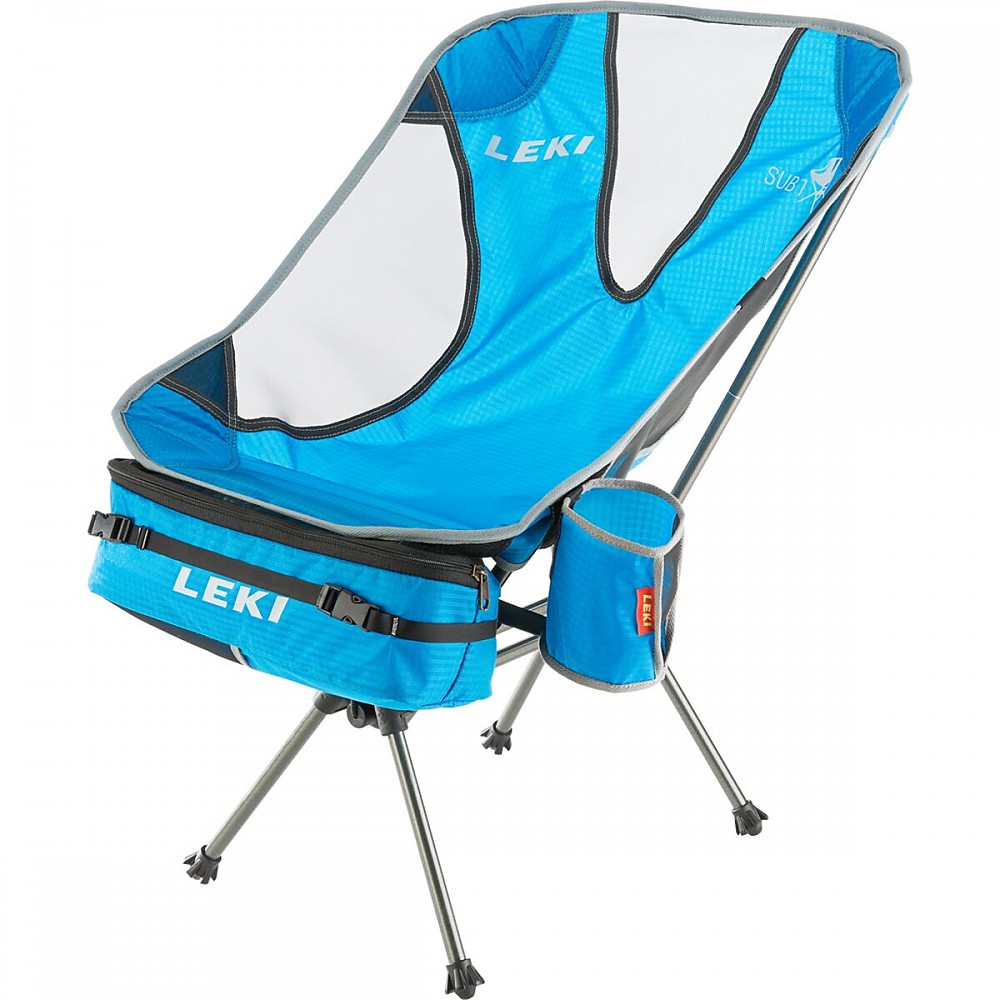 A lightweight chair that is somewhere in between an all-purpose and a lightweight camp chair. Incredibly easy to set up and a durable base make it a good option for many functions.
Pros
Lightweight
High weight limit
Easy setup
Sturdy
Single hub base
Shock cord aluminum poles (tent-like)
Mesh panels for breathability
Cons
Feet can begin to sink in soft ground, add-on may be needed for sand/snow conditions
Subpar beverage holder
Noisy (only an issue when hunting)
Conditions:
I have been using the LEKI Sub1 for a wide range of purposes in a variety of conditions for nearly four months. The chair has been exposed to sun, snow, rain, and wind. The Sub1 has been used for car camping, hunting, tailgating, and hanging around the backyard fire pit. It has also been packed into an Osprey Atmos 65 and carried into the backcountry on a two-day trip.
While it served me well in the backcountry, it took up a little too much room in the pack for me to consider it a long-term solution of my backcountry camping kit. For the other uses, it typically served me very well. 
Size and Weight:

Packed dimensions: 33cm x 12.7cm x 12.7 cm or 13" x 5" x 5" 
Ground clearance from hub to ground: 17.8cm or 7"
Ground clearance from seat to ground: 34.3cm or 13.5" 
Total height: 67.3cm or 26.5"
Chair and base/legs only: .95 kg (hence the name, Sub1) or 2.1 lbs
With carrying pouch and cup holder:1.05 kg or 2.3 lbs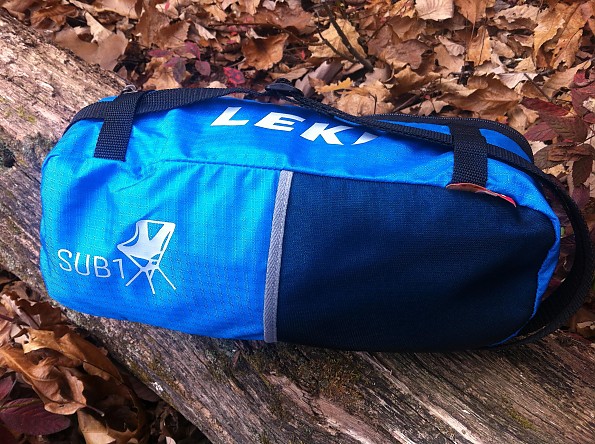 Start with the carrying case...
Unpack...
Set up the single hub pole frame...
And attach the sling and other accessories (carrying case converts to front pouch and drink holder slides in place) and you have yourself a comfortable chair. 
Ease of Use: 
No instructions are included because no instructions are needed. Simply unzip the bag, pull out the frame and easily snap the poles into place. The shock cord aluminum poles are permanently attached to the hub, so there is no possible way to get the legs in the wrong spot. Simply check each point on the hub to make sure each pole is fully snapped in place. 
For some reason one of the poles has a different colored end cap, but as far as I know there is no practical reason for this. In no particular order, slide the pole ends into the chair sling's reinforced connection points and your throne is ready. Attach drink holder and front pouch for some storage options if you so choose.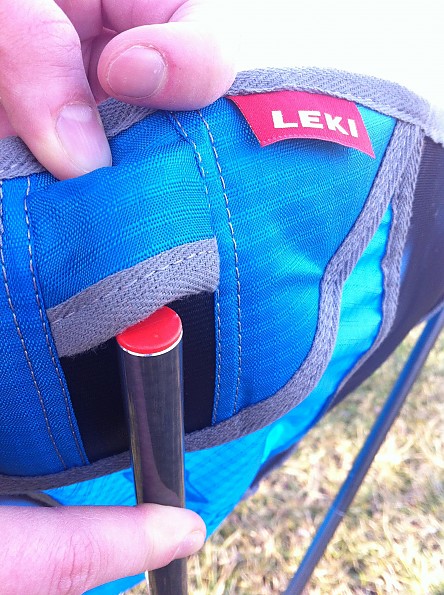 Connecting chair sling to frame pole.  
Construction & Durability:
At the time of writing this review, there isn't a ton of easily accessible materials to research the finer details of the chair's construction materials. However, testing for four months has provided me a good idea of how it is constructed and whether or not it has any weak spots. 
The single hub base is a great design feature. Based on my experiences, not to mention LEKI's longevity and reputation with pole construction, I have no doubts or reservations of the shock cord aluminum poles that are attached to the hub. Every connection point and pole is smooth and show no signs of weakness or wear. 
The feet of the poles are covered with a small rubber cap with teeth for added foothold and to minimize sinking. Mud and dirt tend to collect between the teeth. When packing in the storage bag, I've found it best practice to wipe some of this dirt and grime from the feet. There have been occasions in wet conditions, particularly in the winter months, when the chair has sunk a bit into the soil.
LEKI offers an add-on called the X-Band for their similar chairs to address this issue and it significantly increases the overall surface area of contact with the ground. This is ideal for snow and sand conditions and I hope they offer one for the Sub1 as well.
Rubber feet with teeth.
The chair's sling is a combination of durable canvas and breathable mesh, which seem to work well together. I was a little hesitant of the mesh areas at first, thinking they would snag or simply wear out quickly, but that has not been the case. In warmer temperatures, especially after activity, the mesh sides and backing is particularly nice for the sake of breathability.
Although I haven't tested the chair during the hot and humid summer months, I suspect this would be a really nice option for those lakeside/creekside/oceanside campouts when one inevitably gets wet. This chair breathes well and I suspect would dry out in these types of conditions rather admirably. 
Like most canvas chairs in this category, there is a noise factor to them when setting up the poles and when adjusting seating position. This is not an issue unless hunting and trying to stay quiet. I had to move very slowly so as not to make too much noise. Although I noted this as a con, I did not deduct from the overall rating for this because it is not marketed as a hunting chair. 
Each of the four connection points on the sling are reinforced so the poles do not wear through the sling. Although the reinforcement points don't appear bulky or necessarily robust, I have experienced no issues thus far. A welcome feature of these connection points is that you don't need super strength in order to stretch the sling over the poles. The sling is taut, but not so taut that it's impossible to get on and off the poles.


Connection point.

Features:
I have found that in most cases I do not attach the front pouch or the drink holder. This isn't to say they can't serve a purpose, but for me, I just haven't needed them much. The front pouch is probably the more useful of the two items, as it is the carrying case for the chair itself, and instead of laying it on the ground, I may as well attach it to the chair.
The drink holder, while good in theory, just doesn't hit the mark for me due to two particular drawbacks. First, its attachment point to the chair is pretty low, somewhat below my sightline when sitting, thus I often forget a drink is there. Secondly, the drink holder tends to move a lot with a full glass bottle or similarly weighted beverage in it. I found it to be too flimsy for full-time use.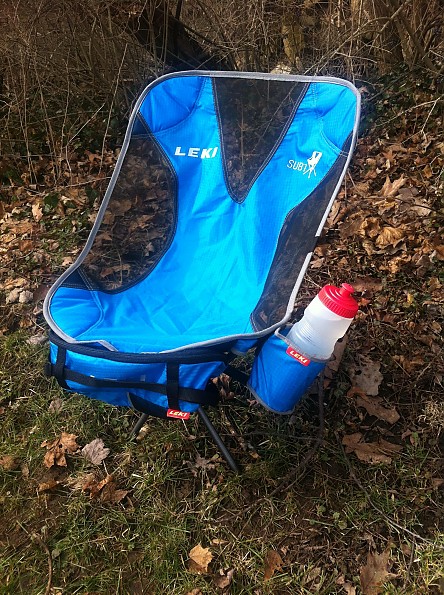 Recommendation:
Because the LEKI Sub1 chair is easy to pack and easy to set up, coupled with its durability and relatively low weight, I can comfortably recommend it for many purposes, including car camping, lounging around the campfire, tailgating, youth sports sideline sitting, and even some hunting scenarios. It can also serve its purpose in the backcountry, but it may take up considerable pack space. 
A nice perch while deer hunting.
Tailgating. Subaru not included. 
Overlooking the western Ridge and Valley province of the Appalachians while on a day hike.
Acknowledgment: Many thanks to both Trailspace and LEKI for the opportunity to test the Sub1 chair.
Update (Jan. 12, 2018):
After nearly another year of usage in a wide range of conditions, the biggest drawback remains the amount of mud that gets caked into the feet. This is particularly annoying because when it all packs together, the mud then rubs off on the chair's backing. I've found that after every use, I grab a stick from nearby (or knife if a stick is not present) and have to clean off as much of the mud off as possible before putting it away. Otherwise, still a very good and useful chair for many purposes.
Source: received for testing via the Trailspace Review Corps (Sample provided by Leki for testing and review)

Your Review
Where to Buy
Help support this site by making your next gear purchase through one of the links above. Click a link, buy what you need, and the seller will contribute a portion of the purchase price to support Trailspace's independent gear reviews.
You May Like
Specs
Price
MSRP: $109.95
Current Retail: $109.95
Historic Range: $62.95-$109.95