LifeSaver Bottle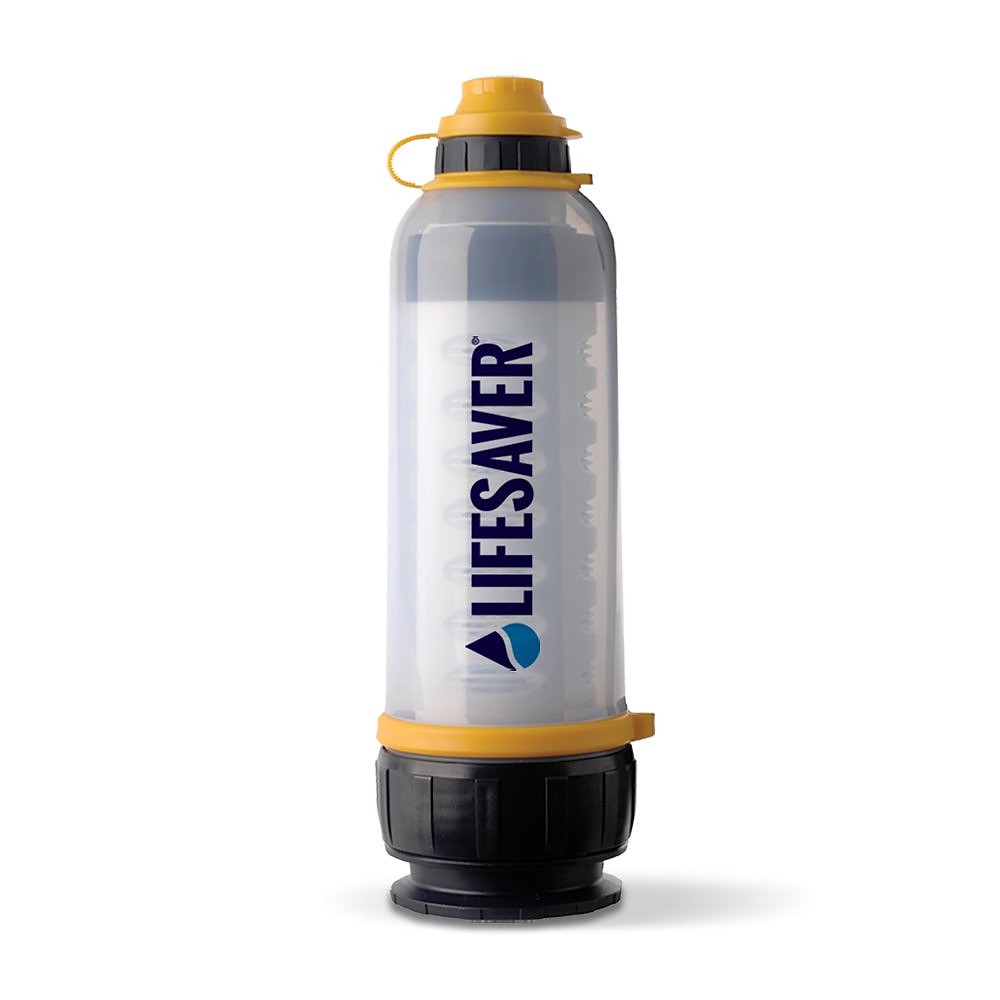 The LifeSaver 4000 Bottle is a cinch to use, easy to carry and very practical. Simply dip the unscrewed open end into a water source, close the end cap, and pump a few times. Open the drinking spout and guzzle. It's that simple. Made in the UK, it's high-tech, durable, and tough.
Pros
Filters down to 0.15 microns to eliminate viruses.
Needs no hoses, no chemicals, is self-contained filter and water bottle in one; should last for years.
Highly adaptable and useable at most water sources, even swamps.
Cons
Filters should be changed every two years.
Filters are somewhat expensive.
Contains 0.750 of a liter, so refills are required if sharing with others.
Should not be allowed to freeze when filled.
The LifeSaver water bottle filters down to 0.15 microns so is capable of removing viruses without the use of chemicals. Something most portable water filters (if any?) can claim. Purportedly, with ease, it can filter murky swamp water to complete clarity and be drinkable.
Water is treated within seconds and takes just a minute or two to handle and drink. Simply unscrew the bottom, dip the bottle into a water source, or just pour it in if necessary. Close the end cap with a simple twist; pull back the self-contained piston and pump. Lock the piston in place with a single turn and that's all. Then, open the drinking spot and water streams forth.
This is very easy to operate and the nice thing is there's no ceramic filter, no hoses, no balancing and transfer of water to a separate vessel. It can be used virtually anywhere, quickly and conveniently, because it's so simple to fill. Literally you're just dipping an open jar into a water source. LifeSaver is an all-in-one product that filters and stores water, so there's no need to carry anything else.
The LifeSaver 4000 holds nearly one litre of water so it's plenty for one person, maybe two, before another dip is required. It's rated to filter 4000 litres of water, just as its name implies. A larger Lifesaver 6000 is available that'll hold a full litre and will process; you guessed it, 6000 litres.
Our family camps and hikes frequently, so drinking water is always a concern and has to be carried and rationed. No guzzling! Instead, we now use a LifeSaver 4000 Bottle and dip wherever we find water.  Usually, we look for clear running water to prtect filter life, but if necessary would dip into standing, or murky water, but have not done that yet.
So far the product has proven to be durable and tough. It's easy to carry on a belt, back pack strap, or side pouch.
Source: bought it new
Price Paid: $189 CAD

Pros
Easy to transport
Lots of positive hype
High tech terminology used to advertise
Cons
Danger of cross contamination
Leaks like crazy
Expensive to buy
Questionable quality of plastic outer
Well, I bought this item with some excitement thinking this was my answer to using chemical tablets and boiling. Was I wrong.
I read all the positive reviews and watched the videos and thought this was my answer to hiking in the wilds and minimizing weight. When I got the item I followed the instructions to the letter, primed etc, and noticed small deposits of carbon from the filter passing and settling at the bottom of a test glass, but put this down to it being new.
Went away for the weekend and used water from a fast flowering stream and pumped the water into my canteen. When I got to an area to camp I did the same and got water from a similar stream and pumped the water into a mess tin and found to my horror the water to have a brown tint. I boiled the water to kill off any germs as I had no other clean water, but the damage was done and I had the runs for a couple of days after. Whilst away the system just got steadily worse and leaked from both ends and the water flow was poor.
When I got home I investigated to clean out the filter etc and the carbon filter snapped of in my hand! I have quite a few mates that have done tours in Afghanistan and were issued these and they all said they didn't trust them, hence you see loads on ebay with their other kit for sale.
Honestly, if you're a true outdoors type of person, avoid and save your money.
Source: bought it new

Bring it along as your main supply of water, but be sure there's actualy water to filter wherever you're going. Otherwise, use it as a backup to water you bring along. It's very light and easy to carry and works very, very well.
Pros
Lightweight and replaces carrying heavy water
Easy to use
Cons
If there's no water source you're in trouble, so be sure of water where you are going if at all possible.
We used the Life Saver 4000 bottle on a three-hour hike in 30 degree weather and filtered all of our drinking water from small streams and clear pools. Absolutely no trouble whatsoever and it supplied water for two adults, our 11-year-old daughter and 13-year-old son.
We dipped numerous times to fill it and pumped the mechanism many times. It worked flawlessly. A nice feature is that it performs somewhat like a water fountain, or spring, that is, water flows because it is pressurized, so there's no requirement to guzzle or glug water as one would from a standard bottle.
Additionally, we've used the Jerry Can on camping trips and it too works perfectly and as advertised. The Jerry Can supplies a steady stream of filtered water, is easy to carry due to the the generous, smooth handle and the interior rinses very, very clean should you decide to flush it of residue from smelly water sources. Well worth the money because under normal circumstances sourcing water form clear streams and pools rather than turbid water I expect it to last for a number of years before the filter has to be changed.
So for recreational hikes and camping 4000 litres will go a long way. Hard core adventurers may want to carry an extra filter if murky water is to be sourced for survival.
Source:

It does filter water, but the whole design is poorly thought out and low functioning.
Pros
Used this in Jordan to drink tap water, no stomach issues of any kind. It did what I wanted it to do, which is allow me to avoid plastic bottled water.
Cons
Where do I start; it leaks constantly, I cannot for the life of me figure out why it's leaking as I tighten it up and make sure it's all sealed.
The bottle itself is massive but you actually get very little water in it; you would need 2-3 for a whole day outside in the heat.
It's very heavy and the strap is poorly designed so difficult to carry.
The pump action system is ridiculous and makes it difficult to drink from.
Overall I would definitely not buy again, I have now bought a Grayl water bottle which does the same job but is a far superior design.
It is the least practical item of travel gear I own. The design is so unbelievably poor I'm amazed they got it through R&D. It leaks constantly, it's bulky and heavy, the strap isn't even designed to make it easy to carry, the whole thing is so poorly thought out it beggars belief.
Does the filter work? Yes, it filters out bacteria and viruses. I used it for 10 days on Jordan tap water and had no issues with sickness at all.
Is it worth the money? No, buy a Grayl bottle instead—cheaper and far easier to use.
Experience
It's almost useless. The filters work as they should, but the design is so flawed it's just too frustrating to use in all but an emergency.
Source: bought it new
Price Paid: £100+

I was all excited receiving the first promotional package of the Lifesaver Bottle. Instead of buying one to try, I bought five! What a mistake. All the hype and highlights in TED really exaggerated the product. The technology behind the Lifesaver system may be hi-tech, using nano-tech jargon to entice a susceptible buyer.
The bottle exploded five out seven times when I tried to refill it. What's the use of nano-tech if Lifesaversystem can't solve this basic problem? What's more appalling is the response I had from the manufacturer when asked about this problem. Out of five emails sent, none was replied!
I doubt the military is using the bottles. Even those African boys in their ads might be tossing the bottles in the sub-Saharan desert. A good pranks to their innocent mates!
By the way, I tried filtering some orange juice. The fluid was clear but it still tastes like orange. I wonder what the taste like to filter sewerage water.
I bought this bottle one year ago. The first results had a strong plastic taste. After one trip outdoors the filter stopped filtering. It blocked completely. I was on a trip for a week; this you don't want in the field. So the trust in this system was damaged immediately.
I sent it back to the shop and received another one. The same issue. After one use just a few drops. I contacted the Lifesaver bottle company and didn't receive any answer. So is bad service, bad function, bad taste. This bottle has also an unhandy size. It is too thick and too heavy to carry comfortably in a backpack.
The built quality is also not very durable. It is a kind of plastic that breaks when it falls, so no-go for a hard job.
I'm really disappointed in this product. Their marketing is much better then their product. This is sad! I bought an MSR, those systems you can trust.
Price Paid: € 189

Not sure how you managed to block it, mate? I am on my second replacement filter after two years and 67,000 miles on our bikes. It's gone through Columbian infested ditch water while hiding from less than happy chaps with guns and an eye for my BMW, to Australian muddy puddle mop ups in the Outback and has almost certainly spared me from perishing on a number of occasions.
There are other systems on the market, but I bought mine on a personal recommendation from a squaddie friend who was given his on operations in Afghan. Good enough for him, good enough for my ROW trip, and it's never let me down.
It's never "blocked" either. Interested to hear what you put in it so I can avoid doing the same! If it gets full of mud just take it apart and give it a rinse out in a river/puddle etc.
Price Paid: £120

It doesn't work—we used it in Canada. Carbon filter crumbled nearly choking my 5-year-old. It leaked everywhere and we still got diarrhea. On our return we investigated this British company. They pretend to be humanitarians but are not. Don't buy these products.
I'm too upset to write a detailed review. 
Source: bought it new
Price Paid: full price

I certainly do not understand what you could have done to make the bottles explode unless you didn't follow the initial priming process that takes less than five minutes or you pumped it way too many times. 
I have several bottles and one of the new LifeSaver Jerrycans that process five gallons at a time. I also know that the systems are used by the military and I've heard lots of good stuff about the humanitarian work the company is doing. 
Not sure where you are coming from, but I seem to have had an experience 180 degrees out from yours. Recently drank water on the AP that my friend wouldn't even touch with his Katadyn.  
Price Paid: $150

I received my bottle yesterday and I read the instructions and primed it. The bottle works very well. It doesn't explode or choke your kids and you won't void the warranty by filling it with orange juice—provided you RTFM!

Great product, somewhat expensive investment, but I guess you have to pay for the technology.
Pros
Effective filtration
Provides potable water provided there is some water available
Reduces need to carry water when hiking
Cons
Expensive upfront investment
Large size for hiking
Read the instruction manual and it will work for you. I have not field tested the bottle yet, so no comment on practical use.
Source: bought it new

This ultra-filtration system removes viruses and disease causing pathogens from any water source. The best thing is the size and no cross contamination potential. US Navy SEALs and other Special Operations units are using them.
Price Paid: $229

Your Review
Where to Buy
Help support this site by making your next gear purchase through one of the links above. Click a link, buy what you need, and the seller will contribute a portion of the purchase price to support Trailspace's independent gear reviews.
You May Like
Specs
Price
MSRP: $179.99
Historic Range: $109.00
Reviewers Paid: $150.00-$229.00

Weight
635 g / 22 oz

Flow Rate
2.5 litres/min @ 0.25 bar (g)

Capacity
750 ml

Filter Media
Ultra Filtration (UF)

Volume of Water Fitered
6,000 L/1,585 gallons

Virus Reduction
> 99.99%

Bacteria Reduction
> 99.9999%

Cyst Reduction
> 99.99%