Light & Motion Solite 150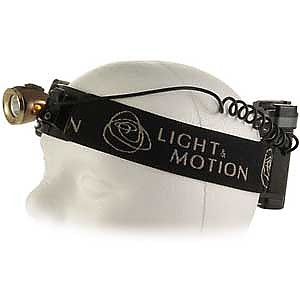 The Light and Motion Solite 150 headlamp is perfect for close-to-home adventures. Whether on a bike, an overnight hike, on a helmet, or on your head, the Solite 150 provides enough light to turn the darkest nights into day with its 150 lumen output.
On the down side, the Solite 150 recharges with a mini USB cable. This may be convenient at home, but presents challenges on the trail.
A broad beam pattern provides a good field of view and its burn time is ample for two to four day outings, with moderate use of the high and medium settings.
Pros:
Extremely bright 150 lumen output on high

Effective range out to 100 yards

Excellent battery performance in cold temperatures

Regulated output maintains a constant and steady lumen output over the entire battery life.

Helmet compatible

Multiple mounting options

Amber side safety LEDs provide excellent visibility to others

Long burn times in cold weather

Good water resistance
Cons:
Limited charging capability. The light only comes with a USB cable for charging. A standalone wall charger is not provided, though one is available for an additional fee.

Short run times on High (3 hours) and Medium (6 hours) output

No lifetime or extended warranty outside of the standard one year warranty.

High retail price MSRP of $179

Light can't "lock" off and might turn on while stored
Best For: The Solite 150 is best for close to home adventures and long weekends, but lacks the battery capacity and charging versatility for long distance treks.
Mounting Options
The Solite 150 includes different mounting options. The first is the "Miner style grip," where the light head is attached directly to the battery pack and is intended to be used handheld or in a stationary position such as on a table or strapped to a fixed object.
The second option uses the provided headband. The battery pack attaches to the rear of the headband by snapping it in place with four notched prongs. The light head attaches easily to a latching clip on the front of the headband
Using the headband is very versatile, because it is adjustable enough to fit your head and most helmets. The inside of the headband has silicon ridges to hold the headband in place and prevent sliding or rubbing. The headband is comfortable and wicks sweat very well.
A third option uses two separate rubber straps with mounts to attach the light to a bike helmet. The straps go through the helmet's vent holes and the battery pack and light head attach to them.
A fourth option is the handlebar mounting option, using two provided zip ties and mounting clips.
Of all the options, the helmet mounting straps are the most versatile. Using the light in the miner style and with the helmet mounting straps, the battery pack portion attaches easily to a pack strap, a tree limb, or a trekking pole for hands free use. The helmet mounting pieces fit most helmets whose vent holes are close together. If your helmet's vent holes are too far apart, the handlebar mounting option and zipties can secure the mounts to any style of helmet.
Construction and Headlamp features:
The Solite 150 is well constructed from quality materials, with no visible manufacturing defects. The Solite 150 is water resistant, with a watertight cover over the battery charging port.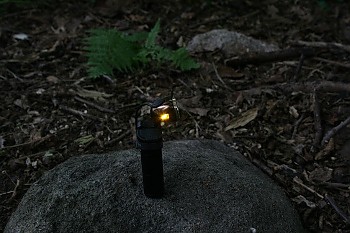 Solite 150 safety side lighting
The light features a single main LED with a maximum lumen output of 150 lumens on high, 75 lumens on medium, and a 33 lumens on low.
A single amber LED on each side of the light is Light and Motion's "safety side lighting" feature, which makes the user more visible to others. This feature, intended to provide better visibility to motorists, is equally useful while backpacking at night. The peripheral throw of the amber LEDs allowed other members of my party to see my position far ahead of them on the trail.

The Solite 150 has four modes: high, medium, low, and SOS emergency flash. A single push button on top of the light head powers on the light as well as cycles through the modes of operation. The light does not have a memory, so when you turn on the light it will always turn on in high, so be mindful of where the light is facing before energizing to avoid blinding companions!
A low battery warning feature activates approximately 15 minutes of battery power remaining, the light will flash three times every three minutes to signal that the battery is nearly discharged, and during the last 15 to 20 seconds of battery remaining the light will flash continuously before shutting off.
Run Time:
Run time is good, considering the high-powered output. Amazingly, the run time seems to increase in cold weather, making the light uniquely suited for short winter trips.
Run time tests:
                       Temperature      High               Medium         Low     
Stated             N/A                     3 hours           6 hours            40 hours

Actual             77F                     2 hr 59 m        6 hr 14 m        40 hr 26 m
Field               60-83°F               3 hr 8 m          6 hr 21 m        41 hr 1 m

Freezer           -1°F                    4 hr 41 m        6 hr 10 m        40 hr 39 m
I used my freezer to simulate winter conditions of -1°F for the duration of the testing.  My experience with batteries as an electrical engineer is extensive and I expected a significantly reduced run time. The manual also states that at -20°C/-4°F the run time will be approximately half. After the first burn test on high in the freezer I thought I made an error and maybe the light had been on medium so I performed the test again. For the second test I recorded a burn time on high of 4 hours 15 minutes.
Charging
The Solite 150's lithium-ion battery pack takes five hours at 500 milliamperes (mA) to fully charge. The Solite includes a USB to mini USB cable for charging. Yes, that's right, there is no dedicated charger. The biggest disadvantage of the light is that you must plug it into a USB port to charge. Since the battery pack is sealed, you can not purchase additional batteries to use and finding a way to charge a USB device in the field is challenging.
It would be nice if Light and Motion included a wall charger with the light. Without a solar or wall charger I foresee this light being limited to trips of no more than three days/two nights. Charging the light at a computer at a hostel or town library is possible, but a five hour charge is inconvenient.
You can buy a USB wall charger at most electronics stores, however, for the retail price of this light I feel one should be included.
The light can be charged via any device with a USB port, such as a cell phone, recharging pack, wall charger, solar charger, or car charger. The charge time is significantly increased using a cell phone, recharging pack, or solar charger because many of these devices can't provide the necessary charging current of 500 mA.
With my 400 mA solar charger in direct sunlight the light charges in seven hours rather than the normal five. Most cell phones will only charge at 300-400 mA, but do you really want to take your cell phone battery life in the backcountry?
One option would be to carry your cell phone charger on a long trip and charge your light and phone together. USB rechargeable battery packs provide a wide range of charging current. Charging a battery at too high of a current can damage the battery.
Before you buy a recharging device, ensure you are comparing the charging current as it should be 500 mA or less for best battery life, charging higher than 500 mA will charge the battery faster but will take life off the battery every time.
Bike Use
Using the light on a bike helmet or attached to your bike's handlebars makes your night biking much safer and enjoyable. I found that for urban riding the side safety LEDs make a major difference in the safety department. Motorists see you sooner, thanks to the side safety LEDs, and tend to give a little more space.
The broad beam pattern of the Solite 150 makes it an ideal bike light. The light's throw fully illuminates most two lane roads, and dirt/gravel forest roads. Since the beam pattern is a little wider and not as distance focused it slightly reduces the range of the light, but gives you a generally broader field of view.
I didn't like mounting the light on the handlebars, I preferred having the light on my bike helmet. I found using the light on medium or high while riding a bike to be the best use of the light due to the increased speed of travel.
Beam Pattern
The effective range of the light is approximately 100 yards. At this range I could clearly identify objects in the distance, anything beyond this was illuminated but unable to be identified clearly. Most of my testing was done on trails or forest roads so the maximum visibility is normally 50 to 75 yards or less. At 50 to 75 yards and less this light did an extraordinarily good job of fully and brightly illuminating everything in this distance as well as in the peripherals
Hiking Use
Using the light on several night hikes and backpacking trips I found the only limiting factor with this light is the run time. On night hikes close to home the run time of the light was adequate, but on longer trips I wanted a few more hours of light. I tended to use the light on the low setting the most often and only used the light on medium or high when I needed to locate a trail blaze far in the distance.
Hiking with the light on low is doable, with just enough light to navigate average trail terrain on nights with some ambient light. On overcast or new moon nights the low setting was not enough to safely navigate. This light only has white LEDs, and the lack of a red LED requires using a brighter setting when additional visibility is needed.
The Solite 150 is great for night hiking or backpacking trips that are three nights or less in duration. On two of the two-day trips, and the four-day canoe trip, I used the light for night hiking/paddling 5 to 8 hours a night.
On my three-day trip the light died after 22 hours on the third night. I used the light on night one for 30 minutes on high, two hours on medium and five hours on low; night two was 30 minutes on high, one hour on medium, and six hours on low. The third night I used it for 45 minutes on medium and then noticed the battery pack showing a quarter capacity. I switched the light to low and it lasted another six hours.
Canoe Use
I was thoroughly impressed with this headlamp on my four-day canoe trip. I had the luxury of a solar charger, which proved invaluable to recharge the light during the day. If I did not know better I would have to say that this light was designed solely for being used on the water!
The beam pattern and throw was absolutely perfect for this situation, providing excellent illumination of the water and making navigation at night easy! The throw on medium and high was enough to fully illuminate the distance as well as provide a wide enough throw to illuminate the banks on both sides of the river which was really handy.
The light took a dunk when it fell in three feet of water. After shaking it off I checked the battery compartment cover to make sure no water entered, I turned it on without issue.
The one complaint I had was that I felt like I was a windshield on a car, with the light on medium or high bugs would fly at full speed and impact my forehead. It was an interesting experience!
I am definitely a fan of the Solite 150 and would recommend it to anyone looking for a high end headlamp for backpacking, trail running, biking, paddling, or any other outdoor pursuits where a high powered light is a must.
Field Testing Notes
I put the Solite 150 through its paces for 60 days, on 10 night hikes, 10 bike rides, three overnighters, four two-day trips, one three-day trip, and one four-day canoe trip. The Solite performed flawlessly and met all of my expectations for a high powered headlamp as well as all manufacturer specifications.
All testing was performed in the Northeast United States, primarily in Connecticut state forests and the Adirondack mountains of New York. Terrain was generally easy to moderate and all outings covered a range of nine to 15 miles per day.
Weather was typically 70-90°F with high humidity, though several of the outings were in rainy conditions.
Source: received for testing via the Trailspace Review Corps
Price Paid: Sample provided by Light & Motion for testing and review

Highly recommended after several tests outdoor (several days of hiking in the German Alps).
I disagree with the first review: I consider it an absolute PLUS to be able to charge via USB. Take a power bank and charge the Solite as often as needed on a trip of several days. Everyone has multiple wall plug adaptors already, so why should LightnMotion provide another?
Source: bought it new

Your Review
Where to Buy
Help support this site by making your next gear purchase through one of the links above. Click a link, buy what you need, and the seller will contribute a portion of the purchase price to support Trailspace's independent gear reviews.
You May Like
Specs
Price
MSRP: $179.00
Historic Range: $79.99-$109.95