Lily Trotters Signature Compression Socks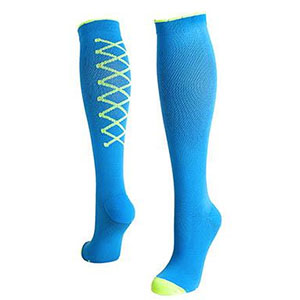 Reviews
2

reviews

5-star:

2

4-star:

0

3-star:

0

2-star:

0

1-star:

0
Disclosure: The author of this review received a sample of the product from the brand or its representative in exchange for a review.
Great sox! Great for during a hike or after for recouping. Made for women, but work perfectly well for men.
Pros
Length
Compression
Solid black color
These socks are AWESOME! I am a larger male and I know these socks are made for women, but as a member of another website, I was given this product in exchange for a review.
I tried these on after getting the largest size in black, and surprisingly they fit well. I used them as my sock liner for an 11-mile backpacking test hike and after an 11-miler the day before. They worked out all the soreness within the first mile and made my legs feel well enough to make the trek to the top.
I highly recommend these socks. They feel great and do all that is expected from a compression sock.
Source: tested or reviewed it for the manufacturer (I kept the product after testing.)

Disclosure: The author of this review received a sample of the product from the brand or its representative in exchange for a review.
Great socks for smaller feet that don't fall down or shift in your shoes
Pros
Great for small shoe sizes
Don't fall down
Don't shift in your shoes while wearing them
Great colors and patterns
Note: Occasionally, I get to test products for companies. I received these socks for free in exchange for a fair and honest review.
I tested a pair of awesome compression socks from Lily Trotters. I received two pairs in size S/M, but only tested one. To be honest, they are so awesome, I didn't want to get the second pair dirty quite yet :) The Totally Solid Black were just that...absolutely, totally solid, in more ways than one! Here are some observations:
First, I must note, that my feet are on the small side (size 6.5). Most women's socks are too big. They have excess room in the toes and "stretch" out and bunch up in my shoes. So I have a very hard time finding anything that fits properly. Being compression socks, I knew they would be tighter fitting, so I was very excited to try them on!
They fit like a glove, and I loved it! No bunching, no stretching, no falling down. They are the first "tall" sock that I've ever put on my foot that didn't fall down during the day. They truly do compress, but not in a bad way. My legs felt "livelier" and "rested" while I was wearing them.
The top band absolutely didn't cut into my leg. I have shorter legs, so sometimes, the bands hit right below my knee and cut in. Although these hit me in the same spot, they caused no problems, at all, during my wear. And they are very stretchy!
I also put them on, later in the trip, during portages. I know that's not their intended use, but I can absolutely see these being a great asset to a long sitting session in a canoe, and then on the portages themselves. They seems to dry quickly and didn't really feel wet, even when they were.
I'm absolutely certain they'd be fantastic while hiking too. Can't wait to try them out in that fashion! As "compressed" as they are against my feet, I'm guessing they'd be great to help prevent blisters and alleviate friction. (they did prevent the normal rub spot/blister spot I have when wearing my water shoes)
I believe that all their socks are identical, except for the color (oh...they do come in two different sizes), so the only difficult thing about ordering them is choosing which fancy pattern you want!
Oh, and one more note. I am a pastry chef, so I'm on my feet about 10 hours a day. I wore these to work, recently, on what was an incredibly demanding day. Up and down the stairs, all over the kitchen and they didn't falter once. My normal socks "shift and twist" inside my Danish clogs, but these never needed adjustment, not even once. Awesome!
Source: tested or reviewed it for the manufacturer (I kept the product after testing.)

You May Like
Recently on Trailspace