LiteAF Feather Weight Fanny Pack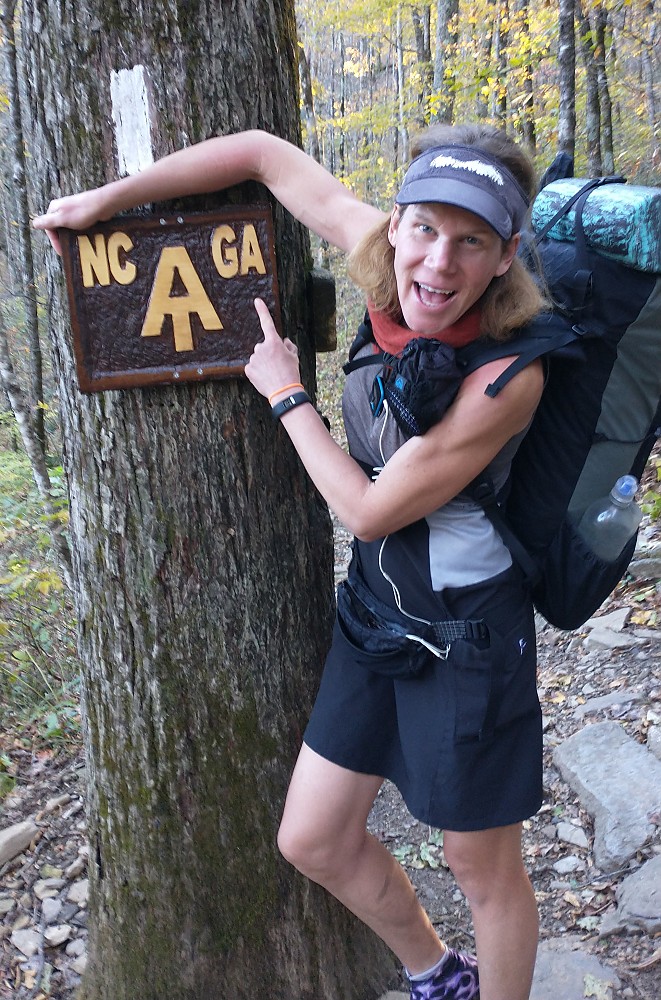 Version reviewed: Standard
The LiteAF Fanny Pack is a utilitarian accessory for keeping small but essential items easily at hand. It serves as a stand-alone pocket/bag and also pairs well with a minimalist backpack when lacking a hip belt.
Pros
Ultralight, simple accessory for easy-access storage and organization of small items.
Pairs well with a UL pack that has no hip belt (or hip belt pockets).
Stands alone for storage and security of essential items while making town visits or for general travel.
Serves as a point of attachment for other accessories.
Can double as a hip belt with optional detachable webbing.
Made in the USA by a small, family-owned business...if you hike enough, you may just run into the guy that made your fanny pack (like I did.)
Dozens of custom prints and colors to choose from
Cons
No interior pocket separation (newer models have a bonded pocket sleeve inside).
Dyneema fabric creases, cracks, warps, and shrinks over prolonged use==no longer waterproof.
A few weeks lead time/no off-the-shelf options
Specs:  Standard size: 8″ x 4″ x 2.75″, 1" detachable webbing, 1.4L
Lycra mesh front pocket, Front right hip 1" Ultralight Buckle, 1″ belt, adjustable up to 46″
Weight: 2.5 oz
(also available in Extra Large Size)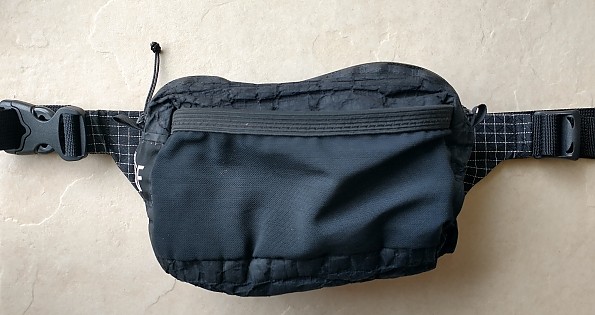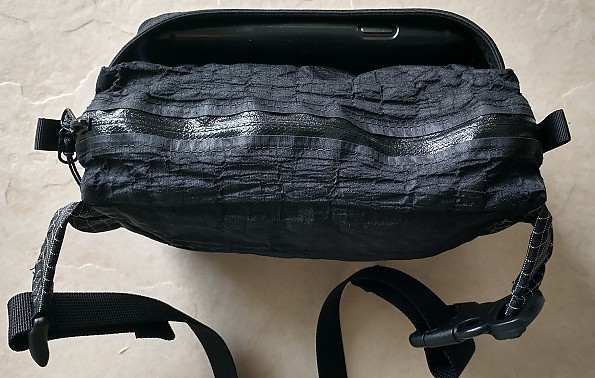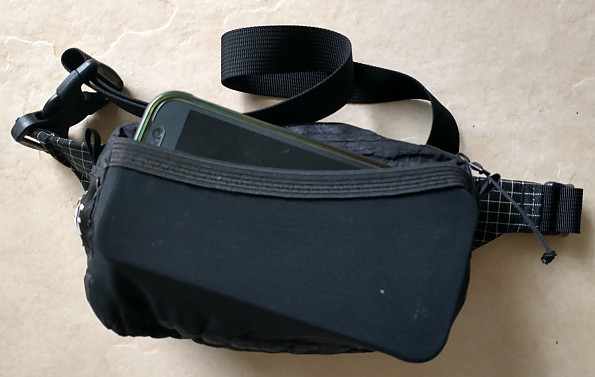 Pictured with a Galaxy S7 in the front mesh pocket
About LiteAF: (based in New Jersey, USA)

From their website: LiteAF is a small family owned and operated cottage company who specializes in manufacturing high-end hiking gear. All LiteAF gear is made with ultralight, exceptionally strong materials such as Dyneema Composite, X-PAC and ROBIC.
I was introduced to this brand quite literally on the trail. While section hiking the Colorado Trail in 2019, I bumped into the founders, Chris and Lorraine. They were out gear testing in real-time, just prior to the Outdoor Retailer trade-show in Denver. I love meeting such entrepreneurs...who better to design and make backpacking gear than folks who regularly go backpacking?
Years after this chance meeting, I finally bought a LiteAF fanny pack. And wouldn't you know it, I also ran into the guy who made it while I was thru-hiking the Appalachian Trail! That's two chance meetings with the brand owners/reps while I've been hiking. It's not every day that you get to meet the actual person that made the equipment you're using...while also on the trail. This is a real vote of confidence for an outdoor gear manufacturer!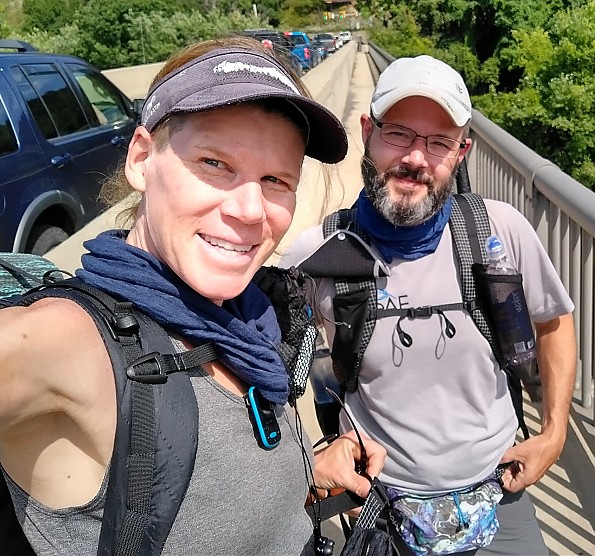 By the way, the "AF" stands for Lite "As a Feather" and not the other phrase you might be thinking of! Clever marketing.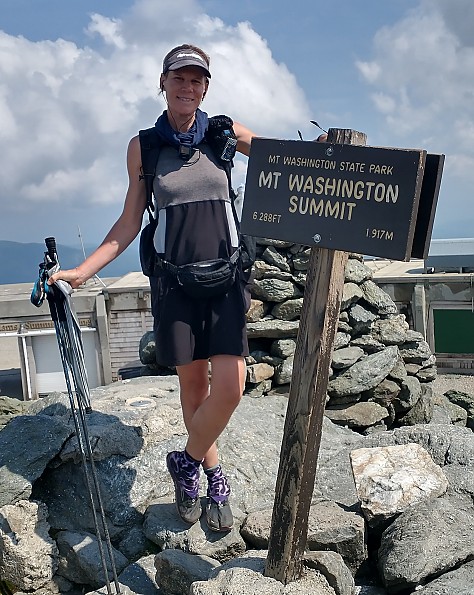 About to float away on top of Mt Washington because I'm Lite AF!
Why a Fanny Pack? For me, it's simply the convenience of having hip belt pockets, without a hip belt. 
The humble fanny pack has made quite a resurgence in the ultralight backpacker/thru-hiker world...and also in modern fashion trends. While one might conclude it's a tacky holdover from the '80s, its origins actually go back much longer. In fact, Otzi, the 5000-year-old frozen caveman, was found to be wearing one. It makes sense that such a utilitarian accessory would be prized by a prehistoric hunter and traveler, living off the land. As such, what once worked for cavemen, also works for hikers.
Prompting me to try a fanny pack was my move from a traditional framed backpack to a frameless and hip belt-less pack. I've actually been toying with such minimalist packs for awhile. Even while completing numerous thru-hikes with my HMG pack, which sports a traditional frame and hip belt, I became accustomed to leaving the hip belt unbuckled. With my pack weight no longer warranting the support, I much prefer the unconstrained feeling. My breathing and movement are much better when unchained from a hip belt.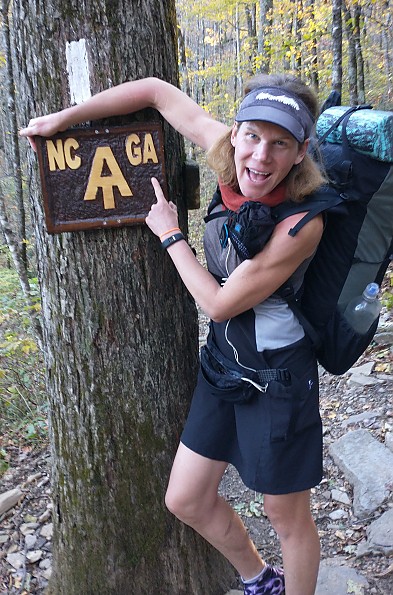 Moving to a belt-less pack has been an easy switch, except for one detail: I missed the hip belt pockets! A fanny pack easily solves this problem, while also serving as a stand-alone pack/pocket for town visits and general travel without a backpack. When I started seeing all the cool kids wearing ultralight cottage-brand fanny packs, I decided to give one a try myself.
What's special about the LiteAF Fanny Pack (Features): The main reason I chose this fanny pack over similar offerings was because of the option to use it as a minimalist hip belt. For an extra $2, LiteAF includes a set of webbing with slick clips that can hook into a pack with removable hip belt attachments. I used a Waymark Thru 40 pack with such attachments for my AT thru-hike, figuring it would be nice if my fanny pack could also do double-duty as a hip belt, as needed.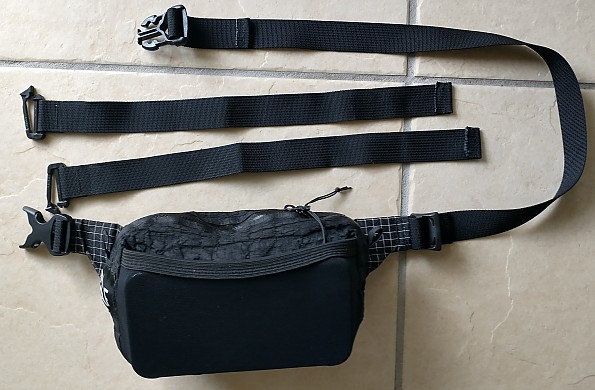 Pictured above are the two optional webbing straps with slick clips, which I shortened to an appropriate length for my pack and waist. The webbing is designed to be threaded into the buckles on either side of the fanny pack.
The slick clips attach to the removable hip belt loops of my backpack.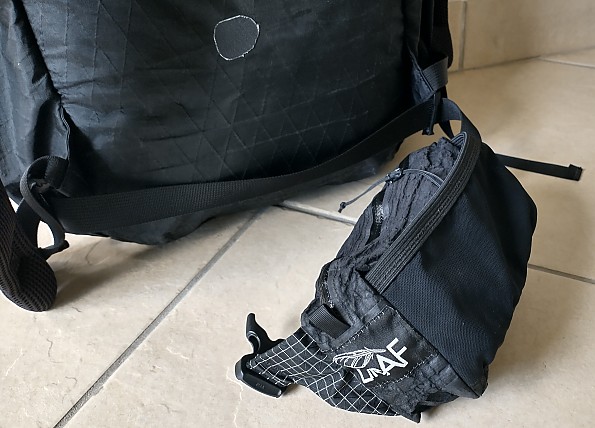 The fanny pack hip belt configuration.
While this configuration sounded great on paper, in practice I found it wasn't all that useful. 1" webbing is just a little too minimal to function as a hip belt. It didn't hold position very well or take much of a strain off my shoulders. I rarely exceeded 15 pounds in pack weight for the entire thru-hike, so I didn't really need the load transfer anyway. The belt did help to stabilize and secure my pack during some of the more acrobatic parts of the trail (the infamous Mahoosuc Notch). As such, it kept my pack from flipping over my head when I almost did a nose dive from a boulder.
After giving the hip belt configuration a try for the first couple hundred miles, I went back to using the fanny pack as a separate piece. To do so, I had to interlock the two slick clips together to form a continuous loop (I didn't carry the other webbing belt on my thru-hike...mistake!). Surprisingly, the clips didn't bother my back while sandwiched in between, but they did cause friction with my pack...hence some patchwork to cover a small abrasion.
So I went back to using the fanny pack in the hip belt configuration for the remainder of my hike, only to avoid causing further damage to my pack. I don't consider any of this a fault of the fanny pack design. It was just simply a method that didn't really work for me.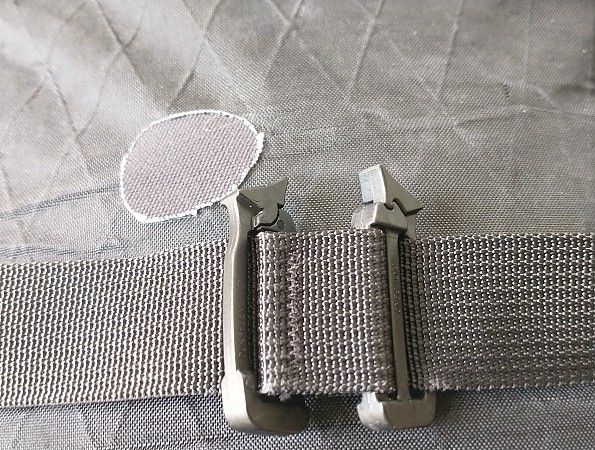 After all this trial and error, I've determined that my preference is to use a fanny pack as a standalone piece, not attached to my pack. However, I'm going to experiment with some quick clips that can be unfastened on both sides, which would allow me to easily slip the webbing into the pack attachments anytime I need the extra support. With such clips, any fanny pack with 1" or less webbing can work.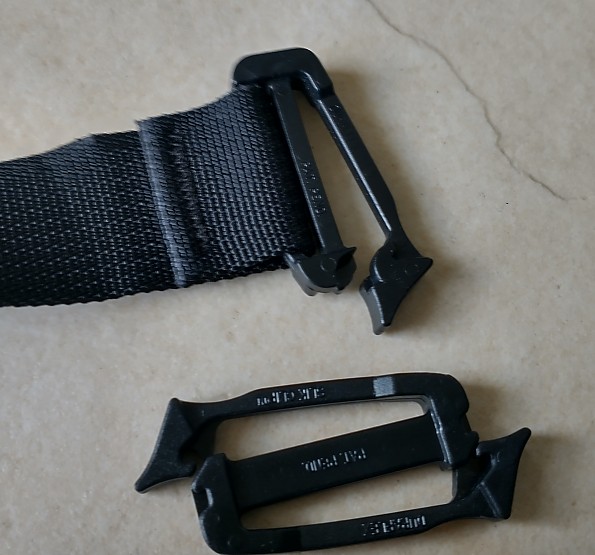 A double-detachable slick clip (bottom) vs a single opens up some new possibilities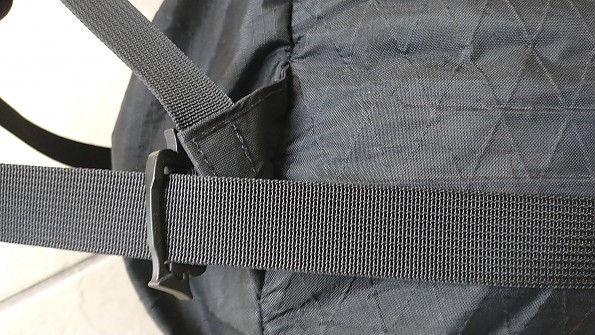 Leaving the slick clips attached to my pack loops, I can just clip in and out as needed. This way I don't have to carry two sets of webbing and can easily go from stand-alone-take-your-fanny-pack-to-town mode to hip belt mode. We'll see how it goes on the next thru-hike.
Fit / Ride / Comfort: Most ultralight fanny packs are going to fit and perform basically the same. I think the LiteAF strikes a good balance in being minimalist but also comfortable. The 1-inch webbing is appropriate for the size of the pocket, but as I outlined above, don't expect much when it comes to working as a hip belt. I prefer a very loose fit around my waist anyway, allowing for ventilation and a wide range of movements. Fanny packs are thus prone to some bouncing, which is why I don't carry too much heavy stuff in mine. Despite this, my phone managed to stay put pretty well in the mesh pocket.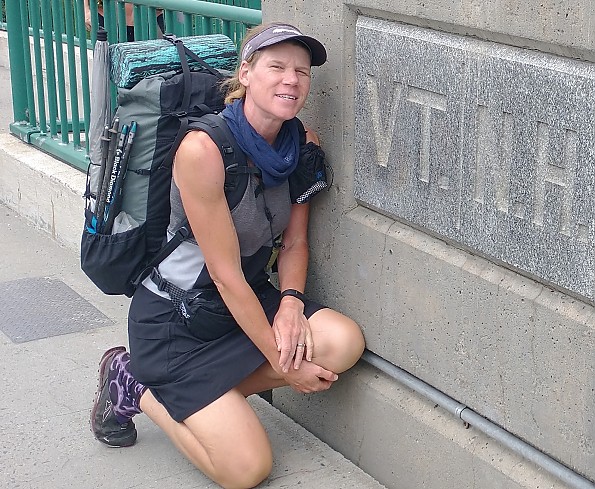 I prefer a pretty loose fit in my fanny pack.
Capacity: This fanny pack isn't intended to carry the kitchen sink, but at 1.4L, it carries the bare essentials. Here's a range of items I carried in mine at various times (not all at once): mobile phone, snacks, first aid/repair kit, toiletries, wallet, and additional electronics like a battery bank for charging my phone. It can also serve as a place to stow or attach a water bottle, bear spray, knife, food bag, etc.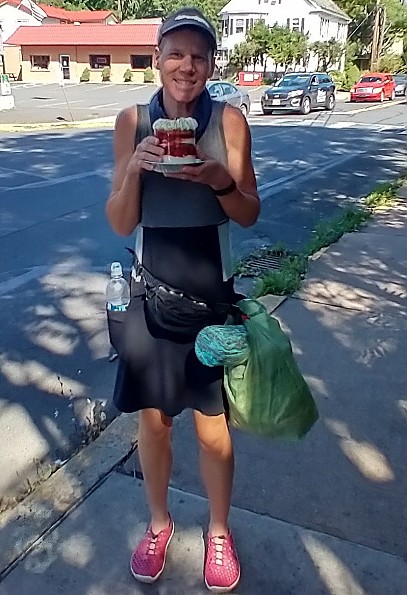 While my pack was taking a break in town, I got creative in freeing up my hands to carry what's most important. A fanny pack can serve as a belt for attaching other accessories.
Organization & Accessibility: My fanny pack has only two compartments: the main pocket and a mesh pocket on the front. I would prefer an inner pocket in the main compartment, mainly so I could keep cards and cash isolated and more secure, negating the need for a separate wallet. Note that new fanny packs now come with an inner sleeve. There are also double zipper pulls on the top, making it excessively easy to access things inside.
Because there are no dividing pockets, items do have a tendency to conglomerate. I managed to lose an item once because I was fishing for something else (while still hiking, of course), and it gave me the slip as I pulled out the thing I was looking for. Thus, be wary of the potential for kangarooing stuff right out of your front pouch.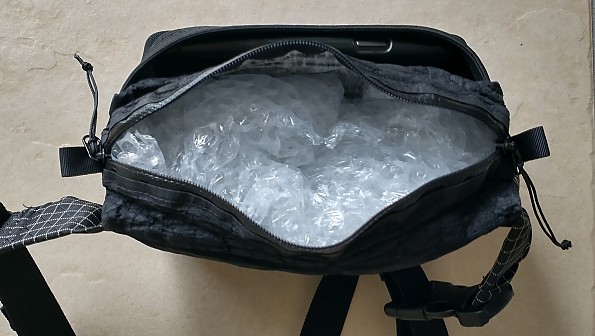 Construction & Durability: This is the only category where I could find fault with my fanny pack. The construction is top notch...in all my use nothing came unraveled, nor was there even a loose thread. There is however a lot of creasing and warping of the material. I know all too well what happens to Dyneema over time, since my HMG pack did the same, but I was surprised that it took only one thru-hike to get to the state in which it's in.
The changes in the material seem premature when compared to the wear of my other Dyneema equipment. Perhaps being front and center, and also banging around as I put my pack on and off, led to this wear. I know that one thru-hike is about all that can be expected out of most gear but my experience has taught me to expect even more.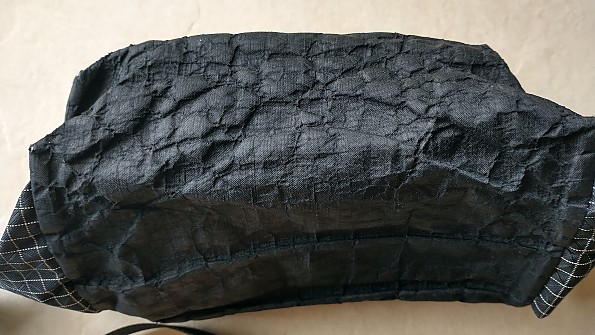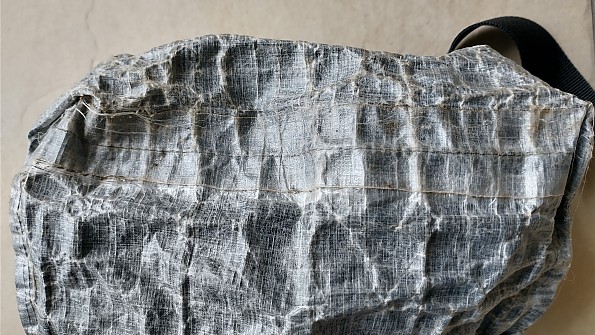 The warping, creasing, and slight de-laminating of the DCF seems premature...yet the fanny pack did endure 2,200 miles and is still mostly functional.
My fanny pack still holds items just the same and the zipper works fine. But I can't trust it to be water resistant at all anymore. On multiple occasions, I found that it got pretty wet in the rain. Aside from some mushy bars and soggy candy, it wasn't a big deal. But I would really like such an item to offer more protection. Back to Zip Lock bags, I guess.
Conditions: My fanny pack traveled the length of the AT around my waist, from Maine to Georgia. I wore it every day for 3.5 months, August-November. It survived a lot of heat and humidity, plus a little bit of cold at the very end. I'm still using it for walks around town and lightweight travel. It's a handy little item, basic and practical.
Source: bought it new
Price Paid: $42

Your Review
Where to Buy
Help support this site by making your next gear purchase through one of the links above. Click a link, buy what you need, and the seller will contribute a portion of the purchase price to support Trailspace's independent gear reviews.
You May Like
Specs
Standard
Extra Large
Price
Reviewers Paid: $42.00

Weight
2.3 oz
2.6 oz
Volume
1.4 L
2.0 L
Dimensions
8 x 4 x 2.75 in
8 x 4 x 4 in