Hyperlite Mountain Gear 2400 Southwest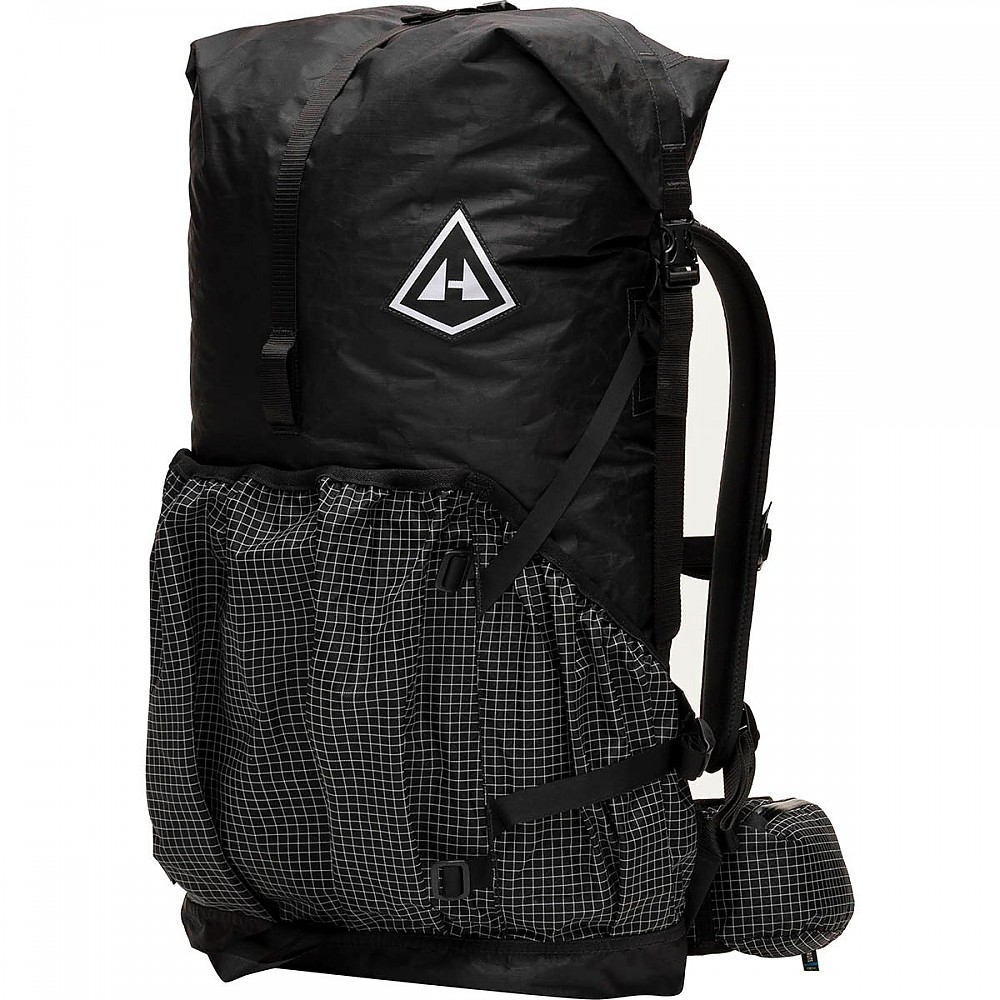 The 2400 Southwest internal frame, DCF backpack is a minimalist's dream. It holds just enough for an overnight or for a multi-month journey, it just depends on the user. It also seems up for the challenge of lasting through multiple long thru-hikes. I considered a long list of packs for my thru-hikes and this one came out on top, for good reason.
Pros
Made of DCF=water-resistant
Simple/minimalistic
Made in Maine, USA
Lightweight—28 oz
Durable
Can remove/replace waterbottles from side pockets without having to take pack off
Cons
White fabric shows dirt..but could be used as a canvas for art, writing, etc
Not fully watertight
Probably over-rated load capacity at 40 lbs
I bought this pack in September of 2017. While owning it for less than a year, I have put over 2,000 miles on it so far. I used it on a 170-mile section hike of the AT and then for a 4-month thru-hike of New Zealand's 3000 km Te Araroa.  I plan to use it again for my upcoming 2018 PCT thru-hike.
It's hard not to feel a bit sentimental over something that has been so integral to my happiness this past year, but at the same time, given my extensive use of it, I am also comfortable in giving it such high praise.
HMG packs come in four torso size ranges (15-17"; 17-19"; 19-21"; 21"+), which is a pretty decent spread. Hip belt sizing corresponds to torso size: Small: 26.5" -49"; Medium: 27.5" - 50"; Large/Tall: 29.5" - 52". I have the short torso version, which has worked well for me. There is no gaping in the shoulder straps and the hip belt settles into the right place around my pelvis.
Since I lost 10 lbs during my thru-hike, I did have to tighten the belt down to the limits of the nylon webbing and could stand to trim about 4 inches of excess webbing on either side. I do wish that the hip belt was a little smaller in circumference.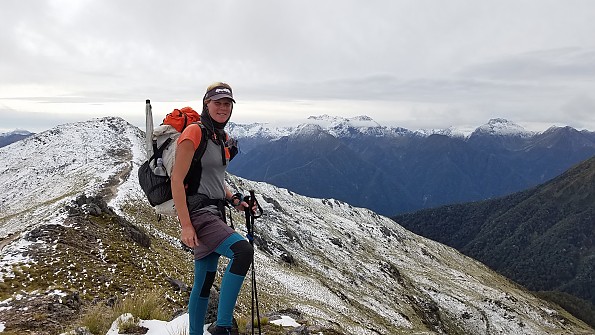 HMG is a small company and not readily found in major retail stores, thus sizing can be a gamble. However, customer support appears to be good at answering questions and they have a 15-day return or exchange policy. I was lucky enough to meet someone on-trail that had a short torso version. I only had to try his pack on for a few minutes to know the initial fit was good and that I liked the pack. I've used six different backpacks over the years and tried on countless others, so I have a pretty good sense for this.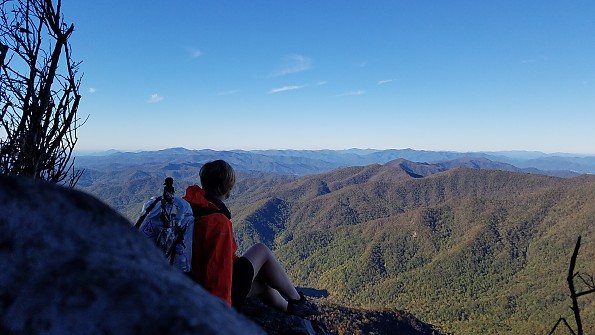 I also know that it takes tens or hundreds of miles to really know how a pack fits and carries. That is why I did a 170-mile trial run on the AT before taking the pack to New Zealand. Often a pack will cause raw spots, pinch, make noise, or just generally do something to drive a person mad after mile 20. These things can be even more pronounced when the pack gets wet. So did any gremlins come out of the closet after 2000 miles…I'm happy to say, other than a little shoulder soreness, NO! This is definitely the most problem-free and least fiddly pack I have ever owned.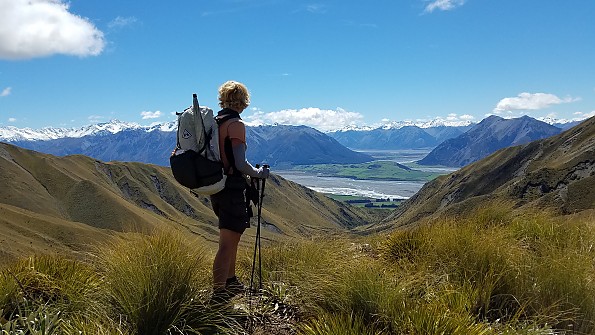 Comfort:
A combination of limited padding, narrow shoulder straps, and other minimalist features would seem to spell discomfort, but I find the pack quite comfortable even for loads breaching the 20-lb mark. It should be stressed that these are minimalist, lightweight packs. This is why I sought this pack and anyone else considering such a pack should already be experienced in lightweight gear strategies. But that doesn't mean that I sacrificed comfort in choosing this pack. On the contrary, I find it to be as comfortable as the excessively-padded packs that I have used in the past.
The padding is minimal. The shoulder straps have 3/8" closed-cell foam and the hip belt only 1/8". The shoulder straps are also narrower in width and in spacing than most packs I've tried. This is a selling point for me, given my narrow shoulders and small chest, but won't work for everyone.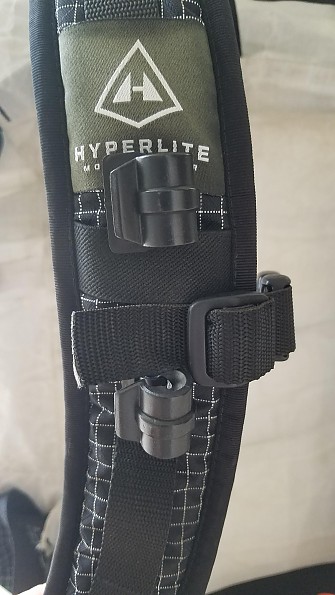 Note the two clips that I have added to the shoulder strap...these are for securing my umbrella to the pack so that I can go hands-free.

There is a plain 1/4" foam back panel pad, which lies pretty flush against my back and is not designed with any venting features. I have tried several packs with trampoline-type back panels (Osprey being the most notable example), and I concluded that I didn't like having the weight suspended further out and away from my back. I much prefer that a pack sits closely against my back, a connection which I feel improves my stability. I do not suffer excessively from sweat and it can sometimes be a blessing to have the insulation when it's cold and windy. If I need a little ventilation, I can arch my back to get some separation.
Hyperlite Mountain Gear pack capacities are built into the model name. Hence, my HMG 2400 Southwest is 2400 cu inches or nearly 40L. This describes the inside volume of the pack. The external pockets add an addition 600 cu. in. / 9.8L (300 cu. in. for the center pocket and 150 cu. in. for each side pocket). There are two larger sizes available: 3400/55L and 4400/70L. Both have the same external pocket capacities. (Beware that other pack companies often include external pockets in their listed total capacity).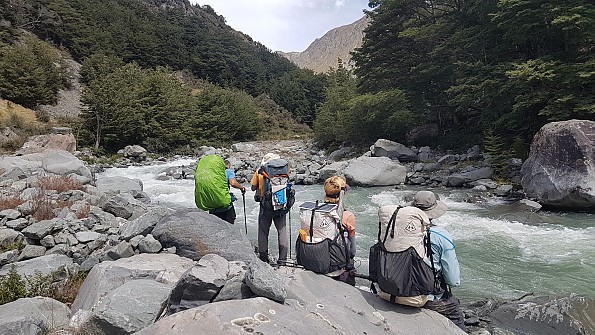 I'm sitting next to a friend that has the 4400 and you can clearly see the size difference. We were all contemplating how to get across this beastly river.

All packs come with four triglide buckles at the corners of the center pocket. HMG suggests these be used to strap gear onto the pack, with additional webbing and buckles. They sell a kit for this purpose but any 3/4" webbing could be fashioned. There is also an ice axe loop.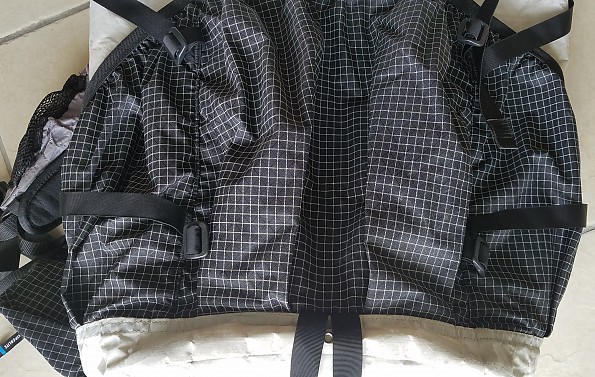 With ultralight gear, I find that my 40L pack suits me just fine, even for thru-hiking. But I must stress, I have very ultralight and compact equipment. To give you an idea, my thru-hiking gear is shown in the picture below, including the clothing I wore. The use of a packliner or even better, a compression sack, helps to cut down on the bulk of a sleeping bag and extra clothing.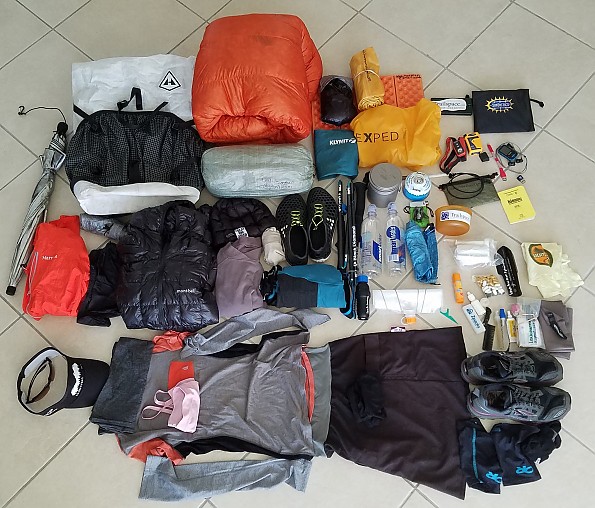 My gear leaves about half the capacity of the pack (20 L) for food, my cooking gear, and fuel. The most I have carried in total is about seven days of food. To do so, I had to strap about two days of food on top of the pack, inside a plastic bag, using the Y-strap. I have also carried several dehydrated meals and snacks in the outside center pocket. In dire circumstances, I would strap my tent to the outside, freeing up room for more food. So there are still many options left for carrying more stuff.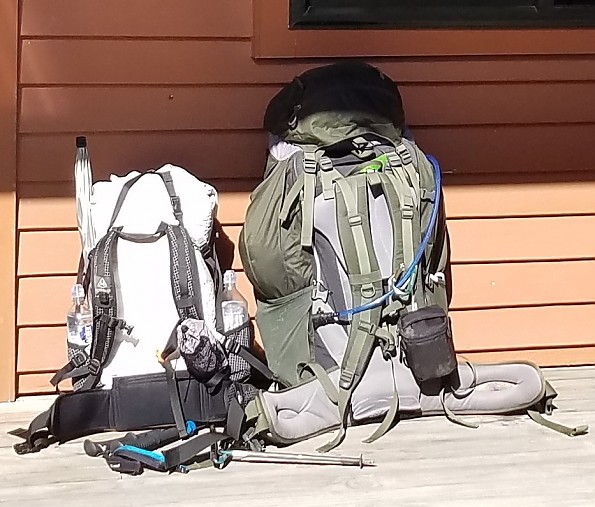 This gives you an idea how much smaller my pack is compared to a "normal" thru-hiker's pack. There is five days of food in mine, but it still looks tiny. I was often asked if I was just day-hiking.

With a large food carry, I have struggled many times to get the top closed. The internal capacity appears to be accurate but utilizing the full 40 liters makes it hard to roll the top. In such instances, I would just secure the Velcro and then cinch down the side straps. Being unable to roll the top at least one time definitely will compromise the pack's water-tightness. But that is all part of the fun of forcing your life into 40 L.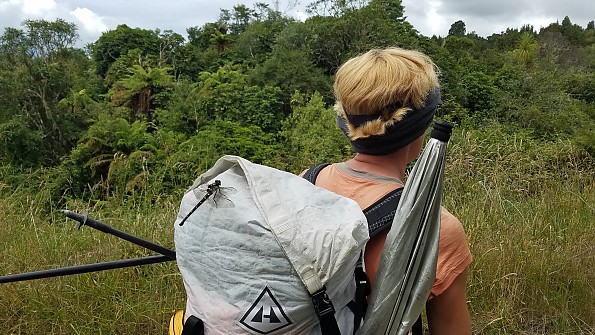 I had gotten lazy on this day, not bothering to roll the top or even secure the y-strap. But the giant dragonfly still found it to be a good perch...it was so big I could almost feel the extra weight!
Organization & Accessibility:
I like simplicity, which this pack delivers. There is one main compartment that works basically like a drybag. The white material makes it very easy to see items inside. The pack also comes with a mesh hydration bladder sleeve, but I have cut it out of mine. A small slit in the bag allows for a hydration hose to be led outside but I really wish it didn't have this feature, as it's just another place water could potentially get in.
There is one internal hanging loop, which I have yet to find a use for but may in the future. The only other features are the aluminum stays and housings. There is a hook and loop flap over each that prevents them from sliding out but makes it easy to remove them.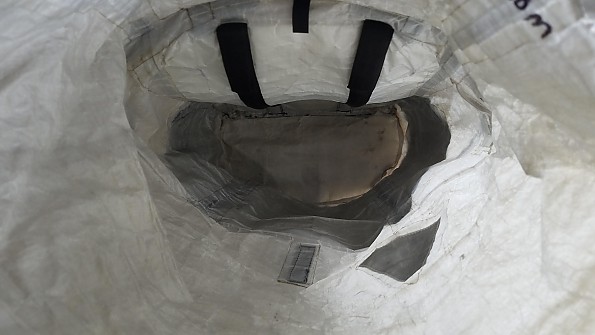 The outside pockets are perfect for carrying the things I might need during the day: a sit-pad, water bottles, camp/river shoes, jackets, snacks, etc. All these pockets are constructed from durable Dyneema fabric (the Windrider series of packs use mesh instead). The side and center pockets even have rainwater drain holes at the bottoms.
The hip belt pockets are roughly 5.5" x 2.5" x 2.5". This is far too small for my cell phone but they work great for stashing energy bars and toiletries. I don't like bulky hip-pockets, as they interfere with the swing of my arms. I have seen that others have added larger hip-pockets over the existing ones. The only accessory that I have added is a Zpacks shoulder pouch. It is where I stow my sunglasses and MP3 player (and my phone during stream crossings). I don't mind that the pack doesn't come with shoulder pockets, as this allows the user to pick their own design. Some like to be able to affix water bottles instead.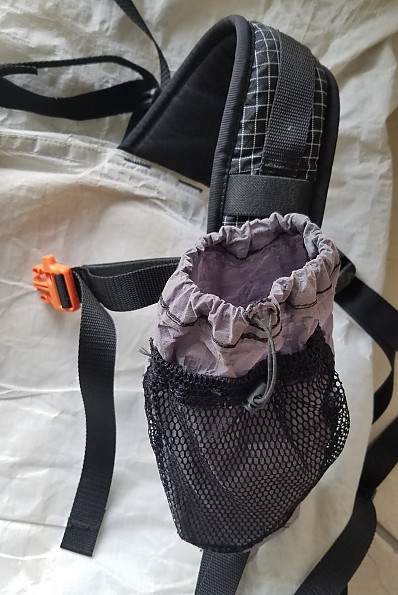 Ride:
As pictured above, this pack has two removable aluminum stays that connect directly to the shoulder straps at the top and to the back-band at the bottom (part of the hip belt). There are no load-lifters to fiddle with. Somehow this incredibly simple internal frame system does an excellent job at distributing the load while still managing to move fluidly with my body. I don't even notice it when I'm wearing the pack, so it feels more like a frame-less pack. I did try it without the stays for roughly 50 miles and decided quickly that it rides a lot better with the stays in. They weigh about 3 oz together and for me, that is not enough weight-savings to justify ditching them.
The stated weight capacity for this model is 40 lbs. That seems like too much. I have not exceeded 25 lbs and don't plan to go much over this. But I did find the pack to be perfectly comfortably with my upper weight loads and feel confident it would still be manageable into the high 20's. My baseweight is around 12 lbs, leaving about 18 lbs of wiggle-room for food and water, which is just enough for long stretches of a thru-hike (assuming reasonable water sources).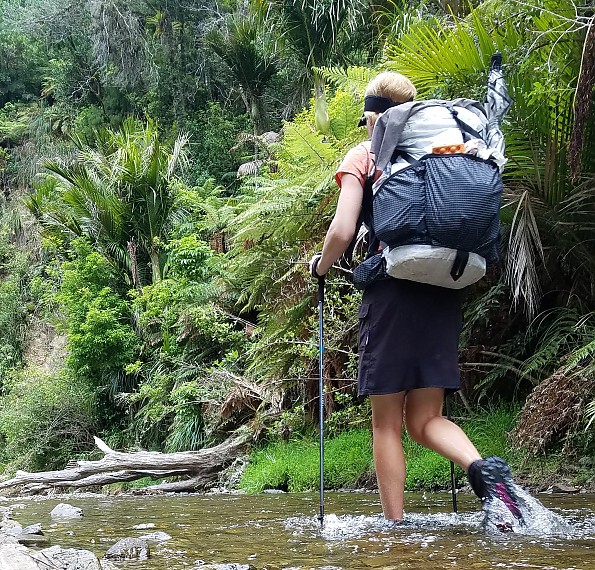 My pack weight is often much less than 20 lbs, so I frequently carry the pack using just the shoulder straps. The hip belt is comfortable enough but I can breathe more easily without it, especially going uphill. The pack is surprisingly comfortable this way and I probably have hiked 40% of the time with the hip belt just dangling...I'm not ready to cut it off just yet, though!
Because of the roll top closure and side compression straps, the pack works well for smaller loads. I used it as a day pack several times when I had the opportunity to slack-pack and for numerous runs to the grocery store. I will also note that it can be used as a carry-on or even 'personal item' on airlines, if not fully stuffed. Mine can come in under 18" in height with the frame stays left in. These can easily be removed for even more flexibility.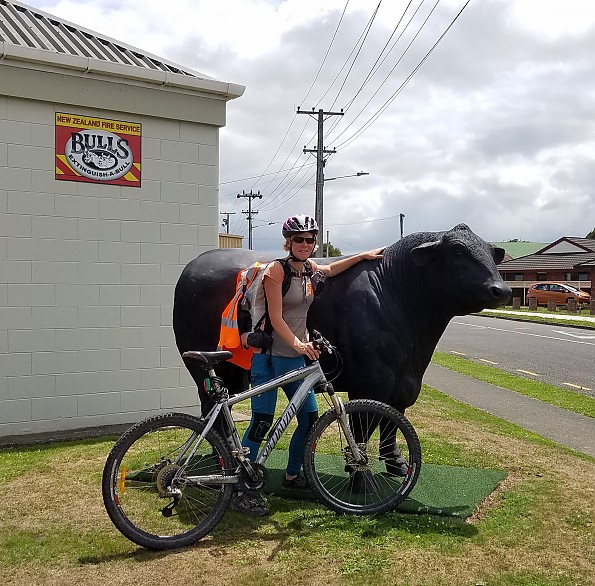 Here I was using my pack as a day pack on a 100-km bike ride. It also came in handy for hanging an orange safety vest...they're big on safety vests in NZ.


There are a total of four side compression straps. I find the lower ones that go over the side pockets to be pretty useless but the upper ones help to keep my umbrella and trekking poles secure in the pockets. I thought about cutting the lower straps off, but their weight is minimal and who knows, I may find a use for them someday. They are attached such that the webbing could be redirected over the center pocket to tie something to the back.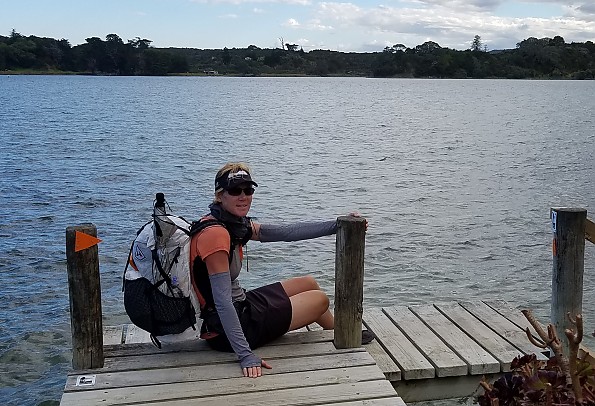 The top Y-strap is one of the best features on the pack. It was another strap that I considered eliminating but I am so glad that I didn't. I have secured everything from a pizza box to laundry using the Y-strap. It works great for locking-in my solar panel to the top. And I suspect it may be the only way to carry a bear canister, which I shall find out soon. The strap has two tensioning points, which allow for a lot of adjustability. The buckle is designed to slide along the curve so that tensioning is always balanced.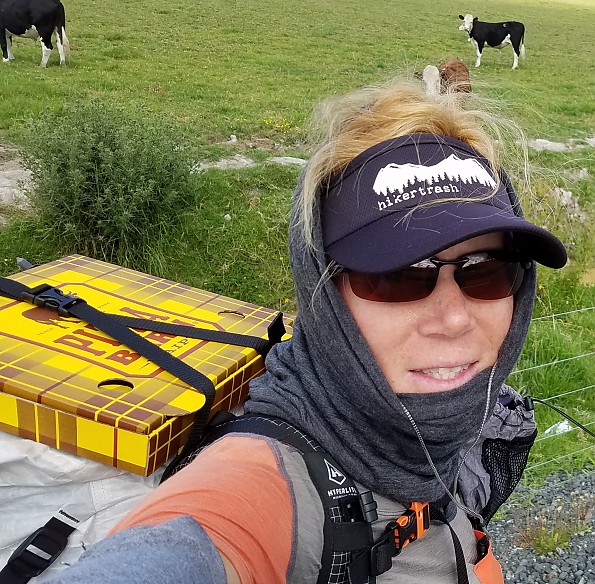 Carrying leftover pizza is a necessity for a thru-hiker...you can NEVER let pizza go to waste (usually it just all gets consumed in one go but it was too much for me so I had it for dinner and then again for breakfast).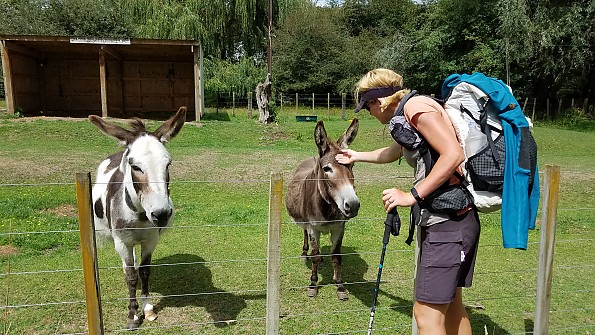 The Y-strap is also great for drying laundry while you walk...and pet farm animals. I am drying my Fjällräven Abisko Trekking Tights.


Ease of Use:
As a simplistic pack, there is not a whole lot to say about ease of use. Most components are intuitive and require little thought or effort. Only the hip belt pockets have zippers. They open easily and I like that they travel from the top outward towards the bottom of the pocket, such that items can't slide out easily if the zippers are left slightly open.
The hoop and loop closure on the roll-top is the one feature I find frustrating. I doesn't always line up easily and the hooks will catch on things, namely wool or fleece clothing. It's enough to cause damage to items if not careful. It would be nice if HMG moved to a better hook and loop material or even a magnetic closure, such as the type Katabatic Gear is using.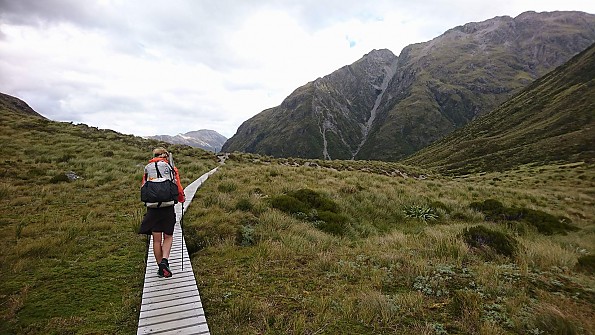 Construction & Durability:
For being such a lightweight pack, it scores my highest praise for durability. It went through a lot on my first thru-hike and came out the other side with not one rip, tear, or hole. Yes, the white material shows the dirt but even this can be scrubbed off to some extent. The only other signs of wear are some fading, creasing of the DCF material and a few spots where the inside seam tape is delaminating (more on this in the notes about water-resistance). Creasing is common to all DCF material, regardless of the thickness, and it remains to be seen if this will become a problem in the long-term.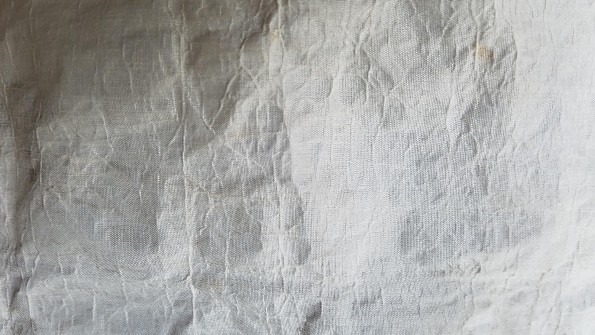 I am most impressed by the ruggedness of the outside pockets. I pushed through a lot of prickly vegetation (blackberry, matagouri, gorse, and barbed-wire fences) not to mention all the run-ins with tree branches, and the Dyneema fabric just shrugged it all off. The weight of the Dyneema pockets over the mesh pockets is negligible, so I would definitely recommend the Southwest series over the mesh Windrider.
Water-Resistance: 
One of the biggest selling points is this pack's water-resistance. Contrary to popular belief, it is NOT waterproof. To sum it up, HMG states on their website: "Our packs themselves aren't 100% waterproof, but rather the material we use is 100% waterproof. And although we seal about 90% of all seams on the pack, the elaborate seam construction leaves about 10% of seams that aren't effectively water tight and can still absorb minor amounts of moisture through the threads. You can use a third party seam sealant to help with this, and we always suggest using a variety of pods and stuff sacks to double down on weatherproofing your gear."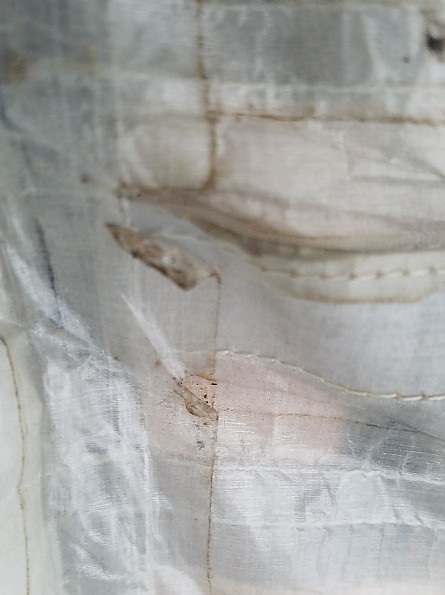 Like all seam tape, some of it eventually starts to peel off.


I can attest to the fact that my pack is not waterproof. Yet it is extremely water-resistant, to the extent that I don't even bother with a pack cover. I have walked in sideways rain and even dunked the lower part of the pack in a river and yes, I did get some water inside. For this reason and for space-savings, I always use a packliner. But another important factor here is that the pack doesn't absorb water and therefore doesn't gain weight. With a quick shake, it feels nearly dry. This is just as much of a selling-point as keeping my items inside dry. Given the wet conditions and all the river crossings found in New Zealand, this was the main reason I selected this pack over others, and I have not been disappointed.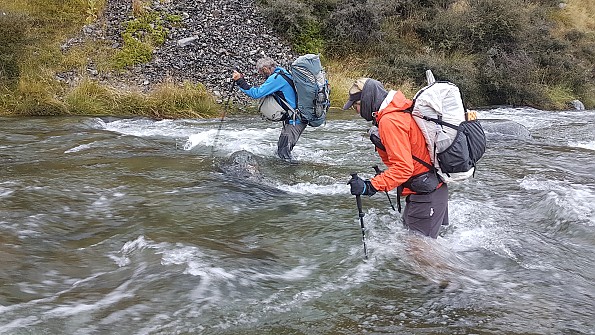 The pack affords some peace-of-mind when crossing rivers.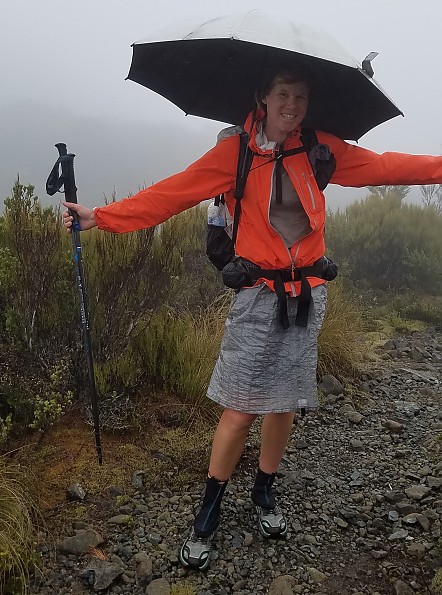 Another reason I don't use a pack cover is that my umbrella covers much of the pack.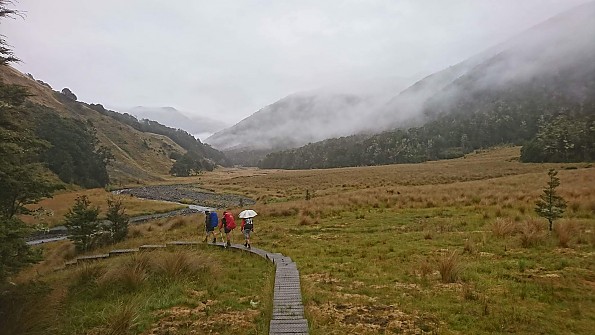 The umbrella makes it easy to spot me in a crowd.

Cleaning:
Everyone knows that thru-hikers stink, but what they don't tell you is how your pack absorbs your horrendous odor. It's just like a piece of clothing and some packs are far worse than others, depending on the material. Fortunately, for the same reasons that this pack resists water, it also resists dirt and body odors. But not entirely.
The lining of my shoulder straps and hip belt did get pretty ripe over the summer. Luckily, I also found it pretty easy to wash these parts specifically, along with the whole pack, if needed. I simply took a shower with it, dunked it in a sink or bathtub, or hosed it off. At the end of my trip, I did a thorough cleaning in the bathtub. It's possible that it could be washed in a clothes washer (with the stays removed), but I didn't wish to risk it.
One additional point, although the white material shows dirt, it also makes for a nice canvas for artwork, writing inspirational quotes, and even having trail friends sign their names. I've seen lots of creative ideas. One I am considering is drawing eyes on the back, if I am to believe the rumor that this will keep cougars from stalking me on the trail. I'll post a picture if I follow through.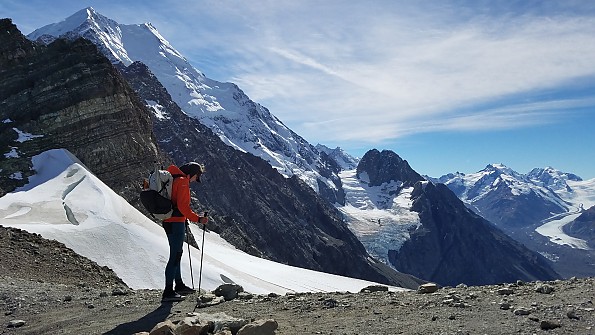 In conclusion, my HMG pack has been a wonderful companion. It has met all my expectations and needs. I wouldn't trade it for anything else.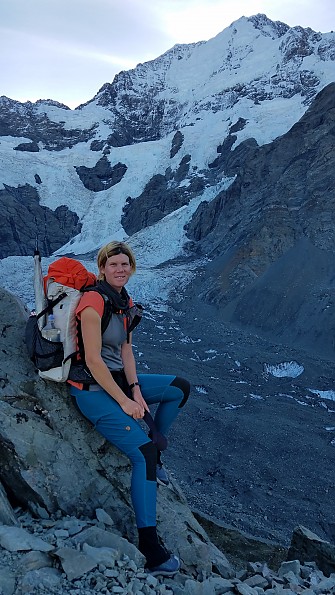 Source: bought it new
Price Paid: 275 USD

A very useful backpack with a lot of space and very easy to carry. When my stuff is in this back pack I feel free to go anywhere in any weather, rainy, desert, snowy anywhere. And of course I loved the design and colour.
Pros
Light weight
Large space
Looks awesome
Easy to carry
It is very comfortable to carry as the straps are designed in such a way that it fits my body perfectly and the straps are adjustable. The straps are perfectly designed to carry the load and the shoulders are not hurt it carries a lot of stuff and while going out it is very important for me to have all the stuff I need, specially my food and music. There are different compartments for keeping different stuff and this is very important because it makes it much easier to organise the stuff.
It has other features such as the compartments are designed to understand the users need. And it can carry a lot of weight. It is much more than I expected and I love carrying it with me. And trust me I have travelled a lot, on mountains, deserts, on bike trips.
Source: received it as a personal gift

Spacious and waterproof bag for ultralight hiking. The thing is so light and works great! I love the outside pockets and fold-close top to keep any water out.
Cons
Not the comfiest for my hips
Sweat builds up between my back and the pack
This backpack is AMAZING.
It's CRAZY light
It's waterproof (so you don't need a separate backpack cover)
All my gear for a week-long backpacking trip fit perfectly
The weight was well distributed, but my left hip did become a little sore after a long 10+ mile day
If you want to get into ultralight backpacking, this is one of the best packs you can buy simply for its light weight, durability, and waterproof-ness. A great buy!
Experience
Used it twice, once in Central Utah and red rock canyons, and the second time backpacking in the Inyo/Yosemite area. Never bought HMG before but have been very impressed (I had always used Osprey packs before).
Source: bought it new
Price Paid: $300

This pack is beautiful simplicity. It is unbelievably light, comfortable, and durable.
Pros
Lightweight
Durable
Comfortable
Cons
I couldn't fit my phone in the belt pocket, so I had to buy a shoulder strap pocket.
I used this pack for a 21-day JMT north to south. I carried the first 11 days food for the trip! No issue with over load.
I love this pack. I formerly used an old Kelty Slickrock internal behemoth. What an upgrade! I would recommend this pack for weight conscious individuals. After the trip my ACL looks brand new. Even with a bear canister I was perfectly comfortable.  
Source: bought it new
Price Paid: $300

Your Review
Where to Buy
Help support this site by making your next gear purchase through one of the links above. Click a link, buy what you need, and the seller will contribute a portion of the purchase price to support Trailspace's independent gear reviews.
You May Like
Specs
White
Black
Price
MSRP: $320.00
Current Retail: $349.00-$369.00
Historic Range: $217.00-$500.00
Reviewers Paid: $275.00-$300.00

Weight
1.88 lbs / 30.1 oz. / 853g
2.02 lbs / 32.3 oz / 916g
Materials
DCH50 (Main Body) and DCH150 (Bottom)
DCH150 (Main Body & Bottom)
Internal Volume
40L / 2400 cu in

External Volume
9.8L / 600 cu in

Load Capacity
up to 40 lbs

Duration
1-4 Days

Terrain
Dry, Rocky Environments

Recently on Trailspace