Littlbug Senior

Top 25 in Wood Stoves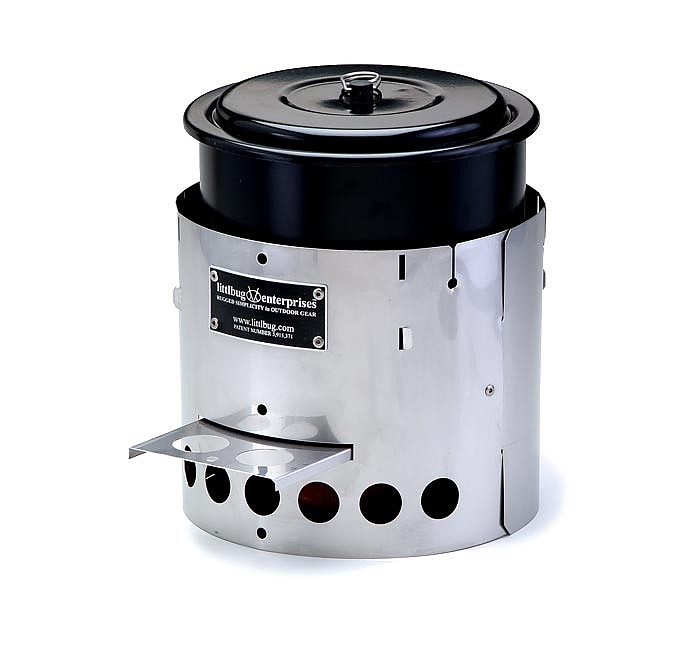 A simple reliable woodburner that is big enough for group cooking.
Pros
Simplicity
Compact when broken down
Top and side fuel loading
No fans or batteries
Cons
Dirty and inefficient compared to wood-gas stoves
General limitations of wood burners
A friend had one of these along on a recent 10-day canoe trip, so I got to test drive it enough to give some first impressions. This is not intended as a comprehensive review. While it shares the limitations of all woodburners, within that class and the limits of my experience with them I am very impressed
The Senior is the larger of the two Littlbug models, weighing in at 19 oz. (539 g), 8 inches (20 cm) in diameter and 9" (23 cm) in height (manufacturer's specifications). While that is pretty hefty compared to many backpacker's stoves, the obvious tradeoff is that you don't have to carry fuel.
It is made of stainless steel and the one that I used showed no signs of corrosion after several weeks of regular use. It consists of an outer cylinder and inner pot stand that extends partway down into the cylinder. The bottom is open, but Littlbug sells one separately. We just placed it in the ashes or on rocks in existing fire rings at established campsites.
It comes apart into four curved plates that nest together to make a thin, curved bundle that would fit well around other items and take up minimal room in a backpack, dry bag, wanigan, etc. You can buy a ready-made cloth pouch to contain the soot, but a tough plastic bag or old stuff sack of the right size might work just as well.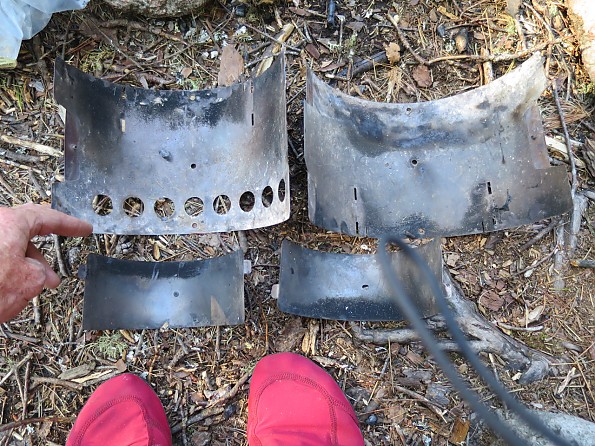 The stove assembles in 1-2 minutes via slots and tabs, requiring no tools. There are short locking pins in a few key places to stiffen it up, so that it is very sturdy and stable when assembled.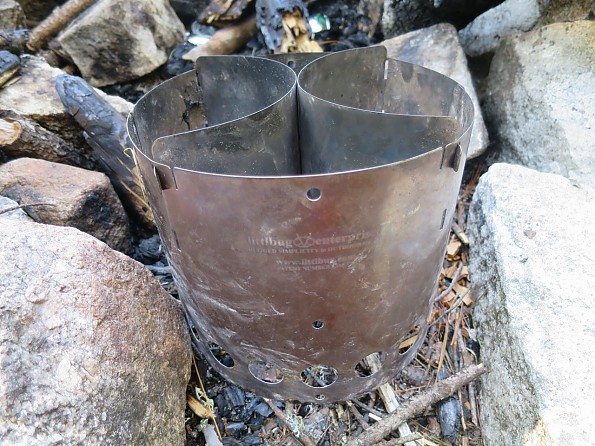 The parts were sooty so I wanted to rinse my hands after putting it together. The website shows the pot support in a high position with about two inches of clearance above the edge of the outer cylinder, but we used it mainly in a low position with only about 1/2 inch of clearance, which was still enough to allow good air flow.
The stove can be fueled with small twigs and sticks up to a bit smaller than the diameter of the air intake holes, what I call "thumbwood". Collecting and breaking branches down to usable size can take some time, say 15 to 20 minutes to get enough to cook a meal if you don't have to travel too far from your site.
At a well-used campsite I could often scrounge enough for a boil-up just by picking up fragments around the site. I tried a few burns with pine cones but even relatively dense jack pine cones have to be fed in pretty steadily to keep it going and hot. I did not use the stove in wet conditions or with wet fuel.
I found I could get it going in a few minutes by starting a small, open fire, placing the stove over it get air flowing through, then feeding in more fuel from the top and sides. With fuel already collected it was possible to boil a couple quarts or liters of water from a cold start in 10-15 minutes.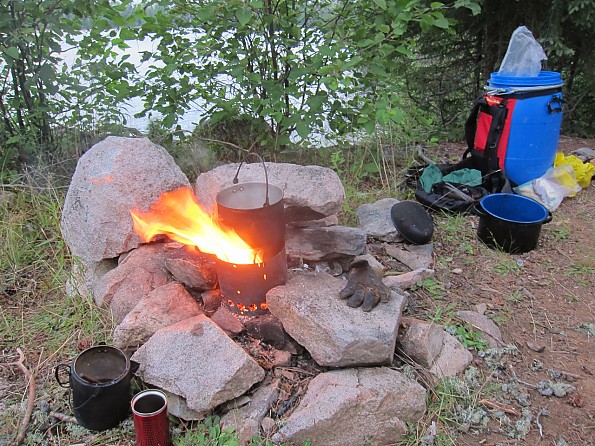 The fuel can be fed in from the top, especially with the pot support in the high position, or via the air intake holes at the bottom. Like other woodburners, it takes fairly steady feeding to keep the stove burning hot, but halfway through a boil-up you can let it start to burn down and pay attention to other things. While it burns cleaner than an open fire, it can be a little smoky at times and of course will blacken pots. Wood cooking of any kind is not for clean freaks.
I have only a little experience with wood gasifiers but my understanding is that they burn cleaner and more efficiently than a simple chimney stove, but are harder to feed.
The website says that Littlbugs "work with most commercially available alcohol burners" but I don't think it would be very efficient. Smaller alky burners might work with the Junior, but the Senior would require a bigger burner and the pot support would put some distance between the burner and the pot. I suppose a simple tuna-can cat stove might work.
This stoves shares all the limitations of other wood burners, including soot and smoke, fuel availability, problems starting with wet fuel, etc. Within that general class it seems to be a good choice. One of the best things about this stove is compared to other wood burners is its compactness when assembled. I guess there are other rectangular flat-packers out there that offer it some competition in that department.
I would recommend it or the Junior to anyone wanting to try a wood burner, and would consider buying the 5.1 oz Junior myself.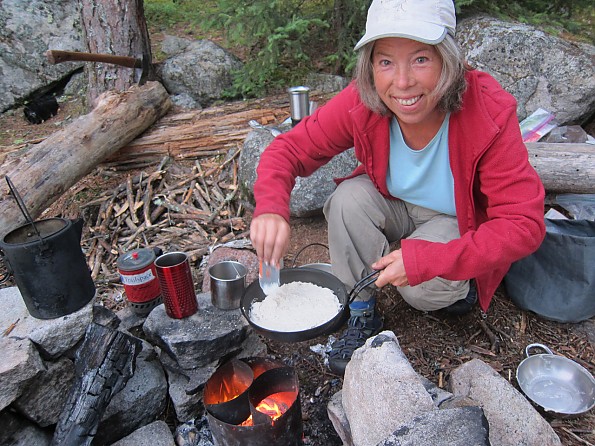 Source: borrowed it

Your Review
Where to Buy
Help support this site by making your next gear purchase through one of the links above. Click a link, buy what you need, and the seller will contribute a portion of the purchase price to support Trailspace's independent gear reviews.
You May Like
Specs
Price
MSRP: $56.95
Historic Range: $39.99-$59.99

Weight
19 oz

Dimensions
9 in x 8 in

Assembly Time
Less than 15 sec.

Boil Time
3 to 5 minutes (wood), 4 to 6 minutes (alcohol) 1 Qt. of Water @50 degrees F

Recently on Trailspace