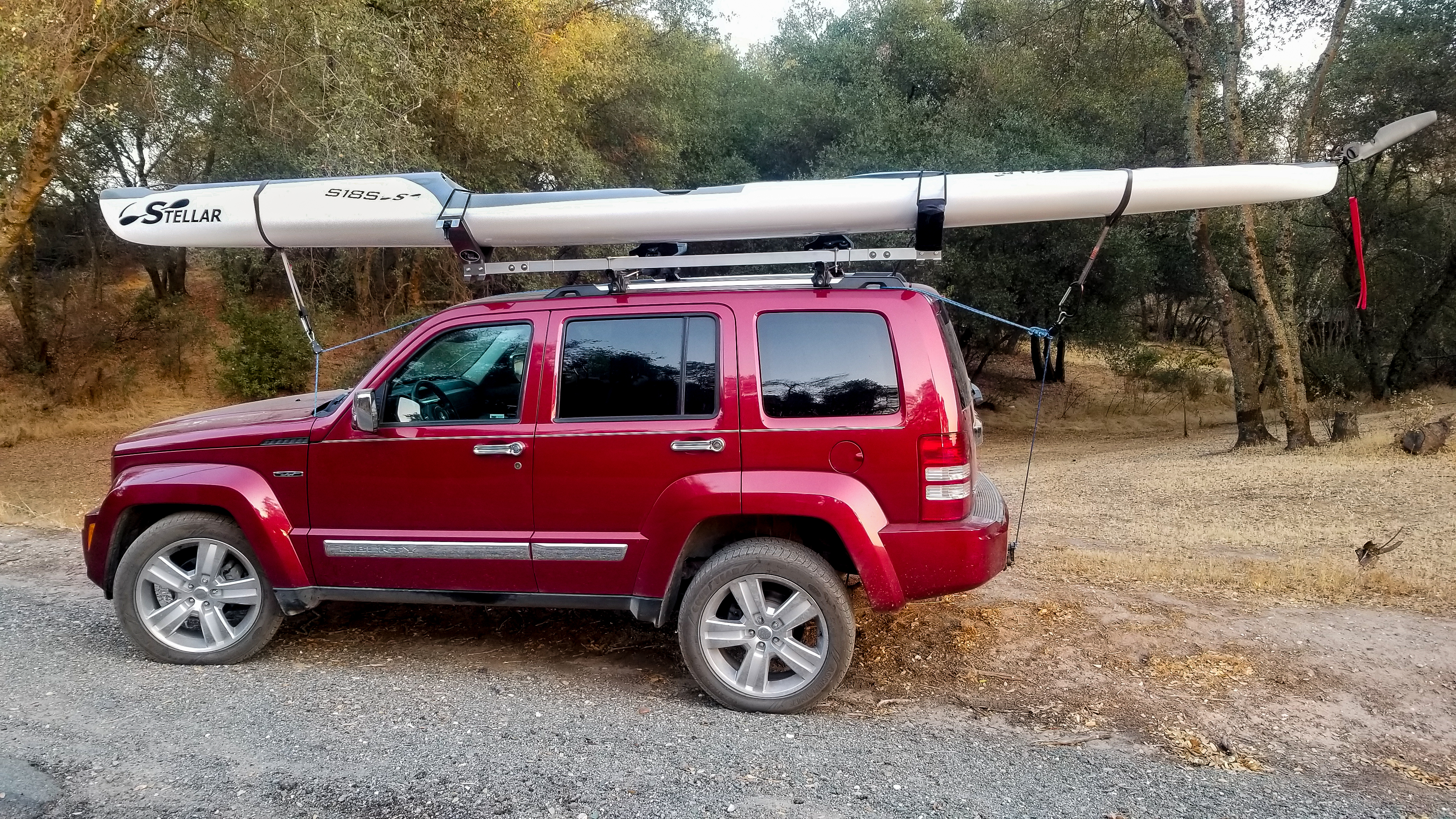 Specs
Price
MSRP: $250.00
Reviewers Paid: $250.00

Length
8 feet overall length with removable ends

Materials
Main tube is Aluminum with Stainless Steel ends and Proprietary High Density Polymer Insert

Details
Can accommodate both bungees or straps and is fully lockable

Reviews
1

review

5-star:

1

4-star:

0

3-star:

0

2-star:

0

1-star:

0
Is your standard roof rack too short to properly carry your fast sea kayak or surfski? If so, Llama Racks has the support you need to treat your boat right...
Pros
Lightweight
Excellent craftsmanship
Evenly distributes the load
Made with high quality materials
Cons
Main tube difficult to remove
Increased height may make loading more difficult
Llama racks are built by a guy named Ryan Milby. He is a self proclaimed addict to paddling, the outdoors, and figuring things out. When it comes to V racks, I'd say he's definitely got it figured out. His absolutely awesome racks are available directly from his website here at https://www.llamaracks.com.
I have a Jeep Liberty and the maximum span for my cross bars front to back is 36 inches. Though I own a kayak trailer, I prefer the convenience of car topping my boats whenever I can. My smaller boats up to 14 feet long have never been an issue, but I've recently purchased an 18-footer with a 20-inch beam. The available 36-inch span between my crossbars does not offer enough length to safely carry a boat like that at highway speeds, or for any real distance at any speed. With that small of a span, I'd have well over 7 feet of boat extending beyond each saddle. Crosswinds, pot holes, etc. could easily exert too much force on all that overhang and damage my boat. So what to do?
Enter a special type of rack called a V rack. These are designed to extend the reach of your vehicle's roof rails to infinity and beyond... well, at least far enough to properly carry your craft anyway.
These V racks are a pretty specialized lot and only available from a few manufactures. They are aptly named for the padded V-shaped cradles your boat will sit in, and are designed specifically for long narrow boats.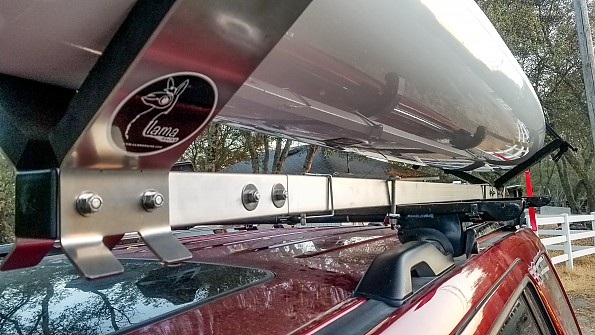 I looked into every offering I could find, and decided to go with Llama Racks because of their innovative design. The little "llama ears" at the top and bottom of each V form channels in which your cam straps will reside. This keeps them securely in place and their cam buckle safely away from your boat... and no other manufacturer I could find has this feature.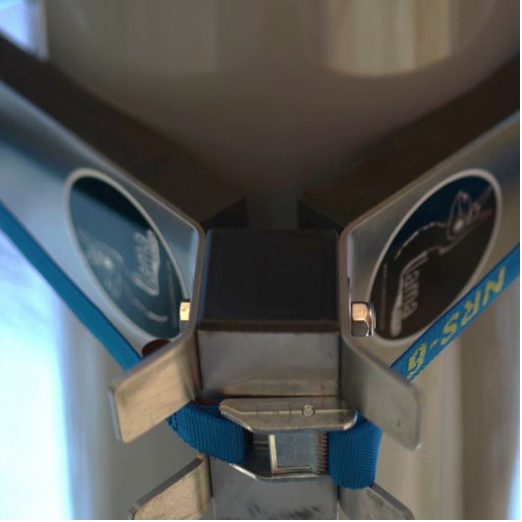 So my journey began with an email to Llama Racks, as they do not offer a direct means of ordering on their website. Within a very short time I received a reply from Ryan himself asking if we could talk. I responded yes and he promptly phoned me.  
He inquired as to my boat and vehicle. I told him what I had and explained that I didn't need the full 8-foot span of the standard Llama Mama V rack, and would prefer the V ends, which are removable, be 12 inches long instead of the normal 18 inches. This would not only provide a near perfect 7-foot span for my 18-foot boat, but would also allow me to fully open my rear hatch with the rack and boat mounted. I also requested the rear V be a little wider than normal due to the dimensions of my boat.
Ryan explained that though it would take an extra couple of days to fabricate my custom rack, there would be no additional charge for it! I don't think I need to say that this kind of personal service is indeed a rare find.  
After our conversation Ryan sent me a PayPal link and the transaction went as smooth as with any of the biggest retailers out there.
Within a couple of days I was contacted and told my new rack was on its way. A couple of days later it arrived in two packages; a long, round cardboard tube containing the brushed aluminum square main tube and a small box containing all the stainless steel hardware, brackets, accessories and instructions.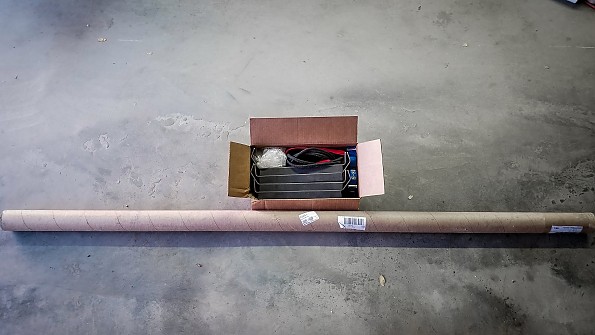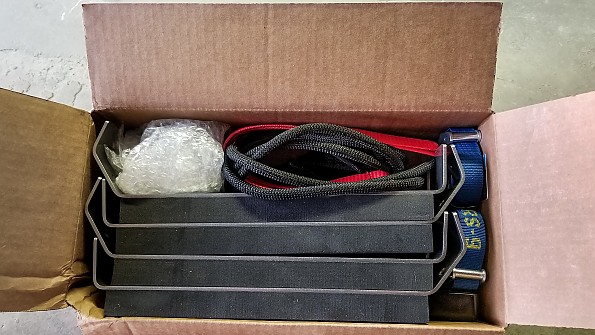 Everything arrived unscathed, and I'm happy to report that as you can see, minimal packaging was used to make that happen. You not only get the rack, but everything else you will need to secure your boat is also included... a nice pair of NRS cam straps, bungees, and a red flag for the long load. He even pre-coats the threads of all the stainless steel bolts with an anti-seize compound to help prevent binding. This guy doesn't miss anything.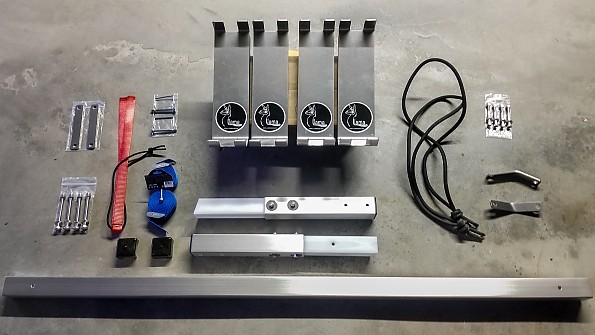 The main tube is just that; a square brushed aluminum tube 5 feet long. The removable ends are also made of aluminum. The end parts that will be inserted into the main tube are sleeved in what looks to be teflon plastic. They slide in smoothly, fit perfectly with zero play, and do not bind or get stuck. Again, nothing overlooked or left to chance.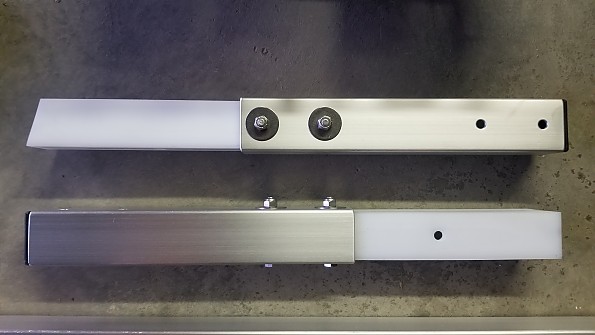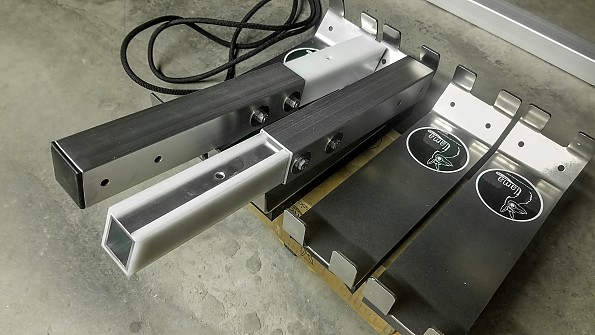 Minor assembly is required. It consists of bolting the V brackets on to the removable end pieces. The instructions are clear, concise, and include pictures. The whole process takes about 15 minutes and consists of installing two nuts and bolts through each end securing the V brackets to it.
The V brackets, all hardware, and the brackets used to attach the main tube to your crossbars are all made of high grade stainless steel. The inside of the V brackets are padded with quality closed cell marine grade foam. Ryan even made two small divots in the rear V brackets to make it easy for me to identify the back ones from the front ones, since the angles were slightly different on my custom rack. He also included a personal note to inform me of this.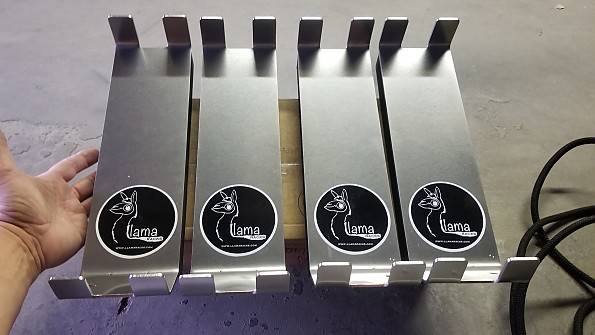 As you can see in the photos above, every edge is finished. There are no sharp corners or hard edges. Time has been taken to round over every cut on every piece including the square tubing ends, and the finish is magnificent. Every bit of this rack is of very high quality in terms of both materials and workmanship.
The main tube attaches to your crossbars with a pair of fabricated stainless steel brackets and stainless steel bolts in much the same way as every other V rack I looked at. All nuts have teflon inserts to prevent loosening due to vibration. The mounting design is universal and provides a tight fit that inspires confidence.  
That said, once it is attached, it's not really meant to be taken off. Doing so requires a wrench and then you're not supposed to reuse those nuts as they loose some of that vibration resistance after removal, and are therefore more prone to come off on the road.
Once the main tube is attached, the ends with the V brackets simply slide into it until they bottom out. A square locking pin is provided to keep it securely in place, all of which can also be seen in the photo below.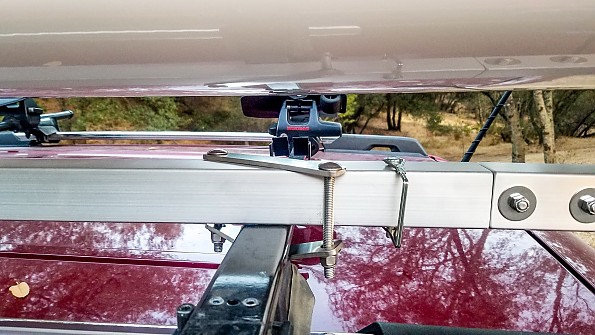 A plastic front end cap, as seen below, is included to prevent wind noise when the V rack is not in use. There's even a spare included in case you lose it.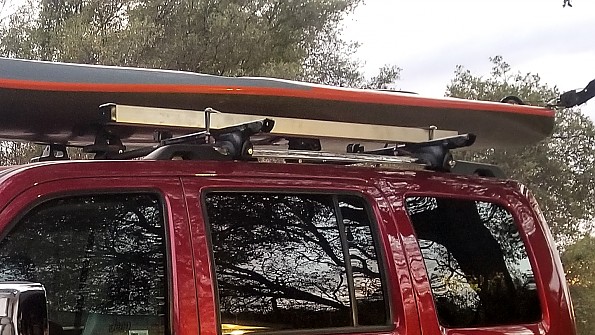 The included bungees hold the boat quite securely and are very quick and easy to use. As I always use bow and stern lines, I feel perfectly confident using the bungees in place of cam straps for short trips that don't involve highway speeds. 
That said, I definitely feel safer with cam straps securing my boat on the freeway and for trips of any decent distance. In fact Llama Racks actually recommends always using cam straps no matter what.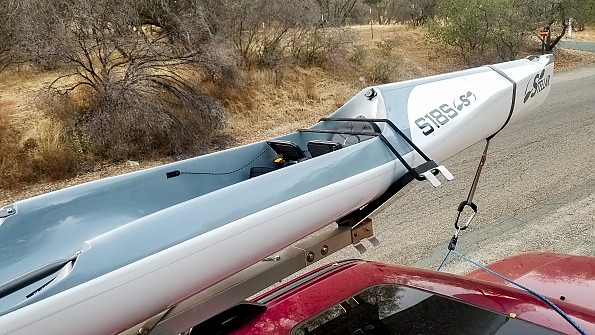 At this point I'd like to provide a few basic tips.  
First, there is no real tension on the bow and stern lines; they are just snug. While pulling down on a roto-molded kayak won't likely hurt it, doing so can and will crack a composite boat. These lines are there to prevent the boat from sliding forward or backward out of the rack, and also to help counter the wind putting an upward or sideways load on your bow. The bungees and/or cam straps are the primary means of securing the craft, so don't go crazy on the bow/stern line tensions; less is more.
Also make sure the lines pull inward toward the vehicle. For example you would not secure the bow of a boat that hangs out right above the front bumper straight down to the front bumper. You would instead secure that line below the windshield at the top of the hood. If you feel you need more information, Google is a great resource for learning how to properly use bow and stern lines.
Second, ratcheting straps are a sure way to crack a composite boat. While they won't necessarily crack a roto-molded kayak, they can still oil can (permanently dent) them. Cam straps are definitely the better way to go for securing kayaks. They are actually easier and quicker to use and provide plenty enough holding power to do the job. Just be sure to purchase quality ones like those from NRS, Thule, Yakima, etc., and still mind the tension. You can over tighten and damage composite boats even with cam straps.
Finally, a tip for V racks. The closed cell marine foam used as padding inside the V brackets is quite grippy and makes sliding your boat onto the rack a bit difficult. Placing an old pair of nylon socks over the rear brackets will allow your boat to slide with ease yet still hold securely when bungeed or strapped in.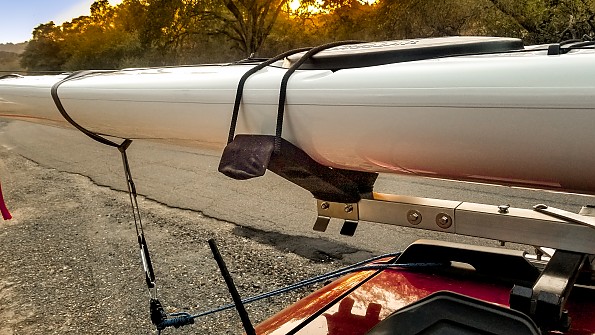 So there you have it... V racks and smelly socks. All joking aside though... this is a complete and high quality piece of kit, available custom to meet your specific needs, with a unique and very useful feature that prevents the straps from slipping and moving or the cam buckles from gouging your boat. All for $250 plus shipping. I wish I could find deals like that on everything; I'd spend a lot less time on DIY projects and more time outside. 
Experience
I have been car topping kayaks for many years. Sea kayaks, surfskis, roto-molded logs, etc., etc. on everything from basic foam wedges to the most extreme; the Hullavator (awesome thing that).
Source: bought it new
Price Paid: $250 + $55 flat rate shipping

You May Like
Recently on Trailspace