Lost Creek Monster TAG

Top 25 in unisex Daypacks
Specs
Price
MSRP: $77.88
Reviewers Paid: $75.00

Reviews
1

review

5-star:

1

4-star:

0

3-star:

0

2-star:

0

1-star:

0
Lost Creek's Monster TAG pack is a 22L, virtually indestructible cave pack that has stood the test of time. This is an exceptionally large cave pack for those carrying vertical gear, camera equipment, or group gear.
Pros
Durable
Comfortable
Adjustable
Huge
Cons
Cinch straps are long when the pack is not full
Not waterproof
Heavy
Lost Creek is a cottage manufacture of caving gear that has seen three different owners since the 1970s. Each generation of owners seems to have improved upon the original Lost Creek pack. The current owners at Seven Bends continue the tradition of building nearly indestructible cave packs.
I have owned the Lost Creek Flint Ridge Pack since 2001, just before the original owner sold the company. I have owned the Monster TAG since the mid-'00s, at least 10 years at the time of this review.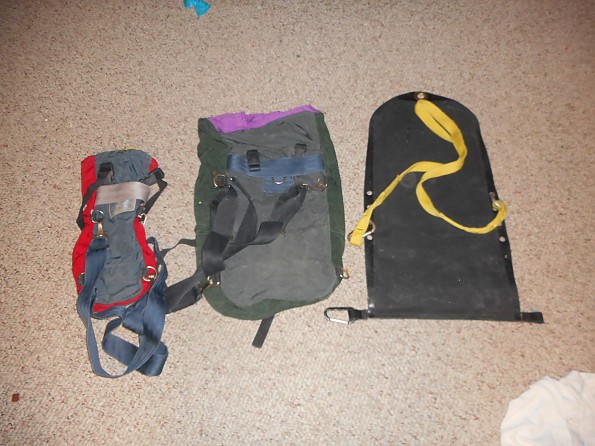 The Monster TAG is center. Flanked by the Flint Ridge
on the right and my Swaygo Push Pack on the left.
What's in a name...
Lost Creek sells several models of TAG packs. "TAG" is an acronym familiar to all North American cavers—Tennessee Alabama Georgia. This is the caving mecca of the United States, with some of the deepest pits, biggest rooms, and best challenges. Ironically, the caves most familiar to people, Mammoth Cave, Carlsbad Caverns, Lechuguilla Cave, and etc are not in this region.
"Monster" refers to the huge size of this pack. 1375 cu in (22.5L) is overkill for an average day trip pack. However, it is quite useful for cavers carrying vertical gear, camera equipment, or, in my case group gear for both me and my kids. Dimensions of the pack are 25"h x 10"l x 5.5"w.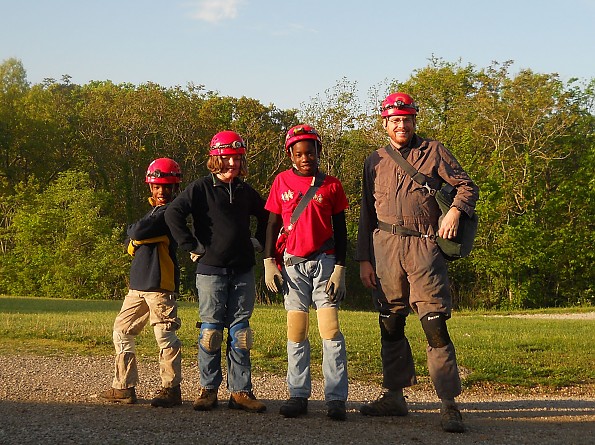 My oldest son (next to me) has the 530 cu in Flint Ridge
tucked under his arm, while I carry the massive Monster
TAG with extra clothes and equipment for kids who might get cold.
Features
I've already commented on the large size of this pack. What makes this pack so appealing is its durability and adjustable fit.
Durability
For more than 10 years I have dragged, pushed, and otherwise forced this pack through miles of cave passages. I stopped worrying about damaging this pack a long time ago, and I don't think anything but a pair of scissors is going to rip into it. The pack is made from 1350 Denier Ballistica nylon, and the inside is treated with a urethane coating.
As far as I can tell, the 2" webbing pack straps are made from seat belt material, with adjustable metal buckles. The ends of each strap easily clip to five strategically placed steel rings on the pack, which leads to the other appealing feature...
Adjustable
The five steel rings allow the pack to be worn in a number of configuration. Using the upper center ring for both straps, one can wear the Monster TAG as a traditional day pack...
I rarely wear this pack in this configuration. A pack on the back gets in the way of stooping or crawling through low passages. Additionally, I don't like the saggy nature of a heavy, unsupported day-pack. This is a personal preference. Many cavers prefer this way of wearing the pack.
My preferred style is to connect one strap to the two upper, outside ring and the other strap to the two lower rings. This allows me to wear the pack on my side...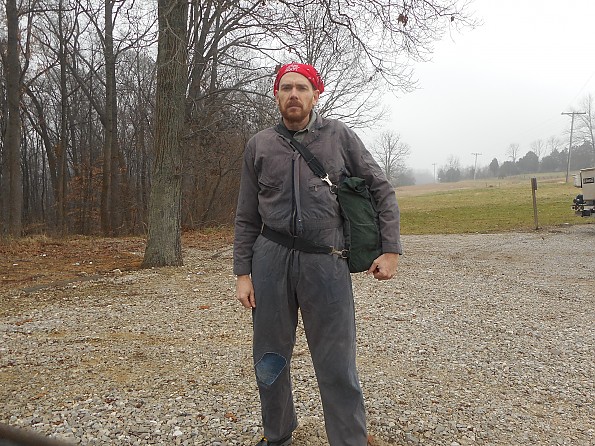 My preferred way of wearing a Lost Creek pack.
The advantage of this carrying style is that I can twist the pack around my body to adjust to changing cave passages. In a tight, upright squeeze I can swing the back in front or behind me. In crawling, the pack can return to my side or go up on my back. A quick unclipping of one of the bottom buckles allows me to pull the upper strap over my head, removing the pack to shove through a tight squeeze in front of me. Additionally, in this configuration, the lower strap can be tightened enough to transfer the weight of the back on my shoulder and onto my hip.
A third method of "carrying" this pack is meant for long, low crawls. One of the straps is attached to the pack, with the other end clipped onto the caver's leg. In the video below, my son can be seen dragging my Flint Ridge through a 400' crawl way.
Cons
Durability equates with weight. At 3.5lbs this is a pack I only carry when I have a lot of gear (vertical trips and kid trips). Additionally, this is not a waterproof pack. So gear within the pack must either go into Otter Boxes, ziplock baggies, or just get wet. For wet trips, I turn to my Swaygo pack.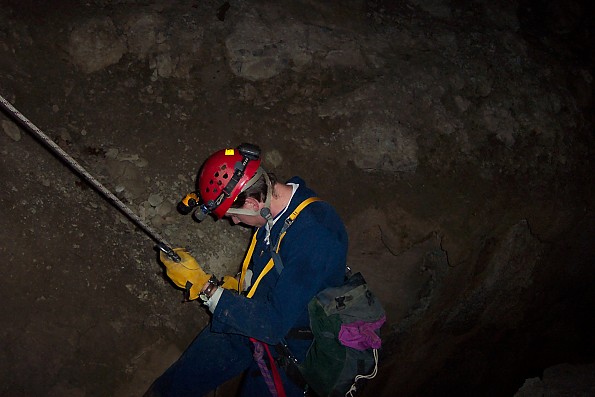 On a 200' drop with my Monster TAG.
Final Words
Most new cavers start off with a cheap backpack before moving up to a cave pack. After that, new cavers tend to buy equipment they are seeing other cavers use. A lot of cavers use Lost Creek packs, and for good reason. While many products diminish in quality as companies change owners (ex. Schwinn bikes), Lost Creek continue to provide superior quality. This is definitely a product with owing.
Source: bought it new
Price Paid: $75

You May Like
Recently on Trailspace