Lowa Renegade II GTX Mid

The Renegade II GTX Mid has been discontinued. It was replaced by the Lowa Renegade GTX Mid.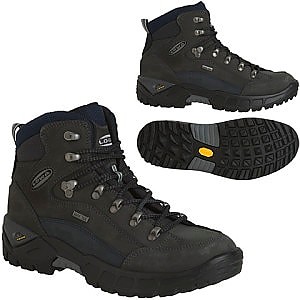 Specs
Men's
Price
Historic Range: $53.45-$229.95
Reviewers Paid: $80.00-$230.00

Women's
Price
Historic Range: $19.70-$219.99
Reviewers Paid: $80.00-$200.00

Reviews
19

reviews

5-star:

8

4-star:

2

3-star:

3

2-star:

3

1-star:

3
Comfortable, nicely constructed, light hiker boot that bites back on multi-day walks.
Pros
Comfy — no break in
Nice construction
Cons
Poor heel wear on hard surfaces
Aggressive ankle lock
Beefy look encourages overloading->early breakdown
Those who are considering this amazingly comfortable out of the box boot should realize that it can pack a surprise for your feet several miles beyond the normal trial and break-in period.
I have often bought Lowa Tempests in the past because of their durability and medium-high volume upper that permits the use of a good orthotic insole with some cushioning. The Renegade is a high-cut and slightly stiffer version of that shoe that is intended for good support on trails. Its sole is strong enough to encourage you to carry fairly heavy packs, and as long as the terrain isn't too sharp it delivers. Just don't expect it to last on hard surfaces, because as Lowa themselves admit, its sole is quite soft and designed for high comfort on dirt trails. Heel strikers will experience significant outer heel wear in perhaps 100 miles on pavement or rock.
The hidden surprise appears to be related to the very aggressive heel lock of this boot. As the boot breaks in, the internal locking ridge that extends from the instep eyelet under the ankle bone to the bottom of the heel becomes more defined, and can rub strongly against the heel and under the ankle bone, rapidly creating blisters as the foot and boot encounter off-camber terrain. 
This behavior doesn't show up until many tens of miles, apparently after the boot upper is fully broken in. I was quite surprised to discover it on the first day of a 3-week UK Coast to Coast walk after an uneventful 40-50 mile break in period in the Cascades. A small blister on the outer edge of the heel did not respond to moleskin and grew to encompass the entire area from heel to ankle bone, eventually requiring lancing and antibiotics. I had to jettison these boots and buy a UK brand designed for English fellwalking halfway through. With a less aggressive heel lock ridge, the replacement pair worked fine.
Check your heel and ankle clearances very carefully when fitting these boots. If you're going to be doing high mileage multiday hikes give them a thorough shakedown under similar conditions, and don't be cavalier with your sock thickness. There's not a lot of extra room in the heel and ankle, and liner socks are recommended. Caveat Emptor.
It is interesting to note the rather broad spread of opinion on Trailspace vs. for example REI. This is the first site where I have found less than stellar reviews of this boot, and it's too bad I didn't know about Trailspace before purchasing the Renegades.
One previous reviewer here has described the buyers of this boot as mostly weekenders and dayhikers, and the Lowa representative quoted here was very candid and correct in describing this boot as essentially a comfy dayhike boot that is inappropriate for through hiking or rough-duty scrambling, though for some reason people continue to try to use this boot for those purposes.  
It may be that these Lowas are priced at about the level that hikers desiring something more than a trail shoe would expect to pay: around $200-220 (2014).  They are impressive on display and on initial fitting, but aren't true long-distance boots, for which Lowa charges 30-50% more.
Rule of thumb: the welted Vibram-soled Lowas are where you should start in their serious hiking lineup. For through hiking or fellwalking Lowa recommends no less than their Focus or Trekker model. My painful experience supports those comments.
Source: bought it new
Price Paid: $180

You absolutely should not skimp when it comes to boots for hiking and backpacking. A good, well-made pair of boots is going to cost a little more than bargain priced boots, but it's an investment that is well worth it. This boot is made for comfort and flexibility, but still has many high-end features. These boots are ideal for light hiking. Because they are made for comfort, they are not ideal for extended backpacking.
Source: tested or reviewed it for the manufacturer (I kept the product after testing.)

The author of this review received a sample of the product from the brand or its representative in exchange for a review.
Don't buy these boots. I bought them only 6 months ago, they are like a piece of soap in the presence of the slightest humidity. I have used them only 7 times, of which I have fallen 4 times, every time when the stones were slightly wet. The last time was when I was in the Norwich Fjords, I nearly killed myself.
I have contacted the distributor and the fabricant but they do not want to know anything about it, they say I must get used to them. What do they mean? That I have to kill myself in order they recognize the product is useless. I am furious, I have spent 105 euros and I have no boots.
Price Paid: 105 Euros

These boots were great for the first few months but after about seven months (of ~30 miles/week light walking through Ohio woodland) three major seams started to give way. After 12 months I had them re-sewn by a local shoe-repair shop but then they had to be waterproofed because the Gore-tex liner was sewn through.
I'm now approaching 24 months and it's time for a second trip to the shoe-repair shop; I've got two new major seam failures and the leather at the outside ball of both feet is heavily cracked. Needless to say I am disappointed with these boot's durability.
Great for the city or tooling around town but definitely not for the trail. I bought my Lowa's 2 years ago and they look as if a puppy has been chewing on them after moderate use. Aside from lacking durability, they are horrendous on rocky/rooty terrain, pretty much a given in Vermont. I busted my knee open just the other day whilst scrambling up to the ridge line. They were virtually broken in when I put them on my feet and the light weight was awesome, but those 2 qualities are not all that makes a good trail boot. Unless using in the city, I would not recommend these boots for anyone considering doing a trail hike of any sort. Very disappointed in Lowa.
Materials: Gore-tex
Use: moderate dayhikes/overnites on fairly rough terrain
Break-in Period: None
Weight: ~2 pounda
Price Paid: $80

The Lowa men's Renegade II GTX Mid is fantastic. It is a heavy duty boot, but it is also light and very sturdy.
I use to only wear Asolos, but the sole kept deteriorating so I tried some other brands and I am so glad that I did.  I am 6' 3" and three hundred pounds and my hikes are usually 10-12 miles, so I really need a good boot.
The Lowa men's Renegade II GTX Mid is fantastic.  It is a heavy duty boot but it is also light and very sturdy. I am on my feet all day at work, so if I tell you a boot is comfortable you can bet that it is.
Source: bought it new
Price Paid: $120

These are the best boots ever! Perfect fit right out of the box. I have two pairs; one for the trail and one (with steel toes) for every day use on the job. Three years of hard use and they are still my first choice for comfort and support.
Pros
Waterproof
Breathable
Wide toe box
Excellent ankle support
Comfortable fit for wide feet and heavy loads
Well crafted
I am a large man with wide feet. The Lowa Renegade GTX (wide) is the first boot I have found (and I have tried on many) that offers a comfortable fit and excellent support. 
Break-in? I wore my trail boot every day for a week at work before a trip to the High Peaks Region in the Adirondacks. I could have worn them on that trip, right out of the box.
Needing new steel-toed shoes for work I turned to Lowa and found that the Renegades are also available as a Safety Shoe. I bought a pair of these and have been wearing them every day on site for the past three years.
There are no signs of abnormal wear. Should these ever wear out I will return to Lowa for my next pair of boots.
Source: bought it new
Price Paid: $230 USD

Comfortable, durable, functional. What's not to like?
Pros
Light weight
Comfortable, zero break-in
Waterproof
Cons
Lacing system around the ankle can be a nuisance to tie with stock laces
Stock laces are too small in diameter; they work but I'd upgrade
People must be reviewing a different boot than the Renegade II's in my closet. I have no trouble backpacking in these boots, carrying loads of around 30 pounds through steep, rough terrain. No, they don't provide much traction on wet rocks, but I've owned boots from Han Wag, Danner, etc. and none of them were able to provide wet rock traction, either.
I replaced the insoles immediately with SF Greens because that's what I do with all my boots, but otherwise I put them on out of the box and they were great -- no breaking in necessary. I have to be deliberate when lacing around my ankles to keep the laces in place which is kind of annoying but I like replacing the factory laces most of the time, anyhow.
Lowa has a great boot here, and for anything less than weeklong expeditions and backpack hunting it's an ideal choice.
Source: bought it new
Price Paid: $220

Great for tooling around town in the rain or for light hikes. These boots are a good lightweight hiker.
Pros
Goretex lined keeps you dry
Rugged, durable sole
Good footbed
I liked these boots the moment I put them on. Very well fitting, well made light hiking boot.
These are a lot lighter than the backpacking boots I was looking at — for good reason. These are not designed for backpacking, but light hiking on groomed trails. These are not a rock scrambling boot. As long as you remember that and use these boots accordingly, they will give you years of good service.
I recently took them on a relatively long (8 mile) dayhike, and while my feet were sore at the end of it, I think this is more of a conditioning issue than a problem with the boots.
I have found them to have a very good footbed, good support for my foot and ankle. Those that have issues with the performance of this boot are probably using them outside of their intended use. I had to scramble up some rocks with these and it wasn't fun. I slipped many times and I think they need to look at their sole formulation.
But other than that, I can find nothing wrong with these boots. I have not had a problem with them and don't expect to.
Source: bought it new
Price Paid: $200

The sole fell apart after minimal use Not recommended.
Cons
The sole fell apart after minimal use
I have had a number of pairs of boots  over the years.  These don't even rate as boots. My sandals are much more durable.
Source: bought it new

I use these for light hikes as well as monster peaks. Mount Washington 6,288', Mt Moosilauke 4802' twice, Mount Watatic 1,832', Mount Wachussett 2,006', 4 seasons, 20 times per year, 7 years with 30-50lbs backpacks. Still going strong.
The tread is still chinky as I compared these 7-year-old boots to brand new ones and was surprised how well thay have held up. A few seams have started to give but I think I have another winter left before I retire them. They have my brand loyalty!
Break-in Period: None that I am aware of!
Price Paid: $175

With this boot, you need to know what you want to use them for. It is great for running around in the city when its wet or light hiking on paved roads or trails without rocks as well as car camping. Once you take these out of their range of capabilities, you will set yourself up for disappointment. On rocky trails, you will feel every stone and the softness of the shoe will not prevent you from spraining your ankles.
That being said the softness makes for a very comfortable shoe on paved roads. So for light hiking on smooth trails and city use in wet conditions it is very comfortable and does the job, but for any trails with stones or backpacking I will always go for my Scarpa Barun GTX.
Materials: leather, Gore-tex
Use: wet weather city use, car camping, very light hiking.
Break-in Period: none required
Price Paid: $80

These boots have treated me great! I've wandered thru South America for 3 months w/ these as my everyday footwear and have no complaints. Everything from city streets to Andean mountain trails. They kept me stable, comfortable and dry... not to mention looking cool and casual for going out on the town (who wants to carry two pairs of shoes?).
If you want a "one pair does all" this is your boot =)
Break-in Period: none
Price Paid: 120 bucks or so..

Climbed in the Tetons and just recently to the top of Mt. Marcy with these boats and just love em.
Price Paid: $200

The boots were great out of the box brand new. Stiff and can take the weight. Broke it in right away a week before setting out for the John Muir Wilderness, Mosquito Flats campsite. Those rocks up did some work on my feet and the boots took it. Unfortunately the Lowas too the hit for me and died on the way back.
After that little trip it wasn't the same anymore. Did a quick day hike of 16 miles round-trip on a mix of paved trail and dirt at the San Gabriel mtns. My feet are still killing me. It's as if the boots lost all strength from the massive hike. So now it's only good for gardening and putting around the town.
I got lured by the nice look of the boot and comfortable insides. It's a great boot for those living in a wet/cold envirnoment. It might be okay for ultralight hikers? It's a fast boot.
Materials: nubuck, Gore-tex
Use: Short dayhikes to the high sierras w/60lb pack
Break-in Period: less than a week
Weight: me 185lb, pack 60lbs
Price Paid: $150 REI

Bottom line: comfortable urban boot. Shines in the urban streets, useless on any real trails. Stay close to home with your Renegade II, otherwise you will be sorry.
Pros:
- a good boot for urban warior, during fall and winter days, at least in NYC, Boston and anywhere in Northeast where snow and rain is a problem.
- very good waterproofing
- it's comfortable and fits well. It does not have a boot like look anymore (if that is positive for you).
- good vibram sole for light urban activity
- good ankle support on flat surfaces (but do you need ankle support on flat a flat surface)
- no break-in necessary
- and that's about it.
Cons:
- too much forefoot flex
- no toe or heel rand
- ZERO torsional support
- you can feel the smallest piece of rock or roots through the sole
- you cannot even carry a lightweight (15-20lb) daypack with it. You get foot pain instantly
- soft leather blows out on trails very easily
- price USD 170. REALLY OVERPRICED.
This is my second pair of Lowa Renegades. To me, the Renegade II has been redesigned to fit the urban lifestyle. It's not an outdoors boot anymore. It's comfortable and light, but it cannot handle the smallest of challenges of a day hike on real hiking trails, and I am not talking about rugged trails. Anything little rocky or muddy and Renegade II caves in. This is dissapointing for a boot that originally costs USD 170.
I tried to use it for summer hiking in the Upstate NY, PA, MA and Vermont areas. The boots were not too hot and had a good fit, but, they have too much flex in the forefoot and have almost no lateral/torsonal support. So, the boots allowed a lot of foot movement while walking hilly terrains. Mind it, I only hiked on maintained trails. I WOULD NOT TAKE IT OUT ON A HIKE EVER AGAIN.
Now, I use the Renegade at my office. it looks fine with a pair of Khakis. Not too dorky. I have also found an outdoor use for it. It can be a good pair of shoes for mountain/trail biking.
FINALLY Lowa's all purpose all terrain advertisement for this boot is really a false advertisement. If you need a all terrain all purpose boot from lowa go with LOWA Arko GTX, though overpriced they are realatively better.
GO outdoors and enjoy the abandance.
Materials: nubak, cordura, gore-tex
Use: urban street walking, urban winter shoes
Break-in Period: none
Weight: 2.2 lbs
Price Paid: USD 118

I've had these boots for about four years...haven't wanted to give them up. Unfortunately I've worn the sole through and can't get away with them in the winter anymore.
Unbelievably comfortable (I do have orthopedic inserts), never a blister or a problem. They've worked for sprint-type short day hikes to multiday alpine treks. They're not good for heavy backpacks on rocky terrain though, the rocks poke through and bruise the feet very quickly.
Use: rough trail, light pack
Break-in Period: none
Price Paid: $165

Lighter than most boots without sacrificing support. Lend credence to the adage, "a pound on the foot is equal to 10 on the back." In this case the converse is true: much easier walks without all the bulk of heavy leather boots.
The newer models now have metal eyelets, which probably makes this even a better boot.
Materials: Gore-Tex
Use: Everything short of mountain climbing
Break-in Period: Very short
Weight: 2.4 lbs, Men's size 14
Price Paid: under $100

After eight years, my Slovenian-made Planika Trekking shoes asked for a change. I found a small shop while I was on a business trip, and made a purchase in 5 minutes. 20pct cash discount. Never heard about Lowa before. Now I can recommend it to everyone. Light, comfortable, waterproof, match perfectly with my requirements. And nice, if it means anything in the mountains :-)
Hope it will last another 8 years.
Price Paid: cca 90 USD, in Croatia

You May Like
Recently on Trailspace