Lowa Scout II

The Scout II has been discontinued. If you're looking for something new, check out the best backpacking boots for 2022.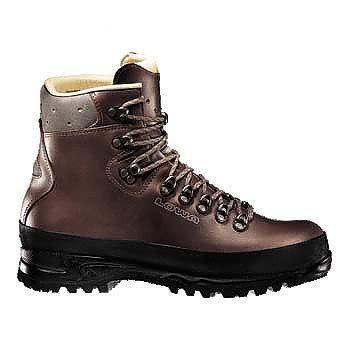 Specs
Men's
Price
Historic Range: $89.95-$139.95
Reviewers Paid: $100.00-$200.00

Women's
Price
Historic Range: $79.95-$199.95

Reviews
3

reviews

5-star:

3

4-star:

0

3-star:

0

2-star:

0

1-star:

0
I have had these boots for four years. Done many weekend hikes with them over that time and absolulty love them. Whether it's a 30 pound pack or a 50 pound pack they feel great. My feet have never gotten wet and I have never had a blister from them depsite being a heavy duty boot.
I love the leather lining wich really molds to your foot after a few hikes, making these boots even more comfortable. The break-in time was even short, given the one-piece design and thick leather. I would highly recommend.
My only quibble is that the soles are too stiff for dayhikes with little or no load, but I have other boots for that and that is not what these were designed to do anyway. Great product that I will buy again if and when these wear out (which will be a while yet).
Materials: Leather
Use: rough trail
Break-in Period: about 50 miles
Price Paid: $100

The Lowa Scouts are very nice boots. I have a low volume foot that is flat and very wide. As soon as I tried the boots on, I knew they were for me. I must have tried on at least 10 different pairs of boots and none of them gave me the immediate comfort I was looking for except for these.
They are well made (from Germany) and I really like the glove leather liners. The boot is nice and sturdy. It is very supportive too. It keeps me from pronating. A lot of other boots I try on feel like they are encouraging my feet to excessively roll inward (pronation), not good if you have flat feet.
They were not hard to break in at all. Just wore around the house for a week. Then went on the trails and not a problem. Went to Pikes Peak and they were a dream. My girlfriend had some Asolos (model?) and her toe nail turned black and blue! My feet didn't have a blister, bruise, or hot spot.
These boots were on sale but I would have paid the full price. I am very happy with these. Not only are they very sturdy and durable, they are nice looking too. I can probably get away with wearing them with jeans! I hope they last a long time because I really like them.
Materials: Leather
Break-in Period: 1 week
Weight: 2 pounds
Price Paid: $130

This review is based on only one outing with these boots. I'll come back in a couple of months and update it. My wife and I took up hiking seriously about seven months ago. I've had nothing but problems with my feet since we started, basically becuase I didn't know anything about buying hiking boots.
I started out using my Red Wing work boots (BIG mistake). After suffering blisters and hammered toes, I bought a pair of Vasque Clarions. These are fairly lightweight boots, and they were okay, but didn't really suit my feet. I still continued to suffer toe pain (sometimes severe), and felt like the boots were just too flexible for the tough, rocky terrain that we typically hike.
Last Saturday I bought a pair of Lowa Scout II boots. ven though I know you are not supposed to go on a difficult hike (or any long hike) in new boots, we went off to the Savage Gulf trail area in central Tennessee Sunday.
We took a light 2.9 mile trail as a starter, just to make sure that the new boots weren't going to kill our feet (my wife also had new boots). Everything went fairly well that first section. My right foot is a little larger than my left, and I experienced a little tightness above my right toes, but nothing like the discomfort that I had felt with my previous boots.
We had the choice of completing our hike via a fairly easy 4.1 mile trail, or going down into the 'gulf' for 4.9 miles. This trail is so difficult that it is not recommended for day hikers, but we had done it in the reverse direction two weeks ago. It is very rocky and includes steep down and up hill climbs.
We both felt comfortable enough to go for the gulf. I really hammered the steep rocky downhill that goes into the gulf, just to see how the boots handled it. I was very pleasently surprised. I was afraid that I would never find a pair of hiking boots that didn't hurt my feet. The new Lowa Scout II boots performed wonderfully.
As we walked, they got more and more confortable. The left boot (on my smaller foot) started out and stayed very comfortable. The right boot loosened up quite a bit as it began to break in. By the end of the hike, I only had slight pressure on my little toe, and it was noticable, but not a big problem.
I'll report progress as I continue to break these boots in, but for now, I'm a very happy hiker.
Materials: Leather
Use: Moderate to challenging day hikes
Break-in Period: Walked around the house, and about a mile walk in our neighorhood.
Weight: 4 lbs 5.5 ozs (Mens 9.5, per digital postal scale)
Price Paid: $200

You May Like
Recently on Trailspace